Amazing Quality
By
Odettelynn M.

(Bakersfield, CA) - April 26, 2013 (
See all reviews by this customer
)
I am very happy and amazed at the quality of the card. The editing program allowed me to edit one of the included card sayings in order to personalize it where many other sites do not allow this. Our names which formed the heart was beautifully placed in vibrant colors. I will shop here again for all our personalization needs. Thank you so much for the exceptionally wonderful customer service and fast shipping also!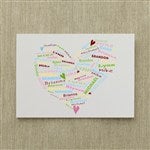 SPECIAL CARD FOR A SPECIAL GAL!
By
Shopper

(TUCSON, AZ) - March 18, 2013
LOVED IT! EVERYONE COMMENTED ON HOW SPEACIL IT WAS.

Loved this card!
By
Irene D.

(Riverview, FL) - March 9, 2013 (
See all reviews by this customer
)
This card is so cute! It was a great complement to the gift we gave my mother-in-law. She loved this card AND the gift! It makes a wonderful "loving", final touch to a gift! :)

Adorable!
By
Shopper

(Tempe, AZ) - February 3, 2013
Instead of putting different names on it I typed 'Happy Birthday' in one spot and then "Granny' in the 2nd space. It looked like a personalized confetti. So adorable and it was a hit.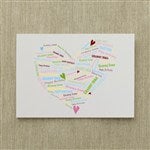 better than the gift itself
By
Lisa D.

(Aurora, CO) - January 8, 2013 (
See all reviews by this customer
)
I sent this card with a gift and my mom actually framed the card as she seemed to think this was better than the gift (don't get me wrong she loved the gift too)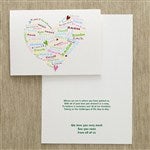 very nice
By
Shopper

(Maplewood, MN) - December 21, 2012
Love the card- great quality

Expensive look, for way less!
By
Shopper

(Jersey City, NJ) - August 7, 2012
Loved the way the card came out!, I was able to personalize this card to the last detail, gloss finish, durable card stock used and pretty pearlized envelope....ready to give, better than going to hallmark and spending just as much maybe more and the cards are not personalized and you just get traditional envelopes, defiantly would recommend and would and have purchased cards again!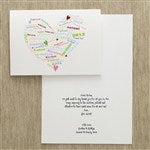 Wonderful Card Mom Loved It!
By
Tamara W.

(West Chester, OH) - May 24, 2012 (
See all reviews by this customer
)
It was 2 days before Mother's Day and I didn't have a card for my Mom. I found this one on line at the Personalization Mall.com. It was just gorgeous. I was able to personalize it and make it my own. I put in the names of all the kids and grandkids. It was far nicer than anything I could have bought in a store. I had it sent right to my Mom. She got it in time for Mother's Day. She loved it and displayed it. She showed it to all her friends and still treasures it. Now whenever I need a card or gift I'll keep this site in mind as my first stop!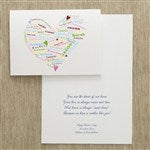 She loved the card
By
Lorena T.

(Bakersfield, CA) - May 22, 2012 (
See all reviews by this customer
)
My mother in-law loved this card, she said it was the cutest thing ever...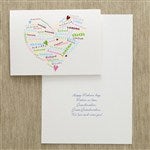 Heart of Love Gift Card
By
Linda R.

(Wichita Falls, TX) - May 18, 2012 (
See all reviews by this customer
)
I purchased the scatter pillow & mousepad for my mom for her Birthday, which also happened to be Mother's Day! They were decorated w/a large heart made w/all her children & grandchildren's names, different colors & fonts. It was really a no-brainer to get the matching gift card, lol! She loved receiving multiple matching items, & my sisters were green w/envy at her reaction to MY gifts!!! ?-?-? it!!!

Great Gift
By
Shopper

(Germany) - May 15, 2012
This was a great gift! My mom is framing it.

Wonderful card
By
Terri S.

(Shreveport, LA) - May 13, 2012 (
See all reviews by this customer
)
My mother said she loved this wonderful card with her Great grandchildren's names on it! How perfect is that?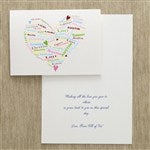 Great card
By
Shopper

(Edwardsburg, MI) - May 11, 2012
Great card on beautiful stock and the envelope was as nice as any fine invitation I have ever sent. Very nice.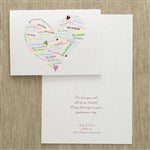 Excellent
By
Jennifer B.

(Houston, TX) - May 9, 2012 (
See all reviews by this customer
)
As always, quality products. Even the envelope was classy.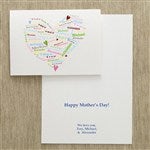 things that i liked about this product
By
Shopper

(Canada) - April 27, 2012
A great way to give someone a card. Personalized with your own words. I would recommend this card to anyone. A nice coating covers the card for protection.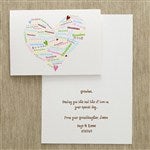 Absolutely beautiful!
By
Pamela D.

(Bay St. Louis, MS) - April 22, 2012 (
See all reviews by this customer
)
I have no complaints about this card, it's worth every penny. The card stock is heavy, the design is clear and readable and even the envelope is heavy stock and pearlized on both sides. I've paid a LOT more for cards in stores that were not this nice. I will definitely be using this site for cards in the future!

Matching card
By
Shopper

(Mabelvale, AR) - April 21, 2012
I love the personal card that matches the cookie jar gift. A perfect card with the gift.

They loved it!
By
Jennifer R.

(Carl Junction, MO) - April 14, 2012 (
See all reviews by this customer
)
I love the fact that this card includes all of our names!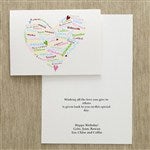 Icing on the cake!
By
Shopper

(Brandon, FL) - April 12, 2012
These cards are, indeed, the icing on the cake! A personalized gift accompanied by a card made especially for the gift recipient, what a wonderful idea!!! This service is a definite plus, it will make me come back to this site whenever I want to send a personalized gift. Thank you!

Excellent Quality!!!
By
Shopper

(Cocoa, FL) - March 26, 2012
This card was on heavy card stock, Only wished the color print inside the card was a little darker, where the names were added. Overall, very pleased, it added a very personalized touch to my gift. Would definitely order another.