Great gift
By
Shopper

(Casper, WY) - February 22, 2013
I am pleased with this pillow. My only suggestions would be color options and I would like to be able to omit the designs and words that are automatically printed if I would like to.

Pillow Talk
By
Larry H.

(Apollo Beach, FL) - February 21, 2013 (
See all reviews by this customer
)
This was gift #2 of 3 that I bought here for my wife for Valentines' Day 2013. She is displaying it on our bed and loves it. As always it was delviered as promised so I could hand it to her that morning. Another job well done!!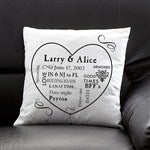 Memorable
By
Kimberly B.

(Blue Springs, MO) - February 19, 2013 (
See all reviews by this customer
)
I got this pillow for my husband on our first Valentine's as a married couple. It was a great way to make it unique to us by putting our own speaicl words on the pillow to make it sentimental.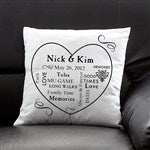 Very Very Pleased
By
Eva B.

(Buckeye, AZ 85396, AZ) - February 19, 2013 (
See all reviews by this customer
)
I was so surprise when my keep sake pillar arrived. The quality was great and the writting was perfect. Even the silicone wrap was of quality. Great gift for the buck. I found a new place to shop and my friends too! Love It!

Love It!
By
Katie H.

(Baltimore, MD) - February 18, 2013 (
See all reviews by this customer
)
I ordered this for Valentines Day for my boyfriend, to go on our bed. I used details from our first date, and he loved it. It looks exactly like it does in the picture, which is always the case with PersonalizationMall.com.

Perfect<3
By
kristen M.

(CABLE, OH) - February 17, 2013 (
See all reviews by this customer
)
This comes just as shown amazing quality and just down right amazing!!:)

A great way to capture memories
By
Shopper

(Charlton, MA) - February 15, 2013
I thought this was a great valentine's gift to put together important memories onto a cute pillow that you can have around for a long time. My husband loved it!

perfect for a ring bearer's pillow at a wedding!
By
Shopper

(Watertown, NY) - February 12, 2013
This pillow arrived looking EXACTLY as I had requested it and I am very pleased with it! Will be using it for the ring bearer's pillow at our daughter's wedding this summer!

Uniquely Romantic
By
Michael B.

(Boulder City, NV) - February 11, 2013 (
See all reviews by this customer
)
The easiest, most creative personalized product I've ever ordered on line.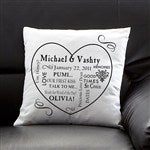 cute valentine's day gift
By
irene S.

(miami, FL) - January 22, 2013 (
See all reviews by this customer
)
the only thing i would like it different is if it came in other colors besides a white pillow. white gets dirty so fast, and it is a shame because it is such a beautiful gift. since i have been with my bf for over a year it was easy to put in the special places and friends we have in common plus our anniversary date. this is one of two gifts i am giving him but this is the one from my heart so i know he will appreciate it more. thank you personalizationmall again for another excellent product. you never disappoint me.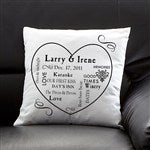 Perfect!
By
Shopper

(Middletown, NY) - December 21, 2012
I ordered this pillow for my boyfriend while I was away. He loved it! It came out just like the preview showed. It arrived in a timely matter. I would definitely reccommed it! Very pleased with this product.

Keepsake Pillow
By
Shopper

(Kennett Square, PA) - October 29, 2012
This pillow came fast in the mail. It is a great size and is beautiful! I am giving this as a wedding gift and am sooo happy with it!!

Wonderful wonderful wonderful gift!
By
Shopper

(Ruston, LA) - October 18, 2012
I LOVE this item! I ordered it in a heartbeat for my boyfriend for our two year anniversary, and he LOVES it. It's personal, it's not too girly for a guy, it goes with anything, and you can tell the material is great! It kind of stinks like mayo when you get it, but the personalization is actually on a pillowcase that fits to a pillow, so you can wash it. Once you wash it, it smells and looks great! I'm SO happy with this gift!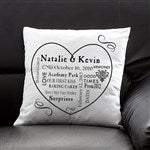 Just what I expected
By
Shopper

(Louisville, KY) - October 13, 2012
It was exactly what I was expecting. I was very happy with my purchase

Anniversary Gift
By
Shopper

(Eagle Mountain, UT) - May 14, 2012
I bought this because I thought it was a cute little gift. It was larger and better than I originally thought. Excellent choice for a gift.

Lovely Pillow
By
Syrtiha B.

(New Castle, CO) - May 8, 2012 (
See all reviews by this customer
)
I bought this pillow for my hubby's b-day, I love the size and all the words are printed in a very neat way. My husband really loved it and I surprised him!

Great Memorable Purchase
By
Jean S.

(Bessemer, MI) - April 18, 2012 (
See all reviews by this customer
)
This was a great memorable purchase. Great quality and done exactly how it was ordered. Extremely quick arrival. I'm getting hooked on Personalization Mall. It is a great idea for all your gifts or even for yourself.

Very appropriate
By
carol Z.

(chicago, IL) - March 23, 2014 (
See all reviews by this customer
)
I really loved this item. The couple we bought it for loved it too. It is very clean and pretty. I gave it only 4 stars because it was slightly smaller than it appears online.
Thank you.

Great original gift
By
Ronald B.

(Netherlands) - February 15, 2014 (
See all reviews by this customer
)
Ordered this pillow for my wife as a Valentine gift.
She loves it and it brings back a lot of good memories for us.

It's simple and easy to order but the effect is super, just a great and original gift.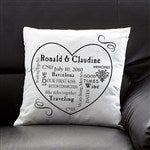 Cute idea for Second anniversary!
By
Jill B.

(Evansville, IN) - November 4, 2013 (
See all reviews by this customer
)
This little pillow is easy to add your own special message to make an adorable keepsake for your special someone! I gave this to my husband for our second anniversary. It was easy to do on line and it shipped very quickly. It would be nice if additional colors of print were available but the black & white keeps it simple and reasonably priced.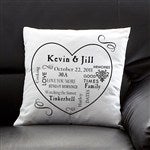 Pleased gift for guy
By
Shopper

(Woodstock, IL) - October 22, 2013
I bought this for a present for my husband. He actually loves it. The only thing that made him nervous was that it was all white. So he put it in iis office, so he could see it all day :)

Great gift idea!
By
Jacqueline T.

(Dayton, OH) - August 10, 2013 (
See all reviews by this customer
)
This pillow is a perfect wedding or anniversary gift. I bought one for my brother's wedding, and I plan to make one for myself too. It's well made, cute, and a nice size. My only lament is you can't change a few of the words on the pillow - it would be nice to be able to edit all of the words. Other than that, it's fantastic!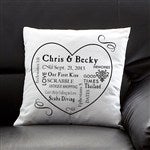 Perfect shower gift
By
Shopper

(Cortlandt Manor, NY) - May 8, 2013
Purchased this as part of a gift basket for a friend's shower. It was a big hit and even made her cry!
I was pleased with the quality. I probably should have taken measurements because it was slightly smaller than I expected, but other than that I would definitely buy it again.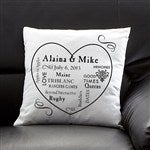 Perfect Print Job
By
Melissa A.

(PLANO, TX) - March 12, 2013 (
See all reviews by this customer
)
This pillow is soooo cute. I loved the customization on this one. I just wished that it looked less like a naked pillow - maybe a ruffle or edging to finish the edges?
But it was a wedding gift, and they LOVED it.

Loved it!!!
By
Shopper

(Orlando, FL) - February 18, 2013
Such a cute idea, so personal, I loved being able to put all of our special little details.

Beautiful pillow
By
Barbara F.

(Fort Worth, TX) - February 2, 2013 (
See all reviews by this customer
)
My husband, who is difficult to buy for, absolutely LOVED this Keepsake Pillow for Valentines Day. The quality is top notch -- as always with this company -- and he loved the sentimental dates and sayings. My only wish is that some of the lines allowed for more characters. I was not able to put some things that I wanted to.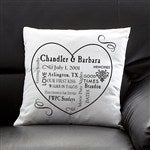 Practical Valentine's gift...
By
Lynn S.

(Elgin, IL) - January 28, 2013 (
See all reviews by this customer
)
I bought this cute pillow for my husband for upcoming Valentine's Day. He does not care for nick-nacks, so figured this would be a cute but practical gift for him. I included many of our favorite vacation destinations and thought it would look nice on our couch. I did not print anything embarassing on the pillow so it could be kept out for company. It was slightly smaller than I thought, but still very nice. I may suggest to PM that they make a larger decorative pillow. There was lots of space for personalization. You can make this pillow as personal or family friendly as you wish. I also like that you can "preview" and make any final changes before ordering.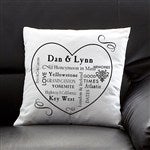 Unique gift
By
Cheri B.

(West Dundee, IL) - July 29, 2012 (
See all reviews by this customer
)
I used this pillow as an engagement gift for my daughter to express the places and events that depicted the vacation trip she was on when she got engaged. It was great to express the locations and events that will all be special in their lives. The ordering process was easy and I received the pillow promptly. It's a unique gift too.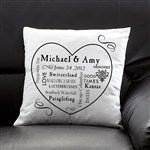 Love it!!
By
Shopper

(san leandro, CA) - July 24, 2012
My husband gave it to me for our anniversary and and I love it. It looks really nice!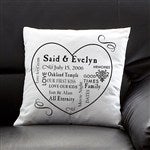 Perfect!
By
Shopper

(Riverside, CA) - July 13, 2012
It 's perfect for a 50th anniversary gift from grandkids! The only reason I gave it 4 stars is because it's a little smaller than I expected. But I would definitely order again.

personalized wedding pillow
By
Wendy B.

(North Apollo, PA) - June 30, 2012 (
See all reviews by this customer
)
i thought it was stitched on but its an iron on, so im not happy with the quality. But it is very cute, and im sure the bride and groom will like it, just doesn't look as nice as it would if it was stitched

Wedding Pillow
By
Christine E.

(Sewell, NJ) - April 30, 2012 (
See all reviews by this customer
)
Love the pillow and am looking forward to giving it to my son and his wife on their wedding day. Only drawback - it should have some type of edging on it (lace?) I'll add it myself before giving the pillow to them to dress-up it up a bit.

great memory
By
Shopper

(ripon, CA) - April 23, 2012
arrived in nice clean pkg, easy to wrap; recipients loved it;
simple and personal yet fun gift.

Interesting yet tricky
By
Shopper

(Wheaton, IL) - February 4, 2014
Interesting because we could personalise it.
Tricky because size is deceiving it's fairly small and also I got mine with " * " between our names instead of "&"...

Not quite what I expected
By
Kay F.

(Colfax, NC) - August 31, 2013 (
See all reviews by this customer
)
The pillow looks really nice with the personalization on it. However, I am disappointed with the quality. Not quite what I expected. Looks and feels cheap. Not worth the money spent.


slightly disappointing
By
Theresa Y.

(Philadelphia, PA) - January 22, 2013 (
See all reviews by this customer
)
i was a little disappointed that the pillow was blank on the back.... it is all white and has no color... seems a little dull