NIce Keepsake
By
Shopper

(Odenton, MD) - December 23, 2013
The pillow is nice quality and very elegant looking. The pillow is also very plush. The main issue I had was that some of the letters had very slight running. From afar this was not noticeable, but up close it was not quite as high quality as I had anticipated. Overall it met most of my expectations and I am sure that my mother will be pleased.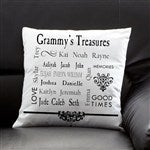 Cutest thing ever
By
Poppi T.

(Huntersville, NC) - September 17, 2013 (
See all reviews by this customer
)
love the personalized pillow. It's a great gift for anyone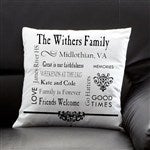 Great Ring Bearer gift
By
Tessa D.

(San Jose, CA) - April 18, 2013 (
See all reviews by this customer
)
I got this pillow as a gift for my ring bearer, who will be 20 months old at the wedding. I adjusted the text to read accordingly, with his name and the wedding date, and things like "handsome dude" and "She kissed me first!"

I was pleased with how well it came out. It wasn't quite what I was expecting in that it looks like the text is just painted on, instead of printed (subtle difference, and not an issue, it just surprised me.)

I had to leave it out of the wrapping for about a week to let it air out. It smelled very strongly of paint. But now it's all aired and I'm very excited to see what he does with it! (As he loves anything cuddly.)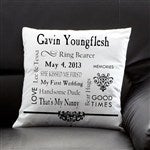 Love the personalized pillow
By
Denise F.

(Des Plaines, IL) - April 11, 2013 (
See all reviews by this customer
)
I purchased one pillow for myself and one as a gift. I love how personalized you can get with this item. The pillow came exactly as shown in my preview photo. This website is fantastic. I have purchased many other items and have never been disappointed.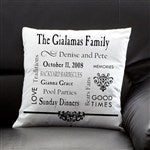 Memorial Pillow
By
Shopper

(Temecula, CA) - April 8, 2013
Pillow is a conversation piece and of a good quality.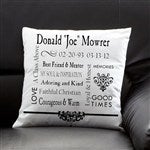 Perfect Couple's Gift
By
Shopper

(Brooklyn, NY) - December 28, 2012
I ordered this pillow for my co-worker who LOVED it. The picture looks exactly as it does in real life, I want one for myself now!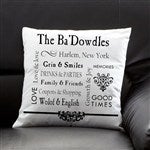 Great quality!
By
Kara D.

(Colorado Springs, CO) - December 4, 2012 (
See all reviews by this customer
)
Great quality, perfect size, great decorative throw for our couch.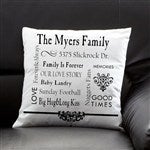 Perfect Gift
By
Elizabeth M.

(Sparta, NJ) - August 13, 2012 (
See all reviews by this customer
)
I purchased this for a Family who was selling their home and moving to Virginia. It was so personal to them. Tears of joy for the memories it created. It sits proudly in the corner of their sofa. I will order this for more of my clients. It is a GREAT Closing gift !!!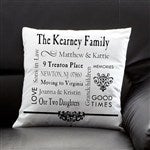 Wonderful
By
Tonya S.

(Unadilla, GA) - May 16, 2012 (
See all reviews by this customer
)
Very pleased with this product. Bought it for my mom for Mother's Day. She loved it and she is very hard to please!! :) Very fast shipping. Ordered it on Friday with standard shipping and received it on Wednesday!! Second time ordering and will continue to use for special occasions.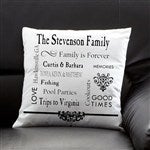 Very Happy Mom
By
Shonell C.

(Franklin, TN) - May 14, 2012 (
See all reviews by this customer
)
I bought this for my Mom as a Mother's Day present. She absolutely loved it. Both of my brothers called me to say all my mom talked about was my gift and complain that they couldn't compete with that. Sometimes it truely is the heartfelt things that win. This was not an expensive gift but my Mom could have cared less. If your Mom is as sentimental as mine this is definitely a winner.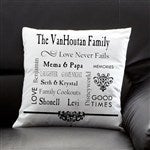 keepsake pillow
By
Shopper

(concord, MA) - May 11, 2012
We received our pillow in record time and were very pleased. It is just the right size. It was whiter than we wanted so I took off the cover and dyed it with brewed tea which simply took the edge off the white. It looks perfect for our interior.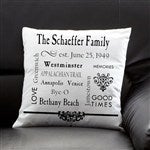 The Kutsayev Family
By
Shopper

(north port, FL) - April 5, 2012
I got this for my husband to be (in 17 days) since i thought it should be something that can last a very long time as both a souvenir and a decorative piece for our living room and ofcorse something that represents both of us! When i found this i feel in love with it because its perfect colors for our living room also i could personalize it with anything i wanted! i think he will love it too! i sure did! it also came in fast and it looks great! cant wait to put it in our home!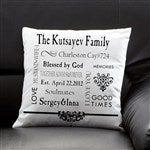 Keepsake Pillow
By
Becky B.

(Bull Valley, IL) - March 12, 2012 (
See all reviews by this customer
)
I purchased this item for my girlfriends birthday and she "Absolutley" loved it.. I made the verses personal to things we have done together and she thought it was a Lovely gift...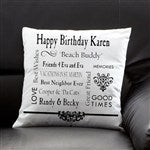 Great pillow!
By
Maggie B.

(Waukesha, WI) - March 11, 2012 (
See all reviews by this customer
)
Gave this pillow as a gift and it was absolutely loved!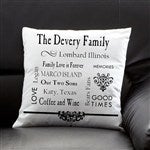 Versatile, Unique, Quality Gift!
By
Shopper

(Cincinnati, OH) - November 4, 2012
I've ordered one of these pillows for my mom with 'word cloud'-like words from her grandchildren,and I've ordered one for a co-worker who retired (used words, dates, phrases from our workplace). In both instances, the gifts were a huge hit! The color palate and quality are wonderful, and I know I'll use this as a go-to gift in the future.

VERY PLEASED!
By
Shopper

(olyphant, PA) - November 12, 2012
I was very happy to find an item so unique that let me personalize how I wanted. The site was very easy to use. The shipping was fast, everything was perfect!

Outstanding gift!
By
Shopper

(Evansville, IN) - December 26, 2012
Nice quality - amazing that you get the option to personalize to this degree! Wow! My only disappointment was that it was slightly smaller than I had envisioned. It was a great Christmas present for family.

Great Gift
By
Shopper

(BOGART, GA) - May 21, 2012
This was the perfect gift for my mom! It's difficult to find gifts for her because she has EVERYTHING! She absolutely loved it!

PERFECT GIFT FOR DIFFICULT/HAS EVERYTHING PERSON TO BUY FOR!
By
Melinda S.

(Carroll, OH) - August 14, 2012 (
See all reviews by this customer
)
If you are looking for a unique gift, this is perfect for everyone on your list! Create happy memories, with only a simple glance anytime day or night with this darling pillow! Perfect for anywhere in the home: bed, living room, entrance!

Nice Housewarming Gift
By
Shopper

(Rockwood, MI) - December 10, 2012
I ordered this for a friend that just had a new house built. It's a very nice, personal gift. My only complaint would be that I wished it was just a little bit larger. Otherwise, I am very pleased with it.

keepsake pillow
By
Mary G.

(Vancouver, WA) - July 29, 2012 (
See all reviews by this customer
)
This was a huge success!! Everyone at the party loved it! I think I'll order more at Christmas. Very sweet gift. Thanks.

Keepsake Pillow
By
Shopper

(Brawley, CA) - August 2, 2012
I love this pillow. I included the address of our home where my husband and I were married; which is the same as where my 4 kids were raised, all our names, and the name of our home town. My kids are grown and moved away, and my husband and I are retiring and moving to another city. This pillow will be a reminder of my family's 25 years of happy memories in this house. My daughter has already said she wants it passed down to her.

Pillow Talk
By
Yvonne R.

(Brooklyn, NY) - February 2, 2014 (
See all reviews by this customer
)
I was looking for something to express the sentiments of my sisters for one of our mutual friends who is ill. This did it. We put our names, expressions of love and her name as well. She absolutely loved it! The print quality was good, and the whimsical layout of the words was lovely.

Great touch for my new home
By
Jeanne S.

(Lebanon, TN) - February 10, 2014 (
See all reviews by this customer
)
I love the idea of this pillow. It was just the type of thing I wanted to celebrate my new home. My husband loved it too. My only hesitation is that I wish the fabric was ivory instead of white.

MEMORIES
By
Shopper

(ALTOONA, IA) - March 1, 2013
I ORDERED THIS PERSONALIZED PILLOW AND I LOVE IT. I WAS ABLE TO PERSONALIZE IT WITH MY FAVORITE THINGS.MY FAVORITE BIBLE VERSE,OUR FAVORITE PLACES TO GO,OUR GRANDCHILDREN.THE POSSIBILITIES ARE ENDLESS. IT CAME VERY QUICKLY AND WAS JUST AS ORDERED. THE FABRIC WAS A LITTLE MORE WHITE IN COLOR THAN I LIKE, SO I REMOVED THE COVER AND TEA DYED IT IN THE KITCHEN SINK. IT WORKED GREAT AND LOOKS MUCH BETTER WITH MY DECOR.I WOULD DEFINATELY RECOMMEND THIS ITEM.

awsome pillow, with style
By
Sara Q.

(New York, NY) - December 18, 2013 (
See all reviews by this customer
)
loved it.. to make your own words and have it all in a pillow it was great!!

Nice Keepsake of Vacation
By
Laurie S.

(Ashburn , VA) - April 16, 2013 (
See all reviews by this customer
)
Used this to create a gift to remind recipient of our family cruise. Used port names, countries, activities, dates, family member names etc to personalize. Great gift for "man who has everything"! Black and White- pillow a bit plainer than I hoped but could be used in home or office.

Family pillow
By
Karen F.

(Spokane, WA) - January 17, 2014 (
See all reviews by this customer
)
The workmanship is beautiful. The idea is great. It is a keepsake and a keeper. The only down side and that is my fault for not reading carefully is the pillow is WHITE. White does not go in my house or my children's. I wish I had read it was white. I would have preferred beige or another color.

lovely
By
debra S.

(centreville, VA) - April 21, 2012 (
See all reviews by this customer
)
the pillow is certainly a keepsake! It will be a great special gift for my husband. Our favorite vacation spot, when we married, our kids names, even our fav meal! ... be as creative and fun as you want! Shipping was fast as always.

Great present
By
Stacie R.

(Jacksonville, FL) - May 6, 2012 (
See all reviews by this customer
)
This pillow is absolutely the best gift! The quality of the product is fantastic and the appearance makes most recipients cry with joy! Being able to put personalized thoughts, memories and sayings on this keepsake is really a great way to show other people or families what you treasure!

Really special !
By
Shopper

(Braintree, MA) - December 28, 2012
We gave this to grandparents with information on our summer home. They loved it! Was really nice, will be a special addition to our summer spot with all our family and extended family - nice really nice. Wish it was available in other colors. White pillow with black only.

Perfect Gift
By
Shopper

(Jackson, NJ) - March 22, 2012
Item arrived on time and I was very satisfied. Good quality pillow and the personalization looked amazing. It served as part of my 2nd "cotton" anniversary gift and my wife loved it. This works great for any occasion and will make anyone happy.

Cute but small
By
Shopper

(west melbourne, FL) - February 18, 2013
Cute pillow. Loved the font , but the pillow is on the small side. For the money , wish it was bigger.

Gift for adoption celebration
By
Shopper

(Milford, MA) - April 10, 2012
Loved the finished product! Very unique! Nice quality. Would definitely recommend.

Great gift
By
Shopper

(pittsburgh, PA) - December 12, 2013
Great gift to get anyone your close to. So excited to give this to my mom for Christmas, I know she will love it.

Personalized pillow
By
Shopper

(Suffield , CT) - December 16, 2013
Lovely family pillow to display in your family room...which is a great tribute to your individual family.
It can be passed on through the generations.

Great quality and great price
By
Janet C.

(Carrollton, TX) - December 18, 2013 (
See all reviews by this customer
)
I love that I can add so many different names or sayings on this. It's a gift and they will surely love it. Similar items through other websites do not offer the same amount of customization, and their prices are much higher. Love this!

Great 75th Birthday present for our Mother!
By
Cindy P.

(Bonita Springs, FL) - December 3, 2013 (
See all reviews by this customer
)
This was a perfect gift for our Mother's 75th birthday. We had fun creating/personalizing it and she loved it! It came quick, good quality and we were very happy with it. I love shopping here for unique gifts. Thank you!

WONDERFUL GIFT!
By
Sandra H.

(Hot Springs Village, AR) - August 17, 2013 (
See all reviews by this customer
)
I purchased one for each of my son's family and will keep until Christmas! They are WONDERFUL!!! The quality is VERY good, they shipped quickly, and I couldn't be happier! Can't wait to give them to the kids....they will cherish them!!

Keepsake Pillow
By
Linda S.

(Pittsburgh, PA) - October 19, 2013 (
See all reviews by this customer
)
Awesome gift. I purchased it for my daughter and son-in-law's second wedding anniversary and included all their important dates! Such a clever idea!