Great Gift!
By
Kathleen A.

(Freehold, NJ) - April 21, 2014 (
See all reviews by this customer
)
I purchased this pillow for a dear friend's birthday & she LOVED it! It brought back some fun memories. I've never been disappointed with anything I purchased from this website! We both plan to buy from Personalization Mall again in the future!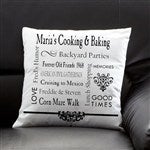 Excellent
By
Malabika B.

(ALPHARETTA, GA) - April 13, 2014 (
See all reviews by this customer
)
The pillow was of excellent quality and arrived very fast. I have been a customer of Personalization Mall for last few years and I have never been disappointed by the quality of the product or by their service.

Great Icebreaker
By
Shopper

(Gainesville, GA) - April 7, 2014
This pillow can be designed by the purchaser to have several names and places that are sure to create a conversation from guests. Looks very attractive on any chair or sofa. Great gift!

Great price for an adorable pillow
By
chris T.

(king of prussia, PA) - March 30, 2014 (
See all reviews by this customer
)
I purchased three of this pillow, one for me, one for my parents and one for my brother. It is well made and beautiful. It looks much more expensive than what I paid.
We all love it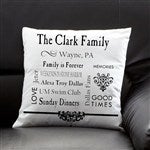 Family at a glance
By
Shopper

(Old Lyme, CT) - March 30, 2014
Using this pillow as a birthday present for my mother who doesn't need or want anything except her memories. It is an attractive and "hearty" looking pillow.

Wonderful meaningful gift
By
Shopper

(Belle harbor, NY) - March 26, 2014
This is the third pillow that I have given as a gift. One for my husband for Valentine's day, one for a close friend on his 75 birthday, and one for my mother on her 93 birthday Each, of course, is worded differently,with the goal of capturing the essence of the person and his or her individual interests
It is a fantastic personalized way of showing love, friendship or appreciation.
Each recipient was thrilled by the gift.
Best of all it is fun to create.
Personalization.com makes it so easy by going line by line and then showing you exactly what the finished project would look like.
You can return to revise it as many times as you want before being satisfied it is exactly what you wanted it to say and look like.
For my mother, I also made a Personalized plaque listing all her grandchildren and great grandchildren. It was a wonderful way to honor her.

pillow
By
Shopper

(Coventry, RI) - March 15, 2014
Great throw pillow for my living room, goes with any decor! Size is just right and the personalization looks amazing! The print is bold,& not cheap looking. I was surprised to note that the pillow cover is removable in case it needs washing. I LOVE this pillow and I've received several compliments on it, with three friends asking where i got it. I gave them links to your website,because i highly recommend your items, so expect more orders! ! I will definitely be ordering again in the near future

Remembering Grandchild's Special Words
By
Shopper

(Mount Carmel, PA) - March 12, 2014
We all know how our little ones have their special phrases they say and how they say them. This pillow is just what I wanted so we could order this pillow with several of the cute phrases our grandson says. I would LOVE if this pillow could be available in different colors as I would order more with other cute words he says. The pillow is absolutely great and everyone who saw it wanted to know where I got it! Thank you PersonalizationMall.com....you get an A+++++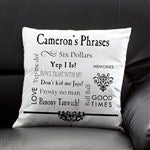 A great unique gift
By
Lorraine Z.

(Tinley Park, IL) - March 10, 2014 (
See all reviews by this customer
)
This was a great and unique gift for friends. The product delivered was exactly as it was shown on the website when all of the phrases were plugged in. The quality was excellent and the delivery was quick.
I have ordered items from Personalization mall for Christmas presents in the past and have ALWAYS been satisfied with the outcome. We have not been disappointed with anything !!!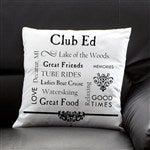 Perfect gift for family
By
Shopper

(Conway, SC) - March 8, 2014
I am a full-time graduate student living 12 hours away from my family. When they came to visit they helped me out so much that I wanted to give them something special to say thank you. This was the perfect choice. My parents were thrilled when it arrived (delivery was quick). It meant so much to them. While I haven't seen it myself yet, my mother describes the quality as flawless; it's beautiful! Personalizationmall.com has earned one more lifelong customer.

Pillow
By
Yvette W.

(Oceanside, CA) - March 8, 2014 (
See all reviews by this customer
)
Beautiful, for the price I thought it was just the pillow cover. But it was the pillow too. Will treasure for ever.

Love It !!!!!
By
Pat G.

(Fenton, MO) - February 3, 2014 (
See all reviews by this customer
)
Thank you so much for this individualized pillow. It is so professional looking and a great memory.
I know the family that will receive this for Valentines Day will absolutely love it!!
Thank you Personalization Mall !!!!!!!!!!!!!

my experience
By
Joan K.

(Atlanta, GA) - January 21, 2014 (
See all reviews by this customer
)
I was indecisive about ordering this pillow. Would it really look as cool as the picture? Would the quality be good enough? Would my friends like it? I am so happy to say YES to all my questions.

The process for ordering was so easy and the pillow arrived very quickly. This makes a fabulous, one-of-a-kind gift.

Love it!!!!!!!!!!!!!
By
Shopper

(Lake in the Hills, IL) - January 20, 2014
This pillow is a beautiful gift! It looks identical to the picture and is a perfect for any occasion! It ships very quickly....I used economy shipping and it was delivered in 2 business days. Highly recommended!

the best gift ever
By
Shopper

(Chicago, IL) - January 20, 2014
I bought this pillow for a family member and she loved it! I am known as "The Gifter" now.

Memory pillow
By
Shopper

(Milltown, NJ) - January 18, 2014
Loved the pillow I purchased for a retirement, but it is a little costly for a small pillow.

Perfect!
By
Cathy S.

(Ellenburg Center, NY) - December 26, 2013 (
See all reviews by this customer
)
I absolutely love this pillow..I ordered two for my two daughters..they came in quickly & are beautiful. I was able to personalize each pillow with words or phrases that were special to each of them. They were, for sure, their favorite Christmas gift. I absolutely love your website and will continue shopping here for unique, personal gifts. Thanks!

Great Christmas Present
By
Shopper

(painesville, OH) - December 21, 2013
Bought this for a christmas present and it's beautiful. I couldn't be happier.

Awesome product!!
By
Mindy H.

(nashville, TN) - December 19, 2013 (
See all reviews by this customer
)
I ordered this pillow for my mother because it's so hard to find a gift for her! The one thing she loves is her family. When I received it I was so very happy! I loved that you could personalize it and I know it will be a complete surprise for her when she opens it! It came quickly in the mail. It looked GREAT! 5 stars on this one!!

Great quality and great price
By
Janet C.

(Carrollton, TX) - December 18, 2013 (
See all reviews by this customer
)
I love that I can add so many different names or sayings on this. It's a gift and they will surely love it. Similar items through other websites do not offer the same amount of customization, and their prices are much higher. Love this!

Personalized pillow
By
Shopper

(Suffield , CT) - December 16, 2013
Lovely family pillow to display in your family room...which is a great tribute to your individual family.
It can be passed on through the generations.

Great gift
By
Shopper

(pittsburgh, PA) - December 12, 2013
Great gift to get anyone your close to. So excited to give this to my mom for Christmas, I know she will love it.

Great 75th Birthday present for our Mother!
By
Cindy P.

(Bonita Springs, FL) - December 3, 2013 (
See all reviews by this customer
)
This was a perfect gift for our Mother's 75th birthday. We had fun creating/personalizing it and she loved it! It came quick, good quality and we were very happy with it. I love shopping here for unique gifts. Thank you!

Gorgeous
By
Monica A.

(Long Beach, CA) - October 21, 2013 (
See all reviews by this customer
)
I love this product. Once again, I am very impressed with the final product. Just beautiful...

Keepsake Pillow
By
Linda S.

(Pittsburgh, PA) - October 19, 2013 (
See all reviews by this customer
)
Awesome gift. I purchased it for my daughter and son-in-law's second wedding anniversary and included all their important dates! Such a clever idea!

Cutest thing ever
By
Poppi T.

(Huntersville, NC) - September 17, 2013 (
See all reviews by this customer
)
love the personalized pillow. It's a great gift for anyone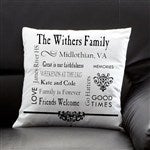 WONDERFUL GIFT!
By
Sandra H.

(Hot Springs Village, AR) - August 17, 2013 (
See all reviews by this customer
)
I purchased one for each of my son's family and will keep until Christmas! They are WONDERFUL!!! The quality is VERY good, they shipped quickly, and I couldn't be happier! Can't wait to give them to the kids....they will cherish them!!

Wonderful gift for any occasion!!
By
Billie J.

(Bluefield, VA) - August 17, 2013 (
See all reviews by this customer
)
We love the pillow, it is for a 60th Wedding Anniversary and it will be a huge hit.

Pillow personalized for retirement
By
Ruth Ann U.

(Joliet, IL) - August 2, 2013 (
See all reviews by this customer
)
Quality of merchandise was excellent, modifying it for this event was easily facilitated. It made for a unique gift. I needed assistance in closing out the order as I couldn't see how to submit with the coupon. Phone personal were most helpful.

celebration & memory pillow
By
Sheryl G.

(Long Beach, MS) - June 14, 2013 (
See all reviews by this customer
)
This was a gift and was shipped directly to recipient so I cannot determine the quality in person. The photo looked wonderful and the pillow was received well so hopefully, it will hold up.

Picky mom gets perfect gift. :)
By
Shopper

(Centennial, CO) - May 20, 2013
So what is a daughter to get on Mother's day for a woman who has everything? I can ALWAYS count on personalization mall to come through. I have bought several unique items from this site. I love love love shopping here. The service is outstanding and products are great. This pillow topped the list. My mom called me with tears of joy. She said it was "just perfect and very special." I would recommend this to anybody who wants to send the perfect something.

Love the personalized pillow
By
Denise F.

(Des Plaines, IL) - April 11, 2013 (
See all reviews by this customer
)
I purchased one pillow for myself and one as a gift. I love how personalized you can get with this item. The pillow came exactly as shown in my preview photo. This website is fantastic. I have purchased many other items and have never been disappointed.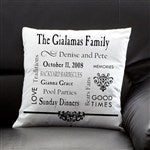 House warming
By
Shopper

(BROOKFIELD, WI) - April 8, 2013
i bought this for my son's new house. Him and his wife loved the pillow. The personalization was such a surprise for them. They proudly display the pillow on their couch, my only suggestion would be is to offer maybe a beige color as well as the white. Thanks for another satisfied purchase.

Memorial Pillow
By
Shopper

(Temecula, CA) - April 8, 2013
Pillow is a conversation piece and of a good quality.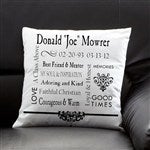 Great Anniversary Gift
By
Kevin S.

(Chandler, AZ) - March 9, 2013 (
See all reviews by this customer
)
This pillow showed up looking EXACTLY as I had customized it. It is a good quality pillow and arrived quickly.

OVERWHELMINGLY PLEASED!!!
By
Bridgitte S.

(Antioch, TN) - February 26, 2013 (
See all reviews by this customer
)
This pillow exceeded my expectations! My daughter and son in law had just remodeled their bedroom so this was the perfect "add on" for them. It recaptured what they had done in the last year of their life with their new daughter. I love how easy it was to choose placing of text, messages and see the preview. I ordered this and received it within 5 days!!! That was amazing! When she opened it she loved it!! The surprise however was put back on me...as I learned we're expecting a new grandchild! I will certainly be ordering several more of these in the coming months for other ocassions! Great quality!! Great price and AMAZING Turn around time!! It was also very east to keep up with the order via your tracking numbers! Everyone wanted to know where and how I did it. You should be getting many new members in the coming days!!!! :)

Very pleased
By
Shopper

(Graniteville, SC) - February 5, 2013
The pillow is better than the picture. We were able to say the things we wanted. It was a good price. It arrived quickly. We are very pleased with the product and the service.

Great Quality
By
Jennifer S.

(Campbell, CA) - January 27, 2013 (
See all reviews by this customer
)
This pillow was soft and beautiful. It looks just like the picture and is so special with all the personal touches. Such a great gift and looks great on the couch.

Great Gift
By
Maria J.

(Inverness, FL) - January 22, 2013 (
See all reviews by this customer
)
Got this made for my daughter's 21st birthday. She loved it!

Awesome gift!
By
Shopper

(Kenner, LA) - January 22, 2013
I purchased 6 of these pillows and personalized them for my sorority sisters and they absolutely loved it! The pillows looked exactly how they do in the picture and was of very good quality. I would highly recommend this pillow!