The engraving looks amazing
By
Sue H.

(Onalaska, WI) - December 18, 2013 (
See all reviews by this customer
)
I ordered this for my sister. I was a bit nervous because it was my first order from Personalization Mall, but the reviews where all great so I gave it a try. I am so glad I did. The quality is great. The box is blemish free and real wood, and the personalized message looks great. Even the delivery was super fast. I know she is going to love it. Thanks for helping me with the perfect gift. After seeing the quality, I ordered a personalized hoodie and look forward to receiving it soon.

Excellent gift!
By
Lesley P.

(Chillicothe, OH) - December 17, 2013 (
See all reviews by this customer
)
Bought one of these for my mother and one for my daughter. Brought tears to both of their eyes. Very touching and very personal! Loved it!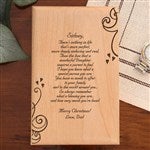 Outstanding
By
Shopper

(Newark, DE) - December 16, 2013
I am elated with this purchase. Beautifully hand etched with my sentiment. Every word just as I wrote and 100 percent spelled correctly. I know the intended is going to be thrilled when she receives this gift.
As always, thank you personalization mall.




Wonderful Gift
By
Jennifer A.

(St. Cloud, FL) - December 16, 2013 (
See all reviews by this customer
)
I was very happy with this. It was a gift, and she loved it. Good quality, just a little smaller than I thought on the inside. Still very good quality especially for the price. I would definitely buy this again and recommend it to someone looking for a nice thoughtful gift.

Really Beautiful!
By
Pollyann O.

(Upland, CA) - December 13, 2013 (
See all reviews by this customer
)
The jewelry box is even more beautiful than I expected! The quality of the material is excellent and the engraving flawless. It's for my daughter and it really expresses how I feel about her. Also, it arrived just when they said it would. Thanks for a memorable gift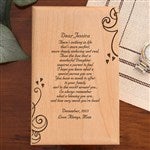 Jewelry box
By
Shopper

(Anchorage, AK) - December 7, 2013
I order this box for my daughter's Christmas, I thought it might not get here in time but, it arrived long before and it looks great. I would definitely order again.

A PERFECT KEEPSAKE
By
EILEEN K.

(New Britain, CT) - December 4, 2013 (
See all reviews by this customer
)
If we are buying a piece of jewelry for a loved one, what a perfect keepsake to put it in. They will always remember the emotion behind the gift when it is in such a touching box.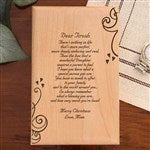 My Guardian Angel Will Just Love This Gift
By
Elisa M M.

(Warwick, NY) - December 1, 2013 (
See all reviews by this customer
)
Every time I order from Personalization Mall, I am always pleased with each gift. Among many Christmas gifts I ordered this year and all the past years from your company, my expectations have always been exceeded. Your special customer service representatives are most helpful, considerate; and they make shopping a pleasure. The delivery is always on time.

The special poem for the item: A Poem For Her Engraved Jewelry Box, has special meaning for the recipient because I was able to compose my own poem from my heart. Thanks, Personalization Mall for helping me express my thoughts.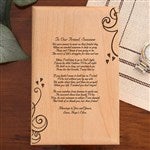 Memory Box
By
Shopper

(Red Bud, IL) - November 30, 2013
The jewelry boxes are very nice. What appealed to me was the customization that was possible. I discarded the idea of a poem and used the available lines to mention snippets of things that would have meaning to each of my friends, thus creating a personal, lasting memory of our times together for each of them. Delivery was fast. The personalization was perfect.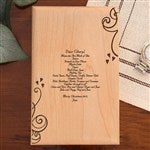 Beautiful!
By
Crystal L.

(Clifton Park, NY) - November 27, 2013 (
See all reviews by this customer
)
I was nervous buying something like this online without seeing it in person, and when I received it I was more than happy! The craftsmanship is amazing! The wood is real too, which was a pleasant surprise. The engraving was exactly how I wanted it and just gorgeous. I also loved that I had several poems to choose from or I could create my own. I highly recommend this product. It is very sentimental. I bought it for my mother for Christmas and I'm sure she will cry happy tears!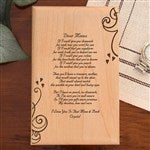 Great gift for the price!
By
Kristin K.

(Homewood, AL) - November 27, 2013 (
See all reviews by this customer
)
I ordered this box for my mother-in-law from my husband for Christmas. We recieved it in only 3 days and the personalization is incredible. The box is engraved which makes it look very expensive and I was surprised that a personalization could be finished that quickly! Even my husband, who is not impressed by very many things, made the comment of how nice the box was.

I will DEFINATELY order more gifts this season!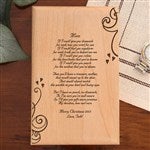 beautiful box
By
brenda W.

(canyon country, CA) - November 25, 2013 (
See all reviews by this customer
)
it came just like it looks in the picture the writing on it was beautiful. they shipped it very nicely packed. I am very pleased with my purchase.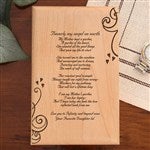 Perfect!
By
Pat I.

(Eden Prairie, MN) - November 20, 2013 (
See all reviews by this customer
)
This item turned out beautifully. I'm extremely happy with the personalization and the product itself.

I recommend this item.

Great good bye or retirement git!
By
Shopper

(Lubbock, TX) - October 19, 2013
I bought this for a nurse colleague who was leaving our clinic. I used one of the stock poems and modified it, thus I had a very personalized poem! This is an inexpensive gift that can have small trinkets, jewelry, etc. added to the interior to make it even more special. The box is exactly as described and pictured. The inside is light tan. Quality is average; this is not an expensive product and I didn't buy it as such. I simply wanted something that could be personalized, not look cheap, and be a keepsake she could keep forever. I was very pleased and I think the nurse will be, too!

perfect gift
By
Glenn R.

(bridgeton, NJ) - October 4, 2013 (
See all reviews by this customer
)
i love personalizationmall.com, i'm always buying items for my wife for her birthday and our anniv, box was better then it looks in the picture ... what else could you want?

Excellent gift idea
By
Shopper

(Los Angeles, CA) - September 27, 2013
The box is very much like what u see in the pic. The personalized message was engraved beautifully. I am very happy with the end result of this gift. It's a great idea for a keepsake gift.

Excellent Product
By
Shopper

(Tenafly, NJ) - August 6, 2013
I was thoroughly satisfied with the product. It looks beautiful and I received the order in less than a week.

Water Works
By
Shopper

(Pagosa Springs, CO) - May 20, 2013
I haven't seen the completed jewelry box as I sent it directly to my mother in another state for Mother's Day, however I can tell you that when she called me she was beyond pleased. She even admitted to getting a little misty-eyed. Success! She is a very special lady and I am always looking for ways to tell her how much she means to me.

Very special gift that touched my mothers heart
By
Tracy S.

(North bellmore, NY) - May 20, 2013 (
See all reviews by this customer
)
My mom usually is the one to write poems for my daughter and when I saw this and the perfect poem - I just had to puchase this. She cried when she received it, and now it will bring a smile to her face every morning.

Quality was beautiful and I will purchase another but for my daughter.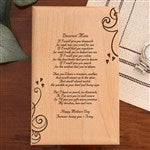 Keepssakes
By
Luis O.

(Fayetteville, NC) - May 15, 2013 (
See all reviews by this customer
)
The product put an original spin to already great gift. Great way to tell mom your love every time she puts on the jewelry.

Great Product!!!!
By
Shopper

(San Jacinto, CA) - May 15, 2013
I bought this item for my mom for mothers day i had my Thoughts on what is was going to look like i was scared but once i received it in the mail i was truly amazed it was an excellent product and my mom loved it so so much!!
I would recommend this product and store to anyone! YAY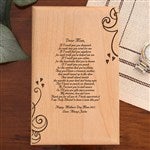 Great Gift
By
Edvin L.

(San Diego, CA) - May 13, 2013 (
See all reviews by this customer
)
The product was great,

Just beautiful
By
Heather M.

(El Paso, TX) - May 12, 2013 (
See all reviews by this customer
)
Mother's Day present for my mom. Shipping was faster than I thought it would be and it's everything advertised. Tears were shed and she loved it. Just a great item for anyone special!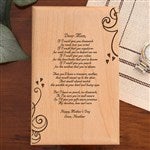 A Lovely Gift
By
Shopper

(Lexington, SC) - May 4, 2013
I bought this for my mom as a mothers day gift. The engraving is so wonderfully done. I like the fact that the jewelry box is small with separate compartments. I think she will love this box, it is a wonderful gift.

proud mom of the bride
By
Lori M.

(Due West, SC) - May 1, 2013 (
See all reviews by this customer
)
I ordered the engraved jewelry box with a poem that I wrote especially for my daughter's wedding. The quality and detail is exceptional. I had made a typo that I did not catch until the product had already been shipped to me. However, this typo will remain a part of the interesting story.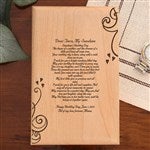 Jewelry box
By
Sandra M.

(Cogan Station, PA) - April 29, 2013 (
See all reviews by this customer
)
This jewelry box is amazing......it brought tears to my daughter's eyes....which was kind of what I wanted......The quality and personalization was more than I expected........excellent...I may just order another one for my other daugther soon....:)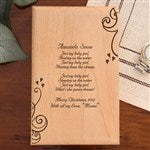 amazing
By
Jessica H.

(washougal, WA) - April 26, 2013 (
See all reviews by this customer
)
this turned out better than I imagined. it was perfect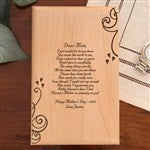 Amazing Gift
By
Kandice W.

(Pomona, CA) - February 19, 2013 (
See all reviews by this customer
)
This product is amazing. I have ordered two of these special gifts. Well crafted and elegant. The poem is detailed and the perfect size for reading. Excellent! !!!!!

Great purchase
By
Shopper

(North Las Vegas, NV) - February 18, 2013
You will not be dissappointed with this keepsake. Although it is only meant to hold just a few personal items, it is a wonderful display item that will be treasured for the message more so than the practicality of items it can hold within.

A Gift To Cherish Always
By
ROBERTA K.

(SUFFERN, NY) - February 10, 2013 (
See all reviews by this customer
)
I chose this engraved jewelry box because it allowed me to express how much my daughter-in-law means to me and our family not only on her 40th birthday but always. The beauty and smoothness of the wood is outstanding as well as the deep "burnished" look of the engraving details of the poem. I inserted a lions head necklace inside with 2 tickets to the Lion King Broadway show. I was so pleased that she loved her gift!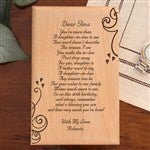 perfect gift for someone special
By
Jane S.

(Cohocton, NY) - February 7, 2013 (
See all reviews by this customer
)
I purchased this for my bff and added a poem that was meaningful to her and I. She loved it and I was thrilled with her response. Thank you for always making beautiful, AFFORDABLE gifts.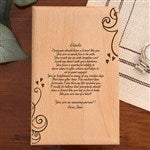 GREAT ITEM
By
Samuel M.

(North Miami Beach, FL) - February 4, 2013 (
See all reviews by this customer
)
I bought this item for my girlfriend and i wrote a sweet poem on it even tought now we broked up . She still call me and text me of how much she loved her box. She still use it.....i heard

So Happy
By
Shopper

(Spring Valley, CA) - January 28, 2013
Turned out so beautiful it truly exceeded my expectations.

wonderful
By
Shopper

(South Lebanon, OH) - January 10, 2013
This was just great...quality wood, words were crisp, it is small, so if you are looking for a big jewelery box this may not be it, but if you are looking for something that is more sentimental and commemorative, and want to hold a few items, then this is a good choice

I love it
By
Shopper

(Memphis , TN) - January 3, 2013
My aunt loved her gift and I will definitely be using you all's services again!

Completely Satisfied
By
Roxanne C.

(Shavertown, PA) - January 2, 2013 (
See all reviews by this customer
)
Finely crafted, love this, excellent value

Perfect
By
Shopper

(plant city, FL) - December 28, 2012
good quality
great price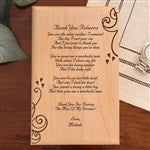 Touching Christmas Gift for Mom
By
Shopper

(Mechanicsville, VA) - December 28, 2012
As my daughter is a single Mom, I, as grandmother, always help my granddaughter with gifts to her Mom at Christmas and other occasions. My granddaughter choose a new charm for her Mom, that was significant to them, wrote a beautiful note on why she choose it, enclosed both in this beautiful jewelry box, which was personalized with both my granddaughter's and grandson's sentiment and names, and presented it to her for Christmas. Many happy tears, and hugs were shared at such a special moment. This product, as all I have ordered from Personalization Mall, was exactly as expected, with crisp lettering, arrived quickly, and was received with complete joy and happiness. Very satisfied in every way!

Very lovely work
By
Connie M.

(Marietta, GA) - December 27, 2012 (
See all reviews by this customer
)
I purchased this for my mother's birthday. Unfortunately, when I opened it, I had been sent the wrong box. I called customer service immediately. The representative that helped me was amazing. She assured me that a new box would be created and shipped out to me 2 day air in time for Christmas. It was delivered Christmas Eve. The box is beautifully done and of very nice quality for the price. I was very satisfied with both the merchandise and customer service that I received. I will most definitely be returning to PersonizationMall.com in the future.

Poem for my Mother-In-Law Engraved Jewelry Box
By
Shopper

(Martin, KY) - December 27, 2012
It is beautiful! Excellent quality! It was much nicer than I expected. It brought tears to my mother-in-law's eyes so I think she loved her gift as well. Fast shipping too. Thank you!