to personalize yourself, it doesn't get much better
By
lee M.

(woodbury hgts, NJ) - November 5, 2009 (
See all reviews by this customer
)
I was amazed to how quick it arrived. But best of all I love the fact that you can put your own thoughts down or use one of the suggested sayings/poems. For me, I needed to say something specific and this gave me the opportunity to say what I wished, as I was given amble lines and spaces to accomplish this. I also loved the fact that the items offered to be personalized weren't trite things but things that can be used and cherished. I also felt the price was not unreasonable and most people would be able to afford such items. I will say, having looked over all your personalized items, you could use a few more things in this line of gifts, that cost a little less to be accessible for everyone.

A lovely purchase..
By
Kelly B.

(Rochester, NY) - October 27, 2009 (
See all reviews by this customer
)
I has this jewelry box engraved with a poem I loved and it came out perfectly. It is a very nice keepsake I will be giving to my mom for my wedding. I was very pleased with the quick turnaround time!!! WOW. And I was also very pleased with the quality and the price. A great experience and I will be sure to return for more goodies soon!!!

Utter Shock!
By
Tonika J.

(Murfreesboro, TN) - October 9, 2009 (
See all reviews by this customer
)
I purchased this item for my Mom's 52nd birthday. This item left her speechless with tears in her eyes!

smaller than expected
By
Shopper

(newport news, VA) - December 30, 2013
nice but I expected it to be a little bit larger. other than that, it was very nicely done. it arrived before Christmas as promised. will continue to order other items.

Its was nice, but not what i expected
By
Amanda K.

(san jacinto, CA) - December 15, 2013 (
See all reviews by this customer
)
It looks absolutely lovely, but I expected it to be much bigger. Maybe its the pictures, or maybe its just me, but I was really disappointed when I took it out of the package to give to my mom. She doesn't have a TON of jewelry, but even so, I'm not sure it will all fit in the box. Its also made out of fairly cheap material. It feels like maybe its plastic, maybe pressed wood. I would recommend it if you're ok with these things. If not, I probably would say try and get your loved one something else.

Very Nice
By
Shopper

(Liberty, MO) - December 13, 2013
The engraving was magnificently crafted. My poem looked more beautiful than I could've imagined.

Beautiful box
By
Josiah B.

(Switzerland) - December 8, 2013 (
See all reviews by this customer
)
i bought this for my wife for Christmas has not given it to her yet but, i think she will love it. There is something about the box that caught my eye, and the finishing is also great.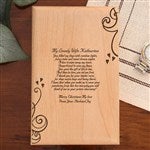 A great keepsake
By
Shopper

(BLACKWOOD, NJ) - November 24, 2013
Although I am happy with this purchased I was a bit disappointed in the engraving. The print is not dark enough. Some may struggle to read the poem. It is a lovely keepsake. I brought it for my daughter for her 30th birthday to put a special piece of jewelry inside.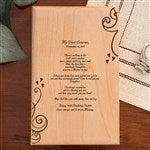 lovely gift
By
Shopper

(Mastic, NY) - June 1, 2013
Bought this to celebrate a cousin's 30th birthday and I love how personal and meaningful the poem is. I was able to change one our two words in the poem and really make it fit the occasion and I LOVE that about this site! Will purchase again!

The best mother's day gift
By
Shopper

(Union City, CA) - May 23, 2013
I absolutely loved it!!! It was very precise and easy to read. It was a gift that will last a lifetime!!

Made my mom cry..
By
Candice R.

(Haslet, TX) - May 20, 2013 (
See all reviews by this customer
)
The box itself is very pretty..inside very small..there are only 3 little compartments..but the meaning behind it made my mom cry and that was very much worth the cost. It arrived on time as promised. I ordered the gift box which was definitely a waste of money.. Ended up using my own wrapping paper.. The gift box is not worth it and very time consuming to assemble only to see ripped cardboard etc.. I was definitely disappointed in that.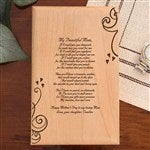 Lovely
By
Shopper

(Stephens City, VA) - May 3, 2013
This turned out really lovely. The outside of the box is extraordinary and I cannot wait to give it to my mom for mother's day. The inside (which I couldn't locate a picture of prior to purchase, but just bought this in lieu of a card, so wasn't that bothered) is kind of cheap looking and I would have been disappointed if this was the only item I was planning to give her for mother's day. Given the inside, I'd rate this item as 'good'.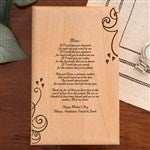 A Birthday Gift
By
Cherilyn S.

(Fairview, UT) - April 29, 2013 (
See all reviews by this customer
)
This Jewelry box was shipped to my sister for her birthday. I was not able to see it personally but she called and raved about how much she liked it. So I am assuming that it looked as wonderful as I expected it to. She received it on time and I was very satisfied with the purchase.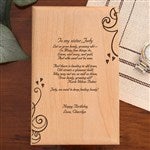 Excellent quality but smaller than I expected
By
Rachel H.

(Glen Ellyn, IL) - March 30, 2013 (
See all reviews by this customer
)
I love the poems that are offered and the box turned out great! I only gave it 4 stars because the box was small for how much I paid. Still, I love this website and will definitely be back.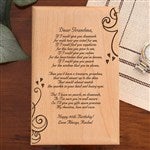 HAPPY BOUT IT
By
Joyce Ann W.

(New kenington , PA) - March 22, 2013 (
See all reviews by this customer
)
THIS GIFT CAME OUT JUST HOW WE WANTED IT. I LOVE THE PERSONALIZATION. GREAT BUY. I BOUTGHT IT FOR A BIRTHDAY BUT IT A GREAT GIFT FOR ANY OCCACION.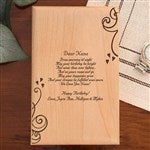 Keepsake
By
Shopper

(Spring, TX) - January 22, 2013
Second purchase from personalization mall and it is quality merchandise.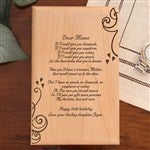 Excellent, only one quirk
By
Christopher H.

(Hartsville, SC) - December 26, 2012 (
See all reviews by this customer
)
Received the jewelry box and it looked great, however it opened from left to right rather than like a book, how I expected. Still, a minor quirk and the box looks beautiful.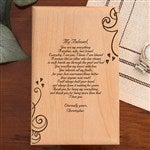 Great Idea
By
Shopper

(Rialto, CA) - December 26, 2012
Love the idea of personalizing jewelry box. Only thing is, it was little hard to read on the box, need to be darker words. Other then that my mom love it.

gift for mom
By
Shopper

(Rialto, CA) - December 26, 2012
She love it. Great gift ! And fast shipping.

Jewelry Box
By
Shopper

(tallahassee, FL) - December 20, 2012
Lovely Box. Wish the engraving was a little darker and the box deeper.

Beautiful Jewelry Box
By
Kristy C.

(Newnan, GA) - December 20, 2012 (
See all reviews by this customer
)
I am very pleased with the way these look. I ordered three, and they are all beautiful, unique, quality gifts. I am extremely pleased that they are engraved, not just printed. I do wish they were taller so they could hold more jewelry, but overall, I'm quite pleased. It amazes me that you are able to have such a quick turn-around time on personalized items!

Great box
By
Shopper

(Lunenburg, MA) - December 18, 2012
Love the poem and the engraved jewelry box on the outside. My only comment is the inside of the box is too small. The inside is not deep enough to put much jewelry. I even bought a second one for my younger daughter because the outside engravement was so nice.

Great gifts
By
Shopper

(BROOKLYN, NY) - December 17, 2012
This was great gift that was not too expensive

Very sweet - a little small
By
Christie S.

(Newark, DE) - December 14, 2012 (
See all reviews by this customer
)
The finish of the box was very nice, the writing clear and precise. The box itself was smaller than I expected and you can't take the tray out of the bottom. I was hoping it would be a jewelry box/keepsake box but it was definitely more of a jewelry box. Aside from it being a little smaller than I expected it was a GREAT gift and very nicely made. I'm sure my mother in law will LOVE it.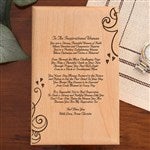 Really nice!
By
Shopper

(Westbury, NY) - December 12, 2012
I bought this jewelry box for my mom for Christmas and I'm so excited to give it to her. It came out beautifully. The poem is very meaningful. This is definitely a great gift!

Hope Great Grandma Loves it!
By
Shopper

(tuscola, IL) - November 29, 2012
This is for our 4 yr. old to give to her Great Grandma for Christmas. I showed it to her last night and she was so excited to be able to give that to her. I hope she loves it as much as we love her. The only bad thing I would say is the engraving is not as clean as I would have liked but it is a great product for the price.

A nice gift
By
Shopper

(Pawtucket, RI) - November 6, 2012
Bought this for my mom as a gift to give her on my wedding day. It arrived very quickly, the engraving is really nice and it was easy to be able to write my own poem. It's not as deep as I expected; the inside is pretty shallow but can still fit plenty of jewelry in it. It's really lightweight. Definitely a great product for the price and is a nice gift if you're looking for something heartfelt and personal. I definitely recommend it. It won't break the bank, but it's the perfect present from daughter to mother.

Very good quality, attractive
By
Julie O.

(Charlottesville, VA) - October 15, 2012 (
See all reviews by this customer
)
This little jewelry box is of good quality and quite attractive.

Verse print
By
Nancy L P.

(Bloomington, IN) - May 15, 2012 (
See all reviews by this customer
)
Print was too light. Appeared darker online than the actual print.

Jewelery box engraved poem
By
Marlene R.

(Farmington, NY) - May 14, 2012 (
See all reviews by this customer
)
I had a real hard time getting my own wording to display the way I wanted. I wanted the letters MOTHER to line up but the words start at the center of the page for some reason, and not like a word document to be flush on one side. I ended up putting in spaces to get it to work. It came out great and for most this would not be in issue. This was a Mother's Day gift and had to pay extra for faster shipping and I really think I could have paid less to get it in time. I guess it was worth it to get in time. I have ordered other items before also and very satisfied. Personal gifts like these are so much better and something that will last a long time. I received the offer from the mypoints program so I received a discount.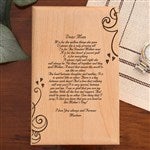 Mother's Day Sentimental Jewelry Box
By
Debbie K.

(Apple Valley, CA) - May 9, 2012 (
See all reviews by this customer
)
Wonderful options to personalize nicknames, beautiful poems, quality wood box, wasnt crazy about the quality of the lining with glue zigzags visible underneath the lining.

Perfect Mothers Day Gift
By
Shopper

(Phoenix, AZ) - May 8, 2012
Great quality of wood. The engraving is flawless and beautiful! The only down side is that the jewelry part is a quite small. Fast shipping

Engrave Jewel Box
By
Mary W.

(Baltimore, MD) - April 23, 2012 (
See all reviews by this customer
)
Recieved my Engrave Jewel Box in 5 days. It has three slots to put maybe a necklace, bracelet and a pair of ear rings. The engraving was very nice.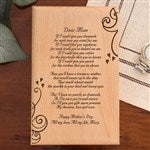 Very nice little box
By
Shopper

(marksville, LA) - January 22, 2012
The box is nicely made. My only complaint is i wish that it had a little locking mechanism or clasp on the side. Otherwise it's just like the picture

Beautiful gift
By
Michele J.

(russiaville, IN) - December 27, 2011 (
See all reviews by this customer
)
Daughter loved it. Would have been better without the plastic felt lined insert. But still a beautiful piece.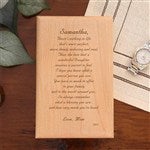 To small
By
Shopper

(Afton, NY) - December 16, 2011
I was alittle dissappointed that the jewerly box wasn't a little bigger.
Other than that it was nicely made.

Jewelry Box - engraved
By
Shopper

(Stow, OH) - November 18, 2011
This is the second one I purchased. Very happy with it.

Product features good and bad
By
Shopper

(Logan, UT) - October 11, 2011
I absolutely LOVED the jewelry box. The engraving was beautiful and my only disappointment is that it was about half the size that I thought it would be. That's my only complaint. I wish it was bigger!!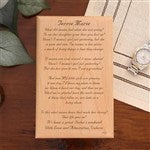 Nice Keepsake
By
Shopper

(Hyattsville, MD) - June 27, 2011
This gift is a nice keepsake and a great way to express good wishes to the receiver. It can be personalized using your own heartfelt words.

Nice
By
Shopper

(Campbell, NY) - April 25, 2011
The quality is great and it is really nice just a little smaller that I though which is my falt for not paying more attention to the measurements.