Nice, but not the quality I expected
By
Beth W.

(Chester, IL) - October 22, 2013 (
See all reviews by this customer
)
I loved the jewelry box however the inside was plastic with a 'fuzz' like appearance. Not quite what I expected.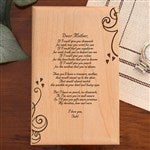 Cute Little Box
By
Stephanie H.

(Litchfield Park, AZ) - January 4, 2013 (
See all reviews by this customer
)
I am pleased with the box, however, the writting was a little small. So if you are getting this for someone a little older I would choose a poem with less words hoping it would make the print larger. I also feel the inside should have an option to be removed in case someone has larger jewelry.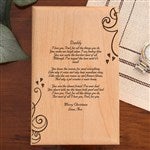 ok
By
Sarah D.

(Drexel Hill, PA) - December 18, 2012 (
See all reviews by this customer
)
beautiful outer design with poem, inside small and of cheap quality.

Dissapointed
By
Shopper

(Sewell, NJ) - December 16, 2012
Although the price I paid for this item was awesome, I was very disappointed at the size and how it looks in person. Thought it was going to be nicer.

Product features
By
Shopper

(Orange, CA) - November 16, 2011
I am satisfied about the quality of print and the space allowed to customize my own words, that was actually great! I was not satisfied however about the functionality of the box itself, particularly the inside. I was hoping it would be deeper inside to have more room for jewelry storage. I was disappointed to see how shallow it was so I can't store much inside and it will be less functional than I anticipated.

Nice momento
By
Shopper

(Bonner Springs, KS) - August 10, 2011
The box and saying is quite nice. However, to actually USE it as a jewelry box close to impossible. Not "deep" won't hold much.

cute, but small
By
Tonja L.

(Petal, MS) - December 29, 2010 (
See all reviews by this customer
)
I got these for Christmas gifts. I love the idea and the amount of space, also the fact that you can create your own poem or saying for the box. The only bad thing is how small they are. The picture is a bit deceiving. It's also not very deep, so it would only hold small earrings, bracelets, etc.

Not what I was hoping for
By
Carrie C.

(Arlington, TX) - September 17, 2013 (
See all reviews by this customer
)
The engraving was nicely done. However, this product does not appear to be a quality "jewelry box." Although it is a nice box, I'm trying to see if I can pull the inside lining out and do something on my own as the inside compartment area and upper lining of the box simply looks cheap and I would be embarrassed to give this to my mother as it is. Might be a nice jewelry box for a child, but certainly not an adult. The price is right, but just plan on replacing the inside portion once you receive it.

Can't read tiny writing
By
Shopper

(Havertown, PA) - May 11, 2013
Would have been perfect if the box was big enough - good quality but beautiful poem I chose is much too long for the size of the box - need a magnifying glass to read it. It should not be one of the options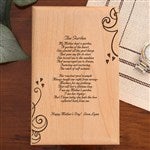 A Poem For Her Engraved Jewelry Box
By
Shopper

(jupiter, FL) - November 16, 2012
The box itself looks nice and the engraving is excellent. The inside however, is greatly disappointing. The liner is lower quality, fuzzy coated plastic. Space would be better utilized to simply be felt-lined. The plastic liner limits the use of space.

engraved box
By
Shopper

(jupiter, FL) - November 10, 2012
For the first time EVER with any items ordered from personalization mall, I must say that I am truly disappointed in this item. The box itself and the engraving are very good. However, I thought the wooden box would simply be lined with felt, allowing a multitude of uses. Instead, it's lined with a sectioned cheap plastic liner with a fuzzy coating, limiting it's use basically to stud earrings as nothing else will fit into the small shallow spaces created by this liner. You should provide a photo of what the inside of the box will look like.

Not quite as nice as I expected):
By
Deborah B.

(Mashpee, MA) - November 4, 2011 (
See all reviews by this customer
)
The engraving was what I asked for, however, in the Display, it shows BLACK lettering, which would stand out on the Box - but mine was Not...so difficult to see (gift for Elderly Aunt)...Also, the lining in the box was not really very nice. I would say this box would be OK for a MAN and maybe his keys, etc. but Not a "Jewelry box" that you would want to give as a Gift, unfortunately.

Unimpressed
By
Risa Beth L.

(East Meadow, NY) - May 8, 2010 (
See all reviews by this customer
)
The outside is exactly as appears but the inside leaves a lot to be desired

Poem Box for her
By
Jill P.

(Milwaukee, WI) - November 10, 2009 (
See all reviews by this customer
)
Looks cheap when you see it in person, Is not worth the money, Shipping was outrageous. Very dissatisfied

Daughter Jewelry Box
By
Shopper

(Leander, TX) - December 6, 2012
The item isn't as big as it looked online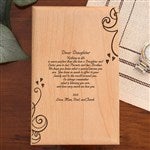 Jewelry box
By
Shopper

(Portland, OR) - December 12, 2011
The jewelry box looked great in the picture but when I got it I was quite disappointed in the lack of quality. It is very cheaply made. I bought it for my 14 year old daughter thinking it would be a wonderful keepsake however I don't think it will last for any length of time. On the positive side, the engraving looks great.