Our Special M.P.
By
Joanne M S.

(Edison, NJ) - October 9, 2012 (
See all reviews by this customer
)
Thank you so much for turning my order around so quickly. I was hoping to get this in time to have it blessed for a VERY SPECIAL M.P. (my daughter's boyfriend) who is being deployed this week and for her to be able to present it to him before he left. You made our hopes and dreams come true and I am so grateful for the fast turnaround for without such, there would not have been time to have a priest bless it.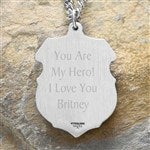 Fathers day gift
By
Amber J.

(Davison, MI) - June 21, 2012 (
See all reviews by this customer
)
This was a first Father's Day Gift from our new baby (myself) to my Husband, who is a police officer. It was perfect, and he loved it. The metal is heavy and feels durable which was important, and the quality seems really good. The engraving was wonderful as well. He will never forget his first Father's Day while he wears this.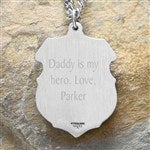 its okay
By
Shopper

(Taylors, SC) - April 24, 2012
The item I received was different than pictured. It shows St Michael with his foot on satan but my item displays the dragon. Also the letters are not raised on the pendant. I was very picky in where I ordered this medal from and was excited when I found this one. I'm disappointed the item doesn't match the picture of what I thought I was receiving. It also has a black smudge on the bottom front of the pendant.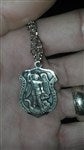 great present not great wrapping
By
Shopper

(STAFFORD, VA) - June 23, 2012
the pendent itself was great and perfect for my husbands graduation from the police academy however the gift wrapping that I payed extra for was VERY disappointing. All that came with it was a cheap cardboard box that had a ribbon that looked more like a hair tie. My recommendation is buy the product and wrap yourself!

Love the medal but not the chain
By
Shopper

(bogota, NJ) - December 28, 2012
Bought this for my son as a gift. He loved it! The medal is outstanding but the chain is not the best. He will use it until i can get him a better one.

Nice gesture
By
Shopper

(Sammamish, WA) - September 6, 2013
Love that this is a St Michael pendant; the thought and gesture is beautiful. The engraving is lesser quality than I expected, it's not so much engraved (substantial) as 'printed' on the metal. I would have liked for this to be a real engraving as it has the capability to be something that is handed down from generation to generation. Not sure as it is, it will be that much of an heirloom. Not positive it's worthy of its price tag. However, with all that said, I love Personalization Mall and will continue to be a customer. Just not ecstatic about this purchase.

DON'T WASTE YOUR MONEY!
By
Shopper

(Cape Fair, MO) - August 7, 2012
My boyfriend wore this necklace only 3 days before the chain rusted so badly it stained the collar of he (dark blue!) uniform! The pendant was bent at the top as well. Customer service has been poor and no one has returned my requests for compensation. Do NOT buy this product!!!

Metal does not hold up to daily use
By Shopper (El Dorado Hills, CA) - May 21, 2012
I bought this for my boyfriend for Valentines day. I was very excited that I could engrave the pendant with a message so I bought it. He has worn it at work every day for the past 4 months. The pendant has turned black and the engraving has faded. Very disappointing that this necklace is not holding up to daily wear.

Nice
By
Shopper

(Jackson, TN) - January 19, 2013
Good quality. Timely shopping. Love it!

Exactly as advertised and better than expected
By
Mike O.

(Irving, TX) - June 19, 2012 (
See all reviews by this customer
)
It did take 8 days to arrive, but with engraving I expected that. As far as the medallion goes, it was larger than I expected (perfect!) and all 4 lines of engraving fit nicely on the back. The chain was decent too. I wasn't expecting a super-fancy chain but the one it cam with works very well (it is a gift for a loved one)- There were no blemishes, it was a nize sive and very presentable as a gift. I am very pleased.

BEAUTIFUL PROTECTOR
By
VANESSA S.

(CUMMING, GA) - March 22, 2013 (
See all reviews by this customer
)
SUCH A WONDERFUL PENDENT THAT IS PERSONALIZED FOR THE PERSON YOU WANT BLESSED AND PROTECTED. I WISH I COULD GET THIS PIECE FOR ALL LAW INFORCEMENT OUR PROTECTORS. GREAT QUALITY, FAST SERVICE AND THE GIFT PACKAGING WAS PERFECT

St. Michaels
By
Suzanne B.

(Thornton, CO) - January 20, 2013 (
See all reviews by this customer
)
Great quality! Looks amazing and engraving very nicely done. Love it! Great gift for any public servant in your life.

St Michael necklace personalized
By
Shopper

(Mankato, MN) - October 27, 2013
It was very well packaged but I was a bit disappointed with the personalized side. You could barely see the personalized writing, and I'm afraid it might fade away after wearing it for a while.

st michael
By
bernice G.

(floral park, NY) - June 29, 2013 (
See all reviews by this customer
)
Love it my son is going to be a policemen it is beautiful

loved it
By Shopper (Honolulu, HI) - May 23, 2012
I purchased for my son when he graduated from the Police Academy in Honolulu. He loved it. I am purchasing another for my second son who will be graduating next week. Very nice pendant for wearing or hanging in their partol cars
thanks so much