So beautiful!
By
Genelle P.

(Mayfield Heights, OH) - September 16, 2012 (
See all reviews by this customer
)
I ordered this (way in advance) as a Christmas present for my aunt and uncle. I love it! It is a perfect personalized gift, and I would order it again for someone else.

Another great product from Persoanlization Mall
By
Cindy M.

(Silver Spring, MD) - August 29, 2012 (
See all reviews by this customer
)
It's lovely, no fault with the quality, well packaged and will surely delight the family when presented at Christmas!
Again love the fact that we can see what the product will look like, takes the guess work out of it. Also like that there was a choice of lines or you could write your own.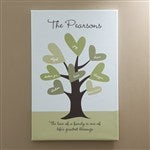 LOVE
By
Ashley W.

(Jackson, MS) - August 18, 2012 (
See all reviews by this customer
)
My sister had a fit over this! Thanks so much for making her birthday gift so special!!

Grandparent's legacy
By
Shopper

(Olney, IL) - August 10, 2012
We very much like the Family Tree art--it had just the right number of leaves for our grandchildren. (If we have additional ones, we'll be happy to figure out how to add leaves.

Wonderful
By
Nicole P.

(Tecumseh, MI) - August 1, 2012 (
See all reviews by this customer
)
It turned out very nice and better than expected!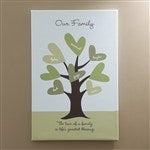 Awesome!
By
Shopper

(Duluth, GA) - May 18, 2012
I got this for a mother's day present, and my mom loved it! I would recommend this for anyone as a gift for your mother or grandmother.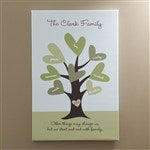 very pleased
By
Alicia H.

(Chesterfield, MO) - April 23, 2012 (
See all reviews by this customer
)
I got this tree for my mom for mothers day. We are a blended family with 4 kids from my mom and 4 kids from my step dad. This tree having 8 leaves was perfect. The picture came very quickly and it looked exactly how I ordered it. Everything I have recieved from this site so far has been great.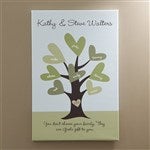 Nice Product! Easy transaction! Fast Shipping!
By
Brian H.

(East Stroudsburg, PA) - April 14, 2012 (
See all reviews by this customer
)
The personalized family tree was the perfect gift for my sister and her family. Everyone loved it and wanted to know where to get one!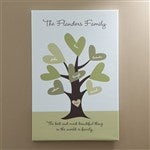 What I like most
By
Shopper

(Boynton Beach, FL) - April 11, 2012
This is a perfect way to display the important people in our lives, something special mom can look at and smile with joy at her growing family

Loved how this turned out.
By
Elizabeth P.

(West Burlington, IA) - April 10, 2012 (
See all reviews by this customer
)
I have seven siblings so this tree was perfect for me to personalize. I put the last name on the top, the year my parents were married in the heart on the tree trunk, branches have the names of each child and on the bottom my parents first names. I love it so much I may keep it for myself instead of giving to my Mom!

Lovely!
By
Shopper

(Alliance, OH) - April 9, 2012
Though I admit I wish it were a little bigger, it's absolutely beautiful, and came exactly as I ordered it! I love the fact that you can put whatever you'd like on all the products on this website!! This was my second purchase and I have been extremely satisfied both times. Truly personal, unique, quality, beautiful art.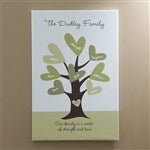 In love!
By
Stephanie C.

(Wise, VA) - March 25, 2012 (
See all reviews by this customer
)
I absolutely love this "Family Tree"!!! It is in my kitchen & is the first thing I see when I walk in! I love it!!!

Personalized Love
By
Nathan B.

(United Kingdom) - March 18, 2012 (
See all reviews by this customer
)
We bought the Family Tree art as a birthday present for my mom and are pleased to say she loved the gift. Being able to add all the family members' names to the art meant it was highly personalized and because the quality, it's a piece of art that takes center stage in the lounge. We opted for the framed option as it gave a finished look to the piece and would highly recommend this as an added extra.
All in all, we are pleased and would use the site again, thanks to the quality.

Beautiful, LOVE it just in canvas
By
Janine S.

(Horsham, PA) - March 18, 2012 (
See all reviews by this customer
)
LOVE it.... such a great addition to our home.... it's a decorative item that shows the merger of two families. I LOVE it without the frame... just the canvas.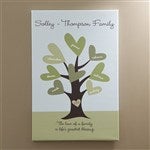 A terrific family tree
By
Shopper

(Jacksonville, FL) - March 4, 2012
We love the family tree canvas. Nice size, great colors, and it is just what we wanted..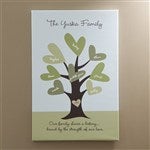 Nice housewarming gift
By
Shopper

(Harbor Springs, MI) - February 25, 2012
Love the fact that while working on script and personalization, you can see the actual item! Great site.

Very Impressive
By
Shopper

(Cumming, GA) - September 28, 2013
I got this for my friend,as a Housewarming gift.I got it made framed in Black. It really brought the canvas print much brighter & more custom made!

My friend loved it so much!

My suggestion for this product : if this came in different colors/designs would be very creative.

Lovely
By
Shopper

(Gloversville, NY) - May 11, 2013
Bought this canvas for our daughter for Mother's Day. It is very nice. We hope she likes it too.The colors are true to the website and it should look very nice by her front door. We bought the matching picture frame to go on the shelf in the hallway as well.