Exactly what I ordered
By
Shopper

(Sterling, VA) - December 1, 2012
The item was exactly what I ordered and came in a beautiful velvet box.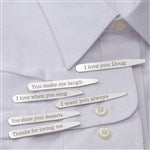 Great gift for that hard-to-shop for man
By
Shopper

(Lawton, OK) - November 28, 2012
I can't wait to give these to my boyfriend. He is the epitome of the man who has everything, but loves a thoughtful present. I had fun thinking of different messages. The box they came in makes a nice presentation and the quality of the stays is nice. He will be very surprised and appreciative when he opens them up on Christmas day. I'm sure they'll be a hit.

Very Pleased
By
Shopper

(Prescott, AZ) - November 26, 2012
I was very happy with my purchase. All of the engraving came out great and my husband loved them!!!

Better than expected!
By
Shopper

(Concord, CA) - November 25, 2012
Collar stays came in a silver metal which I loved so much more than the plastic white I thought they'd be! Great gift for my fiancé!

Great!
By
Shopper

(New Ipswich, NH) - November 11, 2012
I ordered these as a Christmas present and they came in very quickly. The quality is fantastic and I am excited to give them to my fiance on Christmas. I love the originality of this gift.

Cute gift for dad's
By
nicoletta D.

(elmhurst, IL) - June 15, 2014 (
See all reviews by this customer
)
I would have given these 5 stars but one of the collar stays came very scratched up. I'm actually surprised they sent the product out with the inscription very messed up on one. Otherwise they are great and my husband loved them

Collar stays
By
Tricia F.

(Indio, CA) - May 13, 2014 (
See all reviews by this customer
)
Solid stays, nice quality material. A bit concerned that the text will wear off over time (it's printed on, not engraved).

Quick delivery!
By
christina D.

(Centreville, VA) - December 17, 2013 (
See all reviews by this customer
)
My purchase arrived the week after I ordered them - very quick for a personalized item! I did not realize that these are printed on, not engraved. I would have liked them to be engraved but after comparing on other sites would have been more expensive. I am interested to see how long the personalized messages will stay looking new/easily readable.

Wondeful present
By
Shopper

(Caguas, PR) - June 11, 2013
I just recieved the Personalized Collar Stays set I ordered as Fathers Day present for my husband. It came in on time and in a beautiful presentation. I hope he likes them as much as I do!

Shorter than Sweet
By
Shopper

(Boise, ID) - May 14, 2013
The product was beautiful, well crafted, and presented cleanly. It was delivered on time and very nicely packaged. My only issue with the product was that the character limit was very short, but this is more of a note of caution than a disappointment- I knew going in that it would be difficult to fit what I wanted to say, but I wouldn't recommend getting your heart set on these to say any special phrase because making it fit can be a real challenge.

Arrived Damaged :(
By Shopper (Pompano Beach, FL) - April 9, 2013
I love this item and my husband loved them as well. I would have given them 5 stars, except that one of the collar stays arrived damaged. It had a large scratch on it and I was surprised that they sent it to me. It must have been seen because they are individually placed behind holder tabs in a velvet box. All of the other collar stays were perfect. I have never had any other products arrive damaged. I would still recommend this product. Great gift!

Great gift for the man who has everything
By
Rebecca R.

(Denver, NY) - March 5, 2013 (
See all reviews by this customer
)
I got these for my fiance for his 30th birthday. I think they'll be a really special present for him. It's a very sweet idea. I'm not sure how they compare to regular collar stays, as far as quality, since I'm not an expert on those things, but they aren't flimsy or rough, so it works for me! Hopefully he'll like them, too!

Great Gift
By
Shopper

(Surf City, NC) - December 20, 2012
These collar stays look exactly like the picture. They are good quality and the engraving is nice. The presentation is nice as well in the felt box. I do feel mislead because although it clearly states "6 collar stays" in the description the title is "Set of 6", so I thought it was 6 sets (12). They should reword it to read "Set of 3". This product shipped quickly and arrived 7 days sooner with regular shipping. Highly satisfied with Personalization Mall and will order again.

Good idea, but too small :(
By
BethAnn F.

(Flanders, NJ) - January 3, 2014 (
See all reviews by this customer
)
I bought these for my husband for Christmas. They are cute, but they aren't the standard size. They are not wide enough, so they fall out of the shirt collar easily.

Nice but not as nice as I'd hoped
By
Alyce W.

(Centerville, OH) - December 7, 2012 (
See all reviews by this customer
)
The color stays are nice, but one was stained. The personalization is quite difficult to read: not as clear as in picture on website.

Good idea, failed product
By
GRACE L.

(PLACENTIA, CA) - December 11, 2012 (
See all reviews by this customer
)
I was super stoked to find these personalized collar stays and I was even more pleased when I upgraded to expedited shipping that they shipped my order out the very next day. However, I was disappointed when I received them because they were poor quality. The collar stays were extremely scratched up and looked tarnished. The engraving was well done, but the product itself was poor quality. You can see from the photo that those lines that look like reflections are actually scratches.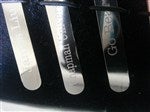 Non functional
By
Shopper

(West Orange, NJ) - January 4, 2014
I purchased these with the hopes that the person I gave them to would be able to actually use them. They are completely non functional and do not stay in the collar of the shirt as when you slide them in and then go to put a tie on they slide right out due to the fact that they are metal and not plastic and two were almost lost this way. I wish I had known this before hand as I would have picked a different product to give as a gift. They are definitly a cute gift to give but for $30.00 I would have liked them to be able to be used not just collect dust now.