very good
By
Bridget B.

(Mt.Orab, OH) - June 4, 2012 (
See all reviews by this customer
)
it was a little smaller than what i thought but over all it was perfect i love the vase.

Beautiful vase for retiring teacher!
By
Rebecca K.

(Vincennes, IN) - May 19, 2012 (
See all reviews by this customer
)
We purchased this vase for our daughter's Kindergarten teacher. She has been teaching for over 40 years and is retiring after this year. We wanted to get her something special that would last and would remind her how much the kids love her. This really fit the bill. She loves it and sent my daughter a special thank you note.

Happy customer
By
Shopper

(Hollywood, FL) - May 18, 2012
I'm very happy with my transaction, this is the first time I buy anything like this online and it was a very smooth transaction. Great communication when I had a question regarding my order and I love that I got to track my purchase every step of the way. I did receive my purchase on time and the packaging was awesome. Thank you.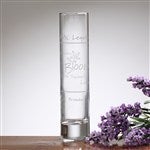 Love it
By
Shopper

(Denton, MD) - May 14, 2012
I bought this vase for my daughters teacher and it is beautiful.

Perfect gift for end of the yr for teachers
By
Shopper

(McComb, MS) - May 5, 2012
Love the personal touch! Very helpful with helping me correct my owne

Mistake on one of my children's teachers name before they processed the order.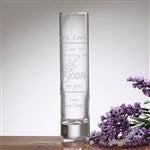 Great Gift
By
Shopper

(Dayton, OH) - April 30, 2012
This gift was great! The recipient loved it :) The only problem I had was that I wished that the vase was bigger. Other than that, it completely met my expectations.

Beautiful!
By
Linda B.

(New Britain, CT) - April 16, 2012 (
See all reviews by this customer
)
I used this vase as a gift for my niece who just became President of Kappa Delta Pi honor society. I absolutely loved the vase. The more important thing is that my niece absolutly loved the vase, too. She now has a great keepsake to remember this very special part of her life.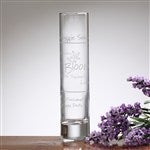 I would purchase again
By
cheryl W.

(Mokena, IL) - April 16, 2012 (
See all reviews by this customer
)
Very happy with the quality and the clarity of the etched words!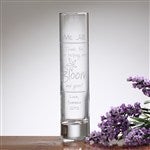 Very Nice
By
Shopper

(Fairfield, OH) - June 20, 2014
loved the vases! the imprinting was perfect - they looked very nice. only surprise was the vases are very lightweight; I was expecting them to be heavier. No problem though. Perfect gifts!

nice gift for the teacher, but small!
By
Shopper

(Freehold, NJ) - June 16, 2014
bought this for my son's teacher...I guess I didn't think about the actual size, but its really small...def a one bud vase!!

Nice but small
By
Kenisha B.

(Dorchester, MA) - September 2, 2013 (
See all reviews by this customer
)
Very beautiful gift! I love the message and engraving. HOWEVER, It is extremely small for a flower vase. I do not regret purchasing it just wish it was a more appropriate size. It looks more like a tall glass instead of a vase.

Beautiful, but really small
By
Marilia C.

(Charlotte, NC) - May 28, 2013 (
See all reviews by this customer
)
I bought 3 of these vases for my kids teachers. They are really pretty, the personalization came out perfectly but I was expecting the vase to be bigger. I though I could give it to the teachers with flowers in it and I don't think that's the case unless the flowers are really small. I didn't pay attention to the size when buying the product so I understand it's my fault but when I read "vase" in the description, I was expecting to be a regular vase (not a big one, but not a tiny one!). I'm sure the teachers will love it anyway, because it brings a nice message for them!!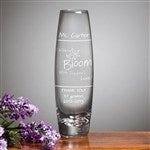 small hands
By
Doreen O.

(San Antonio, TX) - May 11, 2013 (
See all reviews by this customer
)
When I purchased the vase online it looked tall and a good size. But when I received it the vase is small not more than 10 inches tall. It's a nice size if you only want a few flowers in the vase. It holds 7 flowers nicely and it's a great gift for Teahcer's week! My daughters Teacher loved the vase and that her name was there and my daughters. Would buy it again it's a great center piece with the touch of your message.

Beautiful!!!
By
Kerri K.

(Acworth, GA) - May 6, 2013 (
See all reviews by this customer
)
The vase is beautiful I just wish it was a little bigger.

Great Teacher Appreciation Gift
By
Lynn W.

(North Haledon, NJ) - May 6, 2013 (
See all reviews by this customer
)
I purchased this vase for my daughter's teacher for Teacher Appreciation Week (May 6th–10th). Although the vase is very nice, I was expecting it to be a bit larger. However, I am happy that I was able to customize/personalize it with a lot of text, which was a definite added bonus!

Very small
By
Martrecia T.

(London, OH) - May 27, 2014 (
See all reviews by this customer
)
This vase is so small. It's really cute but I think I will be able to fit 1 small flower in it.

Cute but small
By
Shopper

(High Ridge, MO) - May 11, 2014
The vase looks very cute but make sure you double check the dimensions on it - it was smaller than I expected.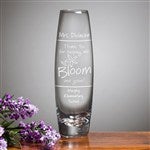 Small
By
Shopper

(Jersey City, NJ) - December 30, 2013
I found this product to be very small...I thought it was a regular sized vase. Was a little disappointed when I recieved it.

a picture is 1000 word
By
Shopper

(Jamaica , NY) - December 12, 2013
it is much smaller then the picture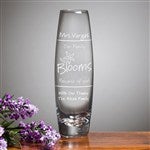 It was nice but expected more
By
Shopper

(Margate , FL) - April 29, 2012
It was nice but honestly I found the vase to be too thin and the writing was very faint. I could hardly read what it said. The size was also kind if dissapointing, tooo small.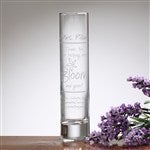 Vase.....for one.
By
Lorene P.

(Citrus Heights, CA) - May 11, 2014 (
See all reviews by this customer
)
It's very beautiful, but this is the first time I was unsatisified with this site. It was thin and a lot smaller than it looks in the picture. It's more of a single flower vase.......maybe slightly bigger.