Beautyful Quality, Detailed Engraving
By
ewelina K.

(Fairfax , VA) - June 19, 2014 (
See all reviews by this customer
)
The glass is fragile and need to be handled with care, which makes engraving so beautiful. It was a perfect gift for all of the Montessori instructors I wanted to thank for at the end of my Montessori certification training. Everyone loved it.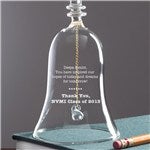 Feedback
By
Robin B.

(Dryden, NY) - June 3, 2014 (
See all reviews by this customer
)
The bell that I ordered was absolutely stunning. It had great clarity and very high quality. I love this gift and I am positive that my daughters teacher will love it as well. I give this beautiful gift a A++++++++++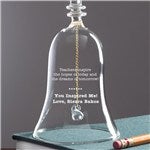 Perdectly beautiful!
By
Shopper

(Palo Verde, AZ) - May 20, 2014
Our school has used your site to purchase many items to recognize our staff. This bell was presented to a retiring teacher, and once again you did not disappoint! The bell was absolutely gorgeous and better than we had imagined!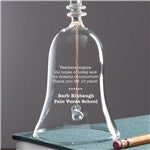 Teacher cyrstal bell
By
Shopper

(Abrams, WI) - April 20, 2014
Perfect! It arrived really fast and exactly the way it looked on the site. Like how you can view your personalization on the product right away.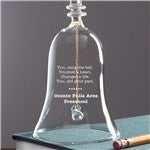 Satisfied with Purchase
By
Stephen W.

(Urbana, IL) - February 2, 2014 (
See all reviews by this customer
)
Very satisfied with this purchase. Just as pictured and great quality! Perfect wedding day gift for my mom! Would purchase again!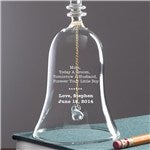 Worth Every Penny
By
Shopper

(DeBary, FL) - May 29, 2013
This is so much prettier in person than in the picture. I wish the saying was available on other items. This was a very special gift to a very special teacher. worth every penny.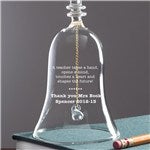 Teacher's appreciation
By
Tracy C.

(Bellflower, CA) - May 24, 2013 (
See all reviews by this customer
)
I purchase this for my grand daughter's teacher and she just love it. It was a surprise because she didn't get it during the week of teacher's appreciation. She sent a note home thanking us. This is my fourth time buying from your company. Will be back again.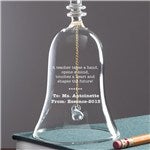 Beautiful Bell
By
Shopper

(Little Rock, AR) - October 15, 2012
I was able to personalize this bell for my mom. She is a cancer survivor and it added just the right touch we needed for her Ring the Bell Cancer Free Party! Excellent gift to give that will be a reminder for years to come.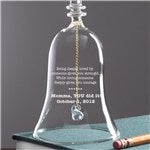 Christmas rememberance bell
By
Diane M.

(Macedon, NY) - January 2, 2013 (
See all reviews by this customer
)
I was very impressed not only with the product, but with the packaging. Your company took the extra effort to make this product a gift that is presented with a touch of class!

Teacher gift
By
Shopper

(Morgan Hill, CA) - May 6, 2013
Perfect gift for teacher who has everything. Quote is perfect for teacher that has a good heart. Not enough letters for long names but still perfect gift.

Beautiful
By
Shopper

(Fresno, CA) - September 5, 2012
Beautiful keepsake, well packaged in lovely box, arrived quickly without any problems. We used a different verse and it was perfect as a going away gift for our neighbors.

Crystal Bell
By
Shannel W.

(Bronx, NY) - August 3, 2014 (
See all reviews by this customer
)
I was very pleased with fast delivery and the beauty of the iitem.

Excellent Quality
By
Shopper

(Miami, FL) - June 11, 2012
This is the first time I have used your website and I'm very, very impressed and satisfied with your service. I received the Personalized Crystal Bell and Apple Brass Bell for my mom just in time for her birthday. I will definitely use your company again. My compliments to all of YOU! Thanks.

Nice
By
leela B.

(Jersey City, NJ) - May 15, 2013 (
See all reviews by this customer
)
It was smaller than I expected, but a great item

Simply amazing
By
Claudia P.

(miami, FL) - August 26, 2012 (
See all reviews by this customer
)
It's beautiful. I bought one for my teachet and she loved it

really nice bell
By
Michelle D.

(Houston, TX) - July 22, 2012 (
See all reviews by this customer
)
this bell is nice quality, fragile, and a little smaller rhanm I expected, but thas ok. I am very happy with this purchase I bought as a gift.

The over all quality of the product.
By
Shopper

(Newport News, VA) - May 28, 2013
The over all quality was great when I received the bell. And also the delivery time was awesome I was worried that it would not get here in time for the end of the year... But I received it 2 weeks early...

wonderful gift
By
melissa M.

(Albany, GA) - November 24, 2013 (
See all reviews by this customer
)
Nice gift for student teacher. She loved it

Beautiful Bell
By
Shopper

(Jamaica, NY) - September 8, 2013
Beautiful keepsake and well packaged in box, I love it !

so happy
By
Shopper

(Pollock Pines, CA) - May 8, 2014
I got this for my sons kindergarten teacher , I did my own message and it looks beautiful , this is a great gift choice , I am really happy with this purchase

Beautiful, delicate bell
By
Marilyn O.

(Laurel, MD) - June 4, 2014 (
See all reviews by this customer
)
My daughter's teacher really liked this gift. It's unique and thoughtful gift for a teacher. I'd received my bell with the inside part detached/broken and I called to report the issue. I received a replacement bell with no hassle within a few days - great customer service. Thank you very much!

Love it!
By
Shopper

(McKinney, TX) - June 2, 2014
I ordered this product for my son teacher and we love it. The quality is good, and what makes best is no charge on engraving. Very satisfied with this product and just as pictured.

bell
By
Claudette P.

(Bronx, NY) - June 12, 2013 (
See all reviews by this customer
)
nice bell for my xmas gift, the subscription look nice

Perfect retirement gift!
By
Shopper

(Billings, MT) - June 10, 2013
I purchased this for my mother-in-law to celebrate her retirement after 39 years of teaching. She loved it, and I was impressed with the quality and the packaging!

Gift for Mom
By
Shopper

(Arcadia, IA) - June 16, 2013
When I received this item in the mail, it turned out better than I had expected. And it came very quickly. Very pleased with everything!

Teacher's Thank You Gift
By
Terry F.

(Huntsville, AL) - September 1, 2013 (
See all reviews by this customer
)
This is the second year and a row that I have given this product to my daughter's teacher. Both of the teacher's love it as well as I. I think this is our official gift for all future teachers.

Love Personalization Mall
By
Shopper

(Staten Island, NY) - August 2, 2013
Love this beautiful bell. I odered two-one each of my daughter's early intervention teachers. The inside glass ringer somehow came off while I was inspecting it. I expected to have to return the broken bell. Customer service saw I was a loyal customer and promptly sent me a new bell to replace the broken one. I was very impressed and received a new one very quickly. Personalzation Mall's quality products and service will have me odering even more in the future!