Satisfied with Purchase
By
Stephen W.

(Urbana, IL) - February 2, 2014 (
See all reviews by this customer
)
Very satisfied with this purchase. Just as pictured and great quality! Perfect wedding day gift for my mom! Would purchase again!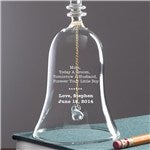 Worth Every Penny
By
Shopper

(DeBary, FL) - May 29, 2013
This is so much prettier in person than in the picture. I wish the saying was available on other items. This was a very special gift to a very special teacher. worth every penny.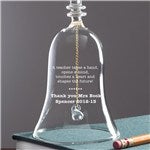 Teacher's appreciation
By
Tracy C.

(Bellflower, CA) - May 24, 2013 (
See all reviews by this customer
)
I purchase this for my grand daughter's teacher and she just love it. It was a surprise because she didn't get it during the week of teacher's appreciation. She sent a note home thanking us. This is my fourth time buying from your company. Will be back again.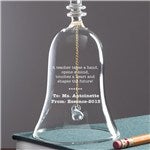 Beautiful Bell
By
Shopper

(Little Rock, AR) - October 15, 2012
I was able to personalize this bell for my mom. She is a cancer survivor and it added just the right touch we needed for her Ring the Bell Cancer Free Party! Excellent gift to give that will be a reminder for years to come.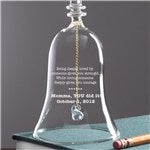 Christmas rememberance bell
By
Diane M.

(Macedon, NY) - January 2, 2013 (
See all reviews by this customer
)
I was very impressed not only with the product, but with the packaging. Your company took the extra effort to make this product a gift that is presented with a touch of class!

Teacher gift
By
Shopper

(Morgan Hill, CA) - May 6, 2013
Perfect gift for teacher who has everything. Quote is perfect for teacher that has a good heart. Not enough letters for long names but still perfect gift.

Excellent Quality
By
Shopper

(Miami, FL) - June 11, 2012
This is the first time I have used your website and I'm very, very impressed and satisfied with your service. I received the Personalized Crystal Bell and Apple Brass Bell for my mom just in time for her birthday. I will definitely use your company again. My compliments to all of YOU! Thanks.

Nice
By
leela B.

(Jersey City, NJ) - May 15, 2013 (
See all reviews by this customer
)
It was smaller than I expected, but a great item

really nice bell
By
Michelle D.

(Houston, TX) - July 22, 2012 (
See all reviews by this customer
)
this bell is nice quality, fragile, and a little smaller rhanm I expected, but thas ok. I am very happy with this purchase I bought as a gift.

Beautiful
By
Shopper

(Fresno, CA) - September 5, 2012
Beautiful keepsake, well packaged in lovely box, arrived quickly without any problems. We used a different verse and it was perfect as a going away gift for our neighbors.

Simply amazing
By
Claudia P.

(miami, FL) - August 26, 2012 (
See all reviews by this customer
)
It's beautiful. I bought one for my teachet and she loved it

Teacher's Thank You Gift
By
Terry F.

(Huntsville, AL) - September 1, 2013 (
See all reviews by this customer
)
This is the second year and a row that I have given this product to my daughter's teacher. Both of the teacher's love it as well as I. I think this is our official gift for all future teachers.

Love Personalization Mall
By
Shopper

(Staten Island, NY) - August 2, 2013
Love this beautiful bell. I odered two-one each of my daughter's early intervention teachers. The inside glass ringer somehow came off while I was inspecting it. I expected to have to return the broken bell. Customer service saw I was a loyal customer and promptly sent me a new bell to replace the broken one. I was very impressed and received a new one very quickly. Personalzation Mall's quality products and service will have me odering even more in the future!

wonderful gift
By
melissa M.

(Albany, GA) - November 24, 2013 (
See all reviews by this customer
)
Nice gift for student teacher. She loved it

Beautiful Bell
By
Shopper

(Jamaica, NY) - September 8, 2013
Beautiful keepsake and well packaged in box, I love it !

Perfect retirement gift!
By
Shopper

(Billings, MT) - June 10, 2013
I purchased this for my mother-in-law to celebrate her retirement after 39 years of teaching. She loved it, and I was impressed with the quality and the packaging!

The over all quality of the product.
By
Shopper

(Newport News, VA) - May 28, 2013
The over all quality was great when I received the bell. And also the delivery time was awesome I was worried that it would not get here in time for the end of the year... But I received it 2 weeks early...

Gift for Mom
By
Shopper

(Arcadia, IA) - June 16, 2013
When I received this item in the mail, it turned out better than I had expected. And it came very quickly. Very pleased with everything!

bell
By
Claudette P.

(Bronx, NY) - June 12, 2013 (
See all reviews by this customer
)
nice bell for my xmas gift, the subscription look nice