Much better than standard flowers
By
Kimberly N.

(Simpsonville, SC) - October 25, 2012 (
See all reviews by this customer
)
When my best friend's mother passed away, my first instinct was to order flowers for the service. But then I thought how she deserved something that would last and always be a memorial to her. These wind chimes were PERFECT. Ordered on a Saturday and delivered on Thursday. As a matter of fact, the package was sitting on my friend's porch when she returned home from the funeral. Perfect timing, and she LOVED them.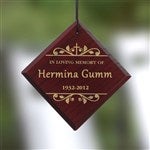 Teinas windchimes
By
Nancy B.

(Richmond, KY) - October 6, 2012 (
See all reviews by this customer
)
When my sister passed away last month there were among all the flowers, five windchimes for each child and her husband. What a wonderful idea. When my friend in Arkansas lost her brother a couple of weeks ago, I wanted to send something really special to her. I knew how my family liked their windchimes and decided that's what I wanted to buy. The first place I checked was Personalization Mall. The perfect gift. My friend absolutely loves the gift. Thank you!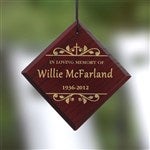 Perfect
By
Laura L.

(Memphis, TN) - April 11, 2012 (
See all reviews by this customer
)
A good friend lost her father and we didn't want to send the traditional flowers, or gift basket. I found this on the website and thought it would be perfect! My friend called me as soon as she opened it and was floored! She said it was so wonderful she was going to get one to send to her mom. I have never been dissapointed with anything I've purchased from personalizationmall.com!!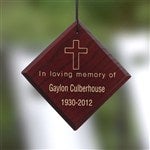 Beautiful substantial wind chime with soothing sound
By
Christie M.

(San Jose, CA) - April 1, 2012 (
See all reviews by this customer
)
What a pretty well-made wind chime. Personalization engraving looks so nice--enough to see easily, but does not detract from the wind chime to look at. My friend's beloved dog passed away and she was very touched to receive this gift in Spicy's memory.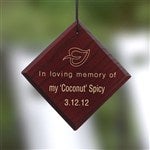 Made for a very nice Memory Gift
By
Shopper

(Brighton, MI) - February 19, 2013
My Uncle passed away, his wife & him Loved to sit on the front porch. As a Memory Keepsake I had his name engraved on this, now she can still sit on the front porch & reminisce...She really Loved the idea!

What a way to remember a loved one
By
Kimberly B.

(Newington, CT) - September 24, 2012 (
See all reviews by this customer
)
I purchased this for one of my closest friends. She is an avid gardner and likes to be outside. When her father passed away I thought this would be a great gift. I had it personalized and she loved it. Better than sending flowers that don't last.

Memorial Wind chime
By
Linda D.

(Edgewood, KY) - January 20, 2013 (
See all reviews by this customer
)
bought for my sister-in-law who really apreciated it.

Heartfelt, Excellent Memorial!
By
Tiffany O.

(Sussex, WI) - November 4, 2012 (
See all reviews by this customer
)
I have ordered three of these so far and will order more in the future. The price seemed a little steep at first, but they are of high quality and make a lasting impression that you are thoughtful and care about the person you are giving it to. It is surely one of the best keepsake gifts I've ever seen. Different than the usual dust collecting paperweight or corny poetry plaque that holds a picture...I just don't like that stuff! I want something that will bring pleasure not a reminder of a loss or pain. These windchimes are a gently and pleasent reminder that the one that is gone is still present in our thoughts and hearts.

Nicer than I thought
By
Shopper

(Santa Rosa Beach, FL) - November 10, 2012
I ordered one of these for a friend who just lost his son and decided to get one for myself as I had lost my son a few years ago. I only wish you could get a 2 sided personalization instead of only one side. The color of it was nicer than I was planning on also. Would order again.

Beautiful memorial
By
Shopper

(Montz, LA) - December 28, 2012
I bought this item as a Christmas present and it came out beautifully. The quality was much more than I expected. Such a good product for the price!

perfect memoir gift especially for someone who loved the outdoors
By
Shopper

(Given, WV) - September 16, 2012
This was purchased as a memoir gift for the loss of a loved one for a dear friend. Although a little pricey it was beautiful and perfect for the occassion. My friends loved one who was lost had a huge funeral and we wanted the gift to be something besides the traditional flowers since the family received tons of flowers. The association this individual was associated with got the family several personalized throws but no one thought of a personalized wind chime.

very pleased
By
Jaymi B.

(Lansing, MI) - December 30, 2012 (
See all reviews by this customer
)
Great quality & great care in shipping. My only complaint and I wouldn't really even call it that was the engraving was a little smaller then I had expected. Overall, however, I was very pleased, as was the recipient.

Love it
By
Shopper

(Cordova, TN) - December 17, 2012
This is a great memorial. The only reason I gave it 4 stars is because some of the print was very light and hard to read. Quality other than that was great and shipping was quick.

Memorial Wind Chime
By
Bonnie M.

(Milford, MI) - June 15, 2013 (
See all reviews by this customer
)
Excellent quality and fast delivery.

Beautiful Product
By
Shopper

(Hinckley, OH) - May 13, 2013
This was purchased for a family member who recently lost a loved one. They loved it. It was everything it is described as and great quality. A lasting memory and better than flowers.

Memorial Wind Chime
By
June M.

(Shippensburg, PA) - September 17, 2012 (
See all reviews by this customer
)
I loved the wind chime, and my niece thought it was very special. I only wish that the letter with my sister's name and the dates would have shown up a little better when it is hanging. But, over all I'm pretty pleased with it.

not clear enough
By
Margaret B.

(Harahan, LA) - July 14, 2012 (
See all reviews by this customer
)
This was nice idea, but the print needs to be a wider font or something you can see better. Image shown is deceiving...it's not that clear and thick

Don't buy this wind chime
By
Shopper

(Harrisburg, NC) - August 19, 2014
The sound of the chime is very nice, but the quality of the printing on the wood medallion was very poor. Several letters had no ink at all and many of the letters had partial ink. When I called to ask for a replacement to be mailed immediately, I was treated as though I was lying. I had to send a picture of the poorly printed medallion in to get it approved. This was a gift that I had needed over a week ago and I haven't received the replacement yet. I would not recommend this wind chime.

personalized memorial wind chime
By
Mitchell B.

(Logansport, IN) - September 8, 2012 (
See all reviews by this customer
)
excellent wind chime, but I wish the lettering would be darker

Engraving only on one side should be in description
By
Shopper

(Antioch, CA) - February 10, 2013
I purchased this wind chime for my father for his birthday as a memorial for his father that recently passed. I have to say that the wind chime is beautiful but was disappointed that the engraving wasn't on both sides of the wind catch. For a total price of almost $60 I expected that it would at least be engraved on both sides so you could always see the writing. I strongly recommend that this be added to the item, either that or lower the price, or at least have it in the description that it is only one sided. If the engraving were on both sides I'd have given this 5 stars but that really disappointed me.

In lieu of flowers
By
Nancy L.

(Indianola, IA) - August 1, 2012 (
See all reviews by this customer
)
Very personal way to honor the memory of a friend or loved one. I prefer to give these chimes instead of flowers and they are warmly received.

Pretty and Nice Memory Gift
By
judy M.

(Lewisville, TX) - July 27, 2012 (
See all reviews by this customer
)
A friend and I ordered this for a dear friend's sister who died at 58 yrs.
I love it and am pleased we found it.

well received sympathy gift
By
Shopper

(New Albany, IN) - September 10, 2012
this was loved by our co-worker who lost his mother. quick service and delivery.

Bring a smile to your face
By
Shopper

(Apopka, FL) - September 2, 2012
I bought this for my mom who recently lost her husband of 55 1/2 years. He was also my daddy. I knew she would love this and the sound the chimes make. Every time it chimes it brings a smile to her face. She placed it near her front door. She has received so many compliments, everybody wants to know who gave it to her, where did she get it from? I'm thinking of buying myself one as well!

Item gave comfort
By
Shopper

(Aliquippa, PA) - July 7, 2012
I sent this to my cousin who lost her daughter and it was very much appreciated more than flowers that would be gone in no time. I received one of these when my husband passed and know how comforting it was to me and wanted to pass it on. It's a very appropriate memorial gift.

Chimes
By
LINDA M.

(BANKS, OR) - April 1, 2012 (
See all reviews by this customer
)
Very nice quality and good sound.

What a thoughtful memorial
By
Shopper

(West Covina, CA) - January 25, 2014
I gave this in lieu of flowers for a funeral to commemorate a mother's passing. It is absolutely beautiful and what a tribute. The recipient mentioned the chimes are a wonderful display and provide a soothing sound. I do agree with the other reviewer that the name should be engraved on both sides. Overall nice product.

would order again.
By
Karen R.

(Washington, IL) - June 12, 2012 (
See all reviews by this customer
)
this product was very nice. i would definitely order it again.

Memorial Wind Chimes
By
Shopper

(Reno, NV) - April 17, 2012
My friend was so touched by the memorial wind chimes. She said they are beautiful and she loves the sound.

Wind Chime
By
Valerie S.

(Maumelle, AR) - February 20, 2014 (
See all reviews by this customer
)
Purchased for a gift for a friend who lost her father. She absolutely loved it!

Beautiful
By
Shopper

(Spooner, WI) - February 17, 2014
Bought this for a co-worker who lost her Father. It is beautiful and she loved it. I've bought these in the past and they have all been beautiful. Fast shipping as well.

memorial wind chime
By
Shopper

(Logansport, IN) - March 14, 2014
wind chimes is a great memorial gift. received wind chime's quickly

A beautiful piece to be cherished.
By
Shopper

(Grove City, OH) - February 25, 2014
I feel very fortunate to have stumbled onto your site since my Aunt told me the wind chime was a very beautiful and thoughtful gift to act as a remembrance to the passing of my Uncle. I would recommend it highly to anyone looking for that unique way to say good bye and also keep your loved one's memory close.

Great gift
By
Shopper

(Century, FL) - January 28, 2014
Really nice

Beautiful way to memorialize a loved one.
By
Angel M.

(Chesapeake, VA) - January 21, 2014 (
See all reviews by this customer
)
We use this wind chime as a gift when we hear of the death of a family member from any of our clients. The first I had delivered to the office so we could hand deliver it. It was beautiful and arrived when expected. The recipient cried when she saw it. The second time, I had it express delivered to the client's home because her birthday was the date of estimated delivery. We knew the quality was great, but we worried if they could really personalize it and get it to the client in 3 days. Well they did and the client called with such words of gratitude after she received it.

Best Gift
By
Shopper

(Herriman, UT) - February 16, 2014
Perfect gift. My friend loved it.

Memorial Gift
By
Shopper

(Lansing, MI) - February 10, 2014
This was sent instead of flowers to a funeral and the family member that received actually cried when they opened it. It was very nice. Plus the shipping was received in 2 days with engraving in time for the funeral, very impressive. I will definetly order here again. Job well done and you made me look good. Thank you!

Very Sweet
By
Shopper

(Little Elm, TX) - March 22, 2014
I bought this for my boss who lost her father-in-law. It turned out very nice. She was extremely pleased. Such a great way to remember a lost loved one.

she loved it
By
Connie B.

(HIGHLAND, IN) - July 1, 2014 (
See all reviews by this customer
)
My nephew's wife lost her dad and unfotunately I couldn' t be there. She
called me crying how beautiful and touched she was by the memorial
windchime. Unbeknown to me someone had just recently stolen the
windchime she had bought when her mom passed yrs. Ago. Could
not have given her a better gift at her difficult time of loss. Thank you!

Best Lasting Memory
By
John P.

(Mansfield, OH) - June 29, 2014 (
See all reviews by this customer
)
We bought this for my cousin who's wife suddenly passed. He couldn't have been more thrilled to receive the chimes. SO much better than flowers!