Quality of the product
By
Shopper

(Kings Park, NY) - September 29, 2014
I received the product in a timely fashion and was very pleased with the quality. The chimes create a beautiful tone. This item was a gift for a friend who created a memorial garden for her son. My hope is the melodic chimes will bring comfort. She appreciated the thought.

Personalized Memorial Wind Chime
By
Johanna O.

(Oceanside, NY) - September 25, 2014 (
See all reviews by this customer
)
I received the Personalized wind chimes as a gift when my mother recently passed away. I was so happy to receive them and hung them in my garden. They are beautifully made and the music is so lovely. I was so happy with these wind chimes that I have just recently purchased 2 as memorial gifts for very special friends in my life that just lost a dear loved one.

Heavenly
By
Bob S.

(Overland Park, KS) - September 11, 2014 (
See all reviews by this customer
)
The chime is beautiful and well done. I had one made for my sister and myself in
memory of our mother and father. Every time we hear it chime it is as if they are talking to us.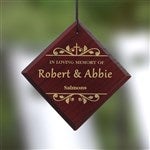 Great
By
Shopper

(Sachse, TX) - September 2, 2014
The recipient loved it!!

A wonderful Gift for a dark time
By
Gladys S.

(Niles, MI) - August 27, 2014 (
See all reviews by this customer
)
I sent this gift to have something peaceful and lasting. I was surprised to hear that it arrived within 2 days of placing the order!! I have not seen it, but I hear it's beautiful. Thank You for the wonderful product to help with the healing and at an affordable price.

Just like what everyone said
By
Maureen B.

(Atlanta, GA) - August 24, 2014 (
See all reviews by this customer
)
My friend who lost her husband recently said she loved this gift. Thank you to everyone who writes reviews because they gave me confidence this would be a cherished keepsake.

VERY IMPRESSIVE
By
Shopper

(Decatur, IL) - August 15, 2014
We gave this to a friend of ours that lost thier mother. They loved it very much and said it sounded beautiful. I am so glad we gave them a gift that they can cherish and remind them of their mom.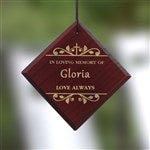 very satisfied with product
By
Shopper

(Glenvil, NE) - August 2, 2014
I purchased this for my niece who just lost her husband unexpectantly and she loved this personalized windchime. I had his name put on it and then on the small chime part husband/dad. I am very happy with how it turned out and the delivery was very quick.

will order this again
By
Amanda M.

(Monterey, TN) - July 14, 2014 (
See all reviews by this customer
)
Its beautiful. The recipient loves it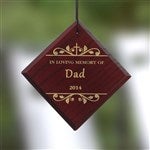 she loved it
By
Connie B.

(HIGHLAND, IN) - July 1, 2014 (
See all reviews by this customer
)
My nephew's wife lost her dad and unfotunately I couldn' t be there. She
called me crying how beautiful and touched she was by the memorial
windchime. Unbeknown to me someone had just recently stolen the
windchime she had bought when her mom passed yrs. Ago. Could
not have given her a better gift at her difficult time of loss. Thank you!

Best Lasting Memory
By
John P.

(Mansfield, OH) - June 29, 2014 (
See all reviews by this customer
)
We bought this for my cousin who's wife suddenly passed. He couldn't have been more thrilled to receive the chimes. SO much better than flowers!

Memorial Chimes
By
Vicki B.

(Anderson, IN) - June 18, 2014 (
See all reviews by this customer
)
I sent these chimes to my brother-in-law and another set to my exsister-in-law upon the death of their son. They both called as soon as the chimes arrived and said how beautiful they were. I love to give chimes in memory of a loved one, to listen to the wind going through them is easing to your heart.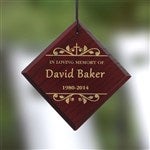 Sympathy Gift
By
Shopper

(Lansing, MI) - June 9, 2014
This was sent as a birthday gift to parents of their son that passed away 2 yrs ago. They thought it was a lovely surprise and that someone remembered him on his birthday. They also sent it and it got there right on his actual birthday so that was extra nice.

Beautiful!!
By
Yvonne M V.

(Orleans, VT) - April 25, 2014 (
See all reviews by this customer
)
My coworkers and I ordered this for our friend who lost her mother. She loves windchimes and this was the PERFECT gift for her. She absolutely loves it! Thank you for putting a smile on my friends face.

Beautiful
By
Liz L.

(Lake Charles, LA) - April 7, 2014 (
See all reviews by this customer
)
Touches my heart every time I hear the tinkling of the chimes in the breeze. I love this wind chime. I bought it in my husband's memory. I lost him 12 years ago. I plan to buy one for my daughter for Christmas.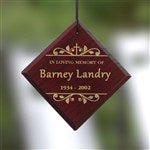 personalized memorial wind chime
By
Shopper

(Logansport, IN) - March 29, 2014
a wonderful memorial gift for a love one

Unseen but much loved
By
Shopper

(Dale City, VA) - March 23, 2014
Sent this as a sympathy gift to a friend who lost a family member. She raved about it and said that every time she hears it chime she will think of her family member. She also said that she loved it so much she ordered chimes for other family members.

Very Sweet
By
Shopper

(Little Elm, TX) - March 22, 2014
I bought this for my boss who lost her father-in-law. It turned out very nice. She was extremely pleased. Such a great way to remember a lost loved one.

memorial wind chime
By
Shopper

(Logansport, IN) - March 14, 2014
wind chimes is a great memorial gift. received wind chime's quickly

A beautiful piece to be cherished.
By
Shopper

(Grove City, OH) - February 25, 2014
I feel very fortunate to have stumbled onto your site since my Aunt told me the wind chime was a very beautiful and thoughtful gift to act as a remembrance to the passing of my Uncle. I would recommend it highly to anyone looking for that unique way to say good bye and also keep your loved one's memory close.

Wind Chime
By
Valerie S.

(Maumelle, AR) - February 20, 2014 (
See all reviews by this customer
)
Purchased for a gift for a friend who lost her father. She absolutely loved it!

Beautiful
By
Shopper

(Spooner, WI) - February 17, 2014
Bought this for a co-worker who lost her Father. It is beautiful and she loved it. I've bought these in the past and they have all been beautiful. Fast shipping as well.

Best Gift
By
Shopper

(Herriman, UT) - February 16, 2014
Perfect gift. My friend loved it.

Memorial Gift
By
Shopper

(Lansing, MI) - February 10, 2014
This was sent instead of flowers to a funeral and the family member that received actually cried when they opened it. It was very nice. Plus the shipping was received in 2 days with engraving in time for the funeral, very impressive. I will definetly order here again. Job well done and you made me look good. Thank you!

Beautiful
By
Shopper

(Peachtree City, GA) - January 31, 2014
The wind-chime is beautiful. I received it quickly and I am very pleased with the product and the company.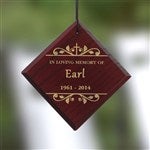 Great gift
By
Shopper

(Century, FL) - January 28, 2014
Really nice

Beautiful way to memorialize a loved one.
By
Angel M.

(Chesapeake, VA) - January 21, 2014 (
See all reviews by this customer
)
We use this wind chime as a gift when we hear of the death of a family member from any of our clients. The first I had delivered to the office so we could hand deliver it. It was beautiful and arrived when expected. The recipient cried when she saw it. The second time, I had it express delivered to the client's home because her birthday was the date of estimated delivery. We knew the quality was great, but we worried if they could really personalize it and get it to the client in 3 days. Well they did and the client called with such words of gratitude after she received it.

easy and quick
By
Bethany D.

(louisville, KY) - January 19, 2014 (
See all reviews by this customer
)
When looking for a wind come to give my friend after her grandmother passed away, I found this one online. It was not only beautiful, but a very easy process to order. The wind chime came sooner than I thought and it was more beautiful than the picture online. My friend loves it!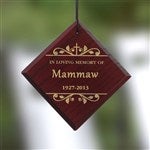 Memorial Gift
By
Lisa J.

(Wixom, MI) - December 20, 2013 (
See all reviews by this customer
)
I ordered this as a memorial gift and was very happy with it! I will now order these instead of flower arrangements!

Better than I thought
By
Elizabeth L.

(Hicksville, NY) - December 13, 2013 (
See all reviews by this customer
)
I purchased 2 i must say they are nice great cherry wood larger than i thought

Meaningful Memorial
By
Paula W.

(Taylor Mill, KY) - December 11, 2013 (
See all reviews by this customer
)
We sent this in lieu of flowers upon the death of a close friend. His wife was very grateful for the lasting remembrance. It was nice to be able to personalize the inscription beyond just name.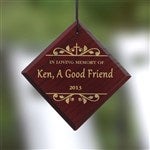 Memorial Wind Chime
By
Shopper

(Evansville, IN) - November 19, 2013
Highly recommend the memorial wind chime. It was greatly appreciated by the family and they loved the personalization.

Very appreciated gifts
By
Shopper

(Caldwell, NJ) - November 10, 2013
Order 2, one for my sister-in-law and her sister due to the passing of their Mom.
Both really appreciated the gift and thought they were beautiful. In fact my sister-in-law stated every time she hears the chimes it like she's getting a warm hug from her mom.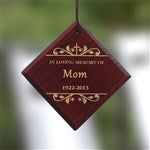 Wind chimes
By
Shopper

(Saint Petersburg, FL) - November 10, 2013
I have purchased this item three times now. They are very well made and the chimes make pretty music not annoying .

Memorial Wind Chime
By
Karen V.

(Upper Sandusky, OH) - November 4, 2013 (
See all reviews by this customer
)
I have ordered two memorial wind chimes this year to have delivered to special people in my life who have lost a loved one. These chimes make a wonderful gift for the recipient. Everyone loves to hear wind chimes and knowing their loved one is at peace and yet still with them is a comfort. The sounds evoke good memories.

Simple and Elegant
By
Shopper

(Lesterville, MO) - September 18, 2013
I purchased this wind chime for our recently widowed pastor's wife. I figured she would have more than enough plants and flowers and I wanted to give her something personal and graceful from myself and my family. This wind chime fit the bill beautifully. Highly recommended item for a grieving love one.

Sound of comfort
By
Shopper

(Westland, MI) - September 13, 2013
Purchased this for my aunt and uncle, who lost their son. They put it right outside their front porch. Even if the wind isn't blowing, my aunt will cause the chime to move, just to hear the beautiful sound. I'm impressed with the quality of products sold on this site. Thank you for providing them with a gift of comfort.

Friends are happy with these chimes
By
Betty W.

(Lewisburg, KY) - September 6, 2013 (
See all reviews by this customer
)
I have ordered 30 of these memorial wind chimes since 2010. That statement alone shows what a quality product these chimes are. These chimes have been appreciated and loved by everyone they were given to. I have shopped on other web sites for memorial wind chimes but no one meets your price nor the quality of your product. Please keep this item in your collection.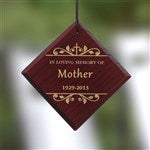 The perfect touch ...
By
Michelle H.

(Marco Island, FL) - August 18, 2013 (
See all reviews by this customer
)
The perfect idea ... thank you PMall for having a sound byte of the chimes. Some chime sounds are awful, some are wonderful ... your sound byte helped us decide that this beautiful memorial gift was perfect. Quality is excellent and the tone is beautiful.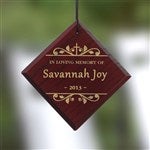 Wind Chime
By
debra H.

(mount bethel, PA) - August 13, 2013 (
See all reviews by this customer
)
Beautiful Wind Chime and Quick Shipping.