computer mousepad
By
Cindy B.

(Springfield, KY) - November 10, 2013 (
See all reviews by this customer
)
I love this item. I have purchased many of these and I like to give them to teachers.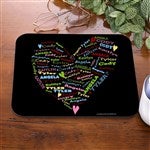 very nice
By
wesam Z.

(sarasota, FL) - June 1, 2013 (
See all reviews by this customer
)
so cute really i like it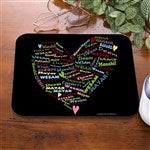 Another great purchase
By
Natalie S.

(Newark, DE) - May 18, 2013 (
See all reviews by this customer
)
The mouse pad and persoanlizations are wonderful. Everything is vibrant. I love that so many names can be included. My mother in law loved this. She loves family and now she has all of us in her heart to look at while she is at work. Another good find and purchase. Personalizationmall.com makes me a very happy customer.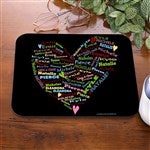 bought this for my mother..
By
Megan T.

(Baltimore, MD) - May 6, 2013 (
See all reviews by this customer
)
I bought this for my mother for MOther's Day with her grandchildren's names on it! she is going LOVE it!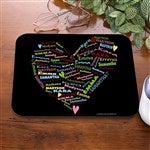 nice pad, bad smell
By
Candace B.

(Locust Grove, VA) - January 18, 2013 (
See all reviews by this customer
)
I love personalization mall and all the products I have received so far but I was so disappointed with this one. It smelled so bad that the other carry bag I ordered had to be aired for several days after being shipped in the same bag/ I called and they refunded the money but not the shipping and that was ok with me.I just hope that they can resolve the problem or take it out of the catalog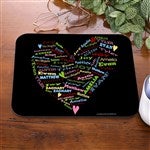 My Family Loved Them!
By
Joni B.

(Summerdale, PA) - January 11, 2013 (
See all reviews by this customer
)
The personalized mouse pads were a big hit! I purchased several of these as Christmas gifts for the women in our family. I customized each with their family member's and/or grandchildren's names. The pads are a nice full size, and the printing is colorful and readable. Great gifts!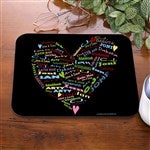 A perfect personal gift
By
Shopper

(Lincoln, NE) - January 2, 2013
I bought the "Her Heart of Love Personalized Mouse Pad" for my daughter for Christmas and she just loved it!! She wanted something personal that would include her husband and baby girl. When I saw that mouse pad I just knew that's what I was going to get her! The colors are vibrant and the fonts are printed crisp and clear. She has received many compliments on it at her workplace! Thanks Personalization Mall...you came through for me again!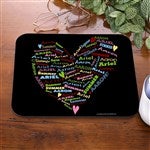 LOVE it
By
Shopper

(Parsippany, NJ) - December 30, 2012
I love the mouse pad with my children's name on it. Liked how it looked so much that when I purchased one for my husband, I needed to get one for myself as well. Like the colors and how their names form a heart.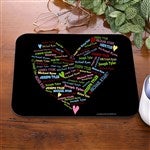 Special Mousepad
By
Shopper

(Savannah, GA) - October 6, 2012
I was able to put my sons & my granddaughter's name on it....its also thicker than any other mousepad...great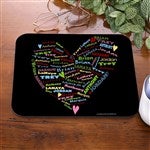 IT WAS A HIT!!
By
NANCI O.

(WESTON, FL) - September 4, 2012 (
See all reviews by this customer
)
My husband said he needed a new mouse pad & I, ONCE AGAIN, was able to find the perfect gift on Personalization Mall. The design idea is unique and allowed me to include my name as well as the names of his beloved pets. It is excellent quality & the "rubber" smell [others complained about] faded quickly with no lingering aftersmell.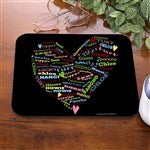 Excellent
By
Linda J.

(Durham, NC) - July 27, 2012 (
See all reviews by this customer
)
Love my little personalized mouse pad. Very good quality. I can't believe how fast the order is processed and sent to you.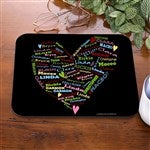 personal use
By
Shopper

(Evansville, IN) - June 9, 2012
Excellent...plan on ordering a couple more as Christmas draws nears if this item is still available at that time.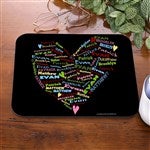 Awesome Mousepad!
By
Dianne E.

(Long Beach, MS) - May 11, 2012 (
See all reviews by this customer
)
We were so pleased with the quality & excellence of this mouse pad! It is a wonderful product, & it's a blessing to the entire family. Keep up the good work!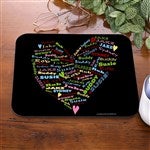 looks exactly the way you order it
By
Carolina R.

(san francisco, CA) - May 7, 2012 (
See all reviews by this customer
)
it is exactly like the preview, the only thing I disliked was a very strong smell that it came with. Im not sure if its from printing or what but I have a 2 weeks to air it out before giving it to my mom so hopefully it goes away. other than that, its nice.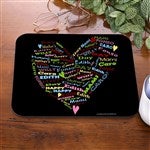 A mouse pleaser!
By
Diane V.

(Frankfort, IL) - April 17, 2012 (
See all reviews by this customer
)
This is really cute! I ordered this for my sister's graduation. I wanted her to have a gift that reminded her where she came from and where she is. Great gift idea for man or women. I will be ordering this item again for future graduates.
Great quality. Another great item to love!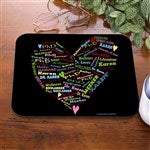 Heart of Love Mouse Pad
By
Linda R.

(Wichita Falls, TX) - May 18, 2012 (
See all reviews by this customer
)
I bought the scatter pillow & matching mousepad for my mom for her Birthday, which also happened to be Mother's Day! What mom/grandma wouldn't love having items decorated with a large heart made w/all her children & grandchildren's names, different colors & fonts?! However, my sisters will probably not speak to me until maybe Christmas due to her incessant bragging about MY gifts!!! ?-?-? it!!!

Beautiful, buuut....
By
Shopper

(Newark, NJ) - February 11, 2013
After receiving this item, before removing it from the plastic, I notices how thick and durable it was. The names were collaged so nicely, but the colors were not as bright as the examples (no biggie!) However, once I took it out from the plastic, I was overwhelmed with the smell of burnt rubber! I was very high! Within an hour of leaving it on my computer table, the terrible smell quickly over-took my dining room.
I immediately called customer service. They said because it was freshly made and packaged immediately, the item was not able to properly air out. So she suggested I put it outside until the smell cleared. It has been almost a week and the smell is still there--not as strong, but still there. I will be contacting customer service shortly. Had I known it would be like this, I would have never bought the item.
Nevertheless, as a faithful customer of 5 years, this will not sway me from ordering from them in future. I have always been satisfied with my past orders :)

Cool idea!
By
Dawn S.

(Lake Worth, FL) - February 26, 2013 (
See all reviews by this customer
)
Very unique item.

Mouse love it
By
Shopper

(Harpursville, NY) - April 14, 2012
The mouse has All that I wanted , great material will stand the use

Great going away gift!
By
Debra B.

(Cadet, MO) - April 5, 2013 (
See all reviews by this customer
)
A couple of coworkers were transferring to another office. I had all of their coworkers' (friends as we had worked together a long time)first names put on the mouse pads so they would see our names all the time and know that we miss them. They loved it!

Awesome gift
By
Shopper

(Rockford, IL) - February 16, 2013
I bought this mousepad for my son for valentines day with the names of his two sons embedded in the heart. The quality is excellent and the lettering is bold. It is amazing how the names fit so perfectly into a heart.



personalized mouse pad
By
Shopper

(Marshall, TX) - October 19, 2013
The mouse pad was beautifully made. It is good thick quality and works really well with my mouse. Great addition to any computer desk.

Awesome!!!
By
Shopper

(Virginia Beach, VA) - April 29, 2013
Thank you, it looks awesome!

Neat
By
Shopper

(Vallejo, CA) - January 17, 2013
My daughter realy liked this mouse pad. It was a special gift from her dogs, all their names inside the heart.

great purchase
By
Shopper

(elizabeth , NJ) - December 10, 2012
I just love it !!!

Mouse Pad
By
Shopper

(Pittsfield, IL) - June 4, 2012
Love it!

Perfect
By
leslie M.

(memphis, TN) - January 8, 2013 (
See all reviews by this customer
)
Print clear, color bold and nice. Great gift for valentines day.

really nice
By
Shopper

(Alta Loma, CA) - December 17, 2012
It looks great. I would totally recommend.