Nice design & not overwhelming
By
Robert I.

(Tewksbury, MA) - November 26, 2012 (
See all reviews by this customer
)
I liked this. I am not sure about the imprint at this time, though. I think it will hold up quite well, but I will have wait and see. It is not a heavy imprint but seems permanent. I'd like to follow up to see how my wife likes. It does look very nice and my sons are very excited to give it to their mom for Christmas.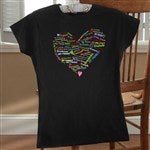 Great Shirt!
By
Kim B.

(Grand Prairie, TX) - October 6, 2012 (
See all reviews by this customer
)
Great Shirt just not very fitted compared to size chart. Heart came out looking lovely~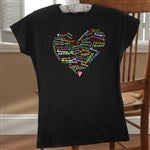 Awesome
By
Amanda S.

(Pittsburgh, PA) - August 31, 2012 (
See all reviews by this customer
)
I bought this shirt for a surprise 50th B-Day and it was so great! It is a mdern fit not those grandma tee shirts and it even comes in its own little bag! I would buy this item again for sure!!!! It was a huge hit!!!!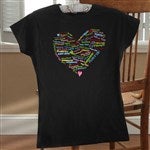 So cute
By
Sharon J.

(Cincinnati, OH) - July 23, 2012 (
See all reviews by this customer
)
I ordered this t shirt for myself with my husand and boys name in it. I really like it and have received mutliple compliments on it. It is a typical cotton t-shirt that DOES shrink a bit in the dryer. I would have given it 5 stars if it came in a more feminine shape.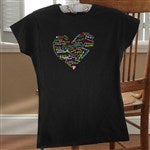 Nice tshirt with an interesting design
By
Shopper

(Worcester, MA) - May 21, 2012
I got this tshirt as a gift for mothers day. It looked exactly as the website shows it except that the website says "fitted" and this tshirt is not very fitted. I have a medium tshirt which is normally my size, but this tshirt is just like a regular tshirt..not fitted at all. Love the design though:)

Great gift idea, my Mom loved it
By
Shopper

(Belleville, MI) - May 21, 2012
Thought the coloring on the names of the hearts was already light/faded and not sure over time if the black shirt will keep it's color.

Satisfied with my purchase
By
Shopper

(Dillsburg, PA) - May 19, 2012
I was happy with my purchase. The only things I would say are the heart is smaller then I thought it was going to be. It would be nice if it took up a larger area of the shirt. The only other thing is try not to use very long words, for example I used the pharse "unconditional love", which fit into the allowed number of letters, but then it was a bit hard to read as the letters appeared more condensed.

Good present! Neat idea!!
By
Lindsey W.

(Canton, NC) - May 19, 2012 (
See all reviews by this customer
)
The shirt is really different and cute but the colors are not near as bright as they appear on the website. But overall, good gift idea!!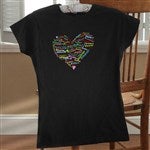 Great bragging shirt
By
Shopper

(McGraw, NY) - May 15, 2012
Would have given a 5 star review but this is the second one I purchased because they run small. But other than that I love how this is a great bragging shirt about your grandchildren for a younger grandma.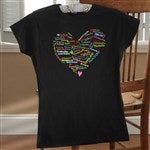 great tee!
By
Diann A.

(Williamsport, PA) - May 15, 2012 (
See all reviews by this customer
)
I bought this for my nieces to give their mom for mother's day! She loved it!! It was very special to her - so personal!!! Great gift!!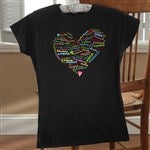 Even for a fitted Tee, this runs small!!
By
Shopper

(Seymour, IN) - August 2, 2013
I have LOVED every item I have ever ordered from Personalization Mall. This is the first with which I have been disappointed. It was a gift for my mom with all the grandchildren's name and super cute style. The only problem is the fit. I ordered up a size due to it being a fitted Tee but it is really fitted!! Sadly it won't be worn much!

I got alot of comliments, only it fits snug. I ordered the size I usually do a
By
Shopper

(Melbourne, FL) - June 16, 2013
large and it is very snug.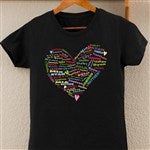 Runs small
By
Anna E.

(Inman, SC) - June 4, 2013 (
See all reviews by this customer
)
I love this shirt, colors were great but I wear a medium in all the shirts I buy so that is what size I purchased. It is too small. Very tight :o(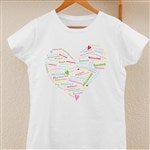 disappointed in quality of the t-shirt
By
carla C.

(lodi, NJ) - May 17, 2013 (
See all reviews by this customer
)
Although I loved the design and the recipient of the gift was thrilled with the uniqueness and personalization of the t-shirt, I was disappointed in the quality of the shirt....It was very flimsy, no weight to it, ran very small and not what I expected based on the other things I have ordered from the company. Won't order a t-shirt again.

Her Heart Review
By
Aubrey B.

(Saint Charles, MO) - May 16, 2013 (
See all reviews by this customer
)
It took a lot longer to get this item than most of the items I order from personalization mall so that made me anxious. Also the size is SMALL for the average comparison. I know it says fitted, but my mom usually wears a small to medium (I ordered a M)and this was TIGHT on her. I hope the lettering stays on, it didn't seem like the best quality print, at least not as good as quality as I'm use to with Personalization Mall. Overall is was a good purchase. Great idea. I hope the quality holds up and I wish the fit was a bit more truer to size.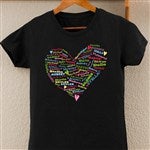 It wasn't EXACTLY what i hoped for.
By
Shopper

(UNION, NJ) - January 21, 2013
This shirt is a great gift idea and i ordered it for my wife's birthday from our daughter. While the shirt itself is a good quality women's tee, i was a bit disappointed with the printing. In my opinion the printing was faint and poorly done. I get the impression that after 1 or 2 washes it will be non-existent. This defeats the purpose of the gift imo.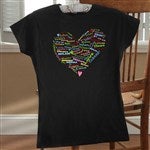 Okay quality fast shipping
By
Shopper

(YUKON, OK) - December 12, 2012
The print isn't very bold. Some of it is spotty.

Nice Shirt
By
Laninia D.

(Charlotte, NC) - September 26, 2012 (
See all reviews by this customer
)
I purchased this shirt for my mom for her birthday and the personalization was great, however she said that it wasn't a fitted ladies tee. I got a large and she said it was huge and had a boxey shape. So other than that she really liked the shirt.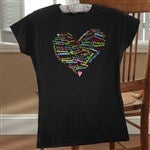 Ladies heart t-shirt
By
Rachael N.

(Chandler, AZ) - September 23, 2012 (
See all reviews by this customer
)
Awesome idea just really light print and small words!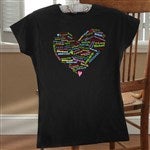 fitted sizes run small
By
Karen Z.

(Manistee, MI) - September 13, 2012 (
See all reviews by this customer
)
I was VERY disappointed in the 7 personalized shirts I ordered!! The was a note that stated "fitted sizes run small" and I should have ignored that. I
normally wear a large, so I ordered an extra large. OMG it does not run small at all. The note was input by the company not a comment from reviewers, so I
took it as fact. Therefore all 4 of the XL I ordered should be L and the 2 L I ordered should be M. These were obviously gifts, and I know I am stuck with them but please please remove that comment from your website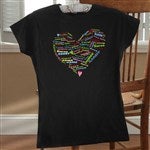 size
By
Shopper

(Trinity, FL) - May 21, 2012
I ordered a Large b/c the website said it runs small and its way too big :(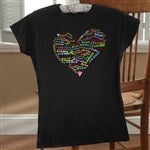 great idea, but poor sizing
By
Stacey D.

(Sugar Grove, PA) - August 1, 2013 (
See all reviews by this customer
)
I ordered a cookie jar for my parents' anniversary and decided, while I was at it, I'd add a tee for my mom's birthday. I chose the fitted tee, since it's a much more feminine look. But be aware that they run very small. I ordered a large, but it is quite tiny. I ended up keeping it for myself (I'm usually a M, sometimes S) and it's even skimpy on me. I have been babying it - cold water wash and hang to dry - and I still think it shrunk a bit too. Cute tee and I get comments whenever I wear it, but be aware of sizing!

Also note that, because our names happen to be short, I was able to include all 15 members of our family by doubling them up in the 8 lines! ie "Stacey Randy" It's such a great design idea, but I do wish the program scattered the names better - the same names end up very close to each other where it seems others could be used instead.

I was very pleased with the great service - my items were shipped within a day.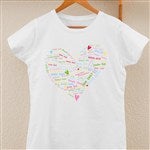 Mother's Day
By
Tonya E.

(Manquin, VA) - May 16, 2013 (
See all reviews by this customer
)
I loved the t-shirt, but was disappointed with the dull coloring. I ordered the white shirt. The shirt colors looked as though it was washed about 5 times. I would like to have another shirt with deeper, vivid colors.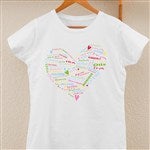 Satisfied
By
Heather S.

(Denton, TX) - April 20, 2013 (
See all reviews by this customer
)
I purchased the t - shirt for myself and my mother. I cannot speak for her, but mine is very fitted. I was surprised at how fitted it was. I still love the shirt, but the decal is already wearing, although I have washed as stated and only worn once.

Not truly a fitted Tee
By
Shopper

(Zionsville, PA) - December 6, 2012
The shirt is darling but do NOT expect it to be a Ladies Fitted Tee once you hit the larger sizes. I ordered an extra large and it is as square and wide as a standard t-shirt. I called the company and the woman just argued with me. Don't expect any customer service! I ordered this as a gift for the kids grandma but because it isn't the fitted ladies cut it will be too large. Another waste of money for me from this company.


Woman's Fitted Shirt
By
Joanne S.

(Saratoga Springs, NY) - May 21, 2012 (
See all reviews by this customer
)
As a Mother's Day gift I recieved one of you fitted women's shirts size L.
These fitted shirts are not for women, but are junior sizes and should be
marketed as such. They should not have been included in your Mother's Day
offers. Very few mothers can wear a junior sized shirt. Your advertising is
misleading. I ordered and paid for the replacement of this fitted shirt -
ordering Her Heart of Love T-Shirt size L. I hope that you will consider
my comments. Thank You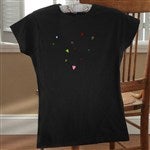 Not a fitted t-shirt
By
Shopper

(Mandeville, LA) - May 18, 2012
The t-shirt is definitely not a fitted t-shirt and the quality of the shirt is not that good. I would not buy this again. I bought it As a gift and was a bit embarrassed and felt like I had to make excuses for my gift. This is the first time I have been disappointed on a purchase from Personalization Mall.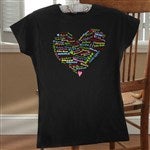 Not what I expected...
By
Carrie H.

(Loudon, TN) - May 11, 2012 (
See all reviews by this customer
)
I really like the design and printing, but I thought the fabric could have been better quality for a $25 t-shirt. Also, the adult XL seems WAY TOO SMALL, more like a size medium... So this was not the best purchase for my mom's mother's day gift...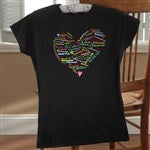 change in shirt quality
By
Shopper

(Wakefield, MA) - February 12, 2013
shirt quality has change to a much thinner material. It is no longer a fitted cut. Company contacted and money refunded. Design was cute.

not a FITTED t-shirt
By
Shopper

(Columbiaville, MI) - November 27, 2012
I ordered the ladies black fitted t-shirt in xl and it was HUGE! Not fitted or tapered in in the least. It is basically a men's xl t-shirt. So buyer beware!