Luthier
By
Larry C.

(Five Points, AL) - April 9, 2012 (
See all reviews by this customer
)
Love the mugs..and my customers do also.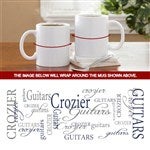 Micchelle's Coffee Cup - Proud Grandma
By
Leta E.

(Grand Prairie, TX) - April 9, 2012 (
See all reviews by this customer
)
My niece, Michelle, will proudly show off this cup at her place of employment because it has her first grandchild's name all over it. This company does spectacular work and is the only one I deal with for gifts. I've NEVER been disappointed in any of my purchases...and I've been using them for about 10 years Their merchandise arrives on time and is absolutely beautiful!

personalized Coffee Mug
By
John R.

(Lansdowne, MD) - April 8, 2012 (
See all reviews by this customer
)
This gift was the talk of the birthday party for my colleague. Everyone wanted to know where I bought it, and since my colleague has been using it in the office, she has received many comments on how attractive the cup is. She loves the size and quality. She says that it's the perfect cup. Now, I expect I'll be buying coffee mugs for my other co-workers when their birthdays come up.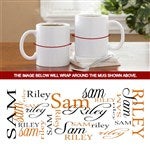 Beautiful Personalized Cups
By
Sandra S.

(San Jose, CA) - April 7, 2012 (
See all reviews by this customer
)
I ordered 6 of these for the adult kids for Easter and LOVE all of them....so special to see all their names on the cups. Several names are very unique and have never been able to buy anything off the shelf with their name. I can't wait to see their faces later today when I give them their cups. Thanks for such great work and great delivery!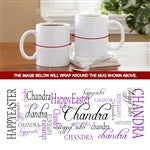 Artistic Design
By
Deborah L.

(Houston, TX) - April 7, 2012 (
See all reviews by this customer
)
Got six of these mugs for my office partners. Everyone loved it. It is so much more artistic than all other mugs we have had in the past. No one is leaving the "unwanted" office logo mug in the office accidentally. They all disappeared within one day! We are ordering more to keep in the office...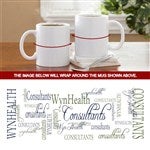 Who wouldn't like a mug with their name on it?
By
Judith G.

(worcester, MA) - April 3, 2012 (
See all reviews by this customer
)
This uniquely beautiful mug was given to my sister-in-law as a "welcome" gift as she visited us from a foreign country. I filled it with Easter candy, and she was thrilled!! The quality and size are perfect. For those occasions where a gift is appropriate, but you are not sure about size or taste , for example clothes, this is the ideal solution. Who wouldn't appreciate a mug with their name on it??

Beautiful!
By
Shopper

(Freeport, PA) - March 23, 2012
Ordered these mugs for my grandchildren for Easter--wanted to give them something other than candy! The mugs are beautiful--printing is very clear & crisp looking! I am very pleased with this purchase and the delivery time was amazing--ordered on a Tuesday & received Friday the same week! I know the "kids" will love them too--especially since they don't have common names and can't find personalized items. Besides, what child doesn't like to see their name in print? I'm so glad I found your site! I will definitely be a repeat customer!

Jazzy & Fun!
By
Shopper

(DPO, AE) - May 24, 2014
I like the options for color and text. You can even switch the text to decide what should stand out more. Nice!

Collection item
By
Shopper

(Terre Haute, IN) - May 20, 2014
My sis collects cups & with the recent earthquake in Orange Co., Calif., I am sure she liked getting a good sturdy cup from you.

Neat idea
By
Shopper

(Hinesville, GA) - May 6, 2014
I was very satisfied with my purchase and thought it was a great idea for various gift options.

Nice
By
Jan B.

(Newark, DE) - April 2, 2014 (
See all reviews by this customer
)
Nice looking but the green color could be darker and then it would look better.

Mugs
By
Shopper

(Jamaica, NY) - February 28, 2014
The mug was done beautifully.

personalized mug
By
Shopper

(Mahwah, NJ) - January 26, 2014
Great way to personalize someone's special day, and quick delivery.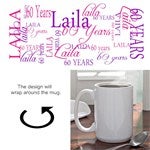 Great cup
By
Shopper

(La Pine, OR) - January 14, 2014
Love the cup, the design is awesome. I really like the large handle too, I can fit my whole hand in it if I want to.

It's a tad heavy, not heavy heavy, just a wee bit heavier than I'm used to.

Would love to see this cup in colors other than white.

love it
By
Marian R.

(Franklin, OH) - January 4, 2014 (
See all reviews by this customer
)
This mug is very nice. My name is hyphenated and everyone who sees it says something about my name!!!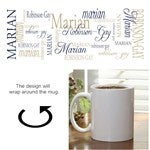 Gift for me
By
Shopper

(Marietta, GA) - January 1, 2014
I bought the larger cup as a gift for my daughter, liked it so much I had to have the smaller one for myself. No question at the office about who the cup belongs to.

Great gift
By
Shopper

(Marietta, GA) - January 1, 2014
This was a little gift for my daughter. She loves it!

Mug for our Marine
By
Shopper

(Tiffin, OH) - December 30, 2013
I really liked the mug, however I am giving it 4 stars because I would like to see it available in other colors....just white is pretty plain. BUT, we did get the mug personalized for our US Marine and he LOVED it!!! Fast shipping and package arrived safely, late on Christmas Eve. (would have liked to have seen it a little earlier in the day since I paid extra for shipping, but it still made it.) I would recommend this product.

Quality Assurance!
By
Debra H.

(Redding, CA) - December 28, 2013 (
See all reviews by this customer
)
I would have given 5 stars, as I ordered these mugs twice because I was so pleased with the first order. But the second order had one mug where the name was smudged in several areas, greatly detracting from the purpose of having the name on it. Where was quality assurance/satisfaction guaranteed? You really went down in my estimation by letting this poor quality product get sent out!

Awesome
By
Shopper

(Indianapolis, IN) - December 28, 2013
Bought this as a Christmas gift and we both love how it turned out. Nice and sturdy and the writing was cute. Only wish that the actual mug came in different colors. Other than that minor complaint I would definitely buy this product again.

Name coffee mug
By
Kevin C.

(Seattle, WA) - October 19, 2013 (
See all reviews by this customer
)
Easy to buy online, arrived quickly, looks good, and it really, really works!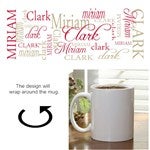 nice item
By
Shopper

(rosemount, MN) - October 18, 2013
worth the price

Very Nice
By
Shopper

(Canton, MA) - October 4, 2013
I like how these mugs came out. The script was over the whole mug & I liked that you could personalize it with the person's favorite colors. Would definitely recommend this product.

Excellent product
By
Shopper

(Daly City, CA) - September 22, 2013
Beautiful mug! Minus one star for the burgundy color as it was a tad lighter than I had hoped it would be. The other mugs that I ordered turned out great which were red and black as well as a purple and gray.

Really fast delivery
By
Shopper

(Tucson, AZ) - September 20, 2013
The cup is good quality and the delivery time was excellent, much faster than I expected. My only complaint is that there is too much writing on it. The name is repeated so many times, it is layered one on top of the other so that in some areas it just looks cluttered. However, I like it well enough that I plan to order more!

PapiMami cups
By
Shopper

(ponder, TX) - September 18, 2013
They look great, quality was better than i thought they would be. They are a gift for an aniversary coming soon, i know they will love them. I gave 4 star since i dont know how well they will keep after use and wash.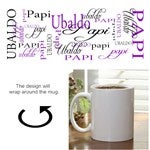 signature style coffee mug
By
Kimberly C.

(North Charleston, SC) - May 8, 2013 (
See all reviews by this customer
)
I ordered three of these mugs for myself and my sorority sisters in celebration of our anniversary. They arrived quite a bit earlier than I expected, which was awesome; I was able to give it to them at our celebration dinner. They were a hit! The only thing that I would change is adding more color options to the order form.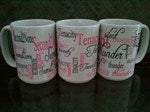 Great Mugs
By
Maria J.

(Inverness, FL) - January 11, 2013 (
See all reviews by this customer
)
I planned on getting this as a gift for my sister and liked it so much that I ordered one for myself and my husband.

loved
By
Ashley P.

(lawrenceburg , KY) - January 8, 2013 (
See all reviews by this customer
)
I just bought each of my employees one on these for Christmas and they loved them just as I did. The only thing is I wished they would have more of a color selection to choose from.

Good Quality
By
Shopper

(WEST VALLEY, UT) - December 27, 2012
These mugs are really great quality- Solid and smooth porcelain. The personalized names appeared very professional looking and their recipients were thrilled with the gifts.

name splash
By
Shopper

(Linden, NJ) - December 27, 2012
I bought 3 mugs on the same day, all very different and each personalized. This is probably the least festive or sentimental of the three. However, it has a very nice presence and is pretty to look at. I would consider buying these for my coworkers, even though I bought it for a friend. If you want someone not to use your mug, this is the perfect gift without having to label it with a sticker or marker; a habit we have at work with supplies like staplers. The choice of 2 different colors is a great way to give it some pizzazz. All in all a great product. Thumbs up from me.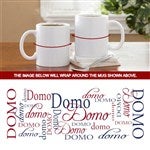 Love this mug
By
Shopper

(Happy Valley, OR) - December 26, 2012
I ordered 2 of these mugs - one for each granddaughter. They looked great - exactly as pictured, however, the handle on one of the mugs was shattered in shipping. A replacement is on the way but won't be here in time for Christmas.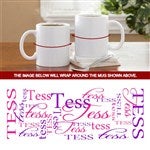 Great buy, great gift
By
Shopper

(Bayonne, NJ) - December 20, 2012
I cant wait to give this gift to my nieces and nephews. Love it and im sure they will. I just wish i have a choice to make the mugs bigger than it is.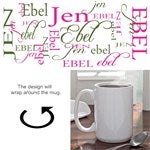 Great mug
By
Shopper

(Lumberton, NC) - December 11, 2012
The personalization was exactly as the preview showed. Cool mug!

personalized mugs
By
Tami G.

(Spanaway, WA) - December 5, 2012 (
See all reviews by this customer
)
Thrilled with the personalized gifts we ordered, hopefully the recipiants love them as much as I do.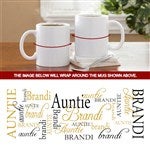 Pleased with Product
By
Shopper

(Sterling Heights, MI) - November 23, 2012
The cup is good quality, however the colors look differently when they came. I am still pleased with the product. Nice for the price.

Very lovely
By
Brittney S.

(Prentiss, MS) - November 14, 2012 (
See all reviews by this customer
)
Mug is very nice. I bought for a family member and now i plan on buying myself one.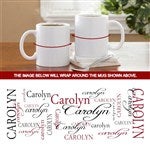 boss' gift
By
Shopper

(East Brunswick, NJ) - November 10, 2012
love it!! would like a larger size availability though


Good gift
By
Shopper

(Tampa, FL) - October 27, 2012
I bought this as a birthday gift. Easy to customize and reasonably priced. Fast delivery and the cup came out looking good.

Love the idea!
By
Shopper

(Los Angeles, CA) - August 27, 2012
I really love the design of the mug. I purchased two so far. I was thinking of giving them as holiday gifts, but I'm not all that pleased with the quality of the mug itself. The writing is georgous however.