Thrilled with the personalized coffee mug
By
Shopper

(Longmont, CO) - July 20, 2014
This is the perfect gift for a person who has everything!

GREAT Cup! Love the colors
By
Sheral J.

(Laurel Springs, NJ) - July 20, 2014 (
See all reviews by this customer
)
Ordered this cup in purple and pink colors! It is simply beautiful! I can never get a cup off the shelf because of my spelling of my name so this was awesome to be able to have a personalized cup! Can't wait to use it at work during the cold months when I have afternoon tea!

Beautiful!
By
Trudy M.

(Broomfield, CO) - July 19, 2014 (
See all reviews by this customer
)
I am so happy with the quality and look of the mug I ordered. So pretty! In addition, it was so nicely packaged and delivery was very prompt. I am excited to place my next order from Personalization Mall. What a fun place to buy one-of-a-kind gifts.

Fun gift idea
By
Kay P.

(Huntersville, NC) - July 18, 2014 (
See all reviews by this customer
)
One of a kind personal coffee mug. Unique, you choose the colors. Will buy this item again.

Great mug design & quality!
By
Shopper

(Irvine, CA) - July 15, 2014
Ordered this for myself! Great design & high quality printing. Good large size as well. Plan on using it at work so I no longer lose my tea mugs. definitely recommend it.

Success
By
Shopper

(belleville, IL) - July 12, 2014
I recently sent four personalized mugs to friends.
All of them were really pleased with their new mugs !
Such a good feeling to know that whenever I order a gift from you folks that I can count on giving a quality product that is sure to please.....thank you !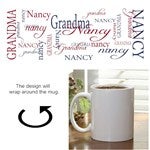 Cup of Me
By
hae jung K.

(los angeles, CA) - July 11, 2014 (
See all reviews by this customer
)
Absolutely love it! I got all my 5 bridesmaids this cup and they instantly fell in love. The cup was engraved with their names so it was a nice touch. They all told me how they will use it as their office cups now. That's so great to hear! Highly recommend!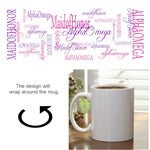 Mugs for upcoming Birthdays
By
Shopper

(Jefferson, LA) - July 7, 2014
I love the mugs, always looking for a different gift each year for birthday gifts. The coffee mugs are so pretty, luv them. Plan on filling with chocolates to complete their gifts. Will buy more as birthdays come up.

Awesome gifts! Perfect for large (or small) gatherings
By
Shopper

(Choctaw, OK) - July 4, 2014
I bought these for family members attending reunions or get togethers. They are perfect because everyone has their own mug and they don't mixed up! We all bring them every time we get together and they are great! Good quality. Do watch though - there are two different sizes. I didn't realize that at first and when I placed the second order - they came in different sizes. Not that big a deal but just be aware there is a choice.

Graduation Gifr
By
Shopper

(charlotte, NC) - June 29, 2014
This was the perfect gift for graduates. Turned out very nice. Would order again A+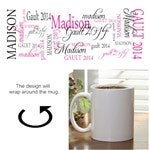 Just the right size cup
By
Tom B.

(Tucson, AZ) - June 28, 2014 (
See all reviews by this customer
)
I drink 1 or 2 cups daily, and my co-workers know not to use my cup, now.

My CNA's Loved Them!!
By
Shopper

(Sumrall, MS) - June 27, 2014
I purchased 7 and they were all very pretty! Now more staff members are asking! I used the red and pink with black as my colors.

Perfect Mug
By
Krysten S.

(Alexandria, VA) - June 23, 2014 (
See all reviews by this customer
)
I bought this mug as a bridal shower gift and it was absolutely perfect! I will definitely buy more and even one for myself! :)

Love it
By
Shopper

(Salisbury, MD) - June 22, 2014
This came out better than expected. It was a great gift for my sister and she loved it. I put her name along with her family nickname on it.

Exactly as advertised
By
Cecilia R.

(San Jose, CA) - June 22, 2014 (
See all reviews by this customer
)
Using these as a gift for our bridesmaids and they look great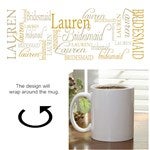 Really great mug
By
Shopper

(Lorena, TX) - June 20, 2014
I ordered this for my son's step dad for Father's Day and was surprised at the quality. It is really great and the names are done in beautiful script. I am completely satisfied.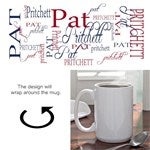 Coffee Mugs
By
Shopper

(Framingham, MA) - June 14, 2014
Just as the picture gave an example of names on a coffee mugs, my present of coffee mugs were exactly the same . The purchase was easy and user friendly and the arrival of the mugs came within a couple of days. This is my second coffee mug purchase

Excellent Thank You Gift for co-workers
By
Juanita C.

(Cleveland, OH) - June 11, 2014 (
See all reviews by this customer
)
I ordered the personalized coffee mug for a co-worker who would be handling my work responsibilities while I was on vacation for 7 days. She received it while I was gone, and said it really brighted her "tough" day. This is the perfect personalized gift for anyone!!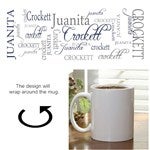 Great item!
By
Jennifer M.

(Cheektowaga, NY) - June 10, 2014 (
See all reviews by this customer
)
Can't wait to give as a gift. Great quality, vibrant colors...would definitely buy again!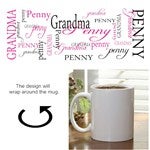 Everyone was happy with the surprise cups, the colors matched the occasion.
By
Shopper

(Colorado Springs, CO) - June 3, 2014
All 4 cups were well received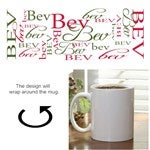 CLASSY & GORGEOUS MUGS (& CARDS)!!
As usual, this website is the BEST! My hubby and I ordered this mug for his son's Father's Day present and also ordered a personalized card - as well. We also ordered one mug for his wife's (our daughter-in-law) birthday on June 12th and a card, too. I also got a personalized card to add to a housewarming gift for my best friend and fiancé in southwest Florida. The gifts from this website always garner much attention. The 3 cards (EACH ONE) are in their own very sturdy cardboard holders and the mugs, too, are in their very own sturdy mug boxes. Love, love, love this website - never a mistake or cheap looking gifts!

Another great gift item from this store!
By
Shopper

(Athens, TN) - May 27, 2014
This is a quality item with a great look that I was proud to give. It looked exactly as expected.

I love ordering from Personalization Mall and always get compliments on the gifts I give. The customer service is excellent and the turnaround time is super-fast, In fact, I ordered this mug on a Monday and received it on Thursday.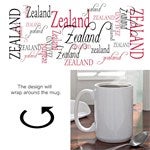 Turned out great!
By
Shopper

(Wichita, KS) - May 27, 2014
Bought this for a special birthday and was very satisfied. Really enjoyed "designing" it myself. Delivery was fast and efficient. Will order again.

Excellent service
By
Shopper

(KINGSVILLE, TX) - May 26, 2014
We needed two Fathers Day-themed items for our monthly church fundraiser and Personalization.com came through with flying colors. The mugs were clearly the crowd favorites.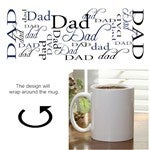 very nice cups
By
Shopper

(Farina, IL) - May 26, 2014
would order again.....love the choice of text colors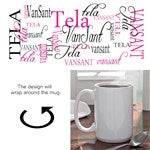 These are lovely!
By
Randy P.

(Florence, AZ) - May 26, 2014 (
See all reviews by this customer
)
These mugs are so cute! I have ordered so many for gifts, & everyone loves them & ask where I get them.
I will be ordering more.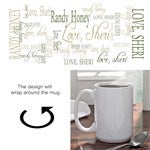 Beutiful!
By
Patricia C.

(Eatontown, NJ) - May 23, 2014 (
See all reviews by this customer
)
The graphics were crisp and the colors true. Love the look of the mug. I combined the first name of a friend with her favorite saying. Looks great! Had fun trying different color combinations and text.

Best Mug Ever!!
By
hae jung K.

(los angeles, CA) - May 23, 2014 (
See all reviews by this customer
)
The printing on the mug looks gorgeous and the quality of the mug is strong. I bought 4 cups and plan to buy more in the future. My bridesmaids would love this mug along with their morning coffee. Highly recommended! :)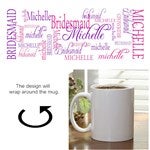 Nice Wedding Gift
By
Shopper

(Florence, SC) - May 19, 2014
I ordered several of these for gifts. On the ones I previously ordered, I ordered those in the college colors for each recipient. I have been pleased with everything I have ordered from PM and even pleasantly surprised with the quality of the merchandise. I have ordered merchandise from them before and will definitely be ordering from them again.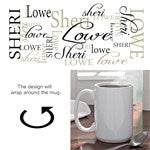 Best Personalized Mug EVER!!
By
Theresa L.

(McKean, PA) - May 15, 2014 (
See all reviews by this customer
)
Not only does the mug look great but the handle is comfortable to hold and it's just the right size for a decent amount of coffee or tea.

Coffee mug
By
Shopper

(Philadelphia , PA) - May 13, 2014
I am very happy with this website from the extremely user friendlyness to the quality of the product to the on time delivery. I will definetly be back and will recommend this site to family n friends

Great company...great mugs!
By
Shirley G.

(Cornelius, NC) - May 12, 2014 (
See all reviews by this customer
)
This isn't the first time I've ordered mugs from this company. Each time the order arrived in a very timely manor and the merchandise was exactly what I expected. Good prices, good merchandise...cannot go wrong ordering your personalized merchandise from this source.

Excellent choice
By
Joyce M.

(Nantucket, MA) - May 10, 2014 (
See all reviews by this customer
)
Hi, just received the mugs I had personalized for the "unique ladies" of Unique Standard Poodles. The mugs are perfect thank you gifts for the group.

Your site allowed me the option of selecting different color combos for the mugs and allowed me to see the finished product before my purchase. The mugs were exactly printed as ordered. Thank you for your attention to detail and speedy delivery service, It was great doing business with such a reliable firm. I will be back shopping again in the near future.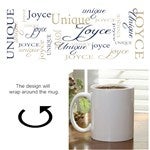 Awesome mugs
By
JoAnn M.

(Joliet, IL) - May 10, 2014 (
See all reviews by this customer
)
Absolutely loved how these turned out and that I could pick my colors. I got them for my daughter and her friends as a college graduation gift and did them in their school colors!

Beautiful personalized mug
By
Jamie W.

(Chicago, IL) - May 10, 2014 (
See all reviews by this customer
)
When I saw the mug I knew it would be a nice graduation gift for my nieces. Once I received it, the colors were so bold and bright... It was even better than what I seen pictured on the site. Excellent work!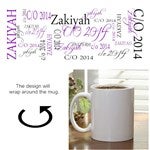 personalized for a couple
By
Sharon N.

(Butler, PA) - May 9, 2014 (
See all reviews by this customer
)
Each of my four married children will receive a pair of these mugs for their anniversary this year. I used the first names of the couple and reversed the colors on one of the pair to make a pair of unique mugs for their morning coffee.
Nice to have that gift bought ahead so I am ready as their anniversaries arrive.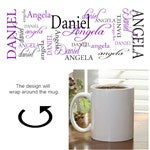 Signature stype Personalized Coffee Mugx
By
JOSEPH E.

(ROSENDALE, NY) - May 9, 2014 (
See all reviews by this customer
)
Excellent product .... inscriptions clear, well done, and colors bright.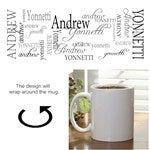 Just what I wanted!
By
Barbara C.

(Van Nuys, CA) - May 7, 2014 (
See all reviews by this customer
)
I ordered this for a friend and it looks even better up close than it did online. I am very happy with the mug. It's a good quality product I would definitely order again.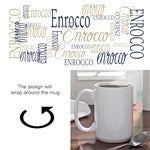 Teacher Appreciation Gift
By Shopper (Gainesville , FL) - May 6, 2014
I ordered 50 of these for my faculty for Teacher Appreciation Day with our school name. I then told another Principal about the site and she ordered for her entire school. I am only disappointed that I ordered a week before she did and had to pay 12.95 for the mugs. She got them for the 8.00+ price and was therefore able to order more. There needs to be a way for a business to know when there will be a drop in price. I would have been able to order more for my school also.

Tea Time for Tom
By
Thomas T.

(Powell, OH) - May 2, 2014 (
See all reviews by this customer
)

Both mugs were superb in execution and I'm totally delighted with both. I would DEFINITELY recommend Personalization to ANY AND ALL.