Well received GIFT....
By
Shopper

(Ypsilanti, MI) - July 4, 2014
I wavered between a 4 and a 5, but to be honest because we sent it as a graduation gift, and I did not see it, I went with "good" for the time being. I did not get a chance to see it, but my friend (the mom) sent me a note saying, "It is way cool and he liked it" I asked for additional information..... but haven't received any yet :O), but am happy with the pretty immediate reaction and response. I've had success with all items I've purchased from personalizationmall.com Thank you for offering unique quality items :o)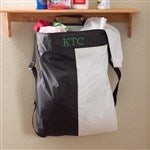 Much need gift for college students
By
Virginia D.

(Morristown, NJ) - July 1, 2014 (
See all reviews by this customer
)
I bought two of these in black/white with red monogramming. One with block letters, one with script. Both came out really nice. There is a separator down the middle to keep darks and lights apart and has washing instructions printed inside. I gave to my niece and nephew along with Tide detergent pods, Tide pens, spray & wash stain remover, dryer sheets, Downy Unstoppables (smell awesome), clothes wrinkle release spray, etc. All the things first year college students might need but not think of ahead of time. The material seems very study yet light weight and has straps for holding or throwing over shoulder. Good find.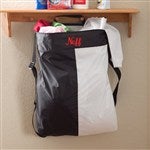 A Hit!
By
Gabrielle T.

(Tampa, FL) - May 26, 2014 (
See all reviews by this customer
)
Item was well made & looked just like the "sample photo." Embroidery was well done. Overall, the receipent (& his parents) thought it was awesome! Thank you for a great product!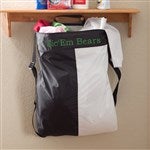 High School Graduation Gift
By
Shopper

(Slidell, LA) - May 14, 2014
I was looking for something other than a check to give to 4 local high school grads that we love and are going off to college. Came across this (laundry bag) and looked like a great idea. Ordering was easy and delivered on time. I don't know why, but I was kinda expecting padded straps for the backpack use....they are just wide nylon straps. Overall, I think it is a quality product that will get used (hopefully keeping their room a little neater/organized). The grads all seemed to appreciate them.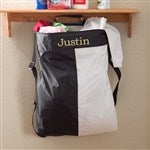 Great Product, Great Customer Service
By
Shopper

(Old Tappan, NJ) - June 26, 2013
I ordered the personalized laundry bag for my niece as she goes off to college. I received the item promptly right before her graduation party and was disappointed to find a black line running down the bag. I called customer service and they quickly sent another bag. The bag itself is a great size and with back pack like straps and handle on top with zipper I think it is a great item. Customer service was a pleasure to deal with quick and swift response. I will definitely use Personalization Mall in the future.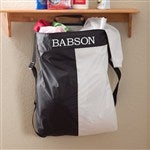 Off to College they go!
By
Kathleen G.

(Nesconset, NY) - June 17, 2013 (
See all reviews by this customer
)
This was the perfect gift for the student going away to college who would now have to do their own laundry. It separates the lights and darks with a divider in th middle. It's sturdy and having the name on it makes it easy to know whose bag is whose. A must have for any college student living away from home!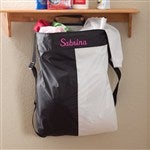 Dirty Laundry
By
Shopper

(Lawrenceville, GA) - May 26, 2013
My niece absolutely LOVED it!!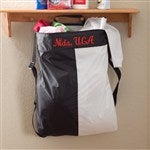 Better than I imagined!
By
TONIA R.

(HOUSTON, TX) - May 22, 2013 (
See all reviews by this customer
)
The nylon bag is a plus. I was surprised and pleasantly pleased about the instructions in the inside. Tells how to wash colored and white clothes! The quality of the stitching is really nice too.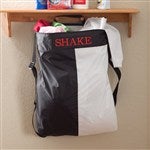 Very Nice!
By
Greta H.

(Liberty Township, OH) - August 5, 2012 (
See all reviews by this customer
)
I purchased 3 Sort a Sacks for my 3 Freshman. The sacks are very nice and the personalization adds a personal touch. My children loved the bags. However, they are a little smaller than they appear.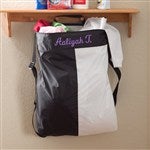 Personalized laundry bag
By
Jean D.

(Chatham, NJ) - May 9, 2012 (
See all reviews by this customer
)
As usual, when I order from you website, I am more then pleased with the product. The laundry bag is perfect for a young man going off to college. I ordered the college name in script and it's perfect!! Thanks for always having high quality products.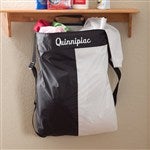 Very nice quality
By
Shopper

(Macon, GA) - September 20, 2014
Very nice item for HS graduation gift. Monogram was perfect! Shipment was prompt. No hassle purchase. REALLY love that you can a see a picture of item with the monogram before ordering, very helpful....thanks!

Will come in handy!
By
Shopper

(Mabank, TX) - May 27, 2013
Was very happy with this purchase.

nice
By
Shopper

(west allis, WI) - June 11, 2014
a nice personal touch for a bag to do laundry. Highly Recommend!

Quality Product
By
Jeanne L.

(Frankfort, IL) - May 31, 2014 (
See all reviews by this customer
)
Personalizationmall.com is my "go to" site for high school grad gifts. The personalized laundry bags are a hit with the grads entering college. Besides being attractive, excellent quality and functional, the embroidery personalization is top quality with a variety of colors from which to choose. As an addition to the laundry bag, I fill the bag with gift wrapped laundry detergents, softners, etc. to complete the laundry starter kit!

Great graduation gift!
By
Ed S.

(Townsend, TN) - May 7, 2013 (
See all reviews by this customer
)
We bought this for our grandson who graduated from high school and is off to college. It came just as pictured and seems very durable and sturdy. We are hoping this makes going to the laundry room at college easier. Also hope it helps keep his dorm room neater as it can be hung up and laundry sorted with light and dark sections inside. Very, very pleased with this purchase!

Great Graduation Gift
By
Lily S.

(St. Charles, MO) - June 2, 2014 (
See all reviews by this customer
)
I order this for my nephew's graudation and it was very well recieved.