nice but thin
By
Shopper

(Keyport, NJ) - November 9, 2012
The graphic and personalization was nice, however the mat itself is very thin and useless for wiping off your shoes.

great product
By
Kelly H.

(Chicopee, MA) - October 27, 2012 (
See all reviews by this customer
)
I always love how quickly my orders get to me from this site. Once again I am impressed with what I purchased with this doormat. The size is great, and the colors are very vibrant. Looks very durable too, something that is going to make a great Christmas gift for family.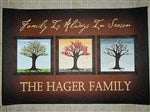 How The Gift Was Received By The Family
By
Shopper

(Flushing, NY) - October 6, 2012
The family loved the gift, they thought it was too lovely to use as a doormat. They are going to hang it up as a picture.
I don't think you can give it any better recommendation.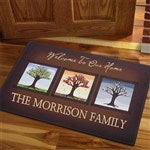 nice gift!
By
Robin G.

(Bath, NH) - August 18, 2012 (
See all reviews by this customer
)
love it! the colors are vibrant! the order arrived in three days, awesome!!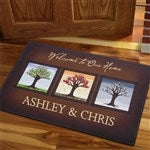 Welcome!
By
Marie K.

(Harwinton, CT) - April 8, 2012 (
See all reviews by this customer
)
Lovely additon to our entry hallway! But too nice to step on.....so we just hung it on the wall! I think the quality is tops...but it would get a lot of use there...and I think too much to last very long. I do wonder where the other season went???? Aren't there four of 'em???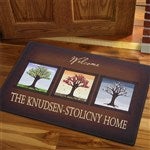 Happy with this
By
Shopper

(Bedford, IN) - October 10, 2013
I was happy with this..This colors are very nice..

Season doormat
By
Shopper

(Farr West, UT) - October 11, 2013
It's cute and the personalization is very nice but the doormat is really inferior quality and doesn't have much chance of staying put on the doorstep.

Good look
By
Jo A.

(Oxford, WI) - November 3, 2013 (
See all reviews by this customer
)
I like

cute, very thin
By
Shopper

(South Lebanon, OH) - January 10, 2013
This was super cute but incredibly thin and so definitely best inside, for looks

welcome mats
By
Shopper

(Fairmont, WV) - October 14, 2012
the mats are nice but they are a little thinner than I thought

Love this item!
By
Shopper

(Platteville, WI) - November 9, 2012
It was better than I expected, and the price was SO reasonable. The only thing, is I wish they had more 'fluff' or cushion/feel to them. I love the product.

Just lovely
By
Carole I.

(Vero Beach, FL) - November 18, 2012 (
See all reviews by this customer
)
This doormat looks just like the photo that appears on this site. The coloring is great and I am very satisfied. It is fairly thin so I probably won't put it outside.

What Happened To The Fourth Season?
By
Natalie J.

(Stamford, CT) - September 21, 2013 (
See all reviews by this customer
)
I really am happy to have found this doormat! It's hard to find one in the brown coloring which enhances all the brown lighting, knobs, locks and flower pots that surround the white doors and beige brick. It is oversized and looks great! However, I think that it should be redesigned to represent all four seasons. For some reason, "Spring" is missing!

great gift idea!
By
Carrie P.

(Middletown, NY) - March 30, 2012 (
See all reviews by this customer
)
This mat is decent quality and a thoughtful gift idea!!

Seasons of Trees
By
Shopper

(Walker, MI) - September 4, 2012
I always wanted a rug like this that I don't have to change year after year. I'm blessed to own such a rug. The colors are very nice. Great buy.

Repeat shopper!
By
Shopper

(Ridgeway, SC) - December 22, 2012
Love love love this rug! Excellent job on the construction of it!
Got here super fast without any rush shipping!
Have been purchasing from here for about 4 years and
Absolutely LOVE it!

Would Definitely Recommend This Store!
By
Shopper

(SPRINGDALE, OH) - December 22, 2012
Have ordered from them for a couple of years and although some things are a bit pricey next to say Wal***t the items are well worth the cost. I used to use another place for personalized items (Personal C****tions) for YEARS but when they started charging for the personalization & tagged on other little fees I left them. This place has always delivered on time, and as ordered. Also a BIG help is an easy to use website and they allow a preview most don't which is a big plus for me! Would recommend and use them again.

Great
By
Linda A.

(Hyde Park, MA) - December 9, 2012 (
See all reviews by this customer
)
Service and product great as always

useful, beautiful, and sturdy
By
SUE C.

(WHEELING, WV) - December 14, 2012 (
See all reviews by this customer
)
These mats are such a lovely gift for anyone. Its a beautiful, useful, and sturdy item to make folks welcome to your home. I know my family will appreciate them so much. Here is a neat way to wrap this for gift giving. Place tissue paper on the front, roll tightly, and tie wired ribbon at three intervals, making into bows or twists.

Beautifully Thin
By
Cyndee R.

(Collierville, TN) - June 10, 2013 (
See all reviews by this customer
)
I opened up the doormat in front of my Book Club (I'd ordered this for a wedding shower gift.) They ALL went, ooooh and a few went ahhhh, and all agreed that it was lovely. Yes, it is thin, but I had a heck of a time when I needed one last year to find a quality one that was thin enough to fit under the door as it opened and closed. This was my first order, but certainly won't be my last!

Perfect For Every Season
By
Shopper

(Canada) - August 17, 2013
This is a nice looking mat. I've purchased a different patterned mat for gifts for family. This one is part of a wedding gift and I'm sure they will love it!

Super cute!
By
Natalie C.

(Derwood, MD) - December 26, 2012 (
See all reviews by this customer
)
Looks exactly like the picture. Great way to introduce people to your home and give them that warm, cozy feeling walking through the door.

Love it
By
Jeannine K.

(Lake Hopatcong, NJ) - January 14, 2013 (
See all reviews by this customer
)
It was exactly what I ordered and I recieved it quickly. I love it!!!

Great product
By
Shopper

(glen carbon, IL) - September 24, 2012
This product is well made. I am very pleased with the quality and the workmanship.

Welcome Mat
By
Mary Y.

(Galloway, OH) - September 26, 2012 (
See all reviews by this customer
)
I am excited that I was able to locate this personalized welcome mat for a present for my brother and sister-in-law and that it can be left out year round. I am very happy with the quality also.

Really Nice
By
Maura H.

(Plymouth , MA) - September 17, 2012 (
See all reviews by this customer
)
Doormat is beautiful! Nice quality for the price. Highly recommend

CHRISTMAS GIFT
By
SUE C.

(WHEELING, WV) - September 24, 2012 (
See all reviews by this customer
)
I AM VERY PLEASED WITH THE DOOR MAT. IT IS VIBRANT IN COLOR, AND APPEARS TO BE VERY DURABLE. THIS PRODUCT IS A CHRISTMAS GIFT FOR MY GRANDDAUGHTER. A VERY FITTING GIFT FOR HER FIRST HOME TO OWN. I PLAN TO BUY MORE TO FULFILL MY LIST. I APPRECIATE YOUR SERVICS, AS I AM IN A WHEEL CHAIR, THE CONVENIENCE IS WONDERFUL. THANK YOU.

Love it
By
Shopper

(Brooklyn, NY) - November 5, 2012
Looks just like the picture.

High quality at very reasonable price.
By
Shopper

(Rochester, NY) - November 12, 2012
I can't believe how fast the rug arrived - within days. It is high quality, with vivid colors and the personalization was perfect. My guess is that it won't stand up to the weather for the long term, but given the price, it is well worth it.

Wonderful Family Doormat
By
Shopper

(Hackettstown, NJ) - October 22, 2012
Beautiful, quality doormat - colors vibrant - quickest delivery ever - perfect housewarming gift!

Happy Family
By
Cathy D.

(Jessup, MD) - November 2, 2012 (
See all reviews by this customer
)
I got this mat for two of my kids and their family's....They loved the mat and also that its for all year round! They were all very pleased with them! Ideal house warming gift! I am sure I will be ordering more for other family members over the holidays!