PERFECT!
By
Shopper

(Jacksonville, WA) - December 4, 2013
This came out exactly how I wanted it! very true to detail with what website says!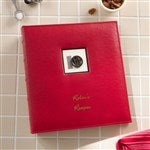 Great gift!
By
Shopper

(Vancouver, WA) - November 12, 2013
I bought this for my daughter, who is a pastry chef and has many loose pages of her notes and recipes. She was so pleased with it, she told everyone about it and shows it to everyone.

So I ordered it for my son, who is a gourmet chef, also with many notes and handwritten recipes. It's a future gift, but I'm positive he'll love it, too!

Beautifully done....good quality
By
Shopper

(Tucson, AZ) - November 3, 2013
I ordered this for my daughter for Christmas.
Am having fun adding recipes I know she will
want to keep.
The book arrived within ten days so the service
gets a five too....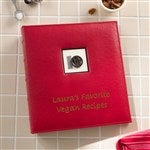 Recipe binder
By
Geraldine R.

(Salisbury, MD) - October 25, 2013 (
See all reviews by this customer
)
Overall, the color and quality were great. The cover is sturdy and the the binder itself is roomy with lots of room for my favorite recipes. I like the inserts for full page recipes as well as the pockets for my recipe cards. I will be purchasing another one as a gift.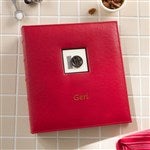 Awesome Cookbook!!!
By
Shopper

(Huntsville, AL) - September 11, 2013
Both of my girls are grown now and always calling me for one of their favorite family recipe. I cannot wait to present them with this personalized cookbook at Christmas filled with tons of their favorite recipes! It is of the highest quality, has tons of pages, both half and full sheets. I love the divided sections and the matching recipe cards. The personalization adds that final touch and is the icing on the cake!!!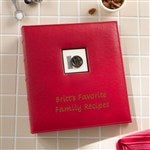 Amanda & Matt's Family Cook Book
By
Shopper

(Allentown, PA) - August 30, 2013
I gave this recipe book as a wedding shower gift. The bride to be just loved it. Both sides of the family submitted recipes for their book. Thank you for your prompt delivery service. I will keep your web site in mind for all my personalized gifts in the future.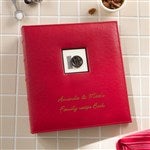 Personalized Deluxe Recipe Binder
By
Shirley S.

(Plainfield, IL) - June 28, 2013 (
See all reviews by this customer
)
I ordered this product as a gift for my cousin. I think she's going to love it. I love the quality of the binder and am very happy with the quality of the personalization. I've never been disappointed by anything I've ordered from Personalizationmall.com.

Newly Married Couple Special Recipes
By
Marie W.

(Chesapeake, VA) - June 6, 2013 (
See all reviews by this customer
)
The Bride and Groom loved this recipe binder and are excited to have a special place to begin collecting their favorite recipes. The assorted pages are great for different sizes and formats of recipes and the design on the cover is perfect.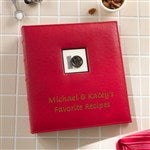 Wonderful, fun gift!
By
Suzanne T.

(San Pedro, CA) - June 1, 2013 (
See all reviews by this customer
)
I have bought over a dozen of these recipe binders. I originally bought just one of them and I loved it! Later I gathered together family recipes for a family cookbook and made pages for each family member, including their recipes and photos. I sent each family a personalized deluxe recipe binder that included these pages! My family went wild over the binders!
The binders themselves are beautifully made and each, of course, is personalized in one of three fonts. I think that they would make wonderful Mother's Day, birthday, bridal shower, etc. gifts.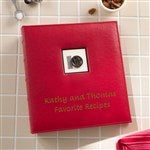 excellent gift
By
Maureen G.

(Cheshire, CT) - April 29, 2013 (
See all reviews by this customer
)
I bought this as a shower present and was so thrilled with the product that i am now ordering for several of my friends' birthdays!

Nice looking Binder and very easy to organize. TY
By
Cynthia Tobel F.

(Shelby Twp, MI) - January 25, 2013 (
See all reviews by this customer
)
A lovely personalized gift for anyone. Finally, my recipes will now be organized.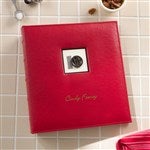 Recipe book awesome
By
Stacy B.

(Wallingford, CT) - January 18, 2013 (
See all reviews by this customer
)
Great item used as a birthday present mom loved it!

Great Gift for my daughters....
By
Nancy T.

(Cranston, RI) - December 31, 2012 (
See all reviews by this customer
)
I have enjoyed customizing this cookbook with my family's favorite recipes - it will be a forever keepsake for my daughters, as they begin their lives - better buy a second one so they each have one of their own...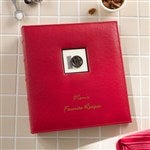 Great Product
By
Thomas S.

(Gaithersburg, MD) - December 19, 2012 (
See all reviews by this customer
)
This recipe book was even better than expected. It is made out of great material and the engraving looks spectacular. I am very impressed with the overall quality of this product and recommend it to anyone who wants an amazing gift for someone who loves to cook. I will definitely order products from PersonalizationMall.com in the future.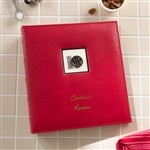 Great Gift
By
Amy S.

(JACKSONVILLE, FL) - December 19, 2012 (
See all reviews by this customer
)
I bought this for my 21 year old daughter for Christmas. She loves cooking and collecting recipes and thought this would make a great place for her to store her recipes. The binder is beautiful and very well made. I had it personalized with her name. I could not be more pleased with this gift.

Beautiful Recipe Binder
By
Sally D.

(Franklin, TN) - December 11, 2012 (
See all reviews by this customer
)
This recipe binder turned out even better than it looked online. I was so pleased the way the personalization turned out and the quality of the book. My sons girlfriends grandmother passes and she will be putting her handed down recipes in this binder. It will be a wonderful reminder of her grandmother. Thank you,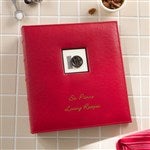 Great B-Day Present
By
Kimberly E.

(Onalaska, WI) - November 13, 2012 (
See all reviews by this customer
)
I have a friend who has recipes all over the place, this will help her keep her favorites all in one spot. The red, is red and the leather is really nice. I love how the book comes with pocket sheets, recipe cards, indexes......I cannot wait to see her reaction :)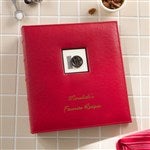 great quality!
By
Shopper

(Hicksville, NY) - November 5, 2012
Love it!! We used this binder for a friends bridal shower. Each guest got a card with their invite. At the end of the shower the bride had a great book of family and friends favorite recipes! Great customer service, fast shipping, great quality. Will def use PM again! : )

Great personal gift
By
Colleen L.

(Ooltewah, TN) - November 5, 2012 (
See all reviews by this customer
)
I purchased this for my son who is in the military and loves to cook. He is always calling wanting my recipe for all his favorites. This is going to be his Christmas gift and I am getting other family members and friends to join in the fun of putting it together. Some of my most cherished possessions are recipes that have been handwritten and given to me by friends and family members, some of which are no longer with us. I think he will feel the same.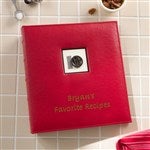 Gorgeous Recipe Binder
By
Cheri B.

(Huntsville, TX) - August 27, 2012 (
See all reviews by this customer
)
When I ordered the binder, the picture it gives you to verify the spelling of the name or words makes it appear as if it will be the gold lettering that is affixed to the outside of the leather. Well to my surprise, when I received the binder, the printing was actually carved into the leather and it was BEAUTIFUL! I'm so happy with the recipe binder I ordered for my son's fiance.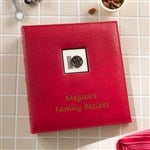 awesomwe
By
Shopper

(Scranton, PA) - August 20, 2012
i loved this!!!!!!! i gave it to my sister for a present when she first got married with all my moms recipes and she loved it!!! great job!!!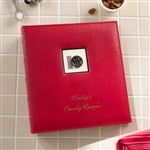 Great gift idea!
By
Shopper

(Centennial, CO) - July 27, 2012
The binder turned out beautifully for a friend who is recently married and just getting started in the kitchen. I included a few recipes in each category, and she loved it!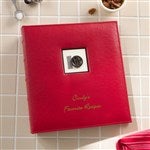 Good quality!
By
Shopper

(Nevada, MO) - July 7, 2012
Purchased this for my daughter-in-law's birthday. I love it! I want one too!

Great gift!
By
April M.

(Dickinson, TX) - May 21, 2012 (
See all reviews by this customer
)
I picked this out for my future Mother in law for Mother's Day and she loved it! It is wonderful quality and is a very personal, thoughtful gift in my opinion. It is absolutely beautiful with soft leather and fine details on the inside. It even has hints and tips about measuring and often-used kitchen jargon.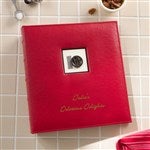 cooking
By
Shopper

(chester, NJ) - May 16, 2012
My sister in law loved it for mother's day! Always love your products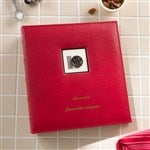 Awesome quality
By
Leigh W.

(New Orleans, LA) - May 10, 2012 (
See all reviews by this customer
)
This product is beautiful, sturdy and amazing quality. I had purchased it previously from another site, but the ability to personalize it make it even more attractive and a perfect keepsake.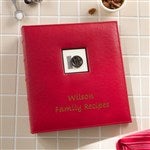 Love it!
By Shopper (Tinley Park, IL) - April 12, 2012
I received this as a gift, and absolutely love it! I have always been a 'page ripper' with my recipes, and this is perfect for that! The quality far exceeds the cost, and the personalization is such a nice touch!
I would reccommend this for anyone with a cook in their life, or as a unique wedding gift!

Nice
By
Shopper

(Howell, MI) - December 16, 2013
I love this recipe book but I wish it had more pages for the recipe cards. other than that very nice

Special Keepsake
By
Shopper

(Prescott, WI) - July 6, 2013
Very nice, good quality binder to safely hold and protect your families favorite recipes in a neat an orderly manner.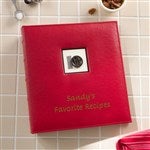 Awesome Gift, but no extra 5x7 cards to reorder
By
Jessica L.

(Chicago, IL) - December 20, 2012 (
See all reviews by this customer
)
Don't get me wrong, the recipient of this gift absolutely LOVES her new binder. As the giver, I wanted to order extra 5x7 cards only to find that this site only personalizes 4x6 cards...The pockets for clippings and organizers are really cool and the size of the binder is definitely appropriate for an avid cook/baker. The recipient absolutely was thrilled to get this!

Great Recipe Book
By
Maria P.

(Pomona, NY) - August 13, 2012 (
See all reviews by this customer
)
This is a wonderful recipe binder. I own this (puchased at another site) and when I saw that it was available on your site for personalization I quickly ordered one for my friend who is getting married. The personalization is beautiful, it is a saddle color not gold. I was worried it would be more gold in color since it was hard to tell from the site pictures but it is not. It looks beautiful. I am so happy I ordered it. I am not sure why the price was raised by nearly $12 dollars though, I am glad I bought it before the price was raised as I think the current price is too high. I had planned on ordering another until I saw the new price listed here. If the price is lowered again I will order another as a bridal shower gift.

Recipe Binder
By
Cassandra J.

(Geneseo, NY) - August 7, 2012 (
See all reviews by this customer
)
I had a little bump in the road with this recipe binder actually getting to me, but PersonalizationMall was awesome getting a replacement out to me! I really love the fact that I was able to personalize this gift, it was for my friends bridal shower, and she had everyone bring their own favorite recipes and I thought what an awesome thing to have all the recipes be kept in forever. She loved the gift when a replacement finally got to her---at no charge! Thank you PersonalizationMall for being so understanding and getting a replacement out in such crazy circumstances! It really meant a lot to me and my college roommate for her bridal shower gift! I love the personalized gifts I get from this site and will continue doing so :)