Wonderful Gift!
By
Kim H.

(Winston Salem, NC) - November 13, 2012 (
See all reviews by this customer
)
I purchased this For my Mother-in-law and Grandmother. I am so pleased with the finished product. I know is will be displayed in both of their homes and will be a cherished item.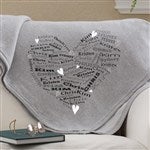 Unique birthday gift for someone special
By
Christina R.

(Imperial, MO) - October 14, 2012 (
See all reviews by this customer
)
My friend loved the personalized blanket! I plan to order more for Christmas gifts!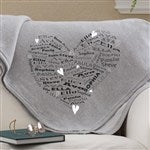 The perfect gift!
By
Lauralee J.

(Gatesville, TX) - October 7, 2012 (
See all reviews by this customer
)
The fleece backed blanket is very good quality and will be a light weight, yet warm, bit of comfort for whomever receives it as a gift. The heart shaped multi-name personalization adds that little something special that makes it a great gift for any occasion. I ordered one for my daughter-in-law and one for my sister. Both love them!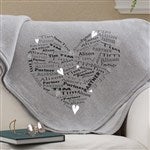 nice gift idea
By
Lisa B.

(Ashburn, VA) - December 28, 2012 (
See all reviews by this customer
)
got two blankets made for my parents & in laws with all their grandchildren's names on each blanket. they both loved the idea. However, i wish the blanket was a bit thicker & longer.

Fun for the young . . . . . . .
By
Marilyn G.

(Naples, FL) - January 23, 2013 (
See all reviews by this customer
)
I purchased this as a gift for my granddaughter who is a sophomore in college. I know she will love it!! But - honestly, I wish it had been available in a couple of other color choices - the grey is pretty boring. I only wanted to include her immediate family names (which was just 4) and, add Grammie & Papa. That still left 2 more - so I chose their 2 cats but then didn't have room to add the 2 dogs? Perhaps 8 is hard number of choices for some??

Perfect
By
Olinda S.

(Kingsville, TX) - December 10, 2012 (
See all reviews by this customer
)
Received a day ahead of schedule - exactly what I expected!!!! My sister will love it!

Cozy
By
Shopper

(Cincinnati, OH) - December 28, 2012
Thicker than I expected. :)
Mom loves snuggling with all of her kids names on the heart shape.
Other colors might be even nicer.

I like it but alittle disappointed
By
Shopper

(Milton, VT) - May 24, 2013
My friend got her blanket I gave as a gift. While the blanket is light and nice, I was disappointed that the heart and words were small and in the bottom corner of the blanket. When I saw the picture, I thought the picture would be in the middle of the blanket and larger.

Super cute blanket for the grandparents
By
Shopper

(elgin, IL) - December 18, 2012
I purchased 3 of these blankets for our parents. Since there are 8 grandchildren on my side of the family, it worked out perfect. There are 11 grandchildren on my husbands side, and I really wanted to get this for my in-laws for Christmas. So I bought one with the 5 names of the granddaughters and one with the names of the 6 grandsons. It's a perfect size for lounging on the couch. And it's really cute! This is definitely going to make the grandparents smile :)

Great
By
Cherrie J.

(Downey, CA) - December 10, 2012 (
See all reviews by this customer
)
The personalization is so great. I hope it washes well. So far, its GREAT!!! My daughter will love it!

VERY USEFUL & UNIQUE GIFT
By
deborah N.

(arlington, TN) - May 12, 2013 (
See all reviews by this customer
)
We ordered two of these as Mother's Day gifts for my mother and my mother-in-law. They both really liked the blankets. My mother, who is a homebound Parkinson's patient, can use it as a "brain-teaser" because I had all of her children, grandchildren, and great-grandchildren listed (by doubling up two names to one line). She forgets their names, and this will help her remember! My mother-in-law, on the other hand, can use it to stay warm at her grandsons' football games. Very versatile gift...I only wish there were more colors to choose from than grey with black print! The lack of color options is why I gave it 4 stars instead of 5.

Great Gift
By
Shopper

(broadview heights, OH) - December 18, 2012
Beautiful product. Very fast shipping!

Best Blanket
By
Nicole C.

(Washington, IL) - February 15, 2013 (
See all reviews by this customer
)
I love this blanket! My brothers and I got one for my mom for Christmas and quickly realized it was not only sentimental, but warm and comfortable. I ordered one for myself! Since I only have two kids, I opted to use the other name line options for the nicknames we use for our kids. My 7year old likes to sit with me and look at the names. I love to cover up with it because we have an old drafty house and this blanket is perfect for when I'm sitting watching tv or reading a book. I HIGHLY recommend this blanket! The only reason I didn't give it 5 stars is I wish I would have had color options. This is going to be my standard gift for many people!

Nice Quality
By
Linda M.

(Clifton, NJ) - December 27, 2012 (
See all reviews by this customer
)
This throw is thick and soft. To make it 5 stars.....the heart could be bigger. It is overall a nice item; just wish the heart were a bit bigger.

Beautiful
By
Shopper

(Seabrook, TX) - October 5, 2012
This was a gift and I am told it is beautiful. The blanket is soft and the personalized heart with names came out just right. This gift will be used and cherished.

Good for the price
By
Shopper

(Suwanee, GA) - December 4, 2012
Good size blanket

good`
By
Lacey D.

(Salina, KS) - December 8, 2012 (
See all reviews by this customer
)
lettering should be bigger

Nice but heart is small
By
Shopper

(Lubbock, TX) - December 27, 2012
This is a great concept. However, the heart image was about half the size that I was expecting. Fleece itself seems a bit cheap. But the "uniqueness" of the item seemed to be a big hit with the recipients. I was impressed with the fast turn-around too.

Sweatshirt blanket
By
Shopper

(Katy, TX) - April 30, 2013
I like the blanket very much; the design is perfect. The only downsize is that when I washed it, the top side was great but the white inside material created little white balls that I had to pick off and also use a pet hair roller to get them all off. Maybe more washings will reduce that happening.

Slightly misleading picture
By
Christine S.

(Ardmore, PA) - May 13, 2014 (
See all reviews by this customer
)
The quality is what I expected however, the actual size of the heart on the blanket is VERY small. The blanket is basically a large gray sweatshirt with a small heart in one corner.

It looked great.
By
Shopper

(Richardson, TX) - December 23, 2012
The personalization on the blanket looked great. I just wish that the blanket itself was larger.

Gift for grandma
By
Shopper

(Macomb, IL) - December 26, 2012
Picture shows letters darker/brighter than blanket recieved but grandma was thrilled with finished product and will keep warm wrapped in the blanket.

Cozy and cute!
By
Shopper

(Cortland, OH) - December 27, 2012
I initially ordered just one of these blankets for a Christmas gift; however, after seeing it I re-ordered three more! The graphics are good and I would rate the comfort/thickness of the blanket an 8 out of 10. I used each of my children's first and middle names, as well as our last name. It came out very cute!

Heartfelt Gift
By
Shopper

(Melbourne Beach, FL) - December 16, 2012
This personalized sweatshirt blanket was for my sister who is very ill. Luckily it had eight places for names to put in the Heart of Love as she is one of nine siblings. The blanket came out beautifully with all of our names in the heart of love and she was so touched. It made for a wonderful gift so she knows she is loved by her family at all times.

OK
By
Michelle R.

(Ingleside, TX) - December 26, 2012 (
See all reviews by this customer
)
Not what I thought it was but it was OK.

Blanket
By
Shopper

(Horseheads, NY) - December 22, 2012
I thought this blanket would be a little heavier but that's okay. It turned out nicely, great present for my parents anniversary :)

Happy Customer
By
Shopper

(Seaford, NY) - December 9, 2012
Great product and beautiful idea

Heartwarming!
By
Vickie W.

(DAWSONVILLE, GA) - May 11, 2014 (
See all reviews by this customer
)
I helped my mom purchase two of these sweatshirt blankets one for my sister and the other for mom's sister. They both just raved about them. My mom was so excited to be able to send such a unique gift where you could put so many names on it. My sisters did have to be washed first, because of the strong smell, but she said it came out beautiful. My aunt's was just fine! Thank you again for your unique gifts and wonderful shipping time.
Vickie





















Wonderful...
By
Shopper

(Houston, TX) - April 15, 2014
All was worth it based on the customization done on the gift
The expressions said it all when i gifted it to my friend.
Though the material could have been better, but overall, wonderful...

Mother's Day Gift
By
Dannette S.

(Bel Air, MD) - May 12, 2014 (
See all reviews by this customer
)
I got this for my mother for Mother's Day. Eight children's names were put on it amd it came out perfect and she loved it. The only thing is I wish it came in other colors other than grey.

Moms loved them!!!!
By
Kaye N.

(Dallas, TX) - May 12, 2014 (
See all reviews by this customer
)
I ordered two of these Heart of Love blankets. One for my mom and one for my mother in law. They both loved them! The look nice. The only think I would change is to make them available in different colors. Other than that, they are great. Look good and they are soft too.

Sweat shirt blanket
By
Shopper

(San Marcos, TX) - February 24, 2014
Very comfortable, soft and warm. On our first order the letters washed off. Personalization immediately replaced it at no cost to me. The second blanket did fine in the wash and all letters stayed on. They told me to keep the first blanket. Excellent customer service!! I have ordered several things from the company with complete satisfaction.

Special Blanket for my Girlfriend
By
Shopper

(Canyon Country, CA) - January 20, 2014
This is absolutely a meaningful special blanket to give to anyone. But I really enjoyed giving it to my girlfriend, and she absolutely loved it. Though, for the price I expected higher quality

loved as birthday present!!!
By
Shopper

(Houston, TX) - March 24, 2014
given as birthdy gift to a friend. My friend loved the blanket. she said the lovely blanket made the top of her birthday gufts this year!!!

Personalized Sweatshirt Blanket is an excellent gift
By
Shopper

(Oakton, VA) - March 21, 2014
I was very pleased with the Sweatshirt Blanket I bought as a gift for a friend. I had all of her family's names put on the blanket. The way the personalization was done was wonderful. The weight of the blanket is perfect for a chilly evening. I am thinking of ordering more for other friends.

Cute
By
Shopper

(Ormond Beach, FL) - June 19, 2014
The blanket is very cute and very soft. I just wished in the description it would have specified that the personalization was a silkscreen and not embroidery. Otherwise it was a great gift.

Wonderful
By
Shopper

(Dunwoody, GA) - October 20, 2012
Just received this today for my Mother's Christmas gift. It is just beautiful. The names came out GREAT and the quality of the blanket is just wonderful. ANOTHER HIT from Personalization Mall :)

Love this blanket!!!
By
Shopper

(Johnston, RI) - October 14, 2012
Great quality! Love the heart design! Material seems soft. I bought it as a christmas gift so I can't say how well it washes. Only wish it was available in more colors.

Very nice!
By
Shopper

(Oak Forest, IL) - July 20, 2014
The heart looks really great with all the names mixed in. I wish I had thought to add FAMILY as a name so that it would be included. I only used 6 names so they were repeated MANY times, which is part good, part bad. Overall the gift was appreciated.

Cozy
By
Laura B.

(Aberdeen, MD) - November 20, 2012 (
See all reviews by this customer
)
Better than expected!