For Mom on Mothers Day
I only rated "4" because I have not seen it in person yet. She does love it, though! Instead of using names, I used descriptive words for her, ie: Mother, Meme, Beautiful, Lovely, etc. And I loved that I could do the same with the card and use my own phrase. I just placed an order for the hubby's father's day gift, too!! Thanks!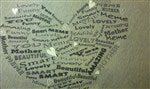 Exactly as described
By
Shopper

(Palmyra, NY) - May 20, 2013
The lettering on it was clear and printed well. My mother really liked it!

Nice gift!
By
Shopper

(Kearney, NE) - May 20, 2013
I got this for my husband for fathers day - haven't given it to him yet but the kids like it and it feels like a great material.

okay but not what I thought
By
Donna G.

(Wake Forest, NC) - May 18, 2013 (
See all reviews by this customer
)
Loved this concept. The font and design of the names were perfect. I bought one for my mother and one for my mother-in-law. However I was so disappointed when it came that the heart is small and on ONE corner of the blanket. I was picturing a.large heart in the middle of the blanket. If I had looked at the picture and read the description more carefully I wouldn't have been surprised. I just read reviews and I don't think anyone mwntioned that. All in all the moms were pleased even if I wasn't.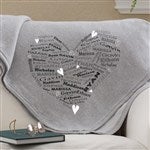 Better thsn expected!
By
Shelley L.

(Ocean Springs, MS) - May 17, 2013 (
See all reviews by this customer
)
Ordered this for my mother for Mother's Day. She loved it! She said it was soft and just the right weight to be used even in the summer!!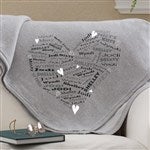 Great gift
By
Melissa S.

(Glenolden, PA) - May 14, 2013 (
See all reviews by this customer
)
I bought this for my mother for Mother's Day and put all of her grandchildren's names on it. She loved it! It's attractive and great quality. I didn't like how small the personalized area was, you would have to fold it in that perfect triangle to display it properly, otherwise it's a small corner of a large rectangular blanket. Also, would love if it came in more colors, as gray doesn't exactly match most people's sofas. Regardless, I'm happy with my purchase and so is my Mom.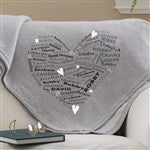 Cute
By
Shopper

(Deptford, NJ) - May 14, 2013
Cute and recipient loved it but I wish the personalization was all over the blanket and not just one small heart.

VERY USEFUL & UNIQUE GIFT
By
deborah N.

(arlington, TN) - May 12, 2013 (
See all reviews by this customer
)
We ordered two of these as Mother's Day gifts for my mother and my mother-in-law. They both really liked the blankets. My mother, who is a homebound Parkinson's patient, can use it as a "brain-teaser" because I had all of her children, grandchildren, and great-grandchildren listed (by doubling up two names to one line). She forgets their names, and this will help her remember! My mother-in-law, on the other hand, can use it to stay warm at her grandsons' football games. Very versatile gift...I only wish there were more colors to choose from than grey with black print! The lack of color options is why I gave it 4 stars instead of 5.

Wonderful gift
By
Dianna M.

(Macomb, MI) - March 18, 2013 (
See all reviews by this customer
)
Generous size and the heart looked great!!!Ordered it as a remembrance gift for a friend who lost her dog after 13 years. Put the dog's name, plus two of the dog's nicknames and the years on it. She was crying - she loved it!!! Since the blanket is so big, it would be great if the heart could have been put on two sides of the blanket instead of just one!!! Nonetheless, this was a wonderful and different idea for a gift!!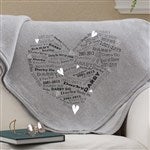 Best Blanket
By
Nicole C.

(Washington, IL) - February 15, 2013 (
See all reviews by this customer
)
I love this blanket! My brothers and I got one for my mom for Christmas and quickly realized it was not only sentimental, but warm and comfortable. I ordered one for myself! Since I only have two kids, I opted to use the other name line options for the nicknames we use for our kids. My 7year old likes to sit with me and look at the names. I love to cover up with it because we have an old drafty house and this blanket is perfect for when I'm sitting watching tv or reading a book. I HIGHLY recommend this blanket! The only reason I didn't give it 5 stars is I wish I would have had color options. This is going to be my standard gift for many people!

Fun for the young . . . . . . .
By
Marilyn G.

(Naples, FL) - January 23, 2013 (
See all reviews by this customer
)
I purchased this as a gift for my granddaughter who is a sophomore in college. I know she will love it!! But - honestly, I wish it had been available in a couple of other color choices - the grey is pretty boring. I only wanted to include her immediate family names (which was just 4) and, add Grammie & Papa. That still left 2 more - so I chose their 2 cats but then didn't have room to add the 2 dogs? Perhaps 8 is hard number of choices for some??

Cute gift for mothers/grandmas
By
Vanessa B.

(Lake Forest, CA) - January 18, 2013 (
See all reviews by this customer
)
I am giving this to my mom for her birthday in a few weeks and I think it will make a good gift for her! The heart isn't too big, not too small. I think she will like it :)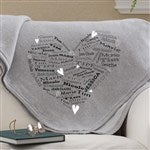 A great gift idea for the whole family
By
Shopper

(Pueblo West, CO) - January 14, 2013
Just a great overall gift idea. Something personal the whole family can use and enjoy. Nice cozy blanket. The receiver thought it was such a great idea and really loved it.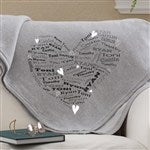 Cozy & Creative
By
Shopper

(Selden , NY) - January 13, 2013
My kids love seeing all our names together in the heart. The sweatshirt blanket is warm and cozy and the perfect size to cuddle up with on the couch. Nice quality and a great gift idea!!!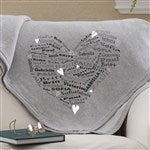 nice gift idea
By
Lisa B.

(Ashburn, VA) - December 28, 2012 (
See all reviews by this customer
)
got two blankets made for my parents & in laws with all their grandchildren's names on each blanket. they both loved the idea. However, i wish the blanket was a bit thicker & longer.

Cozy
By
Shopper

(Cincinnati, OH) - December 28, 2012
Thicker than I expected. :)
Mom loves snuggling with all of her kids names on the heart shape.
Other colors might be even nicer.

Nice Quality
By
Linda M.

(Clifton, NJ) - December 27, 2012 (
See all reviews by this customer
)
This throw is thick and soft. To make it 5 stars.....the heart could be bigger. It is overall a nice item; just wish the heart were a bit bigger.

Cozy and cute!
By
Shopper

(Cortland, OH) - December 27, 2012
I initially ordered just one of these blankets for a Christmas gift; however, after seeing it I re-ordered three more! The graphics are good and I would rate the comfort/thickness of the blanket an 8 out of 10. I used each of my children's first and middle names, as well as our last name. It came out very cute!

Gift for grandma
By
Shopper

(Macomb, IL) - December 26, 2012
Picture shows letters darker/brighter than blanket recieved but grandma was thrilled with finished product and will keep warm wrapped in the blanket.

It looked great.
By
Shopper

(Richardson, TX) - December 23, 2012
The personalization on the blanket looked great. I just wish that the blanket itself was larger.

Blanket
By
Shopper

(Horseheads, NY) - December 22, 2012
I thought this blanket would be a little heavier but that's okay. It turned out nicely, great present for my parents anniversary :)

Heartfelt Gift
By
Shopper

(Melbourne Beach, FL) - December 16, 2012
This personalized sweatshirt blanket was for my sister who is very ill. Luckily it had eight places for names to put in the Heart of Love as she is one of nine siblings. The blanket came out beautifully with all of our names in the heart of love and she was so touched. It made for a wonderful gift so she knows she is loved by her family at all times.

good`
By
Lacey D.

(Salina, KS) - December 8, 2012 (
See all reviews by this customer
)
lettering should be bigger

Good for the price
By
Shopper

(Suwanee, GA) - December 4, 2012
Good size blanket

Personalized Sweatshirt Blanket
By
Shopper

(Summerville, SC) - November 30, 2012
Bought this for my sister who is both an Aunt and Great Aunt. I had all of her nieces, nephew, great nieces and nephew's names on it. I love the way the names are repeatedly placed on the heart. My only regret is that one of the names is not as predominant as the others.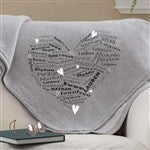 Beautiful
By
Shopper

(Seabrook, TX) - October 5, 2012
This was a gift and I am told it is beautiful. The blanket is soft and the personalized heart with names came out just right. This gift will be used and cherished.