Special Blanket to Warm the Soul
By
Shopper

(Mount Carmel, PA) - March 12, 2014
I couldn't imagine what a sweatshirt blanket would be like but when the blanket arrived and I touched it I fell in love with it. I love the gray color. I chose to have my Grandson's name on the blanket as well as special people in his life; his mom, dad, Nana, Jaju, Cici, Bushie. I also included the names of his four special puppies in his life. All these special names repeat throughout a heart shape on the blanket along with hearts and xoxo that are added to show extra love. Service was great!!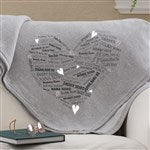 100th Birthday Present
By
Alison G.

(Los Angeles, CA) - March 4, 2014 (
See all reviews by this customer
)
My dilemma was what to get someone who has everything and is having a 100th Birthday, thank you Personalization Mall for coming to the rescue. I was able to add family members names, 100 and well wishes all on a cozy blanket that I know she will use and treasure for the next 100 years!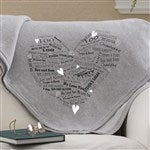 Love it!
By
bari R.

(Nanuet, NY) - February 14, 2014 (
See all reviews by this customer
)
I sent this gift to my dad who is in the end stages of cancer. I wanted him to have a personalized blanket with all his grandchildren's names on it so he can be wrapped in love while he goes through all his treatments. I am very happy to say it was the best gift, he uses it daily, and it's very comfortable and a nice size. The personalization makes it super special! And it means so much to me that he is using it to help keep him comfortable. Thank you for this wonderful product!!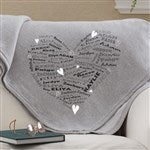 Perfect!
By
Pamela C.

(Clarksville, OH) - February 12, 2014 (
See all reviews by this customer
)
I purchased this a gift for my sis-in-law, with the names of her dog "children" . It is beautifully made, soft, and I know she is going to LOVE IT!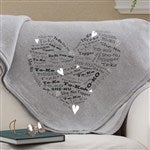 Nice
By
Shopper

(Alpharetta, GA) - February 10, 2014
It's a very nice gift for a friend that was turning 40. I wrote down the name of her children, husband and a "Happy 40th bday" on it and she loved it. Its a gift that will be with her for the rest of her life

Fleece blanket
By
Judy Z.

(Oregon, OH) - February 8, 2014 (
See all reviews by this customer
)
This is the second fleece blanket I ordered. It's a fun gift - can enter up to 8 names, dates, etc. I've given as an engagement present and a wedding shower gift - was able to list all the important names and dates for the occasions. Quality blanket.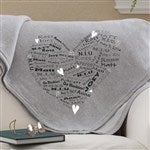 A healing blanket for grandma
By
Shopper

(Boylston, MA) - February 4, 2014
I put together this blanket for grandma with all her grandchildren's names on it and it arrived just in time to help her in her recovery from surgery. It was beautifully crafted and came when it was scheduled to arrive.

Great Memorial Gift
By
Kylle H.

(Helper, UT) - January 18, 2014 (
See all reviews by this customer
)
Purchased for my mom. Had all of her pets' names added that have passed over the years. I have yet to give it to her, but I am sure she will cry (and love it). It seems to be of good quality (I have not removed it from its wrapping) and it looks wonderful and soft. Another great gift purchase from PM. :)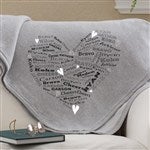 Favorite blanket by far
By
Allison S.

(cutchogue, NY) - January 11, 2014 (
See all reviews by this customer
)
I received this as a birthday gift and bought 2 more for friends for Christmas. Absolutely love this blanket!


The Mom's Loved It
By
Dena M.

(Knightdale, NC) - January 8, 2014 (
See all reviews by this customer
)
I sent one to my Mom, and my Step-Mother and they both loved them!! And my brother in law liked them so much, he ordered one for his Dad! Beautifully made I am very pleased!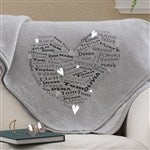 Beautiful, sentimental gift
By
Shopper

(Norristown, PA) - January 1, 2014
This is the 2nd Heart of Love Blanket I purchased. I got myself one last year with my grandchildren's names on it and love wrapping myself up in it. This year I purchased one for my sister. She is thrilled. Her eighth grandchild was born just before Christmas so it was the perfect gift.

A big hit!
By
Shopper

(newark, NY) - December 31, 2013
My mother is very difficult to shop for but I finally nailed it this year with my purchase of the personalized sweatshirt throw!!!

just like it showed
By
Mabel D.

(Rocky Point, NC) - December 30, 2013 (
See all reviews by this customer
)
I have shopped Personlization Mall before and they did't let me down this time, will continue to shop with them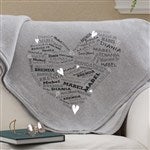 3rd time purchasing this blanket...
By
Shopper

(Sunnyvale, CA) - December 29, 2013
It is well made and very durable. It is a great gift for someone going off to college. My daughter loves her blanket. Highly recommend.

Perfect Pesonalization
By
Julie P.

(Norton, MA) - December 29, 2013 (
See all reviews by this customer
)
Once again a gift I purchased from PM was great. The words I put to show up on the blanket were spot on. They let you review, rearrange the words until you see it as you want it. They never change it from there so I never have to worry that I didn't get what I've created. The receivers of my gift were overwhelmed and very happy when it was opened! It was perfect! Thank you PM.com. I'll be back....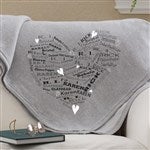 A Family Hug!
By
Louise H.

(Cleveland, OH) - December 28, 2013 (
See all reviews by this customer
)
I ordered this for my husband for Christmas! When he opened it he just didn't have any words - he was overwhelmed. I had put all of his siblings and their spouses names on it. I told him I knew family is important to him and this will be like a big hug! There just isn't enough proper words to describe this item. Would be a great gift for grandparents or great grandparents even younger families. I was thinking of putting all of our past and present pets names on one!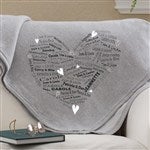 Excellent Gift
By
Kelly H.

(Shelby Township, MI) - December 27, 2013 (
See all reviews by this customer
)
I bought this for a Christmas gift for a very good friend. She LOVED this blanket. I monogrammed it with her 3 "kitty" children's names which she adores. She said the quality was great and the personalization came out perfect. VERY fast ship. Item arrived when they said it would. I would definitely buy this item again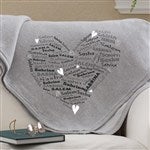 Family Hugs
I bought this for a friend's birthday and she absolutely loved it. It's a nice throw that you can actually put to use and be wrapped in your family on those chilly nights.

Reminder of home
By
Shopper

(Egg Harbor Twp, NJ) - December 26, 2013
Purchased this as a Christmas gift for my daughter who attends college far from home. She loved it. Was very touched by all our names and liked the softness of the fabric.

Product Features
By
Laurie R.

(Belleville, NJ) - December 26, 2013 (
See all reviews by this customer
)
Throw was much nicer than expected. Excellent turn around time and wonderful customer service assistance.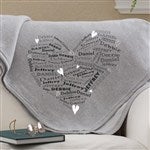 Awesome!
By
Janie B.

(Miamisburg, OH) - December 26, 2013 (
See all reviews by this customer
)
Absolutely loved this. It turned out awesome!

A Special Place In Our Hearts
By
Shopper

(Albrightsville, PA) - December 24, 2013
We got the news that a colleague of ours was retiring. We decided to create a retirement gift basket for her and included this item, it seemed perfect. The fabric- she would make her own off the shoulder sweat shirts. The color- She always wore subtle colors. The Personalized Heart Blanket- She would feel the warmth of our love for her and know that she holds a very special place in our HEARTS. It made perfect sense!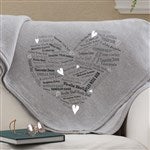 beautiful
By
Heather P.

(Middleport, NY) - December 22, 2013 (
See all reviews by this customer
)
My mom loves having all her grandchildrens' names on the blanket. It is very heart-warming to see her cuddling with the blanket and with her grandchildren.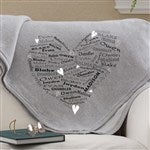 Great gift idea
By
Shopper

(Middletown, NJ) - December 16, 2013
This is a great blanket. I bought for a grandmother as a gift and included all the grandchildrens name. Can fit a lot of names which is great. Quality of names printed on blanket is also very good. Blanket is a soft sweatshirt feeling. Blanket arrived with a little bit of a smell but will prob come out with a washing. I know the person getting this will love it! Very nice gift idea. May purchase again as another gift.

Quality
By
Shopper

(Oak Ridge, TN) - December 14, 2013
Absolutly beautiful. Such a perfect gift.

Awesome Blanket!
By
Shopper

(Macedon, NY) - December 14, 2013
This blanket far exceeded my expectations in every way. LOVE the fabric- substantial weight, cozy and comfortable to the touch. The name detailing is perfectly written, creatively designed with a beautiful arrangement of changing font lettering, some in bold. The names also repeat throughout the heart shape, which is an extra-special bonus. I am certain that the recipients of this gift will cherish it for a lifetime. Practical and decorative...I plan to order more for others. Note: there is space on some of name lines for 2 names- doubling the names you can have placed- outstanding!

Great Quality, Exactly as Pictured
By
Lauren H.

(Astoria, NY) - December 14, 2013 (
See all reviews by this customer
)
Excellent gift! Will definitely order again.

For Grandma
By
Shopper

(Western Springs, IL) - December 11, 2013
This gift came very quickly. I know my Mom will love it. Thanks!

Love it!
By
Tami W.

(Pleasant Hill, MO) - December 8, 2013 (
See all reviews by this customer
)
I bought this blanket for my mother. I loved the idea of putting all the kids and grandkids names on something for her. It arrived and was beyond my expectations. The blanket is wonderful and turned out better than I hoped for. I love it and I'm considering ordering one for myself.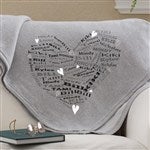 Great Gift Idea
By
Ginger T.

(Madison, GA) - December 5, 2013 (
See all reviews by this customer
)
Very beautiful. Love them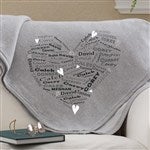 Perfect!
By
Linda L.

(Oldsmar, FL) - December 3, 2013 (
See all reviews by this customer
)
It arrived in great time and was as described! My fiance and his daughter will love this!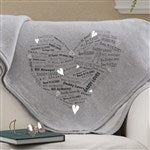 This will touch the hearts of the entire family!
By
Deborah M.

(Johnson City, TN) - December 3, 2013 (
See all reviews by this customer
)
I ordered this blanket for a family that is very near and dear to my heart. (I am their babysitter.) I was looking for a gift that would include all members of the family. This blanket was a home run! I was so impressed w/the uniqueness of the printing and quality of the blanket that I ordered another one for my best friend. I am so happy that I found this gift to give at Christmas!... (I can just see the 4 little girls sitting on the sofa looking for their names on the blanket and keeping warm at the same time!)

Excellent
By
dakia B.

(waldorf, MD) - December 3, 2013 (
See all reviews by this customer
)
Gave this as a gift to a friend and she absolutely LOVED IT! Quick turn around time.

Family Favorite
By
Jennifer G.

(New York, NY) - December 2, 2013 (
See all reviews by this customer
)
This was a gift for my SIL, who has EVERYTHING and can afford everything as well- and let me tell you, she LOVED this blanket. She has 5 children (yes, 5) and having her name as well as everyone else's on there was priceless for her. She couldn't believe it and loves the blanket. It's basically a big sweatshirt. Great to cozy up to on the couch. Personally, I wish it were a wee bit bigger for snuggling, but it's still great.

Christmas Gift
By
Brenna C.

(Gilbert, AZ) - November 27, 2013 (
See all reviews by this customer
)
So happy with how these turned out! I ordered 6 of them for different members of my family and they are super cute. Can't wait to give them to everyone!

Good marks!
By
Shopper

(Bradenton, FL) - November 25, 2013
I am very pleased with this product. It is exactly as described. The personalization came out perfect. I purchased this as a gift for my sister, with all of the family names on it. She will love it! I have never been disappointed in any item I have purchased from Personalizationmall.com.

Better Than Expected!
By
Randy W.

(Canton, GA) - November 25, 2013 (
See all reviews by this customer
)
I bought two. Perfect Parent or Grandparent gift! Great quality, just like pictured. Love them!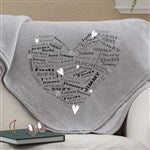 family heirloom
By
Shopper

(Langhorne, PA) - November 23, 2013
great product and quality. i know it will be well received.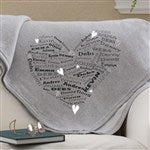 A perfect gift for the person who has everything!
By
Chante W.

(Middletown, DE) - November 22, 2013 (
See all reviews by this customer
)
This was a huge hit for my sister's bday! It came fast and the work done was beautiful.

Blanket for mom for christmas
By
Marcia G.

(Panama City Beach, FL) - November 20, 2013 (
See all reviews by this customer
)
It is perfect. Came in 3 days after I had ordered it. It was packaged well. I ordered 3 total...........after the first one came in. Had to get one for my mom; my husband's mom and his step mom. We all loved it!!! Love the material!! The names were perfect. I will order another one soon!! God bless you!!