Perfect
By
Bonita W.

(Dilworth, MN) - December 10, 2012 (
See all reviews by this customer
)
This is a gift for that special aunt that loves her gardens and her family. My order arrived in 4 days. It is perfect!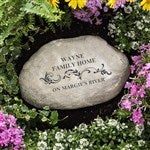 Great for the garden or flower bed!
By
Shopper

(Delaware, OH) - December 10, 2012
Love, love, love this garden stone! A very unique and classy gift for someone who has everything....or someone who never gives you gift ideas! I had it engraved with the title of "our" song, "Its a Great Day to Be Alive" along with our wedding date. Can't wait until Christmas to give this to my hubby!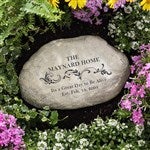 great gift, esp for those who love their gardens
By
Tracy M.

(Benson, NC) - September 23, 2012 (
See all reviews by this customer
)
My coworkers and I ordered 2 of these for pretty recent office retirees who happen to enjoy gardening and working in their yards. The site lets you personalize it as you wish so we just did congratulations on your retirement and the person's name and our business name. So it's really versatile; you can order this for about any occasion.

The stones are of really nice quality; not too heavy, not too light. I think they're unique and thoughtful gifts and hopefully will stand the test of time. I've ordered several items from personalizationmall.com and have been very satisfied with every item and the personalization. I will be using this site to continue to purchase thoughtful and unique personalized gifts for friends and family.

Awesome & personal
By
Sonia H.

(Danville, CA) - September 1, 2012 (
See all reviews by this customer
)
The garden stone is adorable and looks great in my flower garden. I plan to order more for gifts.

Great custom gift!
By
Shopper

(Bryn Mawr, PA) - August 9, 2012
I got this for a friend's birthday - she loves to garden and I was able to find a short quote about friendship to put on the stone. It turned out really great! She loved it!

Great Gift
By
Shopper

(Somerset, PA) - July 23, 2012
I bought this gift for a family who has everything! We spend a lot of time on their patio which is surrounded by a small, tastefully landscaped area. The superb quality of the stone will add to the beauty of the area as well as personally welcoming guests.

Great Gift
By
Shopper

(Richmond, TX) - July 6, 2012
This is a wonderful gift and looks just like the photo. The rock is nice weight. It is a nice custom gift at a super price! I would highly recommend this to anyone looking for a unique gift with a personal touch. I am not sure how the name etc will wear in the weather, but I still rank this really high due to the quality and overall intial appearance.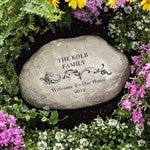 It was the best gift ever
By
Brenda G.

(Canada) - June 20, 2012 (
See all reviews by this customer
)
I bought this gift for friends adopting and I did it a little bit late. The gift was ordered on a Thursday and I could pick it up at the delivery location the following Tuesday.....It was a hit and I couldn't be more satisfied.

garden marker
By
Judy S.

(Armada, MI) - May 21, 2012 (
See all reviews by this customer
)
Very nice ,My Daughter in law fell in love with it,shes going to hi light her flower bed with it,very nice Quality,I have never been disappointed with your product very fast shipping and processing of orders. I will order again Thank You

Wonderful quality
By
Shopper

(Lumberton, TX) - May 16, 2012
i was very pleased with this item. It is large and the personalization is beautiful. Well worth the money.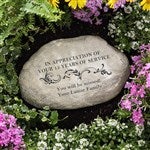 Wow!
By
DANIEL S.

(Cary, NC) - May 14, 2012 (
See all reviews by this customer
)
Great quality and extremely fast shipping. I think I ordered this on a Friday and got it on Monday. Great company.

love this stone
By
Shopper

(East Rochester, NY) - May 5, 2012
It's beautiful stone great price and came supper fast totally will recommend!


Birthday gift for our 10 yr old granddaughter who loves to garden.
By
Shopper

(lorain, OH) - April 30, 2012
The personalized Garden Stone arrived exactly as requested ,on time as promised, looks perfect, and will be a big hit with the birthday girl!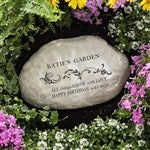 stepping stone
By
Shopper

(Lake zurich, IL) - April 28, 2012
Much nicer than expected...heavy, and durable!

Garden Keepsake
By
Ann J.

(Merrillville, IN) - April 28, 2012 (
See all reviews by this customer
)
This gift is one of the best personalized gifts I ever bought . Great quality, good size & adding the personal touch make it a perfect keepsake . Love it!!
I plan to purchased this item again for future events.

Great gift
By
Corey C.

(Ivyland, PA) - April 25, 2012 (
See all reviews by this customer
)
This stepping stone is beautiful and made well. It turned out to be a great gift for my parents.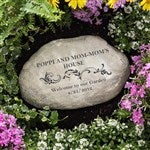 Wonderful Keepsake Gift
By
Shopper

(Cheektowaga, NY) - April 24, 2012
The garden stone was a quality purchase. I was very happy with the stone (nice and heavy for the garden), as well as the engraving, and packaging. I gave it to a friend who recently lost a spouse. They loved to garden together, and it was the perfect gift! Never disappointed with Personalization Mall products!

Personalized Garden Stone
By
Thomas H.

(Bolingbrook, IL) - April 17, 2012 (
See all reviews by this customer
)
We are very pleased with the personalized garden stone. It was very good quality, nice and heavy, and pleasing to look at. The delivery time was excellent. We purchased for a relative moving out of town and are sure they will enjoy it.

Welcoming Stone
By
Shopper

(Philadelphia, PA) - April 14, 2012
This stone provides a pleasant welcome to our home.

Beautiful
By
Shopper

(Louisville, KY) - April 10, 2012
It was absolutely gorgeous ans was shipped so fast! I just know that my mother-in-law will love it!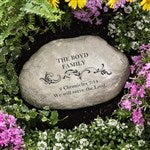 Great New Home Gift
By
Shopper

(Mooresville, NC) - April 13, 2014
I was thinking of something to get for our friends who just moved into a new home. This unique item was perfect, plus it's very portable so you can always move it to a different spot or take it with you on a future move. Hope they enjoy it!

Nice stone!
By
Jennifer W.

(Kailua Kona, HI) - June 23, 2013 (
See all reviews by this customer
)
I purchased this as a gift for a friend. The stone is pretty. The top looks great but it is hollow on the bottom. By this I mean it doesn't look like a real stone when turned upside down. It will look really nice in her garden!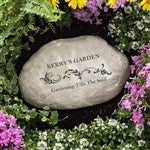 garden stone
By
Shopper

(Whiteville, NC) - June 3, 2013
The garden stone is nice. Personalization was excellent (love that you can preview your personalization before you complete your order). The size was great for my garden (small rose garden). It sits flat so this is a plus. It is open in the back (I thought it would be completely closed). That's the only thing I really didn't care for but overall it works for me. Will probably purchase another!

My Garden Stone
By
Tonya J.

(West Monroe, LA) - January 25, 2013 (
See all reviews by this customer
)
Really like the stone - CUTE! ...But a bit smaller than expected.

Great gift!
By
Shopper

(Colorado Springs, CO) - December 10, 2012
The recipients loved their personalized garden stones. THey look really nice & authentic.

Unique gift
By
Shopper

(Bellflower, CA) - December 4, 2012
A little smaller than I thought but will last for a long time in our garden.

Excellent Service on Defective Item
By
Shopper

(Columbia, MD) - August 14, 2012
I purchased one of these stones as a gift and within two months the finish had started to come off (see photo). I contacted Personalization Mall customer service and they promptly sent a replacement to the gift recipient. Hopefully, the defective item was a fluke and the replacement will not have the same issue. If it holds up, this is a really nice product - the words are actually etched/engraved, not just printed on and the rock is very realistic looking.

Beautiful and practical
By
Shopper

(Eden Prairie, MN) - July 3, 2012
This product allowed me flexibility in how it was personalized. I created a "forever young" memorial for an infant who died. The material looks real enough and natural in my outdoor garden.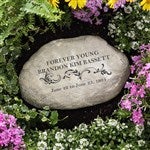 Great
By
Shopper

(Portland , CT) - May 13, 2012
This product was great. It was slightly smaller than we expected, but it was great quality! Very happy with this product and all that we have bought from personalization mall.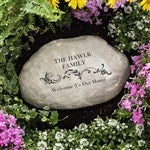 Family rock
By
Sidney Z.

(Reno, NV) - April 8, 2012 (
See all reviews by this customer
)
Decent quality. A little smaller than I anticipated, but nice none the less. It's a fake rock with a hollow back. Looks nice on the ground.

Garden stone ok.
By
Andrea W.

(Silver Lake, MN) - May 20, 2014 (
See all reviews by this customer
)
Didn't think it would be hollow on the inside and also a little disappointed with the engraving. Just not what I expected.

Cheap looking
By
Shopper

(Rock falls, IL) - December 12, 2012
When looking online I really thought it was a actual rock... Def not

Disappointed Overall
By
Lawrence S.

(Hampstead, MD) - April 11, 2014 (
See all reviews by this customer
)
I expected the names and sentiment to be ENGRAVED in the "stone". It is only painted and I think this will wear off in time. Not satisfied and would not buy again.

Misleading description
By
Shopper

(North Wales, PA) - June 18, 2013
I think there should be a picture of the OTHER side of this item for people to see before they purchase. The description does not adequately convey that the item is actually hollowed out on the underside. So, really, it is nothing like a stone at all, except that the top LOOKS like a stone.