Wonderful Service!
By
Shopper

(Shawano, WI) - May 3, 2014
Our organization gives something to the retiring president every year. This person is a gardener and I wanted to personalize a stepping stone. All the ones I found were "in memory of" or pre-set phrases. I was able to take this one and change the family name to a person's name, the club name and the date. I ordered it late one evening and it came early on the second day. I couldn't believe how fast it arrived and it looks perfect. I also liked that I could preview how it would look. Contrary to other opinions, I liked the fact that it is hollow - it will sit easier on uneven garden or grass. I certainly recommend this product and company.

WOW! You exceeded my expectations again Personalization Mall!
By
Shopper

(Morris, IL) - April 12, 2014
I'd never ordered an item like this before, and I was very pleasantly surprised with the size and overall quality of this stone. Bought it for an anniversary gift, can't to buy it again!

great gift
By
Shopper

(Jumping Branch, WV) - April 8, 2014
Sent this as an anniversary gift to my son and his wife at their new home. They called as soon as they got it and said they loved it and were very touched.

Purchased as a gift for Mother's day
By
Debbie R.

(Richland, MI) - April 7, 2014 (
See all reviews by this customer
)
This was very well packaged and received promptly. I'm always looking for something unique for a mother's day gift for the hard to buy for mother. This was perfet and she will love it! Now, I want one for myself.

It is "hollow like" in the back but will not affect the look at all. Very pleased with this purchase!

Very satisfied
By
Carole R.

(La Quinta, CA) - April 5, 2014 (
See all reviews by this customer
)
Very good quality. Looks like a real stone. Would order again.

Very nice quality!
By
Pamela W.

(Tucson, AZ) - March 3, 2014 (
See all reviews by this customer
)
I purchase these for my clients when they purchase a new home and they make a very nice gift. Fast, easy service, nice quality and affordable.

Wonderful Product::GREAT customer service!!!
By
jodi B.

(portland, OR) - February 17, 2014 (
See all reviews by this customer
)
GREAT product! Fantastic Service and i couldn't have been more pleased! this was the first time i ordered from your company, but won't be the last! i wanted something very special as a memorial for my loved one's passing...we honored his memory by creating a garden...this was absolutely PERFECT! it can be hung or placed in the garden...thank you so much! few companies can offer and deliver as you did! best to all of you!

Great gift!
By
Lori M.

(Bay Shore, NY) - December 20, 2013 (
See all reviews by this customer
)
Purchased this as a gift to go along with a tree for my in-laws. Loved that you could personalize with a quote. One downfall is that the fonts are different sizes for the top lines and bottom lines without an option to change.

Beautiful
By
Nancy L.

(Olathe, KS) - November 18, 2013 (
See all reviews by this customer
)
I picked this as a closing gift for one of my clients and they loved it!!!!

Beyond expectations
By
Shopper

(Kronenwetter, WI) - November 8, 2013
This is the second time I have ordered this as a gift. Each time the recipient received it, they LOVED it! It is a good weight and the engraving is flawless!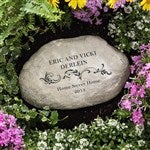 Rock, "rocks"
By
Susan Z.

(Cranston, RI) - October 22, 2013 (
See all reviews by this customer
)
I purchased this rock as a house warming gift for my girlfriend and her husband, who have everything that they need for their home, plus! I was very happy with the size as well as the quality of the print. After reading some of the prior reviews, I was a little bit skeptical on what to expect. The back is hallowed out, which allows it to sit better in the garden. It looks perfect in their garden. They are very happy with their gift. Would definitely recommend this product!

Better than expected
By
barbara L.

(wildwood, MO) - June 30, 2013 (
See all reviews by this customer
)
I have ordered from Personalization Mall several times, but this time I struck it rich. These will make great gifts to each of our four children. Love how none of the wording is "set in stone." You can actually create our own message. What a find!!!

Personalized Garden Stone
By
Angela C.

(Bristow, VA) - June 17, 2013 (
See all reviews by this customer
)
I bought this stone as a going away gift for our school principal. It was perfect! The quality and condition were great upon arrival. I can't say enough about the quickness of turn around. It was delivered on my door step within a week! A personalized item that was received within a week....superb!! I will definitely order from Personalization Mall again!! Thank you !!

Our Family Personalized Garden Stone - Item #: 11667
By
Shopper

(Harleysville, PA) - June 7, 2013
Item was delivered right on time and met all of my expectations - Thanks

Looks Like The Real Thing
By
Shopper

(Brick, NJ) - May 16, 2013
The fact that I could see what the stone would look like prior to me placing the order was a deciding factor in me using your website. I must say though that upon receiving them (I ordered four) the quality of your product, the
expert placing of the lettering and last but not least, the professional way
they were packaged all lead me to believe that I would use your company again
without hesitation and would highly recommend you to those that would like a
similar thank you gift.

Great idea
By
Ann T.

(Warminster, PA) - May 10, 2013 (
See all reviews by this customer
)
This garden stone is a great keepsake to have in our garden for years to come.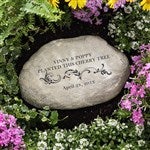 Great Gift
By
Shopper

(Reston, VA) - April 30, 2013
I was very happy to see the engraved stone. It is a present for my daughter who was going to be doing some gardening at her new house. The engraving was just as shown, clean and exact. It was delivered sooner than expected too. All around a great purchase.

beautiful!!
By
Shopper

(North Haven, CT) - April 21, 2013
great quality..good price...lovely text on the personalization

Happy Again!
By
Yvonne C.

(Fort Mill, SC) - March 15, 2013 (
See all reviews by this customer
)
I was very pleased with the quality. It looks so nice in the flower bed at the front entrance of my son's new home. Thanks again for a wonderful product!

Christmas gift
By
Dave C.

(Chicago, IL) - December 31, 2012 (
See all reviews by this customer
)
My wife and I love sitting in our backyard and we have a wonderful garden to look at. When she opened the box with the garden stone inside she loved it! Can't wait for spring!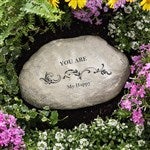 great product
By
Claire C.

(Bonita Springs, FL) - December 28, 2012 (
See all reviews by this customer
)
I am very pleased with the whole experience fom ordering online to having questions answered by Cust. Service. The item came quickly and I am very pleased.

Great
By
Shopper

(Delano, MN) - December 26, 2012
This is a great product, and shipping was extremely quick

garden stepping stone
By
Linda C.

(Sylvania, OH) - December 21, 2012 (
See all reviews by this customer
)
I recently ordered a garden stepping stone for a friend of mind. It is really nice and is exactly the way it looked in the picture maybe even nicer. Everything I have ever ordered has been of good quality and those I sent the gifts to were thrilled.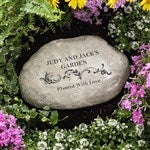 Looked great
By
Shopper

(Oakes, ND) - December 19, 2012
Perfect gift for the person who has everything.

Very Nice Gift
By
Shopper

(Land O Lakes, FL) - December 18, 2012
I purchased this for our neighbors who love to be in their garden...very heavy, nice size, quality seems great. I think it will last them a very long time. What a different type of gift for the people who have just about everything already.

Garden Stone
By
Shopper

(Youngwood, PA) - December 16, 2012
Very pleased with product. Arrived very quickly.

Better then expected.
By
Deborah W.

(Salt Lake City, UT) - December 14, 2012 (
See all reviews by this customer
)
It is top quality, hollow underneeth so its not extremly heavy which helps in shiping costs to family. A perfect gift for someone that has a garden or patio but even better, great for the hard to buy for person.

Love it!!
By
Shopper

(Breaux Bridge, LA) - December 12, 2012
Awesome!!!!

Nicer than it looks in pictures
By
Shopper

(The Woodlands,, TX) - December 11, 2012
I ordered this for my dad, who loves his garden. He will love this personal touch. Good quality and very real looking. A little heavy if you are shipping to another address but worth it. I will eventually get one for my family too.

Stone
By
Dorene C.

(Pentwater, MI) - December 11, 2012 (
See all reviews by this customer
)
Really cool! Very pleased with the quality.

Beautiful!
By
Shopper

(Renton, WA) - December 10, 2012
My son and family will love this garden stone. Surprise for Christmas.

Perfect
By
Bonita W.

(Dilworth, MN) - December 10, 2012 (
See all reviews by this customer
)
This is a gift for that special aunt that loves her gardens and her family. My order arrived in 4 days. It is perfect!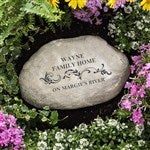 Great for the garden or flower bed!
By
Shopper

(Delaware, OH) - December 10, 2012
Love, love, love this garden stone! A very unique and classy gift for someone who has everything....or someone who never gives you gift ideas! I had it engraved with the title of "our" song, "Its a Great Day to Be Alive" along with our wedding date. Can't wait until Christmas to give this to my hubby!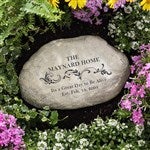 great gift, esp for those who love their gardens
By
Tracy M.

(Benson, NC) - September 23, 2012 (
See all reviews by this customer
)
My coworkers and I ordered 2 of these for pretty recent office retirees who happen to enjoy gardening and working in their yards. The site lets you personalize it as you wish so we just did congratulations on your retirement and the person's name and our business name. So it's really versatile; you can order this for about any occasion.

The stones are of really nice quality; not too heavy, not too light. I think they're unique and thoughtful gifts and hopefully will stand the test of time. I've ordered several items from personalizationmall.com and have been very satisfied with every item and the personalization. I will be using this site to continue to purchase thoughtful and unique personalized gifts for friends and family.

Awesome & personal
By
Sonia H.

(Danville, CA) - September 1, 2012 (
See all reviews by this customer
)
The garden stone is adorable and looks great in my flower garden. I plan to order more for gifts.

Great custom gift!
By
Shopper

(Bryn Mawr, PA) - August 9, 2012
I got this for a friend's birthday - she loves to garden and I was able to find a short quote about friendship to put on the stone. It turned out really great! She loved it!

Great Gift
By
Shopper

(Somerset, PA) - July 23, 2012
I bought this gift for a family who has everything! We spend a lot of time on their patio which is surrounded by a small, tastefully landscaped area. The superb quality of the stone will add to the beauty of the area as well as personally welcoming guests.

Great Gift
By
Shopper

(Richmond, TX) - July 6, 2012
This is a wonderful gift and looks just like the photo. The rock is nice weight. It is a nice custom gift at a super price! I would highly recommend this to anyone looking for a unique gift with a personal touch. I am not sure how the name etc will wear in the weather, but I still rank this really high due to the quality and overall intial appearance.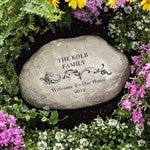 It was the best gift ever
By
Brenda G.

(Canada) - June 20, 2012 (
See all reviews by this customer
)
I bought this gift for friends adopting and I did it a little bit late. The gift was ordered on a Thursday and I could pick it up at the delivery location the following Tuesday.....It was a hit and I couldn't be more satisfied.

garden marker
By
Judy S.

(Armada, MI) - May 21, 2012 (
See all reviews by this customer
)
Very nice ,My Daughter in law fell in love with it,shes going to hi light her flower bed with it,very nice Quality,I have never been disappointed with your product very fast shipping and processing of orders. I will order again Thank You