Awesome Gift Idea
By
Daisy S.

(APO, AE) - March 10, 2013 (
See all reviews by this customer
)
I purchased this as a 2 part gift for my husband's birthday. The first part was a gift card to create his own personalized pair of sneakers and this was an additional personalized gift. I think he will love it!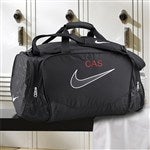 loved it
By
krystine T.

(burlington, NJ) - March 8, 2013 (
See all reviews by this customer
)
hubby is very happy with his new gym bag.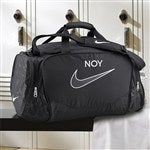 Perfect Duffel Bag
By
Shopper

(Koloa, HI) - February 4, 2013
This Nike bag followed the description exactly and I'm very pleased with my purchase which was a gift. The 2 side pockets are large and extremely roomy. I picked white (as in the picture) for the embroidery because it blends in well with the stitching on the Nike symbol. There is also an attached identity tag. I couldn't be more happy with this item.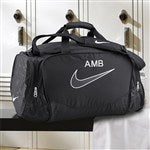 Nike Bag
By
Tracy B.

(BOttineau, ND) - December 30, 2012 (
See all reviews by this customer
)
Very nice!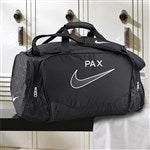 Great Gym Bag
By
Shopper

(Chicago, IL) - December 12, 2012
This bag is a sturdy quality, nice size and beautiful, thick monograms.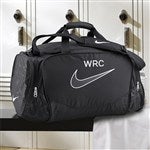 Great gift idea!
By
dana M.

(kathleen, GA) - November 28, 2012 (
See all reviews by this customer
)
Orders for my father in law for Christmas. He is an avid tennis player so we thought this would be the perfect tennis bag. And it is!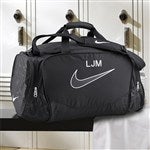 Classy duffle bag
By
Shopper

(Flanders, NJ) - November 25, 2012
I was pleasantly surprised at how nice this bag is. It is a great size and great quality. I feel proud to give this as a gift this Christmas!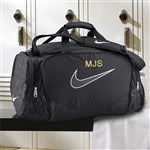 It's okay.
By
Shopper

(Barrington, IL) - November 17, 2012
I got this for my husband's birthday. I loved the idea of personalizing it with his initials but I was expecting a thicker, better quality bag. It's really thin. For the price I felt it should be a thicker feeling bag. When you lay it on the floor, empty, it doesn't just stay open and hold its form/frame it collapses. I hope once he starts using it that it lasts a long time.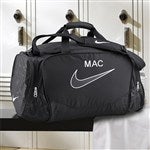 Great Gift!
By
Shopper

(Commack, NY) - November 1, 2012
My fiance recently began going to the gym regularly. He needed a bag desperately to carry his gym clothes, protein shakes, sneakers etc. This bag has all the needed compartments but the bottom is little saggy so his father cut a piece of cardboard to make a more sturdy bottom, which worked out perfectly. He still uses the bag everyday and its in great condition.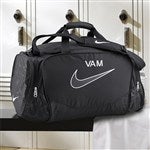 Nike duffel bag
By
Shopper

(Henderson, KY) - October 22, 2012
I ordered this as a Christmas gift for my boyfriend, I am VERY, VERY pleased with the product! It was delivered quickly and looks great! As always, I will continue to buy from personalization mall!!!!!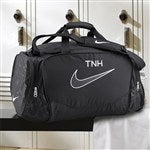 Duffel Bag
By
YOLANDA B.

(TRENTON, NJ) - August 28, 2012 (
See all reviews by this customer
)
My friend loved the duffel bag especially because of the personalization, size, and the fact that it was a nike bag.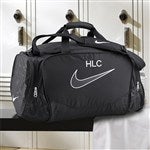 Best Bag For Your Buck
By
Ashley K.

(Binghamton, NY) - August 5, 2012 (
See all reviews by this customer
)
We bought one of these for each of the groomsmen in our wedding. They were personalized beautifully and the red stitching against the black bag matched our wedding colors exactly. The bag is extremely high quality and large enough for a weekly gym bag or a weekend away. We had a diverse group of men who have all different types of hobbies and this bag was perfect for each of them. They shipped when promised and arrived on time packaged nicely. Very impressed!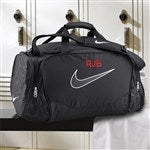 Nike Duffel Bag
By
Shopper

(Yardville, NJ) - August 2, 2012
Great product! Great gift. Purchased for my son as part of his b'day gift and he loved it!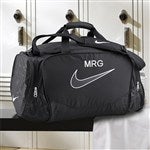 Nice but expensive
By
Shopper

(Dearborn , MI) - June 25, 2012
Very nice bag, looks better than the pic only downside is the price. I didn't mind the price at first but the tags from Nike stated that the retail price for the bag was $29.99 I paid double!! I was mad about that otherwise it's a nice bag.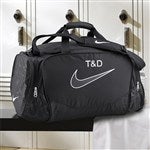 Perfect Bag
By
Shopper

(Brockton, MA) - June 21, 2012
The bag was the perfect size, and he loved it!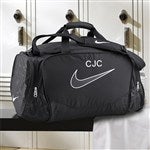 Just Right
By
Shopper

(Sparta, WI) - May 13, 2012
This Nike bag was just the right size, colors, and gift. My son loved it! He is very into Nike and loved his initials on it. It is sturdy and great quality. I would recommend it to anyone. He has only used it twice so far but really likes it.

Practical Sports Bag
By
Shopper

(Lebanon, NJ) - June 12, 2012
Great bag - perfect size to use for sports, well made and trendy looking. I was very happy with the purchase and the receiver was overjoyed! I would definitely recommend the bag and will be back for more purchases!

Very nice
By
Shopper

(New Castle, DE) - May 4, 2014
Very nice

As expected
By
Shopper

(College Park, MD) - January 20, 2014
The bag was a generous size and a nice selection of embroidery colors.

Great Gift
By
Shopper

(Katy, TX) - June 23, 2014
Great quality and fast delivery. Thanks!

Nike bag
By
Shopper

(Cumberland, RI) - May 31, 2014
I bought this bag for my husband for Father's Day. It looks great!. I know he will love it. I am very happy with the quality of this bag.

Top quality bag and embroidery
By
Shopper

(San Diego, CA) - November 26, 2013
I purchased this item as a gift for a Nike fan and I know he'll be very pleased with it. The product quality and packaging are truly top-notch.

Great gym bag
By
Shopper

(West Milford, NJ) - May 20, 2013
I ordered this gym bag (in addition to the toiletry bag from this site) for my groomsmen and they all loved it. Quality is great and it is a good size for a medium bag.

Perfection for perfect son-in-law
By
Carol A.

(Mesa, AZ) - December 27, 2013 (
See all reviews by this customer
)
Having heard that my son-in-law had asked Santa for a sports bag, I went on line and always came back to this bag. I ordered, supplied initials, asked for regular shipping and was thrilled with the bag when it arrived much sooner then I expected. This Nike bag was exactly what he wanted and I could not have made a better choice.

Love it!
By
Shopper

(Weirton, WV) - December 13, 2013
I just love it! The quality is more than I expected.the monogram is perfect centering very neat.i