Just Perfect
By
Shopper

(corona, CA) - August 31, 2013
My husband loves using it for the gym and he is a regular member; even has a trainer. When we went on a short vacation two weeks ago, he used it as his carry-on and he told me, the bag is just perfect.
I know my husband and he is picky. Never complained about the quality of the bag.Therefore, I am making the assumption that the quality is good.
Why do you think I ordered him a second one when the first bag I ordered from your company still looks good!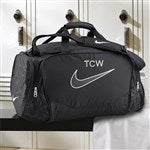 Great bag for travel!
By
Angela M.

(Grapevine, TX) - June 1, 2013 (
See all reviews by this customer
)
I wanted to give my nephew something to trav itel with after graduation and he absolutely loved it! Most excited about this gift than any other especially with his initials on it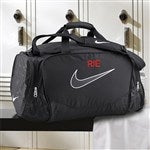 Great gym bag
By
Shopper

(West Milford, NJ) - May 20, 2013
I ordered this gym bag (in addition to the toiletry bag from this site) for my groomsmen and they all loved it. Quality is great and it is a good size for a medium bag.

Great gym bag
By
Carolyn M.

(Rockaway Park, NY) - April 5, 2013 (
See all reviews by this customer
)
I ordered 2 of these bags as gifts for my son's basketball coaches. Great gifts and were delivered fast!!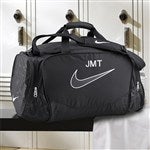 Awesome Gift Idea
By
Daisy S.

(APO, AE) - March 10, 2013 (
See all reviews by this customer
)
I purchased this as a 2 part gift for my husband's birthday. The first part was a gift card to create his own personalized pair of sneakers and this was an additional personalized gift. I think he will love it!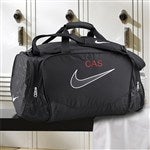 loved it
By
krystine T.

(burlington, NJ) - March 8, 2013 (
See all reviews by this customer
)
hubby is very happy with his new gym bag.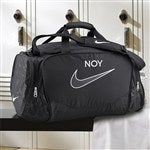 Perfect Duffel Bag
By
Shopper

(Koloa, HI) - February 4, 2013
This Nike bag followed the description exactly and I'm very pleased with my purchase which was a gift. The 2 side pockets are large and extremely roomy. I picked white (as in the picture) for the embroidery because it blends in well with the stitching on the Nike symbol. There is also an attached identity tag. I couldn't be more happy with this item.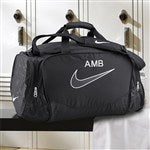 Nike Bag
By
Tracy B.

(BOttineau, ND) - December 30, 2012 (
See all reviews by this customer
)
Very nice!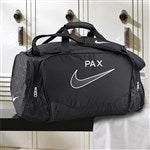 Great Gym Bag
By
Shopper

(Chicago, IL) - December 12, 2012
This bag is a sturdy quality, nice size and beautiful, thick monograms.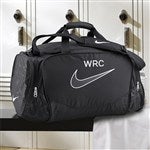 Great gift idea!
By
dana M.

(kathleen, GA) - November 28, 2012 (
See all reviews by this customer
)
Orders for my father in law for Christmas. He is an avid tennis player so we thought this would be the perfect tennis bag. And it is!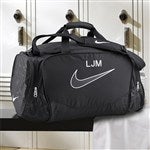 Classy duffle bag
By
Shopper

(Flanders, NJ) - November 25, 2012
I was pleasantly surprised at how nice this bag is. It is a great size and great quality. I feel proud to give this as a gift this Christmas!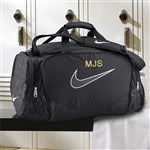 Nike duffel bag
By
Shopper

(Henderson, KY) - October 22, 2012
I ordered this as a Christmas gift for my boyfriend, I am VERY, VERY pleased with the product! It was delivered quickly and looks great! As always, I will continue to buy from personalization mall!!!!!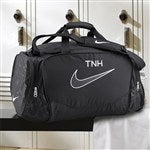 Duffel Bag
By
YOLANDA B.

(TRENTON, NJ) - August 28, 2012 (
See all reviews by this customer
)
My friend loved the duffel bag especially because of the personalization, size, and the fact that it was a nike bag.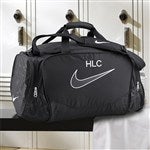 Best Bag For Your Buck
By
Ashley K.

(Binghamton, NY) - August 5, 2012 (
See all reviews by this customer
)
We bought one of these for each of the groomsmen in our wedding. They were personalized beautifully and the red stitching against the black bag matched our wedding colors exactly. The bag is extremely high quality and large enough for a weekly gym bag or a weekend away. We had a diverse group of men who have all different types of hobbies and this bag was perfect for each of them. They shipped when promised and arrived on time packaged nicely. Very impressed!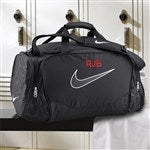 Nike Duffel Bag
By
Shopper

(Yardville, NJ) - August 2, 2012
Great product! Great gift. Purchased for my son as part of his b'day gift and he loved it!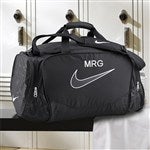 Perfect Bag
By
Shopper

(Brockton, MA) - June 21, 2012
The bag was the perfect size, and he loved it!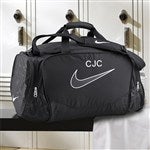 Practical Sports Bag
By
Shopper

(Lebanon, NJ) - June 12, 2012
Great bag - perfect size to use for sports, well made and trendy looking. I was very happy with the purchase and the receiver was overjoyed! I would definitely recommend the bag and will be back for more purchases!

Just Right
By
Shopper

(Sparta, WI) - May 13, 2012
This Nike bag was just the right size, colors, and gift. My son loved it! He is very into Nike and loved his initials on it. It is sturdy and great quality. I would recommend it to anyone. He has only used it twice so far but really likes it.

As pictured
By
Shopper

(San Antonio, TX) - May 25, 2014
The bag is bigger than it seems so I love that. But only being able to put 3 letters on the bag was a disappointment.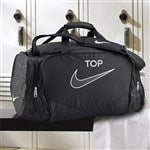 Would have liked extra pockets inside.
By
Shopper

(Kinsley, KS) - December 27, 2013
I wish it would have had an extra pocket or two inside the duffel bag. Other than that I was very satisfied with this product.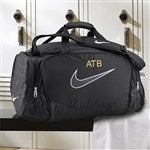 Product/Customer Service
By
Shopper

(jacksonville, FL) - May 20, 2013
When I received the bag, it was embroidered shut! So, I was a little disappointed, however my husband called customer service and said they were so very nice and helpful. They had another bag mailed out the next day and it was delivered 2 days after that, just in time for our party (it was a gift).
The bag itself is very nice and we love the embroidery.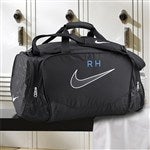 Great Gift!
By
Shopper

(Commack, NY) - November 1, 2012
My fiance recently began going to the gym regularly. He needed a bag desperately to carry his gym clothes, protein shakes, sneakers etc. This bag has all the needed compartments but the bottom is little saggy so his father cut a piece of cardboard to make a more sturdy bottom, which worked out perfectly. He still uses the bag everyday and its in great condition.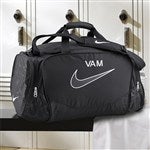 Nice but expensive
By
Shopper

(Dearborn , MI) - June 25, 2012
Very nice bag, looks better than the pic only downside is the price. I didn't mind the price at first but the tags from Nike stated that the retail price for the bag was $29.99 I paid double!! I was mad about that otherwise it's a nice bag.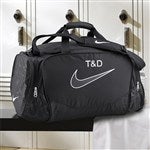 The bag got lots of compliments
By
Shopper

(Berea, OH) - August 2, 2013
I like the bag a lot as did a lot of others but this is my second one for my son- the stitching of his initials began shredding off after 2 months and he really wasn't even using it that often. The zipper broke off as well on the first bag a month later. I thought it would be too late to complain and request a new one so I ordered another. Hopefully this one will last cause we really like the idea of the bag itself.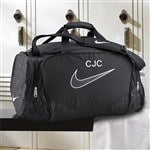 It's okay.
By
Shopper

(Barrington, IL) - November 17, 2012
I got this for my husband's birthday. I loved the idea of personalizing it with his initials but I was expecting a thicker, better quality bag. It's really thin. For the price I felt it should be a thicker feeling bag. When you lay it on the floor, empty, it doesn't just stay open and hold its form/frame it collapses. I hope once he starts using it that it lasts a long time.