Very cool and useful tray
By
deAnn A.

(blue Springs, MO) - March 18, 2014 (
See all reviews by this customer
)
Years ago I had an acrylic tray like this and used it constantly...finally it broke. I was so excited to see this tray available, and personalizable even! It is very classy. The way the names are etched is really attractive. I know I will use this for years again. I got one for me and then got one for both my kids' anniversaries. They are in their 20's and 30's and liked them as much as I like mine, so this is an item for every age. I got the trays on a sale which made them really a steal. Regular price is still a very good deal. I highly recommend this item. I am really excited to have it!

Quick shipping, beautiful product and great price!
By
Shopper

(Houston, TX) - March 11, 2014
I bought this tray for my mom as a mother of the bride gift. The quality is great, and I really liked how I could preview my actual design before ordering. I've seen other trays similar to this online that are selling for close to $100, so this is an absolute steal! If you need an inexpensive gift for family or friends, I'd definitely recommend!

monogrammed tray
By
Shopper

(lyndhurst, OH) - March 7, 2014
I loved the personalization of both the letter and last name monogram.I received one many years ago and have searched for one similar to give as engagement gifts.This one has come as close to mine as any others that I have seen.My only suggestion is that I would have liked the tray to be bigger.I have used mine for many entertainment ideas.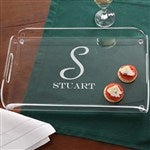 Monogram Personalized Serving tray
By
Christine B.

(Virginia Beach, VA) - February 18, 2014 (
See all reviews by this customer
)
Love the tray...so much so that I ordered another one. Great product at a great price! Perfect for a wedding or housewarming gift.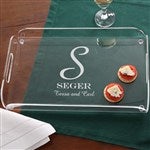 Great gift
By
Meghan S.

(Bedminster, NJ) - January 13, 2014 (
See all reviews by this customer
)
I have gotten this tray for a couple people as gifts and I want one myself! They both loved it. Great quality, engraving always looks great and it's very useful!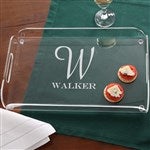 Very nice!
By
Shopper

(St. Louis, MO) - December 19, 2013
Bought this as a Christmas present for friends who have everything. Great quality, very pleased.

Beautiful serving tray
By
Shopper

(Jacksonville, FL) - December 19, 2013
Just what I wanted. Thanks for the fast service!

Great service
By
JoAnn F.

(Martinsville,, IN) - December 14, 2013 (
See all reviews by this customer
)
Excellent time frame and great customer service!!! Easy website to navigate.

Beautiful!
By
Denise C.

(Mobile, AL) - November 19, 2013 (
See all reviews by this customer
)
A little smaller than I expected, but beautiful and practical.

Personalized tray
By
Shopper

(Westlake, OH) - November 12, 2013
The gift was a great hit. Beautifully done

Love it!
By
Shopper

(Erwin, NC) - September 20, 2013
Just as expected. Love it!

Wonderful gifts
By
Shopper

(Staten Island, NY) - August 7, 2013
Workmanship is excellent. A joy to give such a useful serving tray.

monogram serving tray
By
Shopper

(TANEYTOWN, MD) - July 13, 2013
just love this gift--makes such a personal and special gift for wedding, home, birthday ,anniv or anything gift--nice quality. will be ordering more soon

thanks
linda

Nice Tray
By
Shopper

(flushing, NY) - July 6, 2013
Excellent Quality. Great Product.

Yeaaaaa Tray!
By
Shopper

(St. Louis, MO) - June 3, 2013
Love the tray! Personalization was perfect! Delivery was fast using standard delivery.

Perfect
By
Pam U.

(Chalmette, LA) - April 7, 2013 (
See all reviews by this customer
)
I ordered this tray as a bridal shower gift. I was very pleased with the quality of the tray and the monogramming. I hope the bride is as happy with this product as I am!

Serving tray
By
Shopper

(Midlothian, VA) - March 5, 2013
Nice sturdy product. Etching wasn't as bright white as it appears on the picture, but still very nice gift. Friends will enjoy using it, i'm sure!! Given as a wedding gift.

Strong & Practical beautiful tray.
By
Robert R.

(United Kingdom) - January 14, 2013 (
See all reviews by this customer
)
Very eye catching serving tray with plenty space for less running around!!
I'll be having more soon.

love it
By
Shopper

(Andover, MA) - January 13, 2013
was worried because some reviews said the monograming was too light...it was perfect! quality great!

Looks great
By
Patricia W.

(Tamarac, FL) - December 24, 2012 (
See all reviews by this customer
)
I got this as a gift for my parents and it looks great. I think they will love it.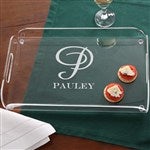 Personalize more!
By
Shopper

(Rockville, MD) - August 2, 2012
I wanted to personalize a tray adding my own personalization. Example: Joy's Bridge Friends. So you are able to personalize at your choice! The serving tray was nicely made.

Pretty and sturdy
By
Shopper

(Lowell, MA) - June 23, 2012
I was so pleased when the tray arrived. The quality was great and the monogramming looks amazing.

Monogramed Tray
By
Barbara G.

(Ahwahnee, CA) - September 22, 2014 (
See all reviews by this customer
)
This is a very nice tray; but one of the rubber feet on the bottom was missing. I'm hoping the company will send me a foot to complete it, especially since it's a gift.

NICE GIFT IDEA
By
Shopper

(Ft. Myers Beach, FL) - August 17, 2014
It's a plain and simple design, but the personalization and monogram really dress it up. I was pleased to give it as a gift.

Edges
By
Vivian W.

(Citrus Heights, CA) - August 8, 2014 (
See all reviews by this customer
)
The tray looks real nice. I was surprised that all the edges were so sharp. I am not sure if that could be corrected on the material it is made of but thought I would just mention this as long as you asked for a comment.

Nice display service tray. Wish it was a bit larger
By
Shopper

(Fairfield, OH) - August 20, 2013
Was a wedding shower gift and receive great reviews. Bride seemed very happy.

Cool!
By
Shopper

(Wadesville, IN) - December 14, 2012
I thought it was very nice. Although I would have liked it better if the printing had a little black in it - might have been good to highlight or shadow with black border.

Nice, but not exactly as pictured
By
Shopper

(Houston, TX) - May 12, 2014
It is a nice tray, but the picture makes the engraved personalization appear frosted. The reality is the engraved personalization is almost just as clear as the tray itself. I would have preferred that it stand out a little better, but I gave it to the couple anyway - too late to change it. I'm sure they'll love it anyway.

Cheaply made
By
Shopper

(Lexington, TN) - December 9, 2012
Love the idea but after receiving it I felt bad giving it to my in-laws. One it felt very fragile. It was plastic and I was afraid to handle it to much. Also the personalization isn't as dark as it is in the picture. I felt like it may be hard for them to see it right away. I expected it to be white and pop out but it's very faint actually like a frosted color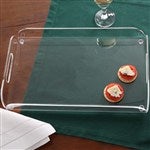 Mono tray
By
marlene D.

(Williamstown, NJ) - January 9, 2013 (
See all reviews by this customer
)
While I have made several orders from "Personization Mall" and have been very happy with my purchases, I was dissapointed with this item. the tray is smaller then I thought and the edges are "sharp" to the touch.