GREAT GIFT
By
Tanya J.

(Houston, TX) - December 8, 2013 (
See all reviews by this customer
)
Got this for a Dr friend of mine, he absolutely loved it. great size for a desk or or shelf for display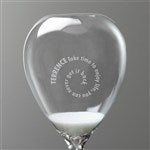 Love this
By
Courtney N.

(Mansfield, OH) - November 18, 2013 (
See all reviews by this customer
)
I love this special touch to one of my husband's favorite things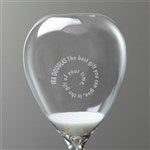 Tic Toc Tic Toc
By
Shopper

(Lynwood, IL) - August 26, 2013
Recipient enjoyed this retirement gift and even mentioned how she sits up and watches the "sand" fall...so relaxing.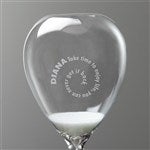 Meaningful personalized retirement gift
By
Wendy T.

(San Antonio, TX) - July 20, 2013 (
See all reviews by this customer
)
I have always been pleased with doing business for just about all my personalized purchases through personalization mall. I have no issues online, they deliver prompt, and everything arrives as it should. No difference with this item..all applies the same as expected. It was quick and considering a glass item it was exceptionally wrapped and nothing broken. I always recommend this company. Very happy with this purchase as I have been with all my many others over the years I've been a customer. Keep up the great work and customer service! Thank you.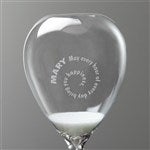 Awesome
By
Michele B.

(Medley, FL) - June 17, 2013 (
See all reviews by this customer
)
This is an awesome gift . No disappointments. It made Dad very happy.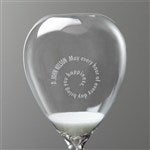 Loved It!!!!
By
Shopper

(Lexington, KY) - June 10, 2013
My father loved this gift!! He opened it early due to curiosity and he has been using it in all of his meetings at work. He said I couldn't have gotten him a more perfect gift.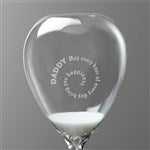 Perfect Gift
By
Shopper

(Huber Heights, OH) - June 4, 2013
Had this gift personalixzed for one of the attorneys I work for - his birthday was yesterday. He loved it! Only thing I can say is that the writing in white is a little hard to read but otherwise - it is perfect! thank you!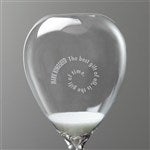 perfect gift
By
Shopper

(Colonia, NJ) - May 26, 2013
very elegant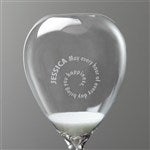 Beautiful hour glass
By
michael J.

(eggharbor township , NJ) - May 11, 2013 (
See all reviews by this customer
)
This piece is great and the price is even better!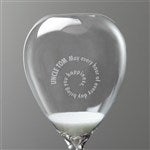 ok product
By
Shopper

(Houston, TX) - April 15, 2013
I purchased this for a Dr friend. It was smaller in size than I thought and the wording was also smaller than I imagined. Though it's a nice gift, It probably wasn't worth the price.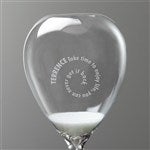 Thinker of Happiness
By
Shopper

(Colorado Springs, CO) - March 26, 2013
Gift was for my other half. The comment I received from him was "as it sits on my desk, it makes me think of you and how happy I really am". I would say it did what I wanted the piece to do.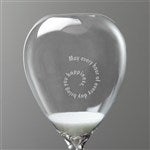 Birthday Clock Remember take time to live and have fun
By
Shopper

(CLERMONT, FL) - March 24, 2013
Amazing beautiful and unique glass. Great size. It was a great gift surprise for my partner.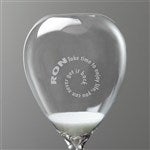 High Impact gift
By
Deborah B.

(Lakeville, MN) - March 23, 2013 (
See all reviews by this customer
)
I purchased this for a virtual assistant who gives small business owners more time by taking on administrative tasks. It was the perfect meaningful gift.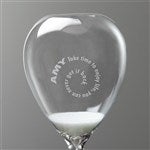 Thoughtful/Unique Retirement Gift
By
Samantha M.

(APO, TX) - March 12, 2013 (
See all reviews by this customer
)
I bough this for my grandmother when she retired. She loved it and everyone one in my family thought it was a great retirement gift.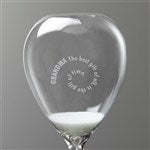 AMAZING
By
Lori S.

(Cedartown, GA) - March 6, 2013 (
See all reviews by this customer
)
What an amazing gift to express how important someone is in your life! The beauty and quality of this product is well worth the price! Thanks as always for making our family's special occassions Xtra Special!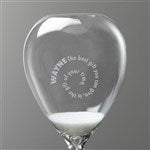 Really Beautiful
By
Jacqueline O.

(New York, NY) - January 31, 2013 (
See all reviews by this customer
)
I just purchased this for my bosses that are retiring next month, and its so beautiful, its a nice size, it comes in a gorgeaous box/with satin insides, it looks classy, I am excited to give this to them...I really love it!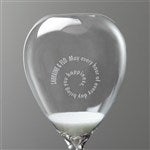 personalized hourglass
By
Diann W.

(Mineral Point, WI) - January 21, 2013 (
See all reviews by this customer
)
I got this for a friend and they treasure it. thanks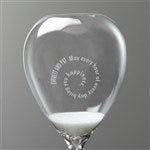 Beautiful
By
Shopper

(Lindenhurst, NY) - December 19, 2012
This is a beautiful hour glass !! A wonderful gift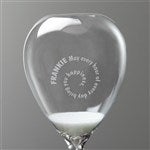 "Best gift EVER"
By
Valerie W.

(Eugene, OR) - December 14, 2012 (
See all reviews by this customer
)
I gave this gift to a dear friend who was retiring. She said it was the best gift she had ever been given. Simple, yet elegant. The satin lined box just added to the presentation.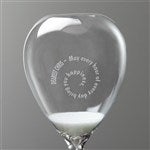 Personalized Sand-filled Hourglass
By
Lynne J.

(Chula Vista, CA) - December 11, 2012 (
See all reviews by this customer
)
Very beautiful and unique. Except for the print
being rather small and difficult to read, it is
a very special item.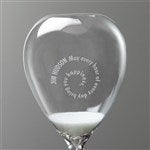 GREAT PRODUCT
By
Sharon W.

(Royal Oak, MI) - December 4, 2012 (
See all reviews by this customer
)
My Boss loved this - he spends a lot of time with his patients and I mean A LOT! the only thing I wished is if the writing could have been a different color so it could have been seen. that is why I gave it 4 stars, otherwise it's a perfect gift.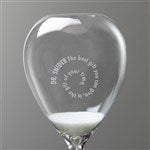 Wedding Gift
By
Jacqueline G.

(Oakdale, MN) - October 25, 2012 (
See all reviews by this customer
)
I was very surpised at the size of this! Not paying attention, I ordered it thinking it was about the size of a paperweight. It is full sized!! This is a beautiful piece that I got a member of my wedding party, thanking them for their gift of time that they gave for my wedding. I paid extra to have it boxed, and it came very beautifully boxed with an elastic bow. The engraving is very clear, and the white sand makes it look very elegant! I am very pleased with this purchase!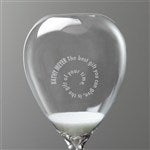 Great wedding gift!
By
Shopper

(Cabot, AR) - August 26, 2012
I got this for a friend's wedding. He's one of those people who doesn't need anything. It's perfect! Arrived quickly and safely--lots of padding around it! I liked the lined gift box it comes in, too.

Great gift for "time" related occasions
By
Shopper

(cheswick, PA) - August 25, 2012
Very nice hourglass. Glass is on the thin side and should be handled with care, but its really a nice item and comes nicely presented in a black padded box. We were looking for something unique but memorable for my husbands boss who retired and this fit the bill perfectly.
As far as customer service and handling time, you couldn't ask for better. Item was done and shipped within two day and came well packaged with bubble wrap around the whole boxed item and inside another box.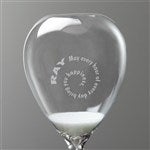 the perfect gift
By
Shopper

(Toledo, OH) - July 12, 2012
I bought this gift for a retirement party. the girl almost cried. It was beautifyl and very impressive/rich looking in the black box. It is the perfect engraved product for any gift that you need that relates to time. I would highly recommend it as the perfect gift. I am buying it again for the next upcoming work party.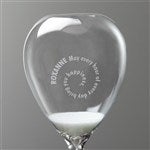 Very Pretty Gift
By
Shopper

(Spartanburg, SC) - May 11, 2014
This gift would be appropriate for a man or a woman. I was very very pleased when it arrived. Nicely boxed. Several different sayings to choose from, so it fits most occasions. I know the person that received the gift was thankful for the nice memento. I would give this hour glass again without any worry. Well worth the money!

Guaranteed Product
By
Shopper

(Temple Terrace, FL) - July 16, 2012
The hourglass came out to look like what I expected. The black gift box it came in made it look very nice and the wording on the hour glass look just as nice. It was a well presented farewell gift for a departing physician. It also arrived in a timely fashion which was very important!

This is a wonderful product!
By
Shopper

(St. Louis, MO) - April 14, 2014
The package came with in two days of ordering. It was wonderful wrapped and shipped with care. The hour glass is light but also is a wonderful size. It is an actual hour glass and not minuscule by any means. My brother in law loved this. He can not wait to display on his desk at work and also use the hour glass to time his lunch breaks. I would definitely order again.

beautiful gift
By
Theresa W.

(Columbus, IN) - April 15, 2014 (
See all reviews by this customer
)
I ordered this for two of our coworkers who are retiring soon and everyone loved them. They are simple and elegant and make a wonderful gift. The hourglasses were engraved properly and delivered so quickly I was stunned. Thank you.

Hourglass is special
By
Shopper

(Kansas City, MO) - December 9, 2012
We ordered this as a retirement present for a long-time doctor. It's as pretty as in the picture, I only wished the name could be in both Capital and small letters like the rest of the engraving. Also I added a comma after his name to make it read as one sentence.

Good
By
Shopper

(Morristown, NJ) - January 2, 2013
I thought the personalization part of the hour glass should've been bigger and/or across the top instead of as part of the phrase. Also, I was VERY disappointed in the timing of the delivery. I ordered it on Dec 15th (and paid a lot for speedy delivery) and it didn't arrive until late on Christmas Eve. I had already left my house so I didn't have the gift to give my brother on Christmas. Otherwise, the item is a really cool idea and I generally like it.

Hourglass gift for various uses
By
Shopper

(McAlester, OK) - February 3, 2014
I purchased this as a birthday gift for a friend, and it's a good choice with the wording. I had hoped it would would be a good hostess gift for my son's engagement party, but it's definitely not. Previously I had purchased the initialed trays for another son's hostess gifts, and everyone loved it. We have also given the personalized family frames to friends and co-workers who faved for years. However, this didn't hit the same mark. The hourglass size is good, but I'm not crazy about the swirled design. Previously I have given hour glasses to retiring club officers, thanking them for their time. A base which you could engrave makes a much more striking item. Perhaps you could add that to your list.

what was not liked
By
Linda M.

(Phoenix, AZ) - June 19, 2014 (
See all reviews by this customer
)
It is very difficult to read the etched on inscription in WHITE when it is a glass hour glass with WHITE sand! My father needed a magnifying glass to read
the inscription. Don't you think black sand would have been more appropriate or black lettering which would have made much more sense??

Elegant
By
Shopper

(Jacksonville, FL) - July 20, 2014
Looked as nice as it did online. Very stunning and elegant. The box it came in also was a nice plus.... everything about the gift and the packaging was awesome. Would order again for someone. No regrets.

Beautiful Gift
By
Shopper

(Bethesda, MD) - May 17, 2014
I gave this to a friend for his college graduation and he loved it. It really exceeded my expectations. It's beautifully made and the engraving gives it a perfect touch. The box it comes in is very nicely made. I loved it!!!!

Perfect Fathers Day Gift
By
Shopper

(Apache Junction, AZ) - June 17, 2013
My kids picked this out for their dad and he loved it. We have just about every type of clock, item that tells time in our house. This was a perfect addition to his collection

Time Gift
By
Shopper

(Peoria, AZ) - June 27, 2014
Great item; nice design and larger than expected. Feels pretty solid. The option to write a script is great. Overall this was a good gift to give for someone retiring.

Beautiful Gift
By
Charla H.

(Mena, AR) - January 21, 2013 (
See all reviews by this customer
)
The hour glass is a nice size. It is very simple, but elegant! Perfect to display in an office for male or female. The verse is a bit smaller font than I expected, but it is still very nice.

Good But not Great
By
AJIT N.

(STATEN ISLAND, NY) - April 7, 2013 (
See all reviews by this customer
)
The product is exactly as it is described, comes well packaged and everything. However, once you open it up and look at it, I felt the product could be better. For Instance, the name and the words only appear on one side of the glass, so when you flip it around, it just looks a little weird. Out of place.

The White sand is a great touch, but the glass feels like it could easily break, it is not something you can comfortably put on your desk or table, it is just for show.

Beautiful
By
Shopper

(Sacramento, CA) - August 25, 2012
This item is truly beautiful. I loved it from the moment I saw it. This is a definite must give gift! Pretty awesome!