the perfect gift
By
Shopper

(Toledo, OH) - July 12, 2012
I bought this gift for a retirement party. the girl almost cried. It was beautifyl and very impressive/rich looking in the black box. It is the perfect engraved product for any gift that you need that relates to time. I would highly recommend it as the perfect gift. I am buying it again for the next upcoming work party.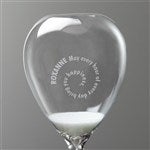 got just what i ordered
By
Denise J.

(Miami, FL) - September 30, 2013 (
See all reviews by this customer
)
My item was exactly what I ordered. It was beautiful and the person that I bought it for is sure to like it. my only disappointment is that the hourglass is now on sale, after I bought it at the higher price.

Perfect Fathers Day Gift
By
Shopper

(Apache Junction, AZ) - June 17, 2013
My kids picked this out for their dad and he loved it. We have just about every type of clock, item that tells time in our house. This was a perfect addition to his collection

Really nice!
By
Shopper

(Pasadena, TX) - June 18, 2013
This hour glass is just beautiful! A lovely gift for someone who has everything. I plan on ordering again soon.

Hourglass gift for various uses
By
Shopper

(McAlester, OK) - February 3, 2014
I purchased this as a birthday gift for a friend, and it's a good choice with the wording. I had hoped it would would be a good hostess gift for my son's engagement party, but it's definitely not. Previously I had purchased the initialed trays for another son's hostess gifts, and everyone loved it. We have also given the personalized family frames to friends and co-workers who faved for years. However, this didn't hit the same mark. The hourglass size is good, but I'm not crazy about the swirled design. Previously I have given hour glasses to retiring club officers, thanking them for their time. A base which you could engrave makes a much more striking item. Perhaps you could add that to your list.

Beautiful Gift
By
Charla H.

(Mena, AR) - January 21, 2013 (
See all reviews by this customer
)
The hour glass is a nice size. It is very simple, but elegant! Perfect to display in an office for male or female. The verse is a bit smaller font than I expected, but it is still very nice.

Good
By
Shopper

(Morristown, NJ) - January 2, 2013
I thought the personalization part of the hour glass should've been bigger and/or across the top instead of as part of the phrase. Also, I was VERY disappointed in the timing of the delivery. I ordered it on Dec 15th (and paid a lot for speedy delivery) and it didn't arrive until late on Christmas Eve. I had already left my house so I didn't have the gift to give my brother on Christmas. Otherwise, the item is a really cool idea and I generally like it.

personalized sand filled hourglass
By
Shopper

(West - Bloomfield, MI) - March 10, 2014
Great gift to someone who is hard to shop for and have everything. Something a bit different with a personalized message.
Comes in a black box ` very impressive.
Great value for the money spent.
great company, great service, great products. Highly recommend to use them for all your special gifts.

Hourglass is special
By
Shopper

(Kansas City, MO) - December 9, 2012
We ordered this as a retirement present for a long-time doctor. It's as pretty as in the picture, I only wished the name could be in both Capital and small letters like the rest of the engraving. Also I added a comma after his name to make it read as one sentence.

Good But not Great
By
AJIT N.

(STATEN ISLAND, NY) - April 7, 2013 (
See all reviews by this customer
)
The product is exactly as it is described, comes well packaged and everything. However, once you open it up and look at it, I felt the product could be better. For Instance, the name and the words only appear on one side of the glass, so when you flip it around, it just looks a little weird. Out of place.

The White sand is a great touch, but the glass feels like it could easily break, it is not something you can comfortably put on your desk or table, it is just for show.

Guaranteed Product
By
Shopper

(Temple Terrace, FL) - July 16, 2012
The hourglass came out to look like what I expected. The black gift box it came in made it look very nice and the wording on the hour glass look just as nice. It was a well presented farewell gift for a departing physician. It also arrived in a timely fashion which was very important!

PERSONALIZED SAND FILLED HOURGLASS
By
Vanessa S.

(Yorktown, VA) - January 29, 2013 (
See all reviews by this customer
)
These were purchased for two persons retiring and they were absolutely perfect! Both of them will be long held as treasures by the employees. Great job!

Perfect gift
By
Shopper

(Orlando, FL) - January 10, 2013
I purchased for a retirement gift, she loved it. I had to pay extra to get in 5 days during holiday waited until last min. but received when promised.

Great Company
By
June H.

(North Topsail Beach, NC) - January 8, 2013 (
See all reviews by this customer
)
Everything I've ordered has been of great quality and the personalizations are beautiful and perfect!! Proud to give as gifts!! Also receive my items very quickly!!

Beautiful
By
Shopper

(Fitchburg, WI) - April 7, 2013
This is the third "hourglass" that I have purchased. They are so beautiful and personal. Such a lovely gift for anyone special at such a reasonable price. You will love your purchase.

Sand-Filled Hourglass is a Hit!
By
Shopper

(Nevada, MO) - March 18, 2013
Ordered the sand-filled hourglass for my sister's retirement. The gift came in a nice box perfect for gifting. I have examined the gift and it looks to be of good quality with a nice job on the personalization. I think my sister will love this gift! The item is a bit pricey.

Lovely gift for a boss
By
Shopper

(Edgewater Park, NJ) - February 4, 2013
I bought this for my boss and she absolutely loved it. I would recommend this gift for anyone who can use a pick me up every now and then :)

wish it could have been sent to me!
By
Magda M.

(Miami, FL) - June 3, 2013 (
See all reviews by this customer
)
It was such a lovely gift that I really wanted to keep for myself!!!beautiful box,I'm pretty sure He's going to be so surprised and very Happy because it is an original gift for someone who has it All!AVERY SPECIAL GIFT FOR SOMEONE VERY SPECIAL!!!!!!!!!!

Better than expected!
By
Shopper

(Colorado Springs, CO) - September 4, 2012
Beautifully packaged and unique, this gift was perfect! Thank you!

Very Nice!
By
Shopper

(San Diego, CA) - September 3, 2012
I purchased this item as a gift of appreciation for my doctor. I was very happy with the quality of the glass. It comes in a lovely box. It makes an elegant & thoughtful gift & is an excellent value.

Beautiful
By
Shopper

(Sacramento, CA) - August 25, 2012
This item is truly beautiful. I loved it from the moment I saw it. This is a definite must give gift! Pretty awesome!

A MUST BUY
By
Susan F.

(Hayden, AL) - December 4, 2012 (
See all reviews by this customer
)
Of all of the products I have purchased from your site, this is the all time favorite!Quality is amazing! Size is considerable! Packaging is great! Will be purchasing this item again at a later date.

Awesome gift
By
Kimberly T.

(Cairo, GA) - September 30, 2012 (
See all reviews by this customer
)
I purchased this hour glass for my boss as a gift.
This is very impressive looking in person. The
pictures do not do it justice. I think this is a
personalable and thoughtful gift in reminding us
to make every second count.

My fav Product
By
Shopper

(DESPLAINES, IL) - September 6, 2012
I bought this to my dearest frnd for her birthday..... she loved it :)
This is the best way to keep our memories .I hope whenever my frnd look at this glass , she remembers all those days we spent in our college :)

Thank you personalization mall for this awesome product.