super cute!
By
Shopper

(Shoreline, WA) - May 6, 2014
delivered very quickly, love it! only reason for "4 stars", wish the blue background was brighter...maybe royal blue.

A Tie for Dad/Poppop
By
Nenah E.

(newark, DE) - December 30, 2013 (
See all reviews by this customer
)
I absolutely LOVE this tie! I got it as a gift for my dad and am very satisfied with the it. At first I was a little hesitant about the quality of it because of the price but to my surprise, it exceeded my expectation! It is made of this beautiful silk material and the names are just "ironed" onto the tie. I know that out of all of the ties that my dad has, this will be the one that he will hold onto forever because it has his name, his wife's name, his daughters' names, and his grandchildren's names on it!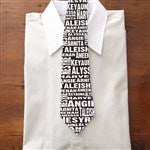 Awesome!!
By
Shopper

(Monroe, NC, NC) - December 10, 2013
A one of a kind gift for a Doctor that has everything!!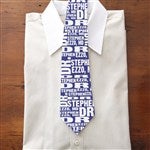 Could only be better if.....
By
pam L.

(annapolis, MD) - December 5, 2013 (
See all reviews by this customer
)
the personalization wrapped around the entire tie instead of just the front. otherwise, beautifully made. look forward to my husband opening this gift and wearing it at work. it has a sentiment he's exclaimed in frustration from time to time. i wonder how many will glance at the tie and how many will read it and go "oh!" :)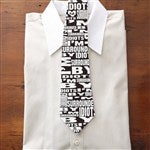 Tie
By
Shopper

(St. Louis, MO) - September 15, 2013
It turned out great - I think he will like it.

awesome
By
LaDonna M.

(Opelousas, LA) - June 23, 2013 (
See all reviews by this customer
)
This necktie is awesome! All of my family was shocked to see this necktie! They wanted to know wherr I bought it from, who did it, etc. Getting another one done for my father n law and brother really soon!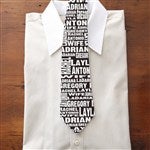 he loved it
By
Phyllis W.

(Missouri City, TX) - June 16, 2013 (
See all reviews by this customer
)
The tie was a hit for Father's day!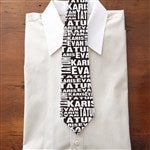 It's purple not blue
By
Shopper

(Aztec, NM) - May 29, 2013
The tie turned out fantastic but it is purple not blue.

Distressed Personalized Tie
By
Bridgitte S.

(Antioch, TN) - March 27, 2013 (
See all reviews by this customer
)
I loved the idea of this tie as my father has ALWAYS worn one! Crazy ones, expensive ones but never one this personal..with all the grandkids names. While I wasn't exceptionally pleased with my first glance at the tie...I contacted the company to express my concern. Their response was polite, quick and made me review the description online. The tie is gorgeous..my problem is I ordered the TAN and it looked "distressed", like the colors ran in certain areas. Once I was told this was a "distressed" look and I looked at the darker ones I did recognize this. The quality is 100%! It was just me that didn't realize it would look distressed. My father..the tie guy..the military, well dressed man I was afraid would not like it. HE LOVED IT!! I presented it to him yesterday and he loved the color and never even mentioned the "distressed" look. He did comment on how he enjoyed the tan and how he could wear it with anything!Great Gift! I suggest the description state the distressed look.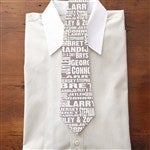 Great tie!
By
Michele H.

(Lexington, KY) - March 11, 2013 (
See all reviews by this customer
)
Having the grandkids names on a tie is just fabulous!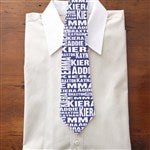 repeated name tie
By
Nikki C.

(White Pigeon, MI) - January 23, 2013 (
See all reviews by this customer
)
I bought this tie for my brother who has 3 children. When I received it I thought it was better than what I had expected and now want to buy one for my dad with all 6 grandkid's names on it.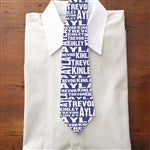 Nephew gifts
By
Bob and June M.

(Palos Hills, IL) - January 8, 2013 (
See all reviews by this customer
)
Bought these ties for my nephews for Christmas. Colors are bright and the names stand out well. The fabric is very nice as well.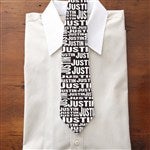 Fast delivery.
By
Shopper

(Nashville, TN) - December 20, 2012
I was surprised by the fast delivery of the product. My concerns were that the Back all the tie was white, which I did not expect. The other concern was that two days later the same product went on sale for a less expensive cost and when I called customer service they did not give me the difference in the price although I had only ordered it a couple of days earlier.

What a unique gift!
By
Shopper

(Norfolk, VA) - December 18, 2012
The blue is lovely -- it has a white back, so it becomes a comedy tie, almost, but the front is just lovely!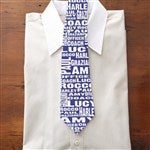 The gift that she'll love too!
By
Kathleen G.

(Nesconset, NY) - December 10, 2012 (
See all reviews by this customer
)
What a great gift. Next year I'm buying my boss one with the Company name on it. My only complaint is the narrow choice of color combination. And that the wording is a "streched out" I guess you'd say. But I think my niece's boyfriend will like it and my niece will love it since it's got her name on it too. No wondering who that boy belongs too now!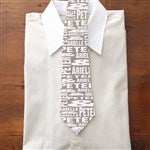 Personalized neck tie
By
Shopper

(Mustang, OK) - December 1, 2012
The quality and beauty of this item is just unsurpassed and it was more than I expected. The reason I gave it four stars instead of five is because one of the names on it is seven letters long, and some of it goes off the edge and is not legible; however, it can be read vertically, just a little harder to read.I got it in blue and it is really striking.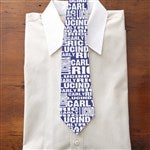 Looks great
By
Shopper

(Brownsville, TX) - November 28, 2012
Bought as a Christmas present. Looks really nice and is so different!


great gift!
By
Shopper

(Baltimore, MD) - August 3, 2012
My father-in-law loved this tie! We included all of his grandchildren's names on it. I didn't like how some of the names cut off, but am very happy that he likes it so much.