Beautiful water bottle
By
linda C.

(Oklahoma City, OK) - August 23, 2014 (
See all reviews by this customer
)
I bought this product for my daughter. She loves it! Great quality and beautiful design.
We are happy with it.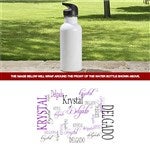 Granddaughter School Water Bottle!
By
Shopper

(Surprise, AZ) - July 27, 2014
Very pleased with our granddaughters water bottle, its very pretty & she was so excited when we gave it to her & told us how pretty it was. Happy Granddaughter & Mimi & Popa!!!!!!
Thank You once again personalization mall, great work as always!!!

Great gift!
By
Shopper

(San Antonio, TX) - May 11, 2014
My stepmother is a mail carrier & is always taking water with her on her route- nice gift and she is loving how it keeps her water very cold for hours!

Daughter loved it!
By
Shopper

(Lapel, IN) - May 11, 2014
Bought these as party gifts. They all love having their names on things. Being able to personalize w names for kids wo traditional names is a very special gift. Plus they really like the water bottle.

Excellent gift opt w/ a good price
By
Marilia C.

(Charlotte, NC) - May 6, 2014 (
See all reviews by this customer
)
I ordered 3 water bottles. One for my nephew's first communion (I personalized as his name + 1st Communion). And 2 for school teachers. They all LOVED the gift. The water bottle seems to be a high quality and durable product. There is no strange smell inside (which can leave the water with a strange taste!). I loved to see their reaction and I came back to order 3 more. I got an excellent price on these but I would have payed full price if needed. They are worth it!

Perfect for Young Girl
By
Shopper

(Blaine, WA) - April 28, 2014
My nephew's daughter is in middle school and she loved the various styles of her first and last name..very grown-up looking.

Good product!
By
Tian L.

(Falls Church VA, VA) - April 20, 2014 (
See all reviews by this customer
)
My son like it very much!

Talk of the party!
By
Quebet K.

(Alhambra, CA) - April 14, 2014 (
See all reviews by this customer
)
I bought this as a gift for a friend! Everyone who saw it wanted one. People kept asking where it came from and when I told them the price, mouth's dropped! They were amazed that a personalized gift like this was so inexpensive. Needless to say I know where the majority of my Christmas shopping is coming from this year. :-D

Loved them!
By
Shopper

(Hutchinson, KS) - April 14, 2014
I bought these for my VB team heading into JH, in the school's colors, so they could all use them as they went thru JH & HS. The girls & their parents all LOVED them & so did I! No more lost/forgotten water bottles because their names are on it. Quality seems great so far!

Very Cute!
By
KIMBERLY B.

(CAMILLUS, NY) - January 10, 2014 (
See all reviews by this customer
)
So pleased with this product! Little did I know that I spelled my daughters name "oddly" when she was born. No products in stores spell her name the way we do. She loves having something with her name on it!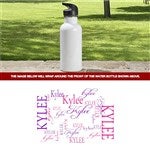 Fun and Sophisticated
By
Lisa L.

(Tomball, TX) - January 6, 2014 (
See all reviews by this customer
)
I purchased two bottles, one for each of my daughters, for Three Kings Day, and they were thrilled to have something with their names on it since their names are unique. The variety of fonts makes the bottle fun yet sophisticated. They will be well used!

WONDERFUL WATER BOTTLE
By
Shopper

(Forest Lake, MN) - October 4, 2013
Just perfect!! The personalization is appealing and gave the bottle a very classy look. Highly recommend it.

LOVE THIS!
By
Shari W.

(Osceola, NE) - August 26, 2013 (
See all reviews by this customer
)
I ordered this for my daughter for Christmas in our school colors. I like this bottle, because instead of her last name I used her nickname. It turned out so cute!!!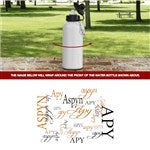 Great item
By
Shopper

(Pelham, NH) - May 16, 2013
This product was delivered fast and was exactly as I pictured it would be. It was purchased as a gift for my Mom and she absolutely loved it! A great idea and so glad I was able to easily personalize everything. There aren't to many things that are personalized with Yaya, so being able to create something special and unique at such a great price was perfect. Highly recommended!!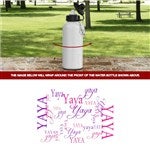 Very Nice!
By
Susan H.

(Palmyra, PA) - December 26, 2012 (
See all reviews by this customer
)
This is a great quality (metal) water bottle. The name graphic is wrapped very nicely, not at all distorted. I am very pleased!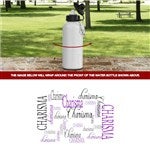 will be a great personal gift
By
Tracey F.

(Cody, WY) - November 29, 2012 (
See all reviews by this customer
)
This will be a nice personalized gift for one of my employees. She has an unusual spelling of her name and cannot find personalized items. I am pleased with the quality so far, will see how it holds up after Christmas. This is my second purchase from personalization mall and I am happy with both. I loved having the option of choosing color combinations for this piece. Having 2 lid options is a nice bonus.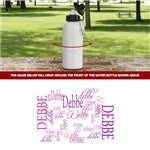 I love this bottle!
By
Jennifer E.

(San Diego, CA) - November 25, 2012 (
See all reviews by this customer
)
We give all our classmates the same gift. This year, we chose personalized water bottles, so every party we were invited to the birthday child received one of these. It is awesome.
Our bottle got a little smashed up, doesn't stand straight any more and has become much harder to clean. This is a better choice for children in 4th grade and up.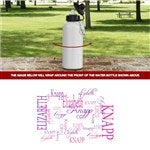 Great value
By
Shopper

(Mandan, ND) - November 14, 2012
I ordered six of these all in different colors for a family beach trip. We haven't used them yet but I liked that they had the different lid options as we are going to use them to keep drinks cold on the beach and keep sand out. This way, depending on personal preference, we can change lids. I thought the price was great considering it's hard to find bottles you don't have to order in bulk quantities. The size is nice (20 oz) but I would've preferred a little larger size although was unable to find. Overall, very pleased with the price and presentation- a different color for each name so it's easy to keep them straight!

great for walks
By
Shopper

(Anaheim Hills, CA) - October 28, 2012
got this for my sister, am sure whe'll like it to clip onto her jeans while walking or bag whenever...

Excited
By
Shopper

(San Antonio, TX) - August 6, 2012
Although, I did not get to see the product, my grandaughter loved it! That is all that matters...this was her favorite of all the gifts she received.

A big hit!
By
Margie K.

(Fairfax, VA) - May 17, 2012 (
See all reviews by this customer
)
Excellent quality, beautiful font, and very practical gift. Packaged nicely and very prompt service from shipper. Would order more for friends - absolutely!

Sturdy!
By
Kimberly H.

(Sherman Oaks, CA) - May 8, 2012 (
See all reviews by this customer
)
I thought it was going to be lighter but was pleasantly surprised how sturdy it is. Not to mention, really cute!

Beautiful design.
By
Yvonne S.

(Titusville , FL) - April 30, 2012 (
See all reviews by this customer
)
I am giving this as a gift and I am very happy with the quality and the design of the personalization.

Great gift for an active outdoorsy person
By
Mindie C.

(Vancouver, WA) - October 13, 2012 (
See all reviews by this customer
)
Very nice quality, and the perfect size. But I wish the name covered the whole bottle and not just the small square.

High Quality Personalize Stainless Water Bottle
By
Tricia M.

(Canada) - May 23, 2012 (
See all reviews by this customer
)
Very pleased with the personalized stainless water bottles I ordered for my kids. The graphics turned out great and the bottle itself was excellent quality. They loved them!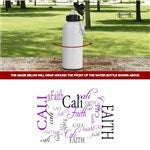 Looks Great
By
Shopper

(Anchorage, AK) - May 16, 2012
The product arrived quickly, looks great. I thought the water bottle was going to be bigger and that the names would go all the way around the bottle, but other than that looks wonderful. Not sure how cold the water stays etc since I bought them as gifts so I did not test them out.

water bottle
By
Mary N.

(Webster Groves, MO) - December 26, 2012 (
See all reviews by this customer
)
I love the design, but I wish the opening was big enough for a single ice cube.
That really limitis its use.

Water bottle
By
Shopper

(Newburgh, IN) - November 26, 2013
I like it but the size was to confusing it is way to small, the art work is great but way too small of a bottle.