Awesome wedding gift!
By
Emily S.

(Erie, PA) - July 13, 2013 (
See all reviews by this customer
)
Ordered a frame for my brother and had it engraved with the reading I did at his wedding ceremony. Great price and I had it in less than a week from ordering. He was thrilled with it as was I, it was truly beautiful! I liked it so much I passed on this website to some of my friends to use for gifts in the future.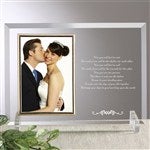 fast, easy and reasonable
By
Shopper

(Placerville, CA) - June 2, 2013
I thought they did an amazing job with the item i purchased. It was perfect! The couple loved it!!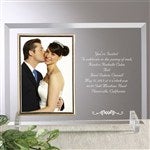 Disappointed
By
Shopper

(Bronx, NY) - May 28, 2013
The glass frame was nice but the lettering on the personalization was so light you can barely read it. I called customer service and they were quick to tell me there was NOTHING they can do about it since the writing is done with a special laser. Well they should do something about this special laser. Very disappointed, will never order again from them and will not recommend same. Beware.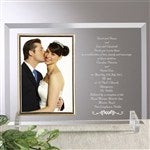 Precious Gift
By
Shopper

(Hornbrook, CA) - May 20, 2013
Actually bought 2 for different weddings, very pleased with them both. One going to England. I am sure it will be a great keepsake for years to come.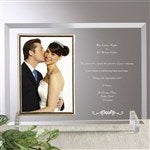 Perfect bridal shower gift
By
Susan W.

(Brooklyn, NY) - May 1, 2013 (
See all reviews by this customer
)
I purchased this as a gift for my Goddaughters bridal shower. It is a beautiful reminder of there wedding invitation for the rest of their lives. It came out even better than I could have imagined. I'm sure she will love it just as much as I do. I recieved it within a week of placing my order. I was a little worried about it breaking during shipping but it is well pack to prevent breakage. I am a repeat customer and will continue to be a customer.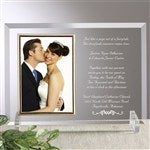 PERFECT GIFT!!!
By
Shopper

(Lynn, MA) - April 26, 2013
The entire process was flawless, first off. Easy ordering, easy personalization. I love that I could make it my own... Rest assured, whomever this gift goes to, they will positively love it, just as you will love creating it on-line, and then seeing it for the first time. Holding onto such a beautiful sentiment, like the poem I wrote on mine, will allow the recipeints to feel special, one of a kind, and most importanlty, they'll feel LOVED! GET THIS GIFT IF YOU WANT TO MAKE SOMEONES DAY, AND EVERY DAY THERE AFTER EACH TIME THEY WALK PAST IT! It brought my baby cousin (who's getting married), to tears! It's honestly the BEST gift I think I've ever given!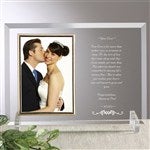 personalized frame
By
Shopper

(Wakefield, MA) - February 15, 2013
absolutely gorgeous. Had a personal message about deceased dog done. Would order again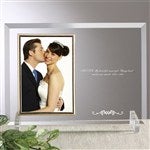 Loved this frame!
By
Amber H.

(Flat Rock, MI) - January 25, 2013 (
See all reviews by this customer
)
I purchased this frame for an upcoming wedding of my two close friends. It's absolutely perfect and definitely looks like it should cost a lot more than it did!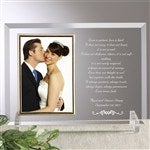 Perfect gift
By
Patricia T.

(Bolton, CT) - January 3, 2013 (
See all reviews by this customer
)
Perfect gift for a bride and groom I was so excited to give this to them a way to have the invitation displayed in a home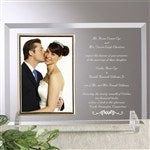 The perfect sentimental gift
By
Pamela E.

(Minneapolis, MN) - December 16, 2012 (
See all reviews by this customer
)
Instead of inscribing this product with invitation wording, I wrote out what my fiancee said the night he proposed to me. This frame gave me the perfect medium. I was so excited to find this option. The frame is made of heavyweight glass, the inscription came out perfectly, and we'll always be able to remember the beautiful night we were engaged.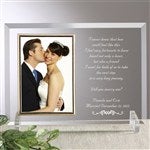 absolutley perfect
By
Shopper

(warsaw, IN) - October 16, 2012
I read the reviews on this and some where not happy with it. I am 110% happy with this item. The print is easy to read and it is the perfect wedding gift. I got this for my granddaugher who is to be married later this month. I had the item within 1 week of ordering it. I will certainly purchase more for future wedding gifts.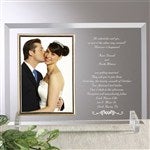 Impressed!
By
Jeneen L.

(Smithtown , NY) - September 18, 2012 (
See all reviews by this customer
)
I had purchased three of these frames for my readers in my wedding. I took excepts from their readings and had it engraved with a thank you note they came out amazing I am more than happy with this purchase!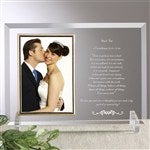 Perfect gift
By
Gloria L.

(Riverside, CA) - August 2, 2012 (
See all reviews by this customer
)
I purchased two of these for my sister and brother-in-law. All 3 of their children have married in three years. These were frames, one for the most recent bride's photo, one for the grooms'. They had sentimental sayings on them. My sister cried when she received them. They absolutely love them. They are gorgeous, high quality.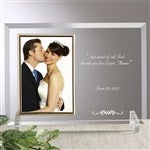 Etching work
By
Carol R.

(Dana Point, CA) - August 1, 2012 (
See all reviews by this customer
)
I ordered this particular frame many years ago & complained at that time that that it was almost impossible to read the etching. Etching has not improved -- still difficult to read. I have decided to keep product --however, will not order it again.
Other than that, I am always happy with Personalization's products & work. Your customer relation service is superb.
Thank you !!

October Wedding Gifts
By
Shopper

(Fredonia, WI) - July 30, 2012
I ordered two of these one to give to my mother and the other to give to my mother and father-in-law on my wedding day. I like the frames but the engraving/etching is very hard to read. It looks like it could have been done either deeper or darker to make it easier to read.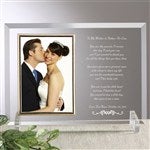 Wedding Invitation frame
By
Shopper

(Cuyahoga Falls, OH) - July 23, 2012
Love it, I bought it because it was such a personal gift.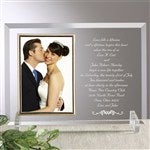 Great gift for an excellent price!
By
Shopper

(OXNARD, CA) - July 16, 2012
Beautiful, elegant, sophisticated, and top quality - what more could you ask for in a wedding present? I'm sure this piece will give joy for many years to come. Thank you, personalizationmall.com, for such a great product that didn't put a deep hole in my wallet!!!!

Such a great gift for moms!
By
Nicole M.

(SIMI VALLEY, CA) - June 18, 2012 (
See all reviews by this customer
)
This came out so beautifully! So classy and my mom will love it! Instead of putting in the wedding invitation wording I put in a poem for my mom about me getting married, how special she is to me, and how I will still need her just as much. something really cute and personal for the mother of the bride. she is going to LOVE this! I can't wait to give this to her at the rehearsal dinner!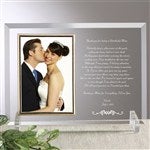 Beautiful, personal wedding gift
By
Joanne M.

(Harwood Heights, IL) - June 12, 2012 (
See all reviews by this customer
)
I was so impressed with the quality of this product. It looked far more expensive that the cost. Personalization is certainly the key word here. I read the poem, "I Carry Your Heart" by E. E. Cummings at my friend's wedding, and to be able to find this product, where I could have this poem printed on the wedding gift was unbelievable. I was also so impressed by the speed this product was sent to me. I choose the lowest shipping cost and received this gift within 4 days of ordering the gift, just in time for the wedding. I highly recommend this company and will be ordering some baby products soon, based on the quality of this gift. Rave review to this company.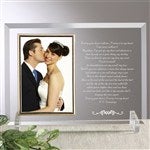 brilliant gift
By
Shopper

(Davis, CA) - June 10, 2012
I bought the frame as a gift for my fiance. I then use my own verse to have emboided on the frame. The frame looks beautiful in reality. My fiance is far more than pleased with it.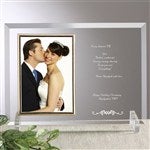 Almost perfect
By
Ruthann B.

(Landing, NJ) - May 6, 2012 (
See all reviews by this customer
)
The only thing I did not like is the lettering is hard to read. I think because there is no color to it..I think if the writing had color to it then it would pop !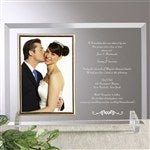 Perfect Gift
By
Shopper

(NAPERVILLE, IL) - April 28, 2012
I was thrilled when I saw this gift. My mom will absolutely love it :)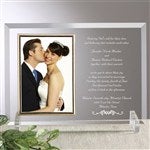 Beautiful
By
Paula C.

(Levittown, NY) - April 27, 2012 (
See all reviews by this customer
)
This came out perfect.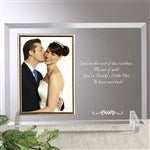 Very Pleased
By
Alice H.

(Jena, LA) - April 19, 2012 (
See all reviews by this customer
)
I was searching for a perfect wedding gift and I believe I found it. I was very impressed with how the "Wedding Invitation Personalized Frame" turned out. I have made previous purchases through this web site and plan to make more in the future. Others have been impressed also when they see the items and ask where it came from and I'm always sure to tell them about your web site. Thank you also for being so cost efficient. This is a place where I can purchase a really nice gift for a low cost.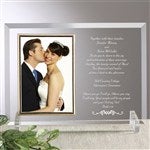 features that i liked
By
Roxana B.

(cape coral, FL) - April 16, 2012 (
See all reviews by this customer
)
I bought this for a bridal shower gift, I cannot express what a great job was done on this. They loved the present and said they had never seen anything like it before. It will be something they can treasure forever. The detail work and the timely manner this was done was amazing. Thank you, I would definelty order for you again.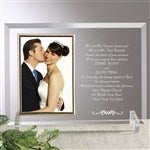 Wonderful Product
By
John L.

(Washington, DC) - April 6, 2012 (
See all reviews by this customer
)
My fiance and I are ordered these for a couple of readers in our wedding and we put the Apache Wedding Blessing on them. We were amazed at how well they looked and could not have asked for a more beautiful product.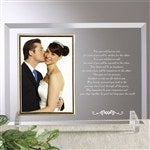 Very Nice
By
Terri T.

(Cape Coral, FL) - April 3, 2012 (
See all reviews by this customer
)
It was very beautiful but the only problem is that the writing was to light and very hard to read.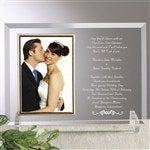 repeat buyer
By
Sandy L.

(Floyd, VA) - March 20, 2012 (
See all reviews by this customer
)
what can i say that i have not said before!! this item is fabulous- I did not use it for a wedding invitation but for a 60 suprise party invitation and the person I bought it for LOVED IT!!!!!!!!!!!!. such a unique gift that is so very special- and once again personalzation mall's turn around time was incredible and now I have joned the peronal rewards program and I love that!! Its a money saver for sure and we all love saving dont we. Great gift great company so glad I found this site and I know I will using them again and again

Beautiful, Just Beautiful!
By
Cherrie L.

(Hampton, CT) - March 2, 2012 (
See all reviews by this customer
)
I have ordered many items from Personalization Mall and have NEVER been disapointed! The frame makes the PERFECT wedding gift!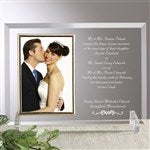 Completely Perfect!
By
Brenlie W.

(Metairie, LA) - February 12, 2012 (
See all reviews by this customer
)
This is exactly what I was looking for considering that my Husband and I wrote our own vows. I was so excited to see that although they recommend putting your wedding invitation on the plaque, I was able to put 17 lines of whatever I wanted!!! After I got the product in the mail (which also was very prompt!) I was so pleased to see that the quality was just as I had hoped it would be. Prestine. The engraving had absolutely no flaws and was absolutely perfect. Thank you PersonalizationMall.com, our Valentine's Day will be much more memorable because of your product!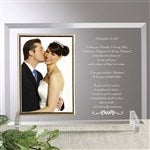 Beautiful!
By
Robyn W.

(Ft Pierce, FL) - February 10, 2012 (
See all reviews by this customer
)
I purchased this for my neice and was extremely pleased with the quality and beauty of the frame. The etching was perfect. The order arrived extremely fast. Would recommend this for a wedding present.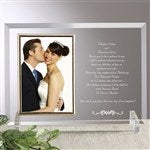 Great Buy
By
Debra B.

(Queens, NY) - February 10, 2012 (
See all reviews by this customer
)
Bought this as a gift for my husband. Got it on sale and it looked really expensive too. (Very Classy) The only thing is the wrting was a little difficult to read from far off (Maybe a different colour font wold help). But definitly worth the price. Loved it ...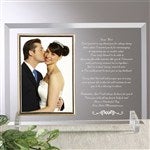 Review
By
Julia T.

(Lewistown, IL) - January 24, 2012 (
See all reviews by this customer
)
Product is perfect!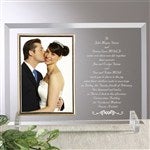 Great gift...
By
Patricia F.

(Chisholm, MN) - March 2, 2010 (
See all reviews by this customer
)
This is the 2nd one I have given, and I'm going to order another one. It is very good quality and what a memorable gift to give. Very personal and my friends who have gotten them think it is one of the greatest gifts they have gotten. Would recommend it to all, and the price is so reasonable also. Very very pleased!!!

Ms. Curran
By
Roksanda C.

(Charlotte, NC) - March 18, 2010 (
See all reviews by this customer
)
Beautiful...looks like I spent a fortune!

Totally pleased
By
Irene O.

(Lake Ronkonkoma, NY) - March 5, 2010 (
See all reviews by this customer
)
I ordered 2 glass etched frames. One for 50th Anniversary the other saying Our Wedding Day. These frames are for the same couple. I am so pleased with the way these frames turned out & how quickly I received them.Their family is giving them a 50th Wedding Ann. party & they will be presented with these 2 frames. They are exactly what I wanted. I would recommend you to all my family & friends. Thanks for a job well done. Mrs. Irene Olivant

Invitation Frame
By
Lisa C.

(Cincinnati, OH) - March 2, 2010 (
See all reviews by this customer
)
The item arrived in three days from when I placed the order. It looked fantastic!

Beautiful!
By
Angela W.

(Lawton, OK) - November 3, 2009 (
See all reviews by this customer
)
The frame is beautiful! I love the engraving, the beveled glass, and it has a nice weight to it so you know the glass is thick! I am very pleased!

Beautiful
By
Brittney B.

(Ward, AR) - November 2, 2009 (
See all reviews by this customer
)
We didn't use it as an wedding invitation we used it as a memorial frame for my father. There isn't a free writing memorial frame on this site for us to write then things we wanted to write! For whatever the use, this frame is a BEAUTIFUL addition to the home!

Great quality!
By
Sandra G.

(San Antonio, TX) - November 17, 2009 (
See all reviews by this customer
)
I priced other personalization sites before this one. They were all more expensive and didn't fit everything I wanted to write. When I saw the price here, it was almost too good to be true. There was even a place for a picture (which the other sites didn't offer)! I received it, and I was very impressed with the value that I received for what I paid! It is a great product!