Soft and Comfy
By
Heather S.

(Lufkin, TX) - June 24, 2013 (
See all reviews by this customer
)
This was a Mother's Day gift for my amazing momma! I know how her routine is when getting ready in the morning and actually couldn't believe she didn't have one of these already. She loves the pattern and the feel, as well as how easy it is to keep herself wrapped up HANDS FREE! lol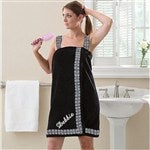 Great bath wrap
By
Shopper

(Fort Lauderdale, FL) - May 25, 2013
This was a gift for myself - it is definitely one of the softest most comfortable wraps of this type that I owned. Great purchase.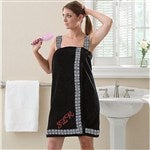 black wrap sheds
By
Shopper

(iselin, NJ) - February 15, 2013
The black bath wrap is nice and soft and comfy, however it sheds alot. I had black fuzzies all over

I would suggest washing it first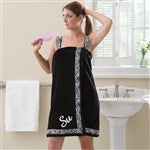 Nice Towel My GF loved it
By
Daryl S.

(Highland Park, NJ) - February 11, 2013 (
See all reviews by this customer
)
When I purchased this item I was a little worried that it wouldn't fit my girlfriend because it said it has metal clasps to attach it. It turns out it actually has velcro which is what I really wanted. It allows for a good fit to most women, (my gf wears a DD bra so I was worried it wouldn't fit around her chest, but it fits perfect). The material is also very soft and the sewed name looks great too.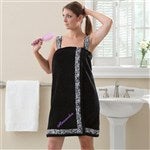 xmas gift
By
Molly D.

(Crown Point , IN) - December 21, 2012 (
See all reviews by this customer
)
I got this from my mom for xmas and its the most comfortable gift ever! I always get so hot when I do my hair in the morning and i never get hot anymore or have to worry about it slipping off. Just thought I should share that everyone should have one. :) Thanks for making my uncomfort stop. :)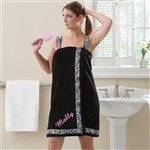 i love it!!
By
Shopper

(RACINE, WI) - December 8, 2012
with my mom not having a very commen name i hear her complaining a lot about noting having her name on it so i decide to get this wrap for one of her christmas gifts! it also only took 4 days for it to come its so soft i would sleep with it i think i might just get one for myself i love it so much i just hope she like it as much as i do!!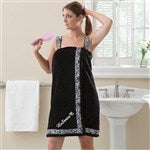 Lovely wrap
By
Shopper

(Fresno, CA) - November 18, 2012
This wrap is very soft and looks very comfortable. I bought it for my daughter and she loves it!

I love it!!
By
Shopper

(New Martinsville, WV) - July 8, 2012
Very easy to use and soft. Very quick shipping as well. I was very impressed with the entire product.

Better than expected
By
Diana W.

(Sandia Park, NM) - November 23, 2013 (
See all reviews by this customer
)
I saw this item and thought it would make a great gift. Then I thought I would buy one to see first. It is wonderful! I hate wrapping a regular towel around me because it always comes undone. Not this one and it's warm and soft. I can blow dry my hair and it stays on. I even wear it around house after my shower. It's that comfortable. I'm buying 2 more for gifts. Love this item!

Sister loved it!
By
Shopper

(Edna, TX) - August 7, 2013
I purchased this for me sister who has everything. She loved it. I had her name sewn on in vibrant pink and it popped. She wears it every day and says it is by far her favorite bath wrap she has ever owned. And it stayed soft and intact after washing it several times. Very elegant.

Awesome
By
Shopper

(Charlestown, IN) - April 7, 2013
I had bought this for myself and then bought one for each of my daughters because I loved it so much!!! Very soft and warm. Excellent quality and the monogram is beautiful!! I have even recommended this to several friends.

Great quality bath wrap
By
Jennifer S.

(Madison, AL) - May 11, 2013 (
See all reviews by this customer
)
Very good quality bath wrap. The damask design is gorgeous! It's a great length and the straps are great for modesty and just holding the wrap on. Would definitely recommend. Also very fast shipping even with monogramming.

very good
By
Shopper

(Tulsa, OK) - July 12, 2013
very good