Best gift ever
By
Shopper

(Cincinnati, OH) - March 30, 2014
I purchased for my mom. They were celebrating 45 yrs and she loved it. Where else can you get personalized products no one else thinks of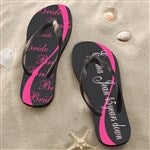 A cute bridesmaid gift!
By
Timika H.

(WALDORF, MD) - February 3, 2014 (
See all reviews by this customer
)
I wanted to give my girls something where they could kick off their high heels and be comfortable...this is it! I love that I was able to personalize them with each of their names as well as the title they hold. Can't wait to show them!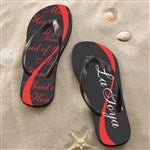 As Pictured
By
Danyelle C.

(Rochester, NY) - December 12, 2013 (
See all reviews by this customer
)
I ordered the personalized flip flops as part of the gifts to my bridesmaids. They came out just as lovely as the photo depicts. Only thing to be careful of are the Medium/Large run a little bigger than I expected. Based on their shoe size I picked the appropriate size but after seeing them in person, I think I could have went down a size. Overall LOVED THEM!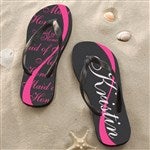 Wedding party flip flops
By
Tamara M.

(Omaha, NE) - September 27, 2013 (
See all reviews by this customer
)
These are fantastic. They were even available in the color I needed - purple. I hope my Maid and Matron of Honor like them.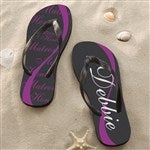 Great gift
By
Maria W.

(Chicago , IL) - July 22, 2013 (
See all reviews by this customer
)
I love the quality of the flip flops. Great gift for my 8 bridesmaids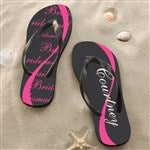 Great bridesmaids gift!!
By
Shopper

(PINECREST, FL) - June 17, 2013
True to size and very comfortable. Personalizing true to color, font, and very cute!! Even got a pair for myself!! I know my girls are gonna love them :) THANKS!!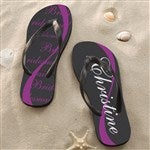 MAid of Honor Gift
By
Shopper

(Oakland Gardens, NY) - April 29, 2013
As part of my maid of honor's gift, I thought these would be perfect to give her to replace her heels at the reception to dance! This website never ceases to amaze me, the quality of their products are fantastic for the price! I personalized them to say Maid of Honor on one flop and best friends on the other. When I got them I got so excited I had to give them to her! She loved them and almost cried! Great idea for a gift for a wedding. For the prices you can get them for all of your bridesmaids! Guarenteed hit!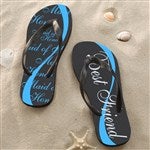 Bridal Party Flip Flops
By
Missy S.

(Fresno, CA) - April 5, 2013 (
See all reviews by this customer
)
These are the best bridal flip flops on the market! All of my girls absolutely loved them. Shipping was faster than I had expected. I would definitely purchase these again for other occasions in the future!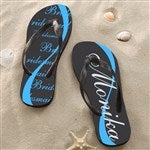 Perfect Gift
By
Aiesha Y.

(Woodbridge, VA) - March 10, 2013 (
See all reviews by this customer
)
These flip flops are super cute and will be perfect to slip into at our wedding. They came very quickly too. Perfect!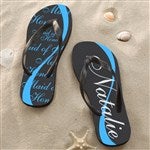 Looks nice but not true to size
By
Tiffany Z.

(Woodbridge, NJ) - March 8, 2013 (
See all reviews by this customer
)
I was skeptical on buying these sandals but they were the best ones I found for the price. The only thing I didn't like is the size. I am a 7 1/2 shoe size and bought the small 7/8.5 and my foot just fits in it. My girls who are a size 8 I feel they are going to have their feet hanging off the back since I got all "smalls". If you are a size 8 I recommend getting the "medium" size. Very disappointed in the size. I know my girls are not going to mind since it the thought that counts but it defeats the purpose. I bought 6 pairs of sandals I feel as I should have bought it for myself first to check it out which I also suggest!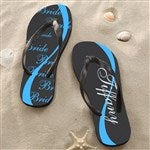 Maid of honor sandals
By
Shopper

(Methuen, MA) - August 19, 2012
When the sandals arrived they looked exactly the way it appeared online. She hasnt received them yet but this just earned them 10 more stars. Thank you...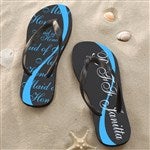 Adorable!
By
Shopper

(Wheatley Heights, NY) - December 18, 2012
These flip flops are really cute and you get a choice of colors! The writing is on a fabric type overlay that is attached to the rubber. It might be glued, not sure, but there were no signs of fraying or detachment. Seems like a quality product and certainly a cute novelty item for the bride-to-be. Found Bride & Groom towels on PersonalizationMall.com to compliment the flip flops! Would have given it 5 stars, but wasn't happy with the limited size selection (Unisex sizes: small was 8/9 and I really needed a 7/8, but will work with it.) Also, offer MEN's too! Took a while websurfing, but I found similar ones for the groom that said "GROOM" and "Mr" on them.

Super cute
By
Shopper

(Leesburg , IN) - April 6, 2013
The flip flops arrived very quickly and look so cute!! Will be a nice touch to our wedding plans!!

Great Gift
By
Shopper

(Toms River, NJ) - February 4, 2013
I got these for my bridesmaids and I am sure they will love them - they are unique and comfortable looking :)

Too Cute
By
Stephanie F.

(chicago, IL) - February 3, 2013 (
See all reviews by this customer
)
I ordered these for my bridal party, I think they are just perfect.

wedding flip flops
By
Susan L.

(Chubbuck, ID) - February 25, 2014 (
See all reviews by this customer
)
they are great and so excited for the wedding party to see them. thank you so much.