She loved it
By
Tala Y.

(San Ramon, CA) - January 26, 2014 (
See all reviews by this customer
)
Purchased this for my daughter she loves it and is so proud

excellent website
By
Susan B.

(Lake Leelanau, MI) - December 9, 2013 (
See all reviews by this customer
)
fast service

Great!
By
Beverly B.

(North Chesterfield, VA) - October 26, 2013 (
See all reviews by this customer
)
Everything I wanted and more!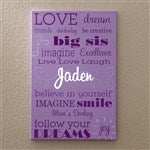 gorgeous
By
Shopper

(Holland, MI) - July 13, 2013
The canvas was a huge hit for my best friend and her daughter who had just competed at a state gymnastics meet. It looks wonderful in her room, and lots of friends want one, too. The size is big: 12 by 18, so it costs extra for shipping, but it's worth it.

Love it!!
By
Charlett S.

(Vancouver, WA) - March 19, 2013 (
See all reviews by this customer
)
We created this for our daughters room and it looks so great on the wall. It's actually larger then I thought, but that's a good thing. Definitely recommend for your child's room!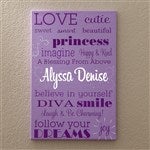 Excellent gift for teenager
By
Shopper

(San Antonio, TX) - February 19, 2013
What do you get a teenage girl for Valentines day? As a mother, they'll always be my baby girls, but now adays the teenage boys in their lives send them the romantic Valentines gifts. So I needed something a bit different that would last as long as my love and these personalized canvas art pieces did the job. BOTH my girls (20) and (18) absolutely loved the love and it's something they'll have to cherish for a lifetime !!

canvas art review
By
Shopper

(Brooklyn, NY) - January 14, 2013
The piece is beautiful. My daughter gave it to her best friend for her Bat Mitzvah (12 year old birthday). I see it as a piece that can promote self esteem, strong self identity and self worth in a young adolescent -- being careful to choose adjectives that are applicable and meaningful to the recipient. I would have preferred greater flexibility on some of the pre-printed
words which the product locks you into. Otherwise, thank you for your consistent quality product.


Fantastic Gift!!!
By
Mary S.

(McCordsville, IN) - December 6, 2012 (
See all reviews by this customer
)
I purchased 4 different versions of this item - 1 girl and 3 boys. It makes a great and sentimental gift for children because they can see it everyday and know what you love about them! Perfect and thoughtful gift for those little ones in your life who bring so much joy to your world.

Great for Dorm Room!
By
Shopper

(Silver Spring, MD) - September 23, 2012
I was a little reluctant to purchase this item at first as it seemed from other reviews that it was more appropriate for young (pre-teen) girls. But, I printed off a sample of it for my 18 year-old college-bound daughter and she really loved the idea of being able to describe herself and her interests and add her own inspirational message on a piece of canvas art. We were quite impressed with the quality of the canvas art when it arrived and my daughter proudly hung it above her dresser in her dorm room. I purchased the canvas art in purple to match her dorm room decor. She received lots of compliments on it; everyone thought it was so unique!

BETTER THAN AMAZING!
By
Staci R.

(Waukesha, WI) - September 10, 2012 (
See all reviews by this customer
)
I looked all over for something like this for my two daughters when we bought our new home. I ordered one for both, with their own interests. When I received them, they were even better than what I was hoping for... Great quality and it was very special for each of them! The service was superb and it came super fast! I can't talk them up enough.... I would order from this website over and over again! Thank you!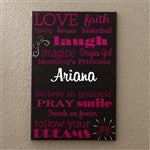 Birthday gift for 7 yr old granddaughter
By
Julie D.

(Bear River City, UT) - August 23, 2012 (
See all reviews by this customer
)
Bought this for my grand daughters birthday, she was so excited! Quality was awesome, came really fast! Looks so cute on her wall.
Ordering 2 more for other grand kids....LOVED them. Love this site,will definately use this site often!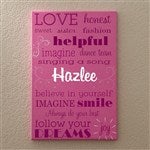 Great Gift Idea for a preteen girl
By
Dawn S.

(Raleigh, NC) - August 7, 2012 (
See all reviews by this customer
)
This was a fun and awesome way for my daughter to create a personaluzed gift for her BFF! She was able to choose words and statements that describe her friend personally!! We had it sent directly to her house addressed directly to her friend. She loved it! Now I know my daughter will be looking to have one made as well!

Wonderful gift idea
By
Shopper

(Burlingame, CA) - August 3, 2012
I love these personalized canvases, having ordered three of them already. The recipients were so delighted to receive such customized gifts (my 11 year old daughter, and 8 year old niece and nephew). The quality was excellent and these will be treasured gifts for years to come.

Personalized Canvas for my Grandchildren
By
Cathy S.

(Scottsdale, AZ) - July 9, 2012 (
See all reviews by this customer
)
I was so pleased with the personalized canvas for my Grand Daughters. It was an adoption gift and it couldn't have been more special.

Nice Finished Product
By
Shopper

(Noblesville, IN) - December 7, 2012
LOVE the final product.
I ordered the Black Canvas w/ the Hot Pink lettering.
Only wish the cute decals on either side of the name were visable.
The barly show up, which actually makes them look more like a mistake than an intended addition to the piece.