Great Quality!
By
Shopper

(Paramount , CA) - June 24, 2014
Bought this shirt for my husband for Father's Day. He absolutely loved it. Great customer service and fast shipping!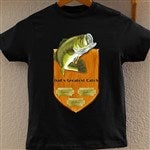 Father's Day T-Shirt
By
Deidre J.

(Sugar Loaf, NY) - June 20, 2014 (
See all reviews by this customer
)
Well made, quality was great. Very happy with purchase.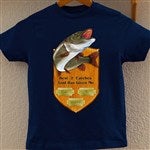 Great product
By
heidi B.

(jefferson, LA) - June 18, 2014 (
See all reviews by this customer
)
Great product my father loved his shirt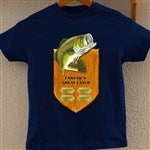 The shirt's a Keeper!!
By
Shopper

(Bayside, TX) - May 31, 2014
Looked even better than it did online. Love it!!!

Product Fav!!
By
Bonnie D.

(New Bedford, MA) - April 9, 2014 (
See all reviews by this customer
)
I purchased this item as a gift for my father. The quality of the t-shirt is great. The printing on the front is of high quality as well. The names are the perfect size and are legible. My father has been asked by many people where he purchased this t-shirt and the compliments keep coming. This by far is his favorite t-shirt! I highly recommend this product!!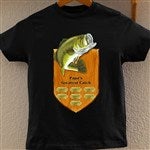 SER
By
Shopper

(Millersport, OH) - August 27, 2013
The shirts and design are just what we ordered, everyone is vary happy with the shirts.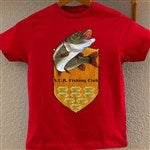 Great Grandpa Gift
By
Shopper

(Seward, NE) - June 22, 2013
Love that there is choice of fish! Good quality of shirt and printing!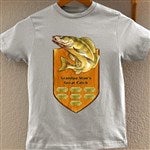 Excellent quality
By
Mercedes A.

(Secane, PA) - June 21, 2013 (
See all reviews by this customer
)
Bought this for my father-in-law who is PASSIONATE about fishing & hunting for father's day. He also loves sweatshirts without the hood and wears them ALL the time. So this was perfect!

I chose the Bass and titled it "Pop Pop's Greatest Catch" I named his wife first, his twin sons, his daughter-in-laws, and his favorite, his granddaughter (my little girl). I chose this order because not only was this in order of his catches (he "caught" his wife first), but w/o his wife he wouldn't have had his sons, who in turn wouldn't have met his daughter-in-laws (one of which gave him his granddaughter that he just ADORES). The greatest catch of his life. Had my 18 month old daughter present the gift to him.

The man doesn't like nor receive gifts well, but this one meant a lot to him.

Only complaint is that it comes in white (dirties up easily). Another color would be great, but honestly, this is only a very minor issue.

He was also shocked at the quality of the image. Most people tend to think you sacrifice quality for customization. But not at personalization mall!!

Can I just say that I LOVE this site? Everything I've bought is of excellent quality, everyone asks me (and compliments me) about my items and LOVE their gifts!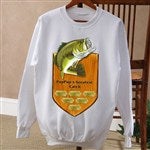 Great gift for Dad/Grandpa
By
Michelle M.

(Miami, FL) - June 21, 2013 (
See all reviews by this customer
)
I love how I can personalize items for specific people. This item was just right for my dad! The shirt was soft & the screening was perfect & clear! Highly recommend!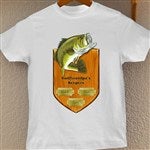 Brought tear's to my Dad's eyes
By
Shopper

(Damascus, MD) - June 20, 2013
I ordered this gift for my Dad with his 2 grandkid's names on it under "Pop Pop's Keepers". It brought tears to his eyes. The shirt is a nice quality, too.
Thanks!

Loved it!
By
Shopper

(Winnsboro, LA) - June 19, 2013
My Dad loved this for Father's Day...he ended up wearing it to church. He was happy and all smiles so I was happy.
The shirt was a good quality shirt and well worth the money including the shipping.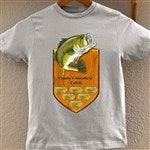 Father's Day gift shirt
By
Shopper

(Homer Glen, IL) - June 16, 2013
Very nicely done and nice quality. Like how quickly your products are received.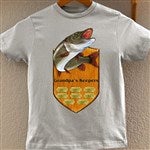 Fishing shirt
By
Megan S.

(Saint Helens, OR) - December 17, 2012 (
See all reviews by this customer
)
I am pleased that the shirt I ordered looks exactly as it shows online.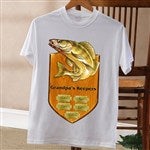 Awesome Shirt!
By
Shopper

(Inwood, WV) - November 2, 2012
This shirt is perfect for the fisherman in your life! My father in law has recently started teaching his grandchildren to fish so this made the perfect "lucky fishing shirt" I know he will love it. The names printed perfectly and the shirt runs true to size. You will not be disappointed!

fish plaque shirt
By
Lori G.

(Allendale, MI) - August 25, 2012 (
See all reviews by this customer
)
It looks great. It's one of a kind.

great printing, quality shirt
By
Shopper

(Hemet, CA) - June 19, 2012
Personalization came perfectly, the shirt is a name brand and is of great quality. Beautiful colors, will definitely order from again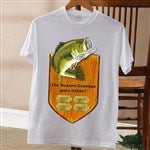 Fisherman shirt
By
Brenda F.

(New Lenox, IL) - November 3, 2012 (
See all reviews by this customer
)
I love the design of this shirt. My husband loves fishing and it was great to put my daughters' names on it. The sizing is off though. I ordered the XL because my husband usually wears a L/XL and it was too small. I had to get the 2X and it is still a little tight.