Excellent service & product
By
Evelyn L.

(Cave Creek, AZ) - June 17, 2012 (
See all reviews by this customer
)
I was pleasantly surprised how quickly the engraving was done & delivery was before the scheduled date. Quality product & service all around!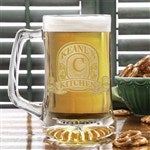 Cool with Personality
By
Shopper

(adams, MA) - October 18, 2013
I loved how the glass came out, but too large. 16-20 oz would have been a more ideal size

Wonderful
By
Shopper

(Kenai, AK) - November 27, 2012
This mug is great! High Quality, heavy, love the handle AND base. Also love how great the inscription looks!! Highly recommend. Will be ordering another in the future.

I can't wait until Christmas to give this to the recipient!
By
Shopper

(Birmingham, AL 35235-3312, AL) - October 16, 2012
This mug is great. It's made of good quality thick glass. The etching was flawless. I am so excited about giving this as a Christmas gift that I almost couldn't wait to show it to him when it was delivered. I just know he's going to love it! =)

gift review
By
sandy D.

(white lake, MI) - October 20, 2012 (
See all reviews by this customer
)
great gift. going ti 40th birthday today, and can't wait to take this. thanks

Great Quality
By
Shopper

(Johnston, RI) - November 26, 2012
I received this product in two days. When I opened the box I was very impressed with the quality of this item. I would recommend this mug to anyone who has that special person in their life who is a beer drinker. If not then just a conversation piece would be an asset to your bar area in your home.

wow!
By
Andy M.

(austin, TX) - November 30, 2012 (
See all reviews by this customer
)
I know the other reviews commented on how heavy they were, but I was NOT expecting anything close to what I received. These mugs are AMAZING. The engraving is raised, so the glass is textured. They're flawless.

Amazing
The mug is amazing. I got it for my boyfriend for Christmas and I'm glad we opened it early because he thought it was awesome. And we will be making one for his dad! He guesses it will hold about 20 oz. so it's big and has a nice sturdy bottom and says it's heavy duty and that he loves it. Plus the etching has a nice depth. Definitely a great present for any person =)

Quality!
By
Shopper

(Ankeny, IA) - December 9, 2012
arrived fast and looks awesome!

Barware
By
Shopper

(Randolph, NJ) - December 10, 2012
The steins I bought came in perfect shape and exactly as viewed online. They also arrived very quickly.

Awesome Quality
By
Shopper

(Duluth, MN) - December 5, 2012
I just ordered this for my boyfriend for Christmas and I think he'll love it. The etching has a good depth, it's not too shallow but not too deep either. I LOVE seeing the work done in the scrolls because it looks just amazing.

Has a nice heavy bottom to it as well and what seems like a sturdy handle. Thanks! =)

Great Quality!
By
Shopper

(Turnersville, NJ) - December 7, 2012
I went back and ordered a second one. Great Quality!

Better Than Expected
By
Shopper

(Tuscaloosa, TN) - December 8, 2012
This is the REAL DEAL! Huge mugs, with beautifully engraved design custom with whatever name you choose. I've bought three pairs of these for friends as wedding gifts, they all seem very happy with them.



MUST SHOP HERE AGAIN..!
By
Shopper

(Canada) - October 12, 2012
AMAZING QUALITY! WAY MORE THAN WHAT I EXPECTED!THANK YOU :D

Great Looking
By
Shopper

(Aurora, CO) - July 6, 2012
I purchased 4 of these for my groomsmen. They look Great! Solid glass, not too heavy, and look like they belong in a Bar.

Happy customer
By
Shopper

(Canton, CT) - July 6, 2012
I was over the top pleased with my recent purchase. The quality was what I expected, nice hefty mugs with deep, beautiful etching.

Wonderful Quality
By
Shopper

(Fredericksburg, VA) - June 13, 2012
Great quality! Definitely will come back and refer others!

Looks great & arrived quickly
By
Shopper

(Chehalis, WA) - June 24, 2012
Heavy, beautiful, perfect... Wish it came with graphics options like a horse or sailboat.

Best mug ever!!
By
Shopper

(Torrance, CA) - June 25, 2012
this is truly the bestest beer mug ever!! It's heavy & thick! The engraving is amazing. U could feel the thickness of the engraving on the glass .. This is a great classic mug.. Better than those stainless steel plated mugs u buy at the mall... I really impressed my hubby on fathers day with this.. If u have a beer drinker to buy for.. This is ideal!!

Beautiful product and fast shipping
By
Jennifer T.

(Bellevue, WA) - June 27, 2012 (
See all reviews by this customer
)
I received my order today and I am very impressed! The mugs are beautiful--with the starburst design at the base, the etched design, and the thick (sturdy) glass--and the turnaround time was remarkable fast. I placed my order on a Sunday evening and, with 2-day shipping, I received my order on Wednesday. (Note: I live in Seattle and I think these shipped from California.) I cannot wait to see my friends' reactions when I give them their housewarming gift on Saturday.

great gift for beer lovers
By
Shopper

(Annandale, VA) - September 6, 2012
I got this mug as a wedding gift for my future brother in law. He, his father, and brother are all, what I like to call, beer connoisseurs (his dad even has beer on tap at his house) and thought it would be the perfect wedding/housewarming gift for him. I used the word "Brewery" instead of "Tavern" and put their wedding year on it. It came out really nicely and the mug is really heavy and durable feeling. This is a good quality product.

Wonderful gift. Great big smile received!
By
Shopper

(Yonkers, NY) - December 25, 2012
Etching looked wonderfully done! I enjoyed that I could add more than just a name on this particular item. Customizing it further was fun and much more personal. Mug is true to size and a solid functional piece. Can't give it 5 stars yet until receiver gives me feedback after repeated use. This has been one of my favorite items purchased.

Deep Etich?
By
Shopper

(Humble, TX) - December 17, 2012
The glass is beautiful and I love it.
The only comment I have is that the description says "Deep Etich"
The eitching on the mug was not deep. I have seen much deeper on other simular products. The glass seemed like it could have witheld a little deeper proccessing. Anyway, over all it was a good product. I might just revise the description.

Perfect for the hard to shop for brother
By
Carlie L.

(Lebanon, OR) - October 1, 2012 (
See all reviews by this customer
)
This mug is beautiful in person and of good weight. And the etching is far deeper then I imagined. I think it will be perfect for my brother and his wife!

Great gift for a special birthday
By
Shopper

(Menlo Park, CA) - September 11, 2012
I gave this to my brother to commemorate his 50th birthday. It looks great, quality was even better than expected, it was well-packed and shipped in a nice box, and my brother loved it. Thanks!


BOTTOMS UP
By
Shopper

(WHITE CASTLE, LA) - March 4, 2014
THIS PROODUCT BRINGS THAT PERSONAL TOUCH TO THE REST OF MY MUGS. IT BLENDS IN YET STANDS OUT AND SHOWS THAT IT IS MY PERSONAL DRINKING MUG,

Fast and professional!
By
Shopper

(San Antonio, TX) - September 15, 2012
What a fantastic glass! I ordered as a gift for my boyfriend, and he loved it. The customization was easy, the glass came quickly, and the etching looks professional! It is a much deeper etch than I anticipated, and I was happily surprised!



Great Quality Mugs
By
Debbie H.

(Frisco, TX) - February 18, 2014 (
See all reviews by this customer
)
The quality of the mugs was more than I had hoped for and the etching turned out perfectly.

A Great Gift for Anyone
By
Marla B.

(Saint Petersburg, FL) - October 26, 2013 (
See all reviews by this customer
)
I purchased this for my boyfriend for Sweetest Day. Being it was a surprise gift, I was so happy it arrived the day before I was expecting it because I was able to sneak it in before he could see it. When I gave it to him the next day, he loved it! The quality of the etching as well as the mug was amazing! It is a heavy duty mug that will definitely hold a lot of your favorite beverage. The personalization makes it unique and one-of-a-kind. My boyfriend was so impressed with it. Now, he can't wait to take it to a party to show it off.

Love It!
By
Ambra B.

(JBER, AK) - January 28, 2014 (
See all reviews by this customer
)
Perfect gift for anyone. Great price and the engraving was flawless. Shipping took a bit longer, but that's usually the case in Alaska.

Great Valentine's gift
By
Shopper

(Hartley, TX) - January 28, 2014
Great quality! The mug is solid and heavy. The etching looks really nice. All of his friends were jealous!

Great drinker's gift
By
Shopper

(Kansas City, MO) - April 20, 2013
This mug will be a go-to item for many occasions. It's hefty, large size, and beautifully crafted.

Great Quality Mug
By
Tiffany Z.

(Kewadin, MI) - February 24, 2013 (
See all reviews by this customer
)
I was very pleased with how high quality, heavy duty this mug is; it has a great weight to it and the etching looks very nice.

Quality Product & Service
By
Vanessa B.

(La Grange Park, IL) - August 8, 2013 (
See all reviews by this customer
)
The glasses were bigger and heavier than I thought they'd be. The etching was done beautifully! I also received my purchase very quickly! Overall, great quality product and quality service!

Great gift
By
Shopper

(Atlanta, GA) - September 3, 2013
Very pleased with the product. We gave a set of these as a gift to a very special friend.

Great Gift
By
Shopper

(gurnee, IL) - September 7, 2013
Gave a set of these to my daughter and husband for their anniversary. They were so pleased with them. They raved about the quality

Thoroughly Impressed!
By
Jamie H.

(Williamsburg, VA) - March 4, 2013 (
See all reviews by this customer
)
This mug is very good quality! Thick and holds two beers, yes, TWO! I ordered it as a gift for my husband and we're going to order more to have a set. Definitely recommend this!

Great product
By
Shopper

(Gibsonia, PA) - May 10, 2013
Ordered as a gift and he was very please at the quality of the product excellent product very solid and fast shipping

Love this product!
By
Shopper

(Scranton, PA) - December 17, 2013
Excellent service and delivery.

Perfect to Give or Keep
By
Catherine K.

(East Islip, NY) - June 2, 2013 (
See all reviews by this customer
)
This stein is hefty! The vintage bar sign design is eye-catching!