Loved this gift and I would buy it again!
By
Shopper

(Livonia, MI) - June 21, 2013
I bought this for a friend who loves to fish and he loved it. However, note that the seat is hard and not soft.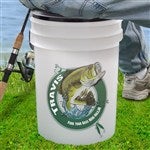 Father-in-law loves it!
By
Shopper

(LILLINGTON, NC) - June 18, 2013
We purchased this for my husbands dad & he likes it so much he said " it's too nice to use!" He fishes almost every single day!!! So for him to say that, says a lot! What do you get for a fisherman who owns it ALL.... This bucket cooler!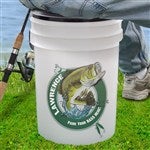 Sit 'n' Fish Bucket Cooler
By
Shopper

(Ambler, PA) - June 7, 2013
The bucket is sturdy and roomy, but the decal has a few bubbles. Better care could have been taken to affix it to the bucket. My husband most likely will not notice this, however, and I think he will be delighted with his gift.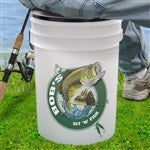 excellent for the fisherman
By
Chelsea C.

(FREDERICKTOWN, OH) - February 22, 2013 (
See all reviews by this customer
)
My father LOVED this.. definitely would recommend!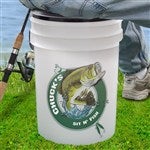 Fishing for a friend
By
Shopper

(Elkhart, IN) - January 21, 2013
I buy from you guys all the time, but this gift was from all the girls in my office. They were trusting me to pick and they love it. Its for a guy in our office who LOVES to fish but is has been feeling poorly lately. We thought this would cheer him up.
Thanks again.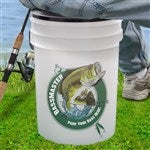 Sit and Fish Pail
By
Gloria R.

(New Orleans, LA) - January 3, 2013 (
See all reviews by this customer
)
I love it and think it is great for a real fisherman. I know the person I gave it to will like it just as much as I do. Thanks personalization.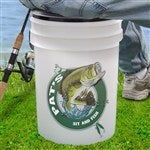 Very Cool Gift for him
By
Heather J.

(Chelsea, AL) - December 12, 2012 (
See all reviews by this customer
)
We bought this as a Christmas gift for my father in law who fishes. The bucket is very good quality and the personalization looks great. Think this will be a wonderful gift for any outdoors-man.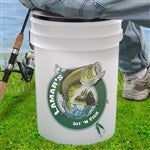 Love this bucket
By
Alice C.

(Saint Louis, MO) - July 27, 2012 (
See all reviews by this customer
)
This bucket is great. It is sturdy and attractive. It was a gift to my son and he loves it.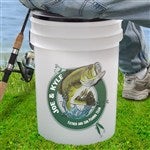 fishn chair
By
Stephanie C.

(Louisville, KY) - July 25, 2012 (
See all reviews by this customer
)
My daughter go this for her papaw for fathers day, an as a old timey fisher (sitn on a bucket an fishn) he loved this plus u can store refreshments n there or put your fish in there,either way its convient an easy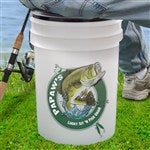 Great gift.
By
Shopper

(Nashville, TN) - December 13, 2012
Its nice. If the person you are getting this for is a simple fisherman this is a useful gift. My dad just uses a regular old bucket so I just thought this was a little nicer.

Small print
By
Shopper

(rancho cucamonga, CA) - June 28, 2013
My husband love this bucket when i gave it to him as one of his fathers day gift. I only gave it 3 stars because the print was smaller than i thought it would be.

Quality has dropped.
By
Shopper

(Kalamazoo, MI) - December 11, 2012
I purchased this item for my husband a few years ago for Christmas and he absolutely loves it! So, I purchased another this year for my brother-in-law for Christmas and was very dissapointed at the drop in quality since my first purchase. The bucket is still very sturdy, but the personalization isn't printed on the bucket like the original. Now it is just a giant sticker stuck on. Not worth the money with the personalization half-effortlessly done.

PERFECT
By
Shopper

(Houston, TX) - October 8, 2012
I got this gift for my dad for his birthday, and he ABSOULTELY LOVED IT!!! I am now purchasing another one for my brother in law, as a Christmas gift. It's very sturdy, and made of good quality!

Bucket
By
Lorenzo R.

(Plano, TX) - November 23, 2013 (
See all reviews by this customer
)
This bucket is so useful....it a cooler and chair. Also, the personalization of the bucket is cool.

Nice!
By
Shopper

(Canada) - July 9, 2014
Nice father's day gift for my sons, who love fishing. They can hopefully pass down to their son's one day, with Daddy's name on them.