Silver Pocket Knife
By
Shopper

(Floydada, TX) - February 13, 2012
The silver knife was a nice purchase (quality), especially the engraving.. It met my expectations. Thanks, Shopper

Nice
By
Shopper

(Spring, TX) - February 10, 2012
I think my friend will like it very much. It is a little smaller then I thought it would be, but it is still very nice. It isnt very sharp. I ran my figure across the blade and it didnt cut me, so if you want to give it to a boy that want a knife and you dont want them to cut them self then this might be a good ideal.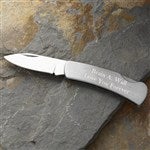 Very Nice, but not very sharp
By
Shopper

(West Union, IA) - December 26, 2011
This took quite a while to ship, but I was very satisfied. It was not very sharp, but it worked great for cutting open holiday gifts! I would definitely recommend this as a personal and inexpensive gift.

Silver pocket knife
By
Shopper

(Orangevale, CA) - December 19, 2011
The knife is nice, much smaller than expected but still very nice. Only issue I have with it is the fact that it is very stiff when opening and closing. I assume over time that will ease up.
I'm sure this knife will be loved as it's a Christmas gift from our daughter.

Cute Gift
By
Shopper

(Harrisburg, PA) - December 9, 2011
The item looks really nice, I actually purchased and personalized it for a girl who is outdoorsy, so a pocket knife is great for her. It's a lot smaller that I expected, but it's a convenient size to avoid being bulky in your pocket.

Great product!
By
Emily K.

(Chesterfield, VA) - October 7, 2011 (
See all reviews by this customer
)
I purchased this knife as an anniversary present to my husband and he loved it! I only wish that it had the size of the blade a little more clear, I was kind of expecting it to be bigger. But it was a terrific purchase and the personalization was beautiful!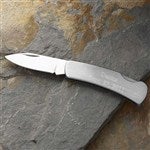 pocket knive
By
Shopper

(Mesa, AZ) - July 25, 2011
engraving is nice, the knive itself is much smaller than it looks in the picture...

Good Gift
By
Shopper

(Rock Hill, SC) - June 24, 2011
This is a good gift for the man that has "everything". However it is on the small side, so it would be more presentable in a box that does not get lost in the black velvet personalization mall bag.

Very Nice
By
Shopper

(Canada) - June 6, 2011
I was very pleased with how the knife turned out. The only complaint I would have about it, is that it's a little on the small side. I understand now why you are limited in characters. It could easily fit in the palm of my hand---and I'm a girl. Still I'm sure my father will be happy with it.
I do recommend it.

Smaller than expecting
By
Steven K.

(Sayre, PA) - April 10, 2011 (
See all reviews by this customer
)
Great knife and craftmenship, looks great. a little small though

Fast response
By
Shopper

(Zion, IL) - March 7, 2011
The first knife I received was broken. I called to ask for a replacement and there was no hassle at all. The new knife came in 3 days. I bought these for the groomsmen in my wedding and they loved them. It is nice to have something personalized and for it to look good. The locking device was a little difficult to use at first but hopefully it will be come easier after using it.

very nice but
By
Shopper

(ben lomond, CA) - January 22, 2011
I have bought this knife in the past for my father and I loved that one.

I still love this knife but my only issue was when i got it the knife was a little scuffed on the back like where someone was taking a sticker off but scratched 2 hard. And the was a little build up or green stuff at the hing of blade. I cleaned that off but cant do anything about scratches. I would buy it again but next time if any issues with it I will call customer service and return it if need be.

Very Nice
By
Jo Ann B.

(Durham, NC) - December 30, 2010 (
See all reviews by this customer
)
The personalization on this knife was absolutely perfect. It arrived in its own black "velvet" bag so the "presentation" and packaging were excellent. The only reason I am rating it four stars versus five is because it was orginally hard to open. A little mrwrench did the trick and it now opens perfectly.

great but small
By
brittany M.

(minersville, PA) - October 29, 2010 (
See all reviews by this customer
)
i absolutely love this knife n the personalzation on it its great but it is smaller than i thought it would be. i thought it would be a normal sized pocket knife n it is like a mini but sides that my boyfriend loves it

Great gift!
By
Megan F.

(Gheens, LA) - October 5, 2010 (
See all reviews by this customer
)
Love the personalization!

great gift
By
rebecca T.

(crestview, FL) - September 15, 2010 (
See all reviews by this customer
)
I got this for my husband as a gift from our daughter and he loved it. its a little small and its dull so it really cant be used. other then that its really nice.

Fast Delivery
By
Jacki A.

(Alabaster, AL) - September 13, 2010 (
See all reviews by this customer
)
IT was a fast delivery and the Inscription on it was correct. My brother really liked this gift for his bday.

Nice quality.
By
Lori S.

(Albuquerque, NM) - July 9, 2010 (
See all reviews by this customer
)
Very nice quality blade. Engraving is a nice touch for a special gift.

Groomsmen gift
By
Nancy D.

(Elizabethtown, KY) - June 2, 2010 (
See all reviews by this customer
)
This made an excellent gift to give to groomsmen at the wedding. The personalization was beautiful and the quality of the knife is great. We ordered 6 of them and they were shipped and received in 2 days.

HARD to close
By
Amber H.

(Waxahachie, TX) - April 6, 2010 (
See all reviews by this customer
)
Nice for the money but very hard to close

Great knife!
By
Jennifer H.

(Worcester, MA) - February 16, 2010 (
See all reviews by this customer
)
The knife is perfect size and the inscribing was beautiful. The shipping was super fast and I didnt even express ship it. It was a wonderful gift for my husband!

Silver Pocket Knife
By
LuAnn L.

(Gahanna, OH) - February 12, 2010 (
See all reviews by this customer
)
The knife is very nice looking, and the personalization is beautiful. The knife opens easily, but the unlock mechanism sticks badly and is very stiff. Hopefully some WD40 will help.

Handy
By
Caitlin S.

(Marshfield, WI) - January 21, 2010 (
See all reviews by this customer
)
It's very handy. And it lets you put a decent amount for personalization on. It's pretty cool. I haven't tested the durability yet, though.

Good Knife
By
Jacinda C.

(Neodesha, KS) - October 8, 2009 (
See all reviews by this customer
)
I ordered this knife for my step dad as a gift for walking me down the aisle. I liked it, except it was pretty small for the price. My step dad liked it though and it was a nice keepsake gift.

Nice
By
Ely S.

(Louisville, KY) - October 3, 2009 (
See all reviews by this customer
)
This gift is for a 11 yr old ring bearer. The engraving looked good. I know that he will love it.