Small Low Quality Product
By
Kyle F.

(Wichita, KS) - July 24, 2012 (
See all reviews by this customer
)
This knife is very small in size. I was disappointed when I received it. The blade is very hard to open and close. I was embarrassed to give this as a gift. Had to purchase something in addition.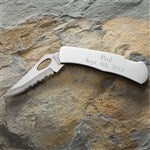 The scoop on the knife
By
Kelsey B.

(San Antonio, TX) - June 17, 2012 (
See all reviews by this customer
)
Honestly , this knife is dollar store quality. The metal is cheap and scratches easily. The blade is pretty flimsy for a pocket knife. The button to bring the knife back in to a safe position gets stuck. My dad has a hard time closing it and he is very very strong and manly. I wouldn't recommend this product. Not to mention they had to resend the knife because the personalization was completely wrong the first time. Will not be buying anything from here ever again.

it was ok
By
Jodi M.

(Schuylkill Haven , PA) - December 28, 2011 (
See all reviews by this customer
)
I wasnt pleased about the placement of the engraving it was not centered well and way to close to the little notch in the knife. Other then that the gift was a hit>

Engraved Pocket Knife
By
Shopper

(Estero, FL) - February 20, 2011
this item was small. yes, it stated the size but i think you should make this item bigger. it would be more appealing. everything else was great.

disappointed
By
Jennifer S.

(Atlanta, GA) - March 22, 2010 (
See all reviews by this customer
)
knife looks just like the picture including the engraving but unfortunately once opened it does not and will not shut!! poor quality and gift is pretty much useless.

overpriced
By
Julian H.

(Irvine, CA) - December 27, 2009 (
See all reviews by this customer
)
after purchasing this, i was searching online and found a bunch of sites that sold way better product for less compared to this site. although everything else was fine, i would buy from a different site.

J. Basham
By
Jarrid B.

(Cool Ridge, WV) - October 7, 2009 (
See all reviews by this customer
)
The knife itself is poor quality, customer service was not up to par. For the money add 5 dollars and go to personal creations in your local mall and buy a better quality knife and better customer service.

Very disappointed
By
Shopper

(Douglasville, GA) - June 22, 2012
This knife is really small and I should have paid more attention to the specs before ordering it. The personalization looks terrible and is more like a light stamp than engraving, and is a little blurry. I wouldn't recommend this.

not what i expected
By
Shopper

(pittsfield, MA) - June 16, 2012
I was disapointed in these pocket knives.I feel the description and product picture were misleading. They were reasonably priced so i gave it a shot, when they arrived I thought they looked cheap. There was no clip on the back of the knife and the engraving was not deep enough so my words looked faded. I will not order this product again. :(

Way too small
By
Shopper

(Madera, CA) - December 8, 2011
I purchased this gift for my husband and I didn't notice the size. It looks like a toy. It's not sharp at all. It is not worth the price. If I could return it I would. I've purchased several items from here and love them all, this is the first time that I don't like something. This is a gift for a child but who would give a child a knife. Thank you