baptismal gift
By
susie E.

(tucson, AZ) - August 1, 2012 (
See all reviews by this customer
)
this was the perfect gift for our grandson's baptism! the wooden cross with his name plus a personal note from grandma and papa with the date makes it a wonderful keepsake for years to come.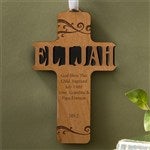 Great item!
By
Shopper

(Canada) - July 31, 2012
Very pleased with this personalized cross. So pretty!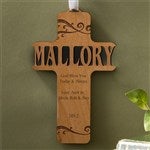 Perfect for baptism
By
Jo F.

(Omaha, NE) - July 24, 2012 (
See all reviews by this customer
)
We ordered this for our grandson's baptism. I would have liked it better had it been larger and slightly heavier, but otherwise, it was perfect. The fact that it can be personalized makes it even more special, and we loved the way the name is carved into the wood.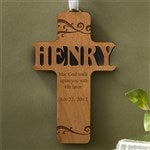 Very nice but smaller than I expected
By
Andrea L.

(Batavia, IL) - April 12, 2013 (
See all reviews by this customer
)
I bought this for my nephew who is getting baptized at an older age (4 years old). I didn't want anything too babyish. I love the design but wish it was larger considering the price. I bought a different style of cross for another present and it was thicker and bigger. Beautiful craftsmanship but just disappointed in the size.

Personalized Cross
By
Shopper

(Celina, OH) - July 19, 2013
Cute but VERY small

beautifully personalized
By
Shopper

(Henderson, NV) - January 31, 2014
For those unusual names, this is the perfect special gift! We gave it to our Godson for his Baptism. His family loved it. Yes, it is small, but no smaller than the dimensions listed on the web page. It's beautifully made. I'm thrilled with my purchase.

very nice
By
Shopper

(Martinsville, NJ) - January 14, 2013
Unique gift for christening because you can personalize. But arrived with an odor of burnt wood or clove smell. Airing it out and hope the smell goes away by christening. No one else mentioned this in reviews so don't know why its just me but had to mention it

Very Fragile
By
Shopper

(Ottawa, OH) - March 3, 2013
It looks great but it's very lightweight, making it easy to break.

Baptism
By
Shopper

(El Granada, CA) - March 30, 2013
Nicely done, but disappointed, much smaller and thinner that I was expecting, then it's not even in a box, just a cardboard envelope. Kinda cheap looking so now I need to buy something else to go with it. Guess I didn't read the dimensions

This was a great baptism gift
By
Shopper

(San Jose, CA) - August 3, 2012
My good friend baptized her daughter and I bought this for her. She loved it. It fit the occasion and it was personalized, which made it even more special.

Beautiful
By
Abby Z.

(Aurora, OH) - August 19, 2012 (
See all reviews by this customer
)
This personalized cross is so beautiful and adds the perfect touch to a little ones room. I got it for my niece for her baptism and it was the perfect gift. It is a little small but that being said I knew that when I bought it given the dimensions, I think it would be amazing as a slightly bigger cross. Considering the size of it, the quality is sturdy and well made. I would suggest this to anyone looking for something to add to a gift or to get something small.

What I was looking for
By
Kimberly N.

(Eau Claire, WI) - August 20, 2012 (
See all reviews by this customer
)
I was happy with the craftsmanship of this product. It is the perfect small gift for a baptism.

Lovely
By
Shopper

(mountain lakes, NJ) - January 25, 2014
This is going to be part of a christening gift. It is very attractive and I know that it will be a hit.



CHILD CROSS
By
Shopper

(NORTHERN CAMBRIA , PA) - January 13, 2014
this cross was for my great grandsons christening..everyone loved it
a very nice keepsake.

Great Gift
By
Rita A.

(Sioux Falls, SD) - December 28, 2013 (
See all reviews by this customer
)
I was very pleased with this gift. The quality was good. It was a little smaller than I anticipated but color, engraving and verse was done beautifully. I purchased it for my grandson's baptism and it was perfect. It will be a beautiful addition to his wall.

Very disappointed - Way tooo small
By
Shopper

(Alexandria, KY) - March 17, 2014
I am so disappointed with this product. The picture is very misleading. It is the size of an ornament. Plus I am very disappointed in how Personalization Mall handled my online chat. Since others have complained about the misleading picture and the real size of the cross, you would think that they would make this larger instead of disappointing their customers. From now on, I will need to read the negative reviews first. Never had to do that before. Sad....

Excellent product
By
Shopper

(Sagamore Hills, OH) - March 25, 2014
Very thin, but very nice!

Disappointed
By
Shopper

(Broadway, VA) - December 26, 2012
The picture made the product look much bigger than it was. I probably should have looked at the specs, but was so happy with the find (at least picture wise) that I must have missed them. I was very disappointed when I received the cross. It is not "wood", but a material that is made to look like wood (I don't even know the name of the "material" is). I have gotten many gifts from PersonalizationMall.com that I have been thrilled with, but this was not one of them. I was very disappointed.

Great Christening Gift
By
Shopper

(East Meadow, NY) - August 23, 2014
This is one of the most unique and beautiful Christening gifts I have ever seen. The wood is very similar to a birch and is sturdy. If it happened to fall off the wall, it would not chip. I'm so glad I discovered and took a chance on this. The engraving is clear and perfect. Thank you.

Repeat Customer
By
Shopper

(Klamath Falls, OR) - May 25, 2014
I am very satisfied with this online store.
The site is easy to navigate.
The item description is exactly everything you need to know when deciding which item to buy.
The check out is easy.
The email notifications on my purchase where exact.

I made a mistake on my spelling and customer service helped me fix it far and above my expectations.

Once again I am a very satisfied customer. I have shopped here for multiple gifts and will continue in the future.

Tooooooo small!
By
Shopper

(Staten Island, NY) - February 9, 2013
nice- but image ptovided gives impression that cross is much larger-- extremely too small as gift- especially fo the price

QUALITY KEEPSAKE / VALUE / GREAT GIFT
By
chris R.

(vista, CA) - March 17, 2014 (
See all reviews by this customer
)
QUALITY WAS BETTER THAN WE EXPECTED. EDGES WERE SMOOTH AND NICELY FINISHED. ACCURATELY REPRESENTED IN DESCRIPTION ONLINE. NO COMPLAINTS WHATSOEVER. WE WILL PURCHASE TO CELEBRATE EVERY BIRTH IN THE FUTURE. ESPECIALLY NICE FOR CHILDREN WITH UNUSUAL OR HARD TO FIND PERSONALIZED/NAME PRODUCTS. GOOD VALUE. YOU WILL NOT BE DISAPPOINTED WITH THIS PRODUCT. WE HAVE PURCHASED SEVERAL ALREADY.

smaller cross than expected
By
Shopper

(Derby, CT) - October 14, 2012
The cross is a bit smaller than I expected. It is also very thin and seems a bit "cheap" looking. The name and words make it appear nicer.

Beautiful but very small
By
Julie S.

(Bartlett, IL) - October 21, 2012 (
See all reviews by this customer
)
They did a great job but unless you are looking for something the size of a large ornament probably not the best choice. I should have checked the dimensions as I was disappointed.

Everything is great
By
Shopper

(Salem, VA) - February 17, 2014
The cross came exactly how we wanted it and looks great. The order shipped very quickly. The parents of the child baptized loved the gift! We are very happy with the purchase.

Wood cross
By
Shopper

(Eureka, NV) - February 17, 2014
I love this cross! It's a wonderful gift at a great price and so personal!

disappointed
By
Shopper

(New Braunfels, TX) - March 25, 2014
This is the first item I have ordered from you that I was not pleased with. I felt it was very thin which in my opinion gave it a cheap appearance.

Engraved cross
By
timothy L.

(sugar land, TX) - April 25, 2014 (
See all reviews by this customer
)
Was not at all what I expected. Very small and cheap material. Plus it had a chemical odor:( I was very disappointed.

Bless this child cross
By
charles G.

(Des Moines, IA) - January 27, 2014 (
See all reviews by this customer
)
Great gift idea I am glad I ordered it AND I got it soooooooo fast

Bless This Child Personalized Wood Cross
By
Shopper

(cocoa, FL) - March 12, 2013
Exactly as it is described. Makes a very nice gift. I am a satisfied customer

Follow up...
By
Shopper

(WOODBRIDGE, VA) - March 8, 2013
Liked it so much, just ordered two more!

Adoption gifts
By
Karen B.

(Tucson , AZ) - January 27, 2014 (
See all reviews by this customer
)
Love the look of the crosses and the personalization was accurate. Taking these to Bristol United Kingdom for my two adopted granchildren.

Great gift
By
Monica H.

(odem, TX) - December 15, 2013 (
See all reviews by this customer
)
I bought it for a baby shower gift. Just a little surprised how small it was, I didnt pay attention to the measurements on the site.

Baptism gift
By
Donna G.

(Akron, NY) - December 19, 2013 (
See all reviews by this customer
)
Perfect size for baby's room or to hang on a Christmas tree. One negative was that the product smelled like burnt wood.

Perfect gift idea
By
Shopper

(Timonium, MD) - April 2, 2013
These crosses are beautifully made. Perfect for christening gifts.

Beautiful piece
By
Shopper

(Centerport, NY) - January 4, 2013
Such a beautiful cross. The engraving came out amazing. Received compliments and oohs and ahhs!

Baby Dedication
By
Shopper

(Wexford, PA) - September 7, 2012
The perfect gift for a baby's baptism or dedication-beautiful!!
This came so very quickly after I had placed my order.

Personalized Wood Cross
By
Shopper

(Tinley Park, IL) - September 30, 2012
I'm very pleased with the beauty and quality of this personalized wood cross. Plus I was amazed at how quickly the order was delivered! It made a lovely Christening gift for my granddaughter.

Baptism gift
By
Shopper

(Lynn, MA) - February 16, 2013
The cross for my grandson is beautiful!! We love it. Your company delivers excellent products and service. Thank you

Nice
By
Mary Ann S.

(Verona, PA) - March 21, 2014 (
See all reviews by this customer
)
The cross was pretty, but a lot smaller than I thought it would be.