Personalized Cross
By
Shopper

(Celina, OH) - July 19, 2013
Cute but VERY small

Very nice but smaller than I expected
By
Andrea L.

(Batavia, IL) - April 12, 2013 (
See all reviews by this customer
)
I bought this for my nephew who is getting baptized at an older age (4 years old). I didn't want anything too babyish. I love the design but wish it was larger considering the price. I bought a different style of cross for another present and it was thicker and bigger. Beautiful craftsmanship but just disappointed in the size.

Small
By
Shopper

(Buffalo Grove, IL) - April 8, 2013
Guess I didn't read the measurements because this was much smaller than expected. I really like it, but it isn't much bigger than a Christmas ornament. I was expecting a little bit larger cross.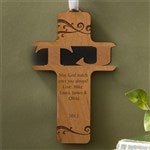 Baptism
By
Shopper

(El Granada, CA) - March 30, 2013
Nicely done, but disappointed, much smaller and thinner that I was expecting, then it's not even in a box, just a cardboard envelope. Kinda cheap looking so now I need to buy something else to go with it. Guess I didn't read the dimensions

Very Fragile
By
Shopper

(Ottawa, OH) - March 3, 2013
It looks great but it's very lightweight, making it easy to break.

very nice
By
Shopper

(Martinsville, NJ) - January 14, 2013
Unique gift for christening because you can personalize. But arrived with an odor of burnt wood or clove smell. Airing it out and hope the smell goes away by christening. No one else mentioned this in reviews so don't know why its just me but had to mention it

Dedication gift for my Great Nephew
By
Merle S.

(Gardner,, KS) - December 30, 2012 (
See all reviews by this customer
)
I wished I would have checked the dimensions. I thought it would be larger. The product was nice but I was expecting something slightly larger.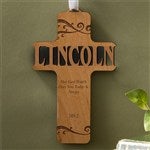 Beautiful but very small
By
Julie S.

(Bartlett, IL) - October 21, 2012 (
See all reviews by this customer
)
They did a great job but unless you are looking for something the size of a large ornament probably not the best choice. I should have checked the dimensions as I was disappointed.

smaller cross than expected
By
Shopper

(Derby, CT) - October 14, 2012
The cross is a bit smaller than I expected. It is also very thin and seems a bit "cheap" looking. The name and words make it appear nicer.

Engraved cross
By
timothy L.

(sugar land, TX) - April 25, 2014 (
See all reviews by this customer
)
Was not at all what I expected. Very small and cheap material. Plus it had a chemical odor:( I was very disappointed.

disappointed
By
Shopper

(New Braunfels, TX) - March 25, 2014
This is the first item I have ordered from you that I was not pleased with. I felt it was very thin which in my opinion gave it a cheap appearance.

Not worth the price
By
Shopper

(Kissimmee, FL) - February 11, 2014
It's a nice personal cross but I thought it would be heavier. Extremely lightweight! Highly disappointed in quality and packaging.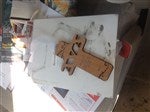 Nice, but not what you see
By
Alison B.

(Kinderhook, NY) - January 25, 2013 (
See all reviews by this customer
)
I saw this item and thought that it was unique and represented the cross well, I just did not realize that it was so small. When looking at the photo, it looks about 12 inches high by 12 inches wide, (read the size) it is much smaller than it appears, but is the right size listed. If I knew that it was so small, I would have not purchased this one, rather looked for something different or had it made else where. Don't be fooled by the size. Plus the wood is flimsy and easy to crack or break, Choose something different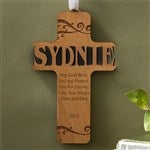 DISAPPOINTED
By
Shopper

(St. Louis, MO) - September 18, 2012
Although the cross was unique in its cut-out name design,the
size was smaller than imagined and the printing was barely legible.
It seemed more like an ornament than a cross for the wall.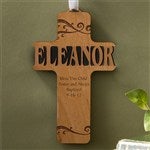 Disappointed
By
Shopper

(Deltona, FL) - September 16, 2012
Realize you get what you pay for, but still was disappointed in the size and thickness of this piece. Probably won't even give it to who I ordered it for. Does not look as good as the photo does.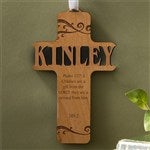 Disappointed
By
Ronni M.

(Wallington, NJ) - April 18, 2014 (
See all reviews by this customer
)
I was disappointed with this cross. Very small and thin piece of wood. Not at all what it looked like on- line. The price is exorbitant for the shoddy piece of work. This was a gift for my grandson's first communion. I am going to look on another site for a much nicer cross. I am sure that won't be hard to do. Will never order anything from here again.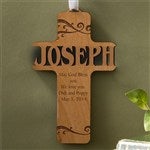 Very disappointed - Way tooo small
By
Shopper

(Alexandria, KY) - March 17, 2014
I am so disappointed with this product. The picture is very misleading. It is the size of an ornament. Plus I am very disappointed in how Personalization Mall handled my online chat. Since others have complained about the misleading picture and the real size of the cross, you would think that they would make this larger instead of disappointing their customers. From now on, I will need to read the negative reviews first. Never had to do that before. Sad....

Tooooooo small!
By
Shopper

(Staten Island, NY) - February 9, 2013
nice- but image ptovided gives impression that cross is much larger-- extremely too small as gift- especially fo the price

Wood Cross item 1932
By
BRENDA T.

(BELLEVILLE, NJ) - January 29, 2013 (
See all reviews by this customer
)
Am very disappointed in the quality of this product. It is made of 1/4" thick alder wood which feels and looks like cardboard (could snap the item in half using my small hands)- will send back. Can't possible give someone this as a gift, looks like a cheesy. Guess I was paying for the laser cutting on the thin alder wood.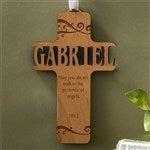 so small
By
Shopper

(El Paso, TX) - January 6, 2013
Its not worth the price. It's too small.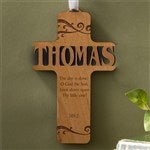 Disappointed
By
Shopper

(Broadway, VA) - December 26, 2012
The picture made the product look much bigger than it was. I probably should have looked at the specs, but was so happy with the find (at least picture wise) that I must have missed them. I was very disappointed when I received the cross. It is not "wood", but a material that is made to look like wood (I don't even know the name of the "material" is). I have gotten many gifts from PersonalizationMall.com that I have been thrilled with, but this was not one of them. I was very disappointed.

way too small
By
Amanda P.

(Arlington, WA) - October 16, 2012 (
See all reviews by this customer
)
This is the first gift that I have bought that I was disappointed in from this website. It was much too small, and not at all what I was hoping for.