Personalized luggage tag
By
Shopper

(Chula Vista, CA) - December 15, 2013
Great quality. I was even able to add a travel quote!


Awesome Luggage Tags
By
Laura B.

(Greenville, SC) - December 15, 2013 (
See all reviews by this customer
)
I could not have been happier with this product. The laser engraving was beautiful and it was the perfect accessory to give my son-in-law along with his new luggage!

Great
By
Shopper

(Dallas, NC) - December 15, 2013
Very nice. Beautifically made. Thanks

Perfect
By
Melissa R.

(Radcliff, KY) - December 14, 2013 (
See all reviews by this customer
)
I love personalizationmall.com! Everytime I order, it comes out perfect. Not to mention I received it when they said it would arrive!

Unusual and classy
By
Shopper

(Miami, FL) - December 12, 2013
I purchased this for my husband's medical equipment. It will help identify his equipment when we travel. I'll probably be ordering more.

Very nice quality
By
Krista M.

(Syracuse, NY) - December 10, 2013 (
See all reviews by this customer
)
I ordered two of these luggage tags for my brother and his soon to be wife, so I had her soon-to-be last name engraved. I will be giving them as a Christmas gift for this year so they can use them next year on their honeymoon. I received the tags and they were very nicely made, just as the picture displays. They smell like a campfire - which I also enjoyed :) Overall, I recommend these items. I have no review on how well they hold up over time, but as appearance goes - they look very nice.

WOW!
By
Shopper

(OAKLAND PARK, FL) - November 20, 2013
I ordered these luggage tags as a gift and was pleasantly surprised by the quality of the tag. They are much thicker and stronger than they appear on the web page. The embossing of the letters came out beautifully and crystal clear.
I loved them so much I ordered some for myself!


Great quality
By
Shopper

(Ocala, FL) - November 19, 2013
Love how the tag came out. I did the block lettering and it was perfect for my frequent traveler in the family! It is masculine enough for the recipient and seems like it will sustain the airport luggage handlers lack of TLC.

Wonderful gifts and they double as Gift tags
By
Shopper

(Huntington Beach, CA) - November 4, 2013
My nephews (ages 3 and 6) wanted identical bowling bags for Christmas. These bag tags were perfect so I could have their individual names and a special message listed. The tags are gorgeous and look long wearing. I'm extremely pleased and would buy as a luggage tag in the future too. Price was extrememly reasonable considering overall quality and fast turn around time.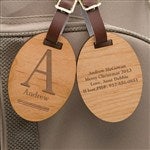 Excellent product
By
Shopper

(Pompano Beach, FL) - October 30, 2013
Purchased two of these tags as a present and was absolutely satisfied with the quality of the material as I hoped it would be sturdy enough for when luggage is tossed around . The inscription was beautifully etched and the tags are just the right size.

Very Nice
By
Shopper

(Houston, TX) - October 18, 2013
Great quality tags. They actually look better than the picture.

Perfect to use as gift tags.
By
Shopper

(Tulsa , OK) - June 21, 2013
I purchased 9 of these to use as gift tags on gift bags. Room for not only an individuals name but also sentiments on the back. Good quality at a good price.

Wonderful!!!
By
Annie R. W.

(Chicago, IL) - June 21, 2013 (
See all reviews by this customer
)
I brought some for me and a friend and my girls for Mother's Day..everybody loved them...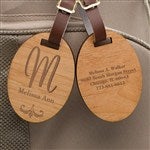 great present for father's day
By
Claudia T.

(Jersey City, NJ) - June 11, 2013 (
See all reviews by this customer
)
Good quality, big and visible. The initials are big enough to be seen from far. Loved it!

Classy
By
Linda F.

(Cox's Creek, KY) - June 3, 2013 (
See all reviews by this customer
)
A gift for my husband. The tags look masculine, sensible, and very classy.

Great!!!
By
Annie R. W.

(Chicago, IL) - May 20, 2013 (
See all reviews by this customer
)
Got each of my wonderful girls one each... they loved them!

Be aware....there is only one tag!
By
Karen P.

(Snow Hill, NC) - April 14, 2013 (
See all reviews by this customer
)
The quality of this lovely wood tag is excellent. Very durable and nicely engraved right into the wood surface with a sturdy strap. I am very satisfied with the quality. However, the picture is very deceiving. Especially when viewed along with other tags being offered. The picture shows front and back views of the tag. The other tags being sold also show front and back. This description says merely "personalized wood bag tag" whereas the others actually do say "bag tag set." Evidently after viewing quite a few tag "sets", I came upon this one and was not alerted to the fact that despite the picture shown, it is indeed just one tag. I purchased a different "set" for my daughter-in-law, receiving two tags. This one I got for my son, expecting to get two tags, but turns out now he only has one tag. Just be careful to read the description and not just look at the picture!

Great Tags
By
Lynn C.

(Opelika, AL) - February 25, 2013 (
See all reviews by this customer
)
I am very pleased with the luggage tags. I bought them for my husband who is traveling more in his job. It will be easy for him to spot his luggage now. They are really handsome looking. I am thinking of order more for Gym bags and other bags we use.

A Very Classy Gift
By
Shopper

(Singapore, OR) - January 15, 2013
This is a very classy personalization gift and useful for frequent travellers.

Perfect for Travel
By
Sheryl B.

(Los Angeles, CA) - January 13, 2013 (
See all reviews by this customer
)
Just the perfect item needed to tag my bags. Now I am able to get my bags quickly from baggage claim.

Great Gift Idea
By
Shopper

(Berkeley , IL) - January 3, 2013
They turned out GREAT!! I love the unique idea of personalized "WOOD" luggage tags. Service is awesome too!

classy tags
By
francie S.

(san diego, CA) - December 29, 2012 (
See all reviews by this customer
)
love how unique these are perfect for a briefcase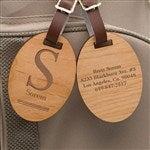 Classy, but simple
By
Shopper

(Shreveport, LA) - December 29, 2012
I bought it for my 14yo son to use. He like it. Not flashy & cool. And also got one for my daughters boyfriend. I put his name on the front & a personized quote on the back. Dresses up his college backpack. Nice.

Best bag tags ever!
By
Shopper

(North Las Vegas, NV) - December 28, 2012
Great gift idea for those travelers in your life

Wood Bag Tags
By
Amelia G.

(New Britain, CT) - December 24, 2012 (
See all reviews by this customer
)
This product turned out to be everything I expected and more. Very classy and elegant.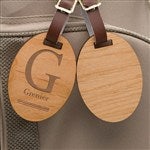 Great gift
By
Hector C.

(Danbury, CT) - December 16, 2012 (
See all reviews by this customer
)
My boss loved it! Well crafted, great wood. Much better quality than I anticipated.

Awesome
By
Marianne L.

(Canada) - December 6, 2012 (
See all reviews by this customer
)
I love this. It is a stocking stuffer and I'm so impressed. I didn't think it would be so thick and durable. My boyfriend is going to love it. I may even order him more.

Be aware that there is only ONE in this order.

Wooden Luggage Tage - NICE!!
By
Suzanne M.

(Sacramento, CA) - December 4, 2012 (
See all reviews by this customer
)
I was very pleased with the tags! I was surprised as they were a really good size, too. I am always stumped as what to order the doctors I support when it comes to presents, afterall, they can afford to buy themselves the best of everything. This looks like an expensive and thoughtful gift that didn't actually cost me an arm and a leg! I am very happy with my purchase and have shown it to many friends who will be shopping Personalization Mall, too!! Thank you!

Very attractive
By
Robert G.

(College Park, GA) - November 26, 2012 (
See all reviews by this customer
)
I planned on putting this in my wife's Christmas stocking, but it was so cute that I gave it to her when it arrived. The tag seems to be nicely durable. The leather tag strap seems appropriate for a bag tag.

Impressed!
By
Shopper

(Aurora, IL) - June 13, 2014
I am very pleased with this purchase. The quality appears strong (I guess after use we will know for sure) but it turned out just as it was pictured on the site.

Nice Luggage Tags
By
Yolanda K.

(Pembroke PInes, FL) - June 12, 2014 (
See all reviews by this customer
)
I purchased luggage tags for me and my mom. The tags are of good quality and to my surprise they are a lot thicker than I imagined. My only disappointment is I thought it included 2 luggage tags. Now the price has increased.

Satisfied
By
Kelly W.

(White Plains, MD) - February 11, 2014 (
See all reviews by this customer
)
I ordered this product for a gift - it came very quickly and customer service was very friendly when I needed a quick change to my order.

Bigger than I imagined
By
Shopper

(Des Moines, WA) - January 22, 2014
I was really surprised at the size of these tags once they arrived.its about 3.5 inches high and 2.5 inches wide... I imagined them key chain sized. Nevertheless, they were beautiful and smelled as if personalizations were just burn out on them. They look great, only concern would be how well they will hold on a bag/luggage as the belt buckle opens up quite easily at the slightest pull... can that be changed to a better buckle or something more secure? We all know our bags are NOT handled with care...Otherwise a very cool product and looks great.

What a wonderful Christmas Gift!
By
Vivian M.

(Indianapolis, IN) - December 27, 2013 (
See all reviews by this customer
)
I bought two of these wood bag tags for Christmas gifts - one for my son-in-law who begins teaching next year, and another for my boss who travels a lot. They absolutely loved them! I plan to order more for birthday gifts.

decent
By
Shopper

(Highland, IN) - December 25, 2013
I agree with one of the other reviewers that the wood has an odor to it and the straps could possibly break due to the quality. The engraving on the wood is beautiful.

bag tag
By
Shopper

(Lebanon, OR) - May 26, 2013
I was slightly disappointed that the tags didn't have any finish on them to protect them from wear. I do plan to apply some finish and then everything will be good.

Great luggage tag
By
monika F.

(long beach, NY) - May 5, 2013 (
See all reviews by this customer
)
I ordered these as a gift for my bridesmaids since I am having a destination wedding. I was skeptical that the wood would be cheap & flimsy. However, they came out great! The only thing I'm not in LOVE with is the leather strap. It doesn't look cheap but it's not the best quality either. I m happy with this purchase :)

Personal and Fun!
By
Trisha K.

(Victoria, TX) - December 27, 2012 (
See all reviews by this customer
)
Great product. Bought for Christmas gifts and they loved them. Thanks!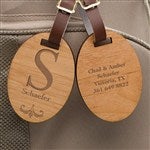 Nice purchase
By
Kathleen R.

(Palm Coast, FL) - December 24, 2012 (
See all reviews by this customer
)
Not too flashy but unique so black luggage can easily be identified coming down the carousel. Shipped very quickly and excellent quality.

Cute stocking stuffer
By
Shopper

(San Mateo, CA) - December 12, 2012
This tag looks great and is a nice gift. However, I doubt the durability of this tag actually surviving a trip to the airport.