25th Anniversary
By
Shopper

(SAINT LOUIS, MO) - July 6, 2014
It was a little hard following the layout but I just put my words in and then just exchanged the ones I wanted to change. It turned out very well done. I haven't given it yet but I feel sure my daughter and her husband will like it.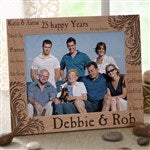 Amazing!
By
Deidra J.

(Stokesdale, NC) - June 2, 2014 (
See all reviews by this customer
)
I ordered this picture frame for a family that was adopting our former foster child. I was able to customize it with all their names and key words that relate to adoption. The family LOVED it and the Department of Social Services wanted to know where they could purchase them as well! Thanks for making my gift to the family personal!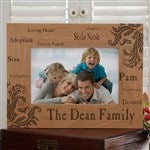 Grandparents frame
By
Shopper

(Chula Vista, CA) - September 15, 2013
I used this one as a frame for my in-law grandparents because of all the help they gave us with our wedding. The frame turned out lovely. Just had to change the wording. Looks great. I will be putting a photo of the 4 of us from the wedding in it.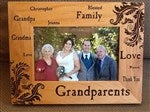 Commemorated our weekend trip together
By
Shopper

(Kyle, TX) - July 9, 2013
It was a great way to make a personalized memory of a weekend trip we shared. It looks polished and professional. A gift I am proud to give with a photo highlighting our weekend.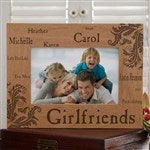 Great quality
By
Shopper

(Corcoran , CA) - June 5, 2013
The personalized frame looks great. Good quality and I loved the many personalization options.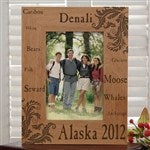 Perfect!
By
Shopper

(Bensalem, PA) - December 10, 2012
This is the 3rd frame that I ordered, as a gift, and it was exactly what was shown and what I wanted! Couldnt have been any happier!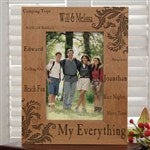 newlyweds
By
Shopper

(providence, RI) - October 16, 2012
Perfect sentimental gift for a good friend!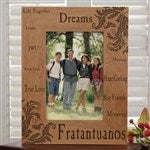 Terrific gift
By
Kim F.

(Springfield, VA) - October 13, 2012 (
See all reviews by this customer
)
Loved the personalized wooden frame. You can move lines around and keep previewing until you get them where you like them! A perfect gift!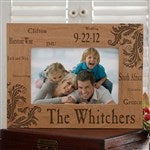 Perfect gift!
By
Shopper

(Canada) - July 31, 2012
This is a wonderful item and perfect gift for my son's baseball coach!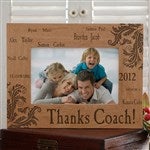 Bought as a gift!!!
By
Shopper

(Alexandria, LA) - September 6, 2012
My friend and I picked a "picture frame" theme this year for Christmas gifts. I bought this one for her. I can't wait to be able to give it to her...I know she's going to LOVE it!!!

Such a great gift
By
Shopper

(ladera ranch, CA) - August 4, 2012
Such a special gift and the quality is amazing!! Love that you can personalize it to make it the perfect gift for someone special. Nice quality frame and the personalization looks just like it did in the preview. Very happy with this purchase!!

Personal gifts at their best!
By
Shopper

(East Palatka, FL) - December 12, 2012
This frame can be personalized in so many ways and I've used it for various special days...birthday, Christmas, Anniversary, etc. The recipients always love the frames because of the personalization.

Exactly as pictured/
By
Shopper

(Tucson, AZ) - October 15, 2012
The frame comes out exactly as pictured in the cart. Great Gift!

Family Pride 4 x 6 frame
By
Joy P.

(Woodstock, MD) - September 23, 2012 (
See all reviews by this customer
)
the product is great..I entred a wrong letter and could not correct it even though I called the 1-800 number immdeiately, so I had to order another.....my mistake but I was hoping it could have been corrected without me buying another...

Loving Memories Personalized Photo Frame
By
Sharon M.

(Marlboro, NJ) - September 18, 2012 (
See all reviews by this customer
)
I love this frame! It gave me the opportunity to have heartfelt adjectives that describe my mother surround a sentimental photo. Everytime I look at this frame I smile.

Customer Event
By
Shopper

(Mesquite, TX) - October 15, 2012
I purchased this frame to send to our clients after a corporate event to Chicago. I was able to include all of the exciting events and attraction they saw on the frame. With their picture from the event framed it was a great way to have a reminder for years to come of the great time they had in Chicago. The frame was good quality and we recieved the frames amazingly quick. Will definately want to order these again.

First Husker Game for Grandson
By
Dale M.

(Richmond , VA) - December 20, 2013 (
See all reviews by this customer
)
The picture frame exceeded awesome...words can not describe how happy I am with the finished picture frame,it will be cherished for many years to come. I will recommend this site to anyone looking for the that something special for that someone special!! Keep up the great work, it is very hard to find this type of quality when ordering on line.


Love it!!!
By
Shopper

(Germany) - December 4, 2013
I love it!!!

Beautiful Frame
By
Kathy H.

(Louisville, KY) - January 24, 2014 (
See all reviews by this customer
)
Purchased this as a gift. I had all of the family names engraved on it. Unique! Personalization Mall is where I shop for special gifts for special people.

Vacation photo frame
By
Shopper

(Oklahoma City , OK) - July 9, 2014
It was exactly what I was wanting. It turned out really good. Definitely will use them again.

Vacation picture frame
By
Shopper

(Oklahoma City , OK) - July 9, 2014
It was exactly what I was wanting. It turned out really good. Definitely will use them again.

Beautiful frame & quick receipt
By
Jacki D.

(Hawthorne, NJ) - August 5, 2013 (
See all reviews by this customer
)
Exactly as it appears in the preview photo is how the actual frame came. I highly recommend this frame for for anyone looking for something completely personalized. I am giving these as gifts to remember our family reunion in Aruba this year!

Truly One of a Kind
By
Shopper

(Reston, VA) - December 20, 2012
Every single line of this frame is customized by you. Show your creativity and how well you know the recipient. You make up a unique theme like favorite things to do, hobbies, travels or life events, etc. It allows you to preview it and switch out the text in any order or form to make the best presentation. You can make a one-of-a-kind gift that will truly honor the special relationship you have with the recipients. They'll love it!


Very pleased
By
Shopper

(Cordova, TN) - December 17, 2012
This will be a hit. I made one for my boss with our picture in it and it will be perfect. I also purchased another that will be appreciated. Great quality and quick shipping. Highly recommend

Excellent gift idea.
By
Legg A.

(Schenectady, NY) - December 31, 2012 (
See all reviews by this customer
)
I love all of these customizable frames. they are great value, excellent quality and the customization is terrific. This is my "go to" gift for anyone who is hard to buy for. LOVE!

Happy Purchaser
By
Shopper

(Wilson, LA) - April 9, 2013
I bought this as a gift for a new grandmother. In the place of the family name at the bottom of the frame, I put the new grand daughter's name. In place of the other sentiments, I added things such as baby's weight, and birth date, and other descriptive phrases. It was delivered looking just like the preview had looked on the screen. The recipient loved it. It really makes a great gift that you can customize for any occasion.

Perfect gift!
By
Shopper

(Miami Lakes, FL) - February 6, 2013
The frame was absolutely perfect. I was able to incorporate memories of our childhood as a gift for my cousin's birthay. Everyone was wowed!