Thrilled!
By
Gayle F.

(Metairie, LA) - December 2, 2011 (
See all reviews by this customer
)
I wanted to give my precious niece something special for her 40th birthday and saw this on your site. I went through the photos on her Facebook page and selected one of my favorites. The afghan arrived in plenty of time for the big day. What I didn't know at the time was that that particular photo was taken by her mother on the night that my niece won an international Polaroid award, so it was extra special to her, too. She loved it so much that she hauled that bulky gift through the streets of New York to her workplace to show it off to everyone. It's a real thrill when something you give is appreciated so much. Thanks, Personalization Mall! We did good!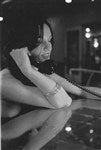 perfect !!!
By
Monica S.

(pittsburgh, PA) - January 13, 2013 (
See all reviews by this customer
)
The quality of the picture was unbelievable!! Perfect !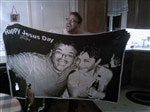 Photo Is Perfect
By
Shopper

(Benson, NC) - January 8, 2012
This was a birthday gift from my sister. We just lost one of our beloved furkids and she had Bethany's photo put on this afghan with a message. It brought on many tears for all of us but it is so beautiful. You can see every detail of her face, especially her precious eyes, and paws and that makes it seem that she is here..still looking at us. I would recommend this to anyone that wants to have a keepsake for whatever reason with a picture you can clearly see and enjoy. Thank you.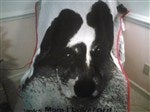 Love it!
By
Christopher T.

(Middletown, OH) - April 23, 2010 (
See all reviews by this customer
)
hey,
I love this item! The pic. on it was so awesome and looks great on there and its a oldder pic., too.. Just wish the throw was a little thicker, but still love it!! Pretty fast turn around time!

thanks again!!

Great Gift
By
Jessica K M.

(Auburn, AL) - January 15, 2011 (
See all reviews by this customer
)
Ordered the gift for my boyfriend's parents and they absolutely loved it! I was worried it wasn't going to make it for Christmas because i never received a shipping notice but it came earlier than I was told so overall love the service and will probably order another next year!

Afghan sure beats photo imprint
By
Lupe D.

(Hollister, CA) - December 16, 2009 (
See all reviews by this customer
)
Great Quality! This item will outlast any photo print blanket.

Awesome!!!
By
Jessica D.

(Greensboro, NC) - December 16, 2009 (
See all reviews by this customer
)
The Afghan is wonderful! I couldn't have asked for anything better. There were no snags, no holes. A very high quality product. Would absolutely recommend to anyone looking for this type of gift. A++++

Black and White Photo Afghan for Wedding Gift
By
Margie D.

(Williston, VT) - June 22, 2011 (
See all reviews by this customer
)
We purchased this item for a wedding gift and were told it would be sent within 3 to 5 days AFTER the two to three weeks that it took to produce it. We were very disappointed not to have it in time for the wedding, PLUS I made a blooper and cut off the last "r" in the word and thought I had ruined the afghan. I spoke with customer service and not only did they fix the "r" for me but also delivered the afghan in time for the wedding, and I went to the wedding with a smile on my face knowing the corrected version of the afghan was beautifully wrapped in the trunk of my car!! Thank you - thank you - thank you !

GREAT WORK
I have a daycare and some of my girls were moving up to Kindergarten so I wanted to give them something they could take with them for years to come, the afghans came out great, I'm very pleased and as you can see I'm getting another order, thank you for the great quality you guys give, I wish it was a bit more affordable but the product is really good. TWO THUMBS UP! :)

Perfect
By
Shopper

(Keansburg, NJ) - May 23, 2011
Completely meaningful.

Dissatisfied
By
chenise B.

(danville, VA) - June 2, 2014 (
See all reviews by this customer
)
The Afghan itself was of goid quality. The photo that I had placed on it was absolutely horrible. It honestly had no resemblence to the photo that I sent. I would never give my friend this as a gift. It would insult her as it does me and everyone else I have showed it to. Thank you

Black & White Photo Afghan
By
Shopper

(westminster, MD) - January 11, 2011
Very nice quality and it was delivered in a week after ordering right before Christmas. Look over your picture carefully though to make sure there is no glare on someone that has glasses in the picture because that part will not have the black stitching there where it would normally be.

very pleased with afghan
By
Cathy B.

(Willis, TX) - December 29, 2011 (
See all reviews by this customer
)
I bought 2 deluxe afghan got Christmas presents for our children and I'm very pleased. I like that the pictures are actually woven in. I will be buying more.

Perfect Present for In-Laws
By
Krista R.

(Colorado Springs, CO) - October 19, 2010 (
See all reviews by this customer
)
great stitching

Nice but small
By
Shopper

(Winterset, IA) - November 29, 2011
The picture and quality was good however the size is really small. It gave the size but also says small afghan. It is the size of a baby blanket which it does mention. Just wish it was at least double the size for a "small afghan". I gave as a wedding gift and was somewhat embarrassed of the size.

Poor result, great blanket
I sent in two high quality photos of children walking in an almond orchard in bloom. I was very disappointed in the contrast. I realize this is stitching but I have purchased a color blanket with excellent quality before. The best way to describe is poor resolution. Doesn't look too bad from across the room. Use a close up picture with lots of contrast for best results?!?!

Black and white personalized photo blanket
By
KELLY M.

(TULSA , OK) - November 6, 2009 (
See all reviews by this customer
)
Oh my goodness, wow the blanket is absolutlely gorgeous. The detail of our photo on the blanket is incredible. I ordered this as a anniversary present for my hubby and received the item within 8 days! I highly recommend!!!

Nice Gift Idea
By
Shopper

(Newburgh, NY) - January 3, 2012
I purchased this as a 2nd Anniversary gift for my husband with a fun picture from our wedding...the picture wasn't as detailed as I hoped but its what I expected for a photo afghan. Would definitely recommend.

PHOTO AFGHAN.
By
Shopper

(Morrow, OH) - January 4, 2012
Its the smallest afghan i have ever seen in my life.. not too pleased with that fact, but everything else was great!!

Perfect gift.
By
Shopper

(tampa, FL) - October 4, 2012
My nephew and his new bride loved the afgan, I've yet to see it since they live out of state, but they were very happy with the gift.

Love the blanket
By
christi G.

(walnut creek, CA) - December 19, 2012 (
See all reviews by this customer
)
Very cool blanket. Got it as a gift for my parents. Turned out really nice. Very unique gift.

I referred the link to my product 5 times already!
By
James R.

(Houston, TX) - April 10, 2012 (
See all reviews by this customer
)
...and each time it was a response to a request for it. Given to my mother for her 75th, it was from an old photo of her, me, and my sibs under an Xmas tree almost 50 years ago. Detail was very good considering the medium. The Deluxe Size is the only size that makes any sense. Delivery was as promised. I can think of a lot of occasions that this would fit.

Low resolution photo came out very well
By Shopper (HUNTINGTON BEACH, CA) - August 13, 2012
I submitted an old low resolution photo and the afghan came out very well. I would definitely recommend the product. The recipient was very happy.

Photo afghan
By
Shopper

(Methuen, MA) - December 7, 2013
I purchased two of these afghan's for Christmas gifts and I am extremely happy the way they turned out. The quality is wonderful and the pictures came out fantastic!

May cause tears
By
Carmeletta S.

(Brook Park, OH) - May 5, 2014 (
See all reviews by this customer
)
I bought this for a friend of mine whose father passed away & he was having a hard time dealing with it so I had one done with a pic of him & his father. He was very moved by it. Purchased another one for my mother for Mother's Day with my sisters & I. She can't stop talking about it. They both came out better than expected as the picture I submitted wasn't the best.

The Perfect Gift
By
Shawna P.

(Yuma, AZ) - May 17, 2013 (
See all reviews by this customer
)
I bought this as a gift and she loved it. It was shipped out quickly and the quality is great! Worth the price!

impressive
By
joseph K.

(Canada) - November 2, 2013 (
See all reviews by this customer
)
I was concerned with the placement of the text; I didn't want it obstructing the faces on the photo I'd submitted. There wasn't an option of previewing the product with the photo, text font or placement. However, I was extremely pleased with the results. It turned out perfect - better than expected! Quality product. Very happy with the discretion of whomever formatted the photo and text message.

beautiful
By
Shopper

(Hillsboro, OR) - December 6, 2011
I bought this for a xmas gift and it looks nice. I think my sister in law is going to love it.

Perfect!
By
Sheila B.

(Indianapolis, IN) - December 14, 2011 (
See all reviews by this customer
)
The picture on my afghan was wonderful, it definitely surpassed my expectations. Thanks so much!

Another Great Gift
By
Shopper

(Grants Pass, OR) - August 6, 2011
This was much better than expected; was for a wedding picure and turned out just perfect. Top notch site to order personalized gifts from; always a perfect transaction.

LOVE IT!!!!!
By
Shopper

(Jacksonville, FL) - October 11, 2011
I'd ordered this afghan as a memoir for my son. My expectations were exceed. The picture I'd provided I wasn't sure it would work because how the afghan being pictured in landscape and my pic I'd provided was in portrait and they captured every detail of the photo. I am very pleased and I will have a very, very happy son on Christmas morning! I've purchased from this site multiple times and have never been disappointed. Thanks personalizationmall!!!!

Perfect
It turned out better than i imagined my husband will love it. It was delivered five days after i ordered it and it is perfect. i definitely would recommend this website to others.

Best Gift Ever :)
By
Donna B.

(Norristown, PA) - January 5, 2012 (
See all reviews by this customer
)
We have purchased 4 personalized blankets over the past year and everyone loves them. One was of a dog for my sister, another of grandkids, and the last 2 of a sorority pledge class. I highly recommend your blankets!

Beautiful Photo Afghan
By
Sheila B.

(Mt. Washington, KY) - December 15, 2011 (
See all reviews by this customer
)
I was so pleased when I opened the box to see the photo afghan. Great quality and I had downloaded a black and white photo taken back in the 60's! My parents loved it! Also, I had worried it wouldn't get to me on time and I explained how fast I needed it and lo and behold it got to me before the date I needed it. I will definitely purchase another one!!

Amazing !
By
veronica B.

(bloomfield, NJ) - December 17, 2011 (
See all reviews by this customer
)
This product is fabulous. My sister and I bought it for my parents for Christmas an it was absolutely beautiful. I'd reccomend it to anyone for anything! A great gift for all ages.