Bathtime!
By
Shopper

(Kingston, MA) - March 12, 2012
When mt friend opened this present she said I've been looking for a mitt to help wash at bathtime. Of course she loved the towel too!

Very Pretty Kitty Towel
By
Shopper

(Allentown, PA) - March 6, 2012
Great hooded towel for an infant or a toddler. Can't wait to give it to my niece.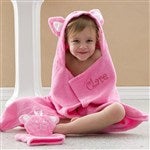 My granddaughter loves her personal towel
By
Shopper

(Waldorf, MD) - January 10, 2012
The perfect towel set for toddlers!

Great Gift!
By
Sarah C.

(Lakewood, NJ) - November 13, 2011 (
See all reviews by this customer
)
I bought this as a baby gift it is so adorable! they loved it! its not the typical gift so people appreciate it more. I will definitely order from personalization mall again!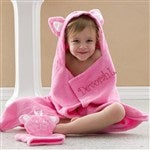 Beautiful!
By
Noelia O.

(Miami, FL) - October 31, 2011 (
See all reviews by this customer
)
Just the perfect gift!

Great
By
Shopper

(Middletown, CA) - September 28, 2011
This is adorable! Just as described. Bought for niece (who is turning 1) and she can use it for many many years:-) Thanks again PersonalizationMall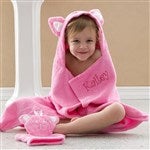 A great baby shower gift!
By
Joyce W.

(Bradenton, FL) - September 24, 2011 (
See all reviews by this customer
)
I wanted to do a bath themed baby shower gift. This towel was a great addition to the pink baby tub, pink rubber duckie, and shampoo set. The recipient was really touched by the beautiful embroidered name of her baby girl to be. So thank you once again Personalization Mall for a high quality gift!

Cute and girly
By
Shopper

(Westminster, CO) - September 1, 2011
The towel and matching mitt were adorable and the embroidery was perfect. The towel was thick enough to be absorbent. Bought as a gift to send to Australia to use as a beach towel OR bath towel for 2 year old.

Kitty Love Personalized Towel and Mitt
By
Inez T.

(New York, NY) - July 27, 2011 (
See all reviews by this customer
)
I was very pleased with these towels. I bought two for twins and the personalization was also on point! I will defineately order more items from your company!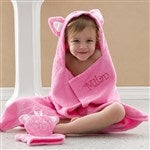 great gift
By
Shopper

(Williamsville, NY) - July 16, 2011
we bought this for a baby gift for out of town relatives. They loved it.The monogram was a great touch since the baby was named after my husband's mom. Useful gift and the towel is big enough that the baby can use it for a long time..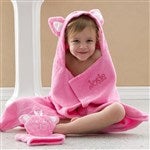 Shopper
By
Shopper

(Douglaston, NY) - July 6, 2011
I have ordered this item four times for newborn babies and received rave reviews from the mothers. The towel is adorable and can be used as the baby gets bigger. Babies grow out of other items so quickly. The towel and mitt can be used for a long time. It also makes a great presentation. Everyone loves personalized items!

Adorable - High Quality
By
Patricia F.

(Saratoga Springs, NY) - May 12, 2011 (
See all reviews by this customer
)
It is the perfect gift - cute, thick, soft and being able to add a name makes it extra special.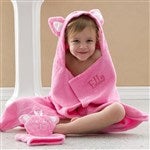 Great buy
By
Tracey D.

(Chesapeake Beach, MD) - May 10, 2011 (
See all reviews by this customer
)
I didn't realize how big this towel is, but will be great for my niece to grow in too.

Cuter than the picture
By
Lauren C.

(Abilene, TX) - April 5, 2011 (
See all reviews by this customer
)
I bought this for my new born grand baby. It was cuter than the picture.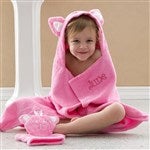 Great!
By
Shopper

(Waianae, HI) - April 3, 2011
Nice quality and the name made it so personal!

Cutie Kitty
By
Kathy A.

(Reading, PA) - March 29, 2011 (
See all reviews by this customer
)
My Granddaughter's love playing in the tub, so it's not unusual for them to go through a couple of bathtowels per day. I had gotten them both hooded towels awhile back and they like them so much, but once they are wet, well...you get the picture. I just had to get them another for each of them and this little towel & mitt set was perfect. They can tell them apart too with having their names on them. I'm very happy with this purchase and can't wait to give them their new hoodies.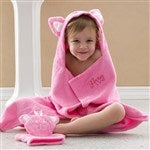 Beautiful gift for my adorable niece
By
albania M.

(Yonkers, NY) - August 24, 2013 (
See all reviews by this customer
)
I purchased this towel set for my niece for her first birthday and I was very pleased with the quality and thrle look of it. My niece immediately started playing with it the minute her mom showed it to her and she looked really adorable in it. I would definitely recommend it, it makes a fantastic gift.

Concerned about style of lettering
By
Shopper

(Warwick, RI) - December 11, 2012
I think the item is really cute and have sent it as a gift several times. This is
the first time I have seen it in person as I had it shipped to my home. I didn't love the way the letters were individually written in script.I think that needs to be improved upon - perhaps a different style. This style was too fancy to do each letter individually or don't do the letters individually.

Pretty
By
Shopper

(Pocomoke, MD) - May 9, 2012
Love the color!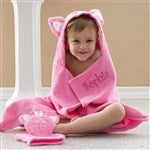 sewing quality
By
Shopper

(NAPERVILLE, IL) - July 6, 2013
I liked the idea of the personalized towel but when it arrived the material looked cheap and the edges seemed unprofessionally finished.

poor quality
By
Merryl B.

(Walnut, CA) - March 3, 2014 (
See all reviews by this customer
)
I was very disappointed in the towel's quality. It is a very thin towel and there were threads that were pulled that made it look very cheap. I cannot and will not give this as a gift. A waste of money.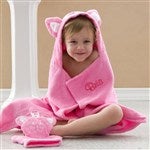 Kitten towel
By
Almida Z.

(Allendale, NJ) - February 11, 2014 (
See all reviews by this customer
)
Poor quality, unraveled edges and very thin.