Gift for Admin
By
Laura R.

(Baytown, TX) - October 30, 2012 (
See all reviews by this customer
)
I've always received great work from Personalizaton.com and have never been disappointed. Please continue to WOW us! Thanks again.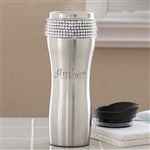 Gift
By
cathy A.

(vienna, WV) - October 13, 2012 (
See all reviews by this customer
)
Great glam for teenage girl. Much more luxurious than I expected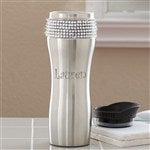 Bridesmaid Gifts that Rock!!!
By
Shopper

(Kula, HI) - October 12, 2012
I gave these to each of my bridesmaids with their name on them. They love them! My sister loves it because her little girls love it, my tomboy bridesmaid loves it because she can indulge her inner girly and blame it on me, and the other 2 are girly girls and its just right for them! Fun gift all the way aroun! And I LOVE mine :)

Absolutely beautiful gift.
By
Gloria W.

(Lake Arrowhead, CA) - October 9, 2012 (
See all reviews by this customer
)
When I first saw this diva tumbler, I thought of my sister, which I bought for her and used the curly font for her name, well she completely loved it!! After the family seeing the product our selves, not only how beautiful it is but also the quality of it, I now have to purchase the tumbler for my daughter, my self and as a gift to others.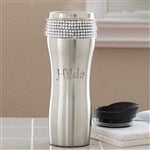 Classy
By
Shopper

(Huntington, CT) - September 22, 2012
Sent to my grandaughter for her 18th birthday on her first semester at college. It was a winner! A little glitz from grandma -- I may need one myself :)

Awesome Gift
By
Shopper

(New Orleans, LA) - September 21, 2012
I purchased this item as a gift for my coworker, and she absolutely loved it. It is very classy and a great gift to give to someone who loves to drink coffee in style!

Drinking in style!
By
Tiffany T.

(Weston, FL) - September 17, 2012 (
See all reviews by this customer
)
This tumbler is fabulous! I love it! It's a nice size and the rhinestones around the top give it a beautiful touch!
I am a singer, so stuff blinged out like this definitely give you a unique and totally glammed out look! ;) Perfect for when you're on the go.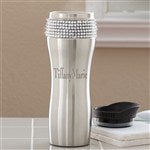 Beautiful chic and girly
By
Jesse & Jessenia P.

(Kings Park, NY) - September 11, 2012 (
See all reviews by this customer
)
I'm in love with this!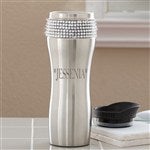 Very pretty tymbler
By
Shopper

(Naples, FL) - September 9, 2012
Love the bling! I have gotten a lot of compliments on this coffee tumbler!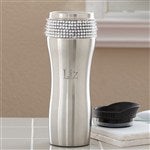 Glitz - a Huge hit!
By
Rosemary D.

(Evergreen Park, IL) - September 8, 2012 (
See all reviews by this customer
)
If you know someone who loves a little "bling", this is the mug for them. Sleek and practical as well as glamorous. My daughter went crazy for this "AWESOME" birthday gift.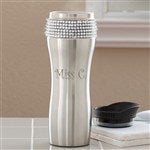 Glitz tumblers for Divas
By
Linda J.

(Bluefield, WV) - August 31, 2012 (
See all reviews by this customer
)
I was very delighted with the Glitz and Glam tumblers. They are beautiful and they will be perfect gifts for divas.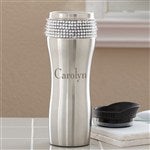 Glitz for a Princess!
By
Linda D.

(Purcell, OK) - August 29, 2012 (
See all reviews by this customer
)
This is the prettiest tumbler that a person could give to that special someone. I ordered it for my other granddaughter to give to her sister for her birthday.Her name is in script and its beautiful. It was here within a few days of ordering.My granddaughter loves it and can't wait to give it to her sister on Friday for her birthday. It is so pretty for our Princess.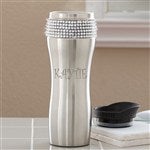 Great gift
By
Diane V.

(Frankfort, IL) - August 5, 2012 (
See all reviews by this customer
)
I ordered these for all the women on my Christmas list. They are beautiful and will be a well used gift. Appreciate the larger than average size. Higher quality than expected. I will order again.

Perfect gift for business woman
By
Jolene S.

(Viroqua, WI) - August 1, 2012 (
See all reviews by this customer
)
We gave this tumbler to a co-worker who had just received a promotion. She absolutely loves it!!! Thank you so much!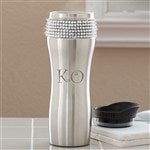 A Mug for A Princess!
By
Malaika M.

(Roxbury, MA) - July 29, 2012 (
See all reviews by this customer
)
This travel mug is really fashionable and unique. The gems definitely add a stylish bling that's sure to get attention. It appears to be a quality mug and the inscription shows up great!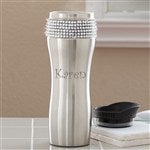 Pretty & Useful
By
Shopper

(Crown Point, IN) - July 29, 2012
I bought this as a gift for my best friend who is a teacher. She absolutely loved it! It was sparkly, and I personalized it with her name in the script. It was the perfect gift! Product came fully intact, came quick in the mail, and was a great price. Would recommend it to all friends.

LOVE THE GLITZ
By
Shopper

(BOCA RATON, FL) - July 22, 2012
The person I bought this for is a glitzy gal. She absolutely loved, loved it. It was a great choice.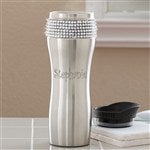 very girly
By
Dana G.

(ogdensburg, NJ) - July 14, 2012 (
See all reviews by this customer
)
I bought this cup for my cousin. She likes to work out so now instead of bringing a boring water bottle, she can drink in style. The personalization came out very nice. I would definetly recommend this cup for the girly girl.

Fantastic
By
Shopper

(Hobbs , NM) - May 8, 2014
Loved it
Just the letters could have been darker
And I just feel like the cup will easily scratch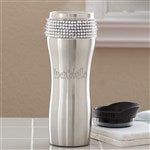 Bling! Bling!
By
LORI S.

(HARRAH, OK) - December 30, 2013 (
See all reviews by this customer
)
This item is just as pictured! Beautiful, sleek and elegant with the right amount of bling! The name is a little light, but goes well with the sleek, elegance of the tumbler:-)

lettering
By
Shopper

(Oak Forest, IL) - December 28, 2013
I would have liked the lettering to stand out a bit more - silver on silver makes it difficult to see.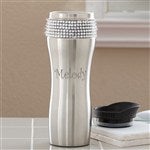 Likes & Dislikes
By
Shopper

(Maimi, FL) - December 1, 2013
Fantastic! Price could be better but no complaints otherwise!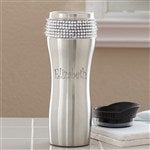 Beautiful Jr. Bridesmaids Gift
By
Danyelle C.

(Rochester, NY) - November 12, 2013 (
See all reviews by this customer
)
I bought this gift in place of wine glasses that I had purchased for my adult bridesmaids and the price is well worth it! You can clearly see the name inscription which is not the case for all personalized items. I was excited when I got it in the mail so I can just imagine how much my teenage niece will like it!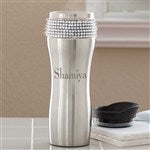 Love the bling!
By
Shopper

(Lewisville, TX) - October 11, 2013
I actually use it with cold drinks instead of coffee and they stay colder longer than in a regular glass. Perfect height for use with a washable plastic straw. I love the look of the cup!

oooooo sooooo preeetttttty!
By
Shopper

(Lake Worth, FL) - August 28, 2013
Very nice treat for myself, and will shop again for gifts next time. This mug is extremely sparkly girlie girl! Quality is good, lid has slide lock to open (drink) and close. Wish I knew about these way back when for my bridesmaids!! Prices but so sparkly girlie girl.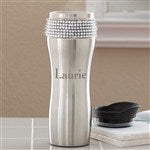 Very classy
By
Shopper

(Orlando, FL) - August 17, 2013
It's really sophicated and blingy to give as a gift. I'm glad I ordered this product.

Graduation Gift
By
Shopper

(Ponte Vedra Beach, FL) - June 18, 2013
Was mailed directly to graduate ! I was told he was received in good condition. And graduate lived gift !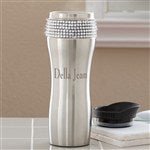 Just one thing wrong
By
Sally M.

(Abbeville , SC) - June 2, 2013 (
See all reviews by this customer
)
I bought this for my daughter for her birthday and she loved the Glam Stainless Steel Tumbler, but I had not noticed it had a black lid and this took away from the glam in my opinion. It would look so much better with a stainless lid otherwise she says it keeps her coffee hot for several hours. my youngest daughter wants one now!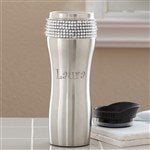 Glam Gramma
By
Susana R.

(San Diego, CA) - May 15, 2013 (
See all reviews by this customer
)
I ordered this tumbler for my mom for Mother's Day and I was really pleasantly surprised with how great it is. It's the perfect size for a daily coffe drinker and the bling and being able to personalize it with a name gives it that extra touch.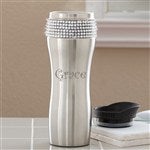 fabulous gift item
By
Ann T.

(Lenoir City, TN) - February 3, 2013 (
See all reviews by this customer
)
I bought two as gifts. They are absolutely beautiful!!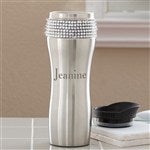 For A Gift
By
Diane B.

(Morenci, AZ) - January 19, 2013 (
See all reviews by this customer
)
This travel coffee mug is absolutely adorable! Get it for my sister-in-law's birthday and she was so happy with it! My only recommendation would be to allow longer personalization or add a second line as an option. Other than that, I plan on purchasing this for more of my friends and family members!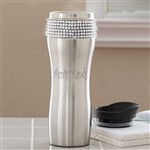 Very Happy
By
Jessica A.

(Estherville, IA) - November 30, 2012 (
See all reviews by this customer
)
I'm very pleased with this purchase. Exactly as described. Lovely script. I purchased this item as a Christmas gift and I think it will be well appreciated.

Bling Bling
By
Tracy J.

(Anchorage, AK) - September 24, 2012 (
See all reviews by this customer
)
I live in Alaska...a nice place but not to get personalized gifts..I "met" personalization mall 18 months ago.. Ive ordered alot from them..every item including this mug have been A+..the service is incredible...the turn around time always surprises me..so qwik! so I'm a happy camper...and hope you will be too!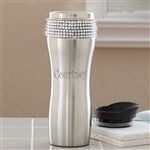 Great item, but arrived scratched
By
Shopper

(San Diego, CA) - August 2, 2012
This item was a hit with the recipient but it was a bit scuffed directly under the engraving at the bottom of the tumbler when it arrived. It looks like whatever machine was holding it during engraving caused the damage. I didn't have time to return it and get a new one but I am sure PMall would have done so.

engraved name
By
Shopper

(Northville, MI) - November 20, 2013
Very nice cup, however the engraved name didn't appear to be dark like the name on one thats displayed.

very beautiful but some of the stones are a bit off
By
Shopper

(redwood shores, CA) - January 2, 2013
Overall the product I could rate as 5 *if* the work in the stone was better done. It was not straight line... Luckily the one I bought for myself seems the worst one. Would I recommend? yes but with restriction.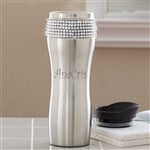 LOOKS NICE
By
Tiffany A.

(Fresno, CA) - December 31, 2012 (
See all reviews by this customer
)
THIS IS NOT A VERY INSULATED CUP IF YOUR LUCKY COFFEE ONLY STAYS HOT FOR AN HOUR IF THAT.....LOVE THE BLING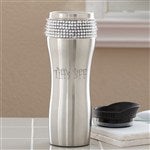 pretty
By
Patrice F.

(Brick, NJ) - December 26, 2012 (
See all reviews by this customer
)
I do love my new coffee mug . . it is pretty & my name on it keeps it safe from office admirers! . . . yes lunch dissapears on occasion from our cominuity fridge here! I do have 1 dissapointment
I didnt realize how skinny the cup actually is
it is a poor fit in my car & it will occasionally tip a bit
so if you dont have an adjustable cup holder in the car this could be a problem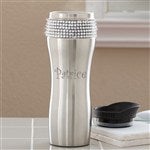 Was excited to get my cup.
By
Shopper

(Toledo, OH) - December 14, 2012
I was very excited to have my cup personolized and delivered. But I was not happy after placing my order and buying the cup for 25.99 and also paying 10.00 for it to be personolized. Totaling 36.00 and then seeing the same cup and same name brand at 2 different stores for 6.99. I no your company has to make money but I felt that was a very large mark up for what the cup is selling for every were else. The cup looks great and it's just what I was looking for and the order was super quick. The only reason I won't return is I felt that after seeing the cup after I placed the order at such a lower price in other stores is I feel like I paid way to much for this cup.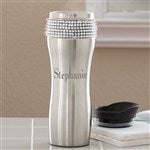 Glitz and Glam Tumbler
By
Shopper

(Brooklyn, NY) - January 23, 2013
This tumbler is beautiful to look at. Unfortunately when it contains any hot beverage it is hot to the touch. So hot that one may burn their hands. As much as I loved to look at it, I had to return it for a refund.