great
By
Shopper

(Canada) - September 14, 2014
Loved the product. Service was great!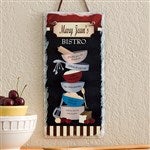 Nice Product
By
Janet C.

(Poulsbo, WA) - April 22, 2014 (
See all reviews by this customer
)
I personalized this item by adding in locations where my fiance' and I have traveled and labeled them "Love's Recipe". The end-result was lovely and I am happy with the quality of the product itself. The only issue is the red bowl is written on in black ink. You can't see what it says, at all. Not even in sunlight. I might get an artist to help me with it but overall, it is what I ordered. I just think the red bowl should have white lettering so you can see it.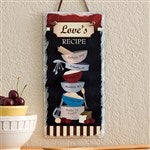 Really Cute For A Dedicated Family Cook!
By
Jennifer A.

(Delmar, NY) - October 4, 2013 (
See all reviews by this customer
)
I would have given this wall slate five stars but the writing doesn't show up very well on the red bowl. Otherwise it's great!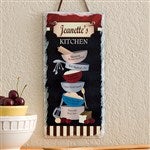 wall slate
By
Terry J.

(Denham Springs, LA) - August 2, 2013 (
See all reviews by this customer
)
This slate looked better than I thought. Very pleased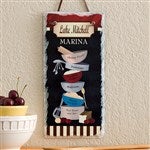 GiftGiver
By
Shopper

(Conway, SC) - February 1, 2013
This company is amazing! I ordered this and it came broken. They sent me a replacement quickly. The item is adorable and very durable. Shipping accidents happen. The item was smaller than I expected but very cute! Very good gift!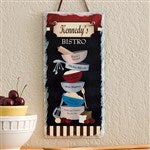 Great!
By
melissa C.

(tucson, AZ) - November 17, 2012 (
See all reviews by this customer
)
I was expecting something of cheap quality because of the low price. I was definitely wrong. I was shocked to see that it was beautiful. It looks like it is made of some kind of stone. I can't wait to give this gift to my family for the holidays.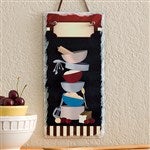 Perfect!
By
Shopper

(Fort Worth, TX) - June 28, 2014
This little plaque, when personalized, was the perfect gift. The size, the customization opportunities and quality overall were beyond my expectations. Everything I have purchased has been excellent.

Family wall slate
By
Susan H.

(Denton, TX) - April 1, 2014 (
See all reviews by this customer
)
I really like my slate but one of the bowls are red and has black lettering. You can't see what it says because of the colors, I was a little disappointed!

Nice Colorful Wall Slate
By
Lisa S.

(Pflugerville, TX) - September 10, 2013 (
See all reviews by this customer
)
Nice wall slate, but the third bowl down on the slate is a dark red and it is VERY difficult to read the personalized wording which is disappointing. Otherwise, it is a nice product.

Bistro Slate
By
Loretta F.

(Staten Island, NY) - April 7, 2013 (
See all reviews by this customer
)
Very nice addition to any kitchen. More than enough "plates" to accommodate anything you want to add.

Awesome!! Very heavy slate
By
Shopper

(Two Rivers, WI) - May 13, 2013
Much heavier, more durable than I had expected. The writing on the bowls looks a little bit small, some are hard to read (especially the black font on the dark red bowl). Overall quality is excellent, and it looks great!

a very special gift
By
Shopper

(Marion, OH) - April 9, 2013
purchased for Mother's day with all the specialties my wife cooked while we raised our daughters. MEMORIES

awesome, love it!!
By
Jennifer B.

(Port Orchard, WA) - April 13, 2014 (
See all reviews by this customer
)
This is super cute! It is a lot nicer than I thought it was going to be!! It look so cute in the kitchen:)

Even nicer than picture
By
Shopper

(WAYNE, NJ) - May 3, 2014
Very pleased with this sign, beautiful, vibrant finish on it. So excited to give it to my daughter and son-in-law for their first anniversary, and it includes personalized special dishes that they prepare.

Best Gift Ever
By
Shopper

(Oviedo, FL) - May 19, 2014
I purchased this for my cafeteria Manager who is leaving, she was so happy and excited about this the quality and appearance of this could not be matched anywhere for this price, excellent value for the money I would recommend this as a fabulous gift.

Great Gift
By
Shopper

(Knoxville, TN) - December 28, 2012
This was a wonderful gift for my mother-in-law. Added grand kids names and wrote a poem.